Air Source Heat Pumps: What You Need to Know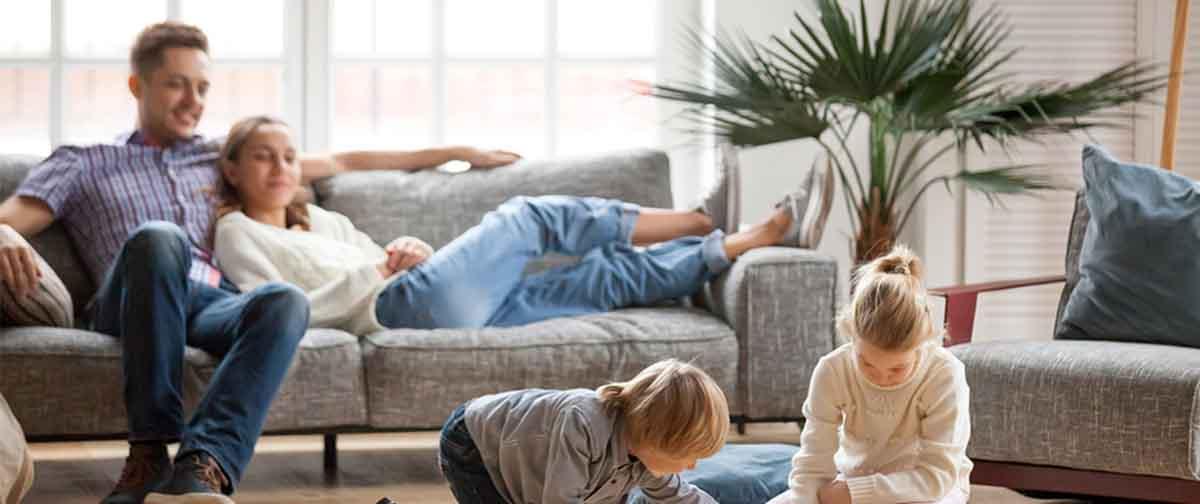 Air source heat pumps could revolutionise the way we heat our homes.
With a heat pump, you could lower your heating bills and do your bit to reduce carbon emissions. But despite their many benefits, much of the information out there about ASHPs is very technical and aimed at professionals.
So, to get to the bottom of what matters most for homeowners considering a heat pump, we spoke to Chris Higgs at Freedom Heat Pumps. Freedom Heat Pumps is a leading UK supplier of Hitachi air source heat pumps and the world's largest distributor of Samsung EHS heat pumps.
With Chris' help we've put together this simple guide that focuses on what you really need to know about buying (and living with) an air source heat pump.
What is an air source heat pump?
Chris at Freedom Heat Pumps: "When I'm giving my customers an introduction to air source heat pumps, I tell them that it's like having a boiler in your garden. Essentially, an ASHP looks like an air conditioning unit, works like a fridge in reverse and acts like a boiler."
However, unlike boilers, ASHPs don't create heat, they simply move it from one place another. The easiest way to understand the technology in an ASHP is to think about the way a refrigerator works, i.e. it extracts heat from inside the fridge, releases the heat out the back of the fridge to keep the contents cool. Reverse this process and you aren't far away from the principles of an ASHP.
In April 2019 BBC Radio 4 discussed air source heat pumps including what an air source heat pump is, how it works and if it's the right choice for UK homes. Click here to listen to the short but very helpful explanation between 11 minutes 37 seconds to 16 minutes 10 seconds.
The external unit includes a fan which turns and draws in air.
This air meets a refrigerant gas which has a very low boiling temperature. The smallest amount of heat in the air is enough to heat the refrigerant (air source heat pumps can work in temperatures as low as -20°C).
The heated refrigerant gas is then compressed to increase its temperature even more.
The heat given off by the compressed refrigerant then passes to your water via a heat exchanger.
The heated water is stored in a storage cylinder ready to be used when needed.
Will an air source heat pump provide all of my heating and hot water?
Chris: "Yes. An ASHP of the right type, size and specification working with the right radiators or underfloor heating can provide all the hot water your home needs just as a boiler would."
"You will, however, need a hot water storage cylinder which is ASHP compatible. If you're replacing a Combi boiler you'll need to add an ASHP compatible hot water cylinder into your home and if replacing a System or Regular boiler you'll need to switch the existing cylinder for a new one. ASHP hot water cylinders are typically 40 – 50% more expensive than traditional cylinders."
Choosing an air source heat pump
When you're browsing ASHPs on the internet you're going to come across some different types to choose from; here's what you need to understand.
What's the difference between split and monobloc?
The terms 'Split' and 'Monobloc' refer to how the system is set up in your home. A Monobloc is a 'one block' system, i.e. the ASHP has all of its components (apart from the hot water cylinder which is inside the home) inside a single large unit which is outside the home. A Samsung 5kW Monobloc is pictured below in a garden.
A Split ASHP includes both a smaller outside unit (with the heat exchanger and refrigerant inside) and an internal unit which is sometimes combined with the hot water cylinder (the separate elemments are pictured above).
Chris: "Most homes will need a Monobloc ASHP. The Split system is an option for more complex installations as it can be installed up to 30m away from the home, which gives us more flexibility, but the majority of ASHPs installed are Monobloc."
In some Split systems such as the Yutaki by Hitachi the internal unit and hot water cylinder can be combined in one sleek unit (pictured below).
What's the difference between low temperature and high temperature?
Low temperature ASHPs produce water at a lower temperature. These systems won't produce water as hot as a boiler would as they generally only reach 50°C at a maximum. These systems are best suited to new builds and well insulated homes. To be effective they are best combined with either larger or a higher number of radiators or underfloor heating.
High temperature ASHPs are designed for poorly insulated or particularly large properties and those where replacing existing radiators or insulating the home isn't possible, e.g. listed buildings. These systems can heat water up to 80C.
---
Get FREE Heat Pump Quotes
---
What size heat pump should I buy?
Like boilers, ASHPs are given output (size) ratings in kilowatts (kW) which tell you how powerful a heat pump is. The output you need will depend on the size of your home and how well insulated it is. There's not a one-size-fits-all rule of thumb when it comes to sizing ASHPs as each home is unique, but Chris did give us some advice which should serve as a good starting point before you get your bespoke quotes.
Chris: "Using the Samsung EHS Monobloc as a rough example, we'd usually recommend the following outputs:
| Size of Home / Level of Insulation | Recommended Output (kW) |
| --- | --- |
| 2 bed house / flat | 5 |
| Poorly insulated 3 bed house | 9 |
| Well insulated 4 bed house | 9 |
| Poorly insulated 4 bed house | 16 |
| Well insulated 5 bed house | 16 |
"It's worth noting that ASHP manufacturers will give their pumps an output rating best on its performance in test conditions but it will not deliver the same power when it's working in the real world. For example, a pump may be able to produce water up to 35°C with an outdoor temperature of 7°C in reality the actual working output would be less; a 16kW heat pump is more like a 12kW."
How do I know which is the most efficient heat pump?
The efficiency of an ASHP can be represented in 2 ways:
COP is the Coefficient of Performance. It tells you how much heat the heat pump can produce per unit of electricity used. For example, a COP value of 4 means that you get 4 kWh of heat for every 1 kWh of electricity used to operate the pump. The higher the COP, the more energy efficient the heat pump is.
However, the COP is measured by manufacturers under test conditions in a snapshot of time. In colder temperatures the COP will drop as the pump has to work harder to extract the heat. For example, a heat pump with a COP of 4 could drop to a COP of 2.5 at 0°C.
Chris: "For a better representation of the heat pump's efficiency all year round you should compare SCOP which is the Seasonal Coefficient of Performance. It's also sometimes referred to as the SPF or Seasonal Performance Factor, but it's the average COP across all the seasons."
This detail is important when choosing which heat pump to invest in as the more efficiently it works the more you'll save on energy bills. In addition, the amount of money you could earn via the government's Renewable Heat Incentive Scheme is determined by the SCOP of the pump. According to EU legislation, an SPF of 2.5 is the minimum performance needed to make a heat pump eligible for the Renewable Heat Incentive (RHI).
A Samsung 16kW Monobloc is pictured here.
Installing an air source heat pump
Do I need planning permission for my air source installation?
Chris: "Possibly. I always advise customers to check with the local authority before committing to buying an ASHP as there may be planning restrictions in place."
Where can the air source unit be installed?
Generally speaking there are 2 elements to an air source heat pump system; an external unit which is installed outside your home and a hot water cylinder which is installed inside the home. The system runs on electricity and the 2 units are connected by copper pipework.
If you have a monobloc system you'll have a larger outside unit which sits on rubber feet. The monobloc unit is completely sealed and contains both the refrigerant and the heat exchanger. Insulated tubes and copper pipes containing water run out the back of the unit and through your wall. The pipes take the heated water to your hot water cylinder where it is stored until you turn on the heating or run a hot tap.
In a split system the outside unit is smaller as it doesn't contain all the elements such as the heat exchanger. These parts of the system are kept in a separate indoor unit which is sometimes combined with the hot water cylinder to save space. Another benefit of a split system is that the outdoor unit can be installed 20 – 30m away from the home if needed for a more flexible installation.
Will I need to replace my radiators?
Chris: "If you're installing a low temperature system your radiators need to be able to generate twice as much heat as standard, so that's either doubling the amount of radiators in each room or swapping a single panel radiator for a double panel. In some cases a high temperature ASHP may be able to work with existing radiators."
How long does it take to install?
Chris: "A good quality retrofit installation should take up to 3 – 4 days. The biggest job inside the home is installing the hot water cylinder and, if needed, swapping radiators for larger ones."
---
Get FREE Heat Pump Quotes
---
Living with an air source heat pump
Once it's installed, how much maintenance does an air source heat pump need?
Chris: "As far as maintenance that the homeowner needs to carry out, there really isn't much at all, especially when you compare it to a traditional boiler.
"In order to keep receiving your RHI payments, however, you need to have an annual service plan in place to make sure it's serviced every year by an MCS accredited air source heat pump installer. They'll check it over and make sure it's working efficiently and effectively for you."
What's the RHI and how much could I earn?
The RHI (Renewable Heat Incentive) is a government scheme which was introduced to encourage homeowners to adopt renewable technologies. The scheme pays owners of eligible renewable heating systems for the energy they generate and is intended to reimburse the owner for up to around 80% of the upfront installation cost over 7 years. Air-to-water heat pumps (not air-to-air) are included in the scheme.
For applications submitted between 1st October 2018 and 31st March 2019 the tariff for air source heat pumps was set at 10.49p per kWh, but the tariffs are adjusted annually. Payments are made quarterly for 7 years and are usually based on the estimated heat required to heat the property from the EPC. To qualify for the RHI your ASHP has to be installed by an MCS accredited installer and you need to apply to the scheme within 12 months of the installation date.
The Renewable Heat Incentive is due to close to domestic installations on March 31st 2021 when it's set to be replaced by the Clean Heat Grant in April 2022.
Are air source heat pumps safe?
Chris: "Air source heat pumps are incredibly safe. Unlike boilers, there is no risk carbon monoxide leaks. The refrigerant in a monobloc system is completely sealed and outside the home. Aside from it simply breaking down, the worst thing that can go wrong with an ASHP is a water leak."
Are air source heat pumps noisy?
Chris: "There is some noise generated by an air source heat pump fan. It creates slightly more noise in cold weather because it's having to work harder to extract heat, but even then an ASHP is no more than a loud whisper. Open windows will make the noise more noticeable, but in my experience most people have their windows shut in winter!"
Will my heat pump be running all the time?
Chris: "On average, heat pumps run for about 2400 hours a year (full load equivalent) but this depends on the size of both the pump and your house. Unsurprisingly, you can expect you ASHP to runs more in winter."
Will I really have cheaper energy bills?
Chris: "The biggest savings come when you replace an oil or LPG boiler; some people can see energy bills savings as high as 40% in these situations.
"However, if a customer wants to replace a relatively efficient gas boiler in order to save money on energy, the cost savings may not be there. Switching to an air source heat pump could reduce their carbon emissions by as much as 25%, but I believe there's likely to be no more than a 7% saving in terms of energy costs."
How much is a heat pump going to cost?
Chris: "Most people are looking at an upfront cost of between £9,000 – £13,000 for the supply and installation of an air source heat pump. However, there's no easy way to estimate the cost of a job until we've visited, talked to the customer and assessed what they need.
"It's a big investment, but that's where the RHI scheme comes in. The RHI is intended to pay back 80% of this upfront cost over the 7 years that the customer is receiving payments. And, if they're also getting cheaper energy bills over those 7 years, the air source heat pump should pay for itself in many scenarios."
---
Get FREE Heat Pump Quotes
---