Energy Efficient Boilers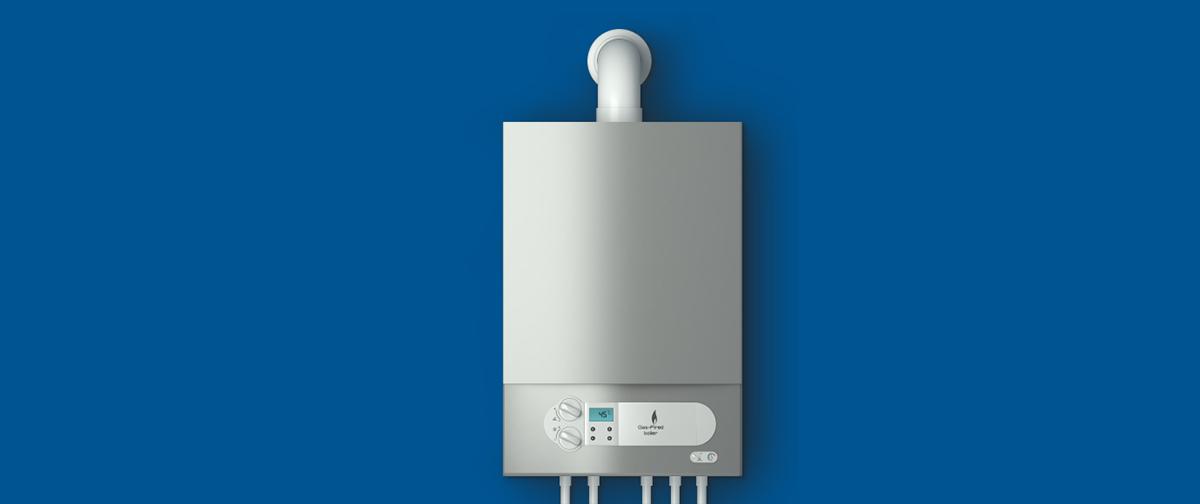 An energy efficient boiler is good news for you, your home and the planet.
Efficient boilers use less fuel than a non-efficient boiler. And as they use less fuel, you'll be saving on your heating bills.
In even better news, it's couldn't be easier to find an efficient boiler. That's because all boilers installed in the UK must be condensing. And condensing boilers are far more efficient than the non-condensing boilers that came before them.
What is boiler efficiency?
Boiler efficiency shows how well the boiler turns fuel into usable energy (heat for your home and hot water).
Let's say you're planning to install a new gas boiler. Whenever you turn the heating on it will burn natural gas to make heat. While this is an effective way of heating a home, natural gas is a fossil so burning it makes carbon – a leading cause of climate change. So, in an ideal world, the boiler will burn through as little gas as possible.
And that's why energy efficient boilers are so important.
Checking boiler efficiency
As all boilers must now be condensing, there really isn't much between modern boilers in terms of efficiency. As long as your new boiler is fitted by a Gas Safe registered engineer then you can be confident that you're getting the most efficient heating system.
You can find out how efficient a boiler is by looking at the ErP rating.
All boilers have are given an Erp rating from A+++ down to G. As all modern gas boilers are highly efficient they will be A-rated. This can often be increased if the boiler is installed with a recommended set of heating controls.
As well as the letter rating, boilers also have a space heating effiency rating that's shown as a percentage. Modern condensing boilers all have a space heating efficiency between 92% and 94%.
You can compare the most efficient boilers in our Boiler Comparison Tool.
Is my boiler efficient?
If you have a condensing boiler then it will be energy efficient.
However, boilers do lose their efficiency over time – as you can see from the table below:
| When boiler was fitted | Estimated efficiency |
| --- | --- |
| Less than 10 years ago | Original efficiency to 84% |
| 10-15 years ago | 80-85% |
| 20+ years ago | 75-60% |
This is one of the reasons why you should consider a boiler replacement 10 years after your current one was fitted.
So if you're ready for a new boiler, get free quotes from installers near you today.
How much a new boiler could save you
According to the Energy Saving Trust, boilers account for 55% of what we spend each year on energy bills. So a more efficient boiler really does make a big difference!
Older boiler models are generally far less efficient than new condensing models. This is because new condensing boilers have larger heat exchangers, meaning they recover more heat that would have otherwise been lost through the flue.
By installing a new boiler you are reducing the amount of energy needed to heat your home. Making them more efficient.
So, how much could you save?
Well, this depends on the kind of boiler you have now and the type you will be replacing it with. The Energy Saving Trust suggests that you could save around £300 a year by replacing a G-rated boiler with an A-rated one (along with a set of heating controls)*.
Installing a new boiler is just one of the ways you can make your home more energy efficient and reduce your heating bills. Insulation is a great option to consider alongside a new boiler, as it will reduce the amount of heat lost from your home, meaning your boiler won't have to work as hard or be used as much to keep your property warm.
How to get the right bolier
When looking for a new boiler, it's not all about the efficiency rating. You also need to make sure the boiler is suited to your home.
That means getting the right type of boiler that's also the right size.
When it comes to boiler type, you have three options: combi, system and regular. A combi boiler is the best option for most UK homes. They're well suited to properties with 1-2 bathrooms and there's no need for any additional tanks or cylinder. Meanwhile, system and regular boilers are better suited to homes with high demand for hot water as they store it in a hot water cylinder.
Boiler sizing
Getting boiler sizing right is essential. And by 'size' we don't mean its dimensions but the power of the boiler.
Boiler sizing is measured in kilowatts (kW) and known as the output rating.
This output rating needs to match up with the heating demands of your home. If it's too low then it won't be able to meet demand; too high and it will be turning itself on and off all the time, which isn't very efficient and will cause your bills to shoot up.
Combi boilers have two output ratings (a central heating output and a domestic hot water output) which system boilers and regular boilers only have a central heating output. This is because combi boilers send water directly to the hot water outlet rather than storing it in a cylinder.
You can get an idea of a suitable output rating for your home with the table below.
| | | | |
| --- | --- | --- | --- |
| Radiators | Combi boiler output | System boiler output | Regular boiler output |
| Up to 10 | 24-27 | 9-18 | 9-18 |
| 10-15 | 28-34 | 18-26 | 18-26 |
| 15-20 | 35-42 | 27-40 | 27-40 |
To make sure you get boiler sizing right, read through our guide to boiler sizing.
The most energy efficient boilers
Efficient combi boilers
A combi boiler heats water for the central heating or taps on demand. This means that every time you turn the heating or a hot tap on, it will be burning gas to make heat.
They're compact heating systems and as they deliver hot water on demand, don't need to be fitted alongside a cylinder. So you'll be saving space around the home.
Combi boilers have quickly become the heating system of choice for UK homeowners and you have no shortage of options.
Efficient combi boiler range
Efficiency rating
Central heating outputs
Hot water outputs
Ariston Alteas One Net
94%
28,31 kW
30, 35 kW
ATAG iC+
94%
23.2, 31.2 kW
29.8, 40.3, 42.5 kW
Baxi 800
93%
21.2, 26.4 kW
25, 30, 36
Ideal Logic Max
94%
24.2 kW
24, 30, 35
Vaillant ecoTEC plus
94%
20.4, 25.7,32.2, 30.1 kW
25, 32, 35, 38
Worcester Greenstar 8000
94%
30, 35 kW
30, 35, 40, 45, 50 kW
Efficient system boilers
System boilers are connected to the mains water supply (like combi boilers). This removes the need for a cold water storage tank in the loft, which is the case for regular boilers. But unlike combi boilers, a heating system with a system boiler has a hot water cylinder. Domestic hot water is stored in the cylinder until you need it. This does mean extra space is needed but a system boiler can meet higher demand for hot water.
| Efficient systemboiler range | Efficiency rating | Central heating outputs |
| --- | --- | --- |
| ATAG iS | 94% | 14.7, 17.5, 23.2, 31.2, 38.8 kW |
| Baxi 800 | 93% | 18, 24 |
| Ideal Logic System | 94% | 15, 18, 24.2, 30.3 kW |
| Intergas Compact HRE SB | 92-93% | 18.7, 23.7, 27, 42.5 kW |
| Vaillant ecoTEC Plus | 93-94% | 12.2, 15.4, 18.5, 24.4, 30.4, 37.6 kW |
| Worcester Greenstar 8000 | 94% | 30, 35 kW |
Efficient regular boilers
Regular boilers are the oldest type of boiler.
In addition to the boiler, you'll also need tanks in the loft to store cold water and a cylinder. They're now pretty dated and are mostly found in older properties built in the 70s. They're still made though and are just as efficient as combi and system boilers.
However, you should only think about a regular boiler if your home already has one. Otherwise, go for a system boiler.
| Efficient systemboiler range | Efficiency rating | Central heating outputs |
| --- | --- | --- |
| Arison Clas One R | 94% | 21 kW |
| ATAG iR | 94% | 14.7, 17.5, 23.2, 31.2, 38.8 kW |
| Ideal Logic Heat | 93-94% | 12, 15, 18, 24.2, 30.3 kW |
| Vaillant ecoTEC Plus | 94% | 12.3, 15.1, 18.3, 24.6, 30.5, 35.1 kW |
| Viessmann Vitodens 100-W | 94% | 13, 16, 19, 26, 35 kW |
Get free quotes for an efficient boiler
Time to replace your boiler with a new energy efficient model? Then you're in the right place.
You can get free quotes for a new boiler from installers in your area right here. All you need to do is tap through our online form – letting us know you want a new boiler – and we'll match you up with local installers. Up to 3 will then be in touch to arrange a free quote for the installation.
*Source: http://www.energysavingtrust.org.uk/home-energy-efficiency/boiler-replacement. Figures based on installing a new A-rated condensing boiler with a programmer, room thermostat and thermostatic radiator controls (TRVs) in a gas-heated home from an older boiler with a programmer and room thermostat. Based on fuel prices as of April 2018 for a detached house.