Boiler Replacement Grants and Schemes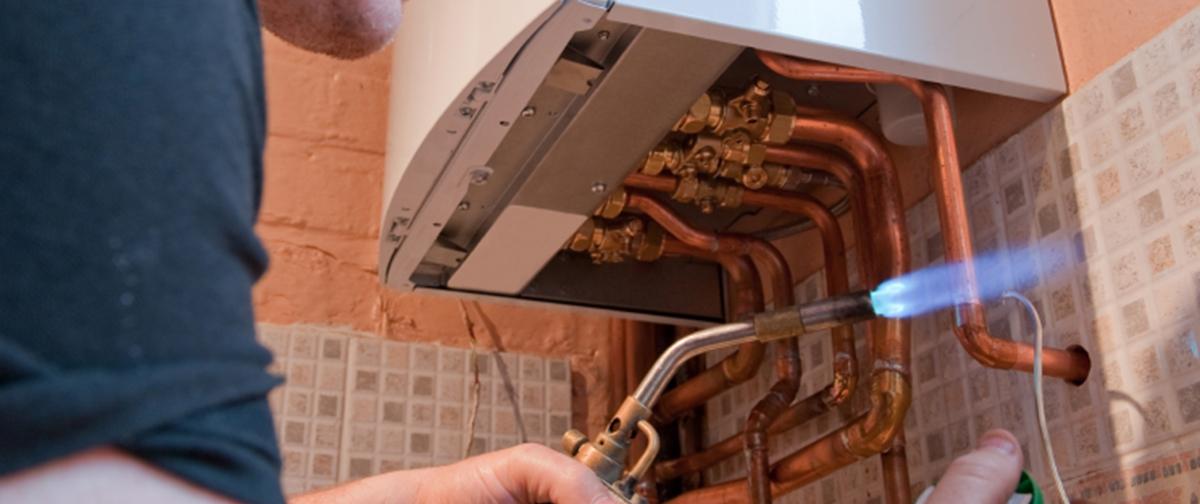 Around 55% of your annual energy bill is down to your central heating boiler supplying your home with heating and hot water. If your boiler is old (that's anything over 10 years in the boiler world), it could be costing you a small fortune to run, especially with energy prices being at an all-time high. 
A modern condensing boiler is the best way to fight expensive energy bills. A new A-rated high efficiency boiler can save you hundreds of pounds on your annual energy bills if you're upgrading from an inefficient G-rated boiler.
According to the Energy Saving Trust, you could reduce your bills by as much as £305 a year if you live in a detached house**. Those savings are really going to add up in the long term and you'll be able to reduce your household emissions in the process too.
But a new boiler replacement isn't going to be cheap. The average cost of a straightforward replacement is around £2,300. Money that many hard working families, already struggling to pay for their energy bills, don't have.
So, what's the answer? Well help is at hand in the shape of Government schemes and grants like the Energy Company Obligation and the Green Deal.
---
Get FREE Boiler Quotes
If it's time to replace your current boiler, use our free service to
get quotes now
---
Energy Company Obligation Boiler Replacement Grants
The Government is committed to tackling fuel poverty and introduced the Energy Company Obligation boiler grant scheme in 2013.  Currently set to operate until 2017, it means energy companies now have a legal obligation to help domestic energy consumers make their homes more energy efficient and their bills cheaper. Vulnerable and low-income households who meet certain criteria could potentially qualify for a grant to help cover some if not all of the cost of a new central heating boiler.
You can apply for an ECO boiler replacement grant if you're a homeowner or a tenant who lives in privately rented accommodation. Tenants will need permission from their landlord too.
How Do I Qualify For a Boiler Replacement Grant?
You have to meet very specific benefit criteria to qualify for an ECO boiler replacement grant. Extra conditions will also apply, but if you receive any of the following benefits it's worth looking into boiler replacement grants:
Pension Credit
Child Tax Credit (with £15,860 or less annual income)
Working Tax Credit (on an annual income of £15,860 or less)
Income Support
Income-Based Job Seeker's Allowance
Income-Related Employment Support Allowance
Aside from ticking the right benefit boxes, your boiler must be a non-condensing or condensing model under 86% efficient.
The Green Deal
Not everyone who needs a new boiler will qualify for a boiler replacement grant but there is another solution: intalling a new energy-saving boiler through the Green Deal Finance scheme.
The Green Deal is open to everyone and there's no upfront cost. You take out a loan against your property to cover the cost of a new boiler (or other energy saving measures), which you pay back over an agreed period between 10 to 25 years. Typically, Green Deal interest rates are around 7%, fixed for the length of the loan and the repayments – added to your energy bills – should be lower than your energy savings.
From June 2014 anyone in England and Wales installing a new gas condensing boiler, plus one other measure from an approved list of 12 (including cavity wall insulation and double glazing), can apply for a £1,00 grant through the Green Deal Home Improvement Fund.* An additional £500 is on offer if you purchased your home within the last 12 months, plus an extra £100 towards the cost of the mandatory Green Deal Assessment.
Better still, you won't have to sign up to the loan scheme to get the cash back. But the work must be done by an approved Green Deal provider.
How do I Apply for the Green Deal?
You will need to arrange for a Green Deal Assessment first to assess how energy efficient your home is and what measures you should carry out. Typically this assessment will set you back around £120.
*Editor's note: As of 25th July, the Green Deal Home Improvement Fund has closed and will no longer be taking applications. This is due to "overwhelming public demand" which has seen the allocated budget of £120 million swallowed up in under seven weeks, according to the Department of Energy and Climate Change.
---
Get FREE Boiler Quotes
If it's time to replace your current boiler, use our free service to
get quotes now
---
**Source: http://www.energysavingtrust.org.uk/home-energy-efficiency/boiler-replacement. Figures based on installing a new A-rated condensing boiler with a programmer, room thermostat and thermostatic radiator controls (TRVs) in a gas-heated home from an older boiler with a programmer and room thermostat. Based on fuel prices as of April 2018 for a detached house.