Control your heating with Climote's energy monitoring technology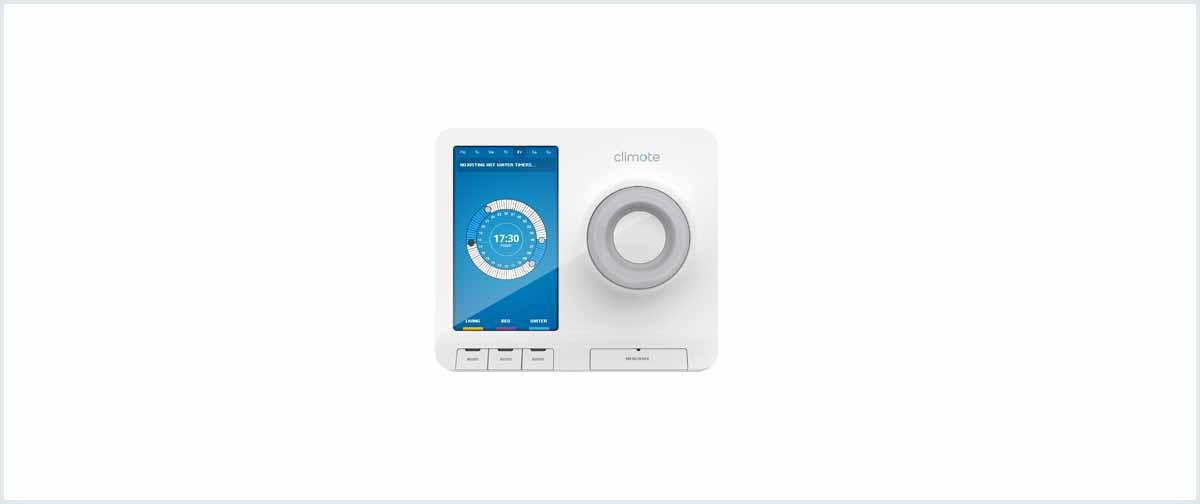 Remote heating controls have the potential to revolutionise domestic central heating and an Irish clean-tech start-up is aiming to help people take control of their escalating central heating costs with its new energy monitoring product.
Remote heating control company Climote was set up in January 2011. The company, an off shoot of award-winning home technology company Smarthomes, has 10 years of industry experience designing, manufacturing and installing smarthome technology.
Climote's remote home heating controller, which replaces any original heating controller – the device simply fits over your existing heating panel – scooped three awards at the national Energy Show back in March and the product is currently being trialled by several of the major UK and Irish utility companies. Their unique patented hub and user interface takes just 30 minutes to install and enables the end user to control their heating. Whether it's resetting your home heating or turning on your hot water, it enables you to have total control over the way you heat you home, saving energy and money.
As Derek Roddy, CEO and founder of Climote explains:
"Climote lets you control your heating from anywhere you want anytime you like. It means whatever way your day pans out you can reset your home heating or turn on your hot water using our iPhone or Android app,  online web portal, climote HUB or a simple SMS text message, so your heating comes on exactly when you want it."
There's no complicated set up or programming required, no connection to broadband routers or wifi needed, and with no extra wiring.
"You can very quickly end up getting dragged into lots of technical issues if you are connecting a product to the broadband router, the boiler , replacing or adding thermostats and have a very difficult to program interface on the controller and all consumer touch points," says Derek.
"With this in mind it has taken us 3 years to build all these components including the power supply into 1 unit with the objective of making it quick and simple to install."
Climote is targeting its energy saving product at the Irish, UK and European markets. Having received interest from major utilities both in the UK and Ireland the company hopes to be able to commercially roll out their product shortly.
Key benefits of the Climote hub include:
It can potentially help energy consumers reduce their fuel bills by up to 20%
It's simple to install and easy to use
There's no complicated set up or programming
No additional wiring required
It gives you greater control over your home heating and energy costs