Ground Source Heat Pump Advantages and Disadvantages
Could a ground source heat pump be the right choice for your home? To find out, you'll need to weigh up ground source heat pump advantages with ground source heat pump disadvantages. Something that we've taken care of in this article.
What is a ground source heat pump?
A ground source heat pump extracts underground heat to provide heating and hot water to a property. The ground is constantly absorbing solar energy and underground temperatures sit at between 10-15°C all year round.
To extract this heat, a pipe, known as a ground loop, is buried underground. A mixture of water and antifreeze, or brine, is then circulated through the pipe which absorbs the underground heat. It is then circulated round to the heat pump where it is heated further before travelling through the heat distribution system to warm the home.
Ground source heat pump advantages
Heating your home with a ground source heat pump offers up a number of potential advantages.
Kind on the environment
Unlike gas and oil boilers, ground source heat pumps can heat a home without emitting carbon into the atmosphere. This is a major benefit of heat pumps as carbon is a leading cause of climate change and home heating makes up a large part of the UK's carbon footprint.
Highly efficient
While ground source heat pumps do need electricity to operate – one of the most expensive energy sources – they use it incredibly efficiently. Depending on the model and time of year, a ground source heat pump can deliver 3-5 times as much energy as they use.
Can help to reduce heating bills
When heating a home with a gas boiler, your energy supplier will deliver natural gas to the property as and when the heating is turned on. You then need to pay for this supply. One of the biggest ground source heat pump advantages is that you will reduce reliance on your supplier. Which, in turn, could help to lower your heating bills.
Entitle owner to RHI payments
To encourage more people to heat their homes with a renewable heating system, the government launched the Renewable Heat Incentive (RHI). Through the scheme, eligible ground source heat pump owners will receive for the renewable heat being generated. These RHI payments are made quarterly over the course of 7 years.
Sustainable energy source
We can't go on heating our homes with fossil fuels forever. Not only because it has a negative impact on the environment but because it simply isn't sustainable. The energy harnessed by ground source heat pumps is renewable, meaning that it will never run out.
Need very little maintenance
Once installed a ground source heat pump only needs to be assessed by a qualified engineer once every 3-5 years.
Safe
Ground source heat pumps aren't a combustion-based heating system which makes them safer than conventional boilers. That's not to say boilers aren't safe, all modern heating systems meet high safety standards. There are also fewer moving parts, reducing the risk of a breakdown, and don't pose the potential risk of a carbon monoxide leak.
Very quiet
Ground source heat pumps make very little noise. Especially when compared to boilers and even air source heat pumps.
Don't need to be replaced for 20-25 years
A ground source heat pump doesn't need to be replaced for 20-25 years. That's around twice as long as a gas boiler. The underground pipes don't need to be replaced for even longer – potentially around 70 years.
Ground source heat pump disadvantages
For many homes, a ground source heat pump could be a very beneficial heating system. However, there are several potential disadvantages to ground source heat pumps that it's important to be aware of. Some of which could make an alternative heating system a better option.
Installation isn't always practical
If your property doesn't have a reasonably sized outdoor area where the pipes could be buried then you'll have to rule out a ground source heat pump.
Installation is disruptive
As pipes need to be buried underground, the installation of a ground source heat pump can be very disruptive. Not only will your garden area need to be dug up, digging machinery will need to be able to gain access too.
Insulation is essential
To feel the full benefits of a ground source heat pump your property must be well insulated. This means cavity wall insulation, roof insulation and double glazing. Without a good level of insulation, the heat pump won't work efficiently or effectively.
Best suited to larger heat distribution systems
Heat pumps produce hot water to a lower temperature than conventional boilers. This means they're best suited for installation alongside large radiators or underfloor heating. If the radiators in your home are currently small then this will add to the installation costs.
Can lead to increased electricity bills
Heat pumps need electricity to heat the home which will inevitably see your demand for electricity increase.
High upfront costs
There's no hiding the fact that a heat pump is an expensive heating system to have installed. You could potentially be looking at costs approaching £20,000 but this will vary depending on the model and complexity of the installation.
Planning permission may be needed
In most cases, the installation of a ground source heat pump can be carried out without permissions. If you live in a listed building or conservation area, however, then you will need to contact your local council.
Ground source heat pump potential savings
A key ground source heat pump advantage is that they could potentially help to lower your heating bills.
You stand to make the most savings if you're installing a heat pump in place of a heating system that runs on LPG or electricity. The graph below shows the potential savings of installing a ground source heat pump into a well-insulated 4 bedroom detached home.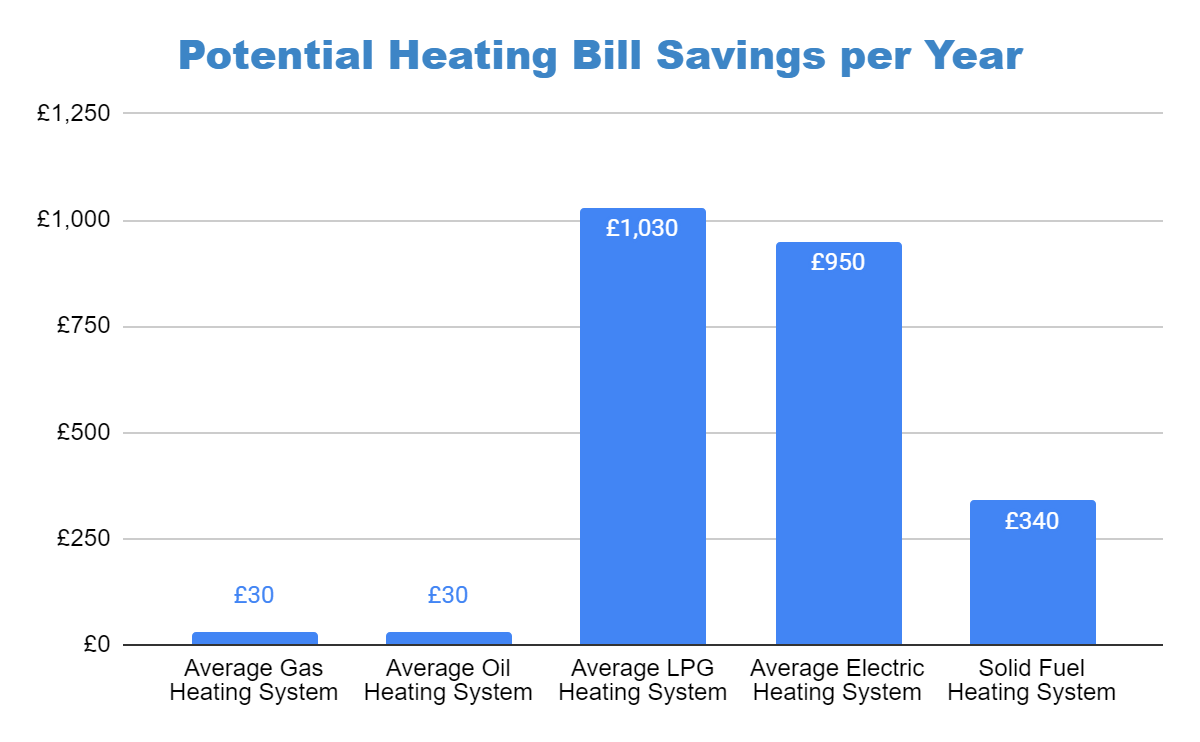 To maximise potential savings, you'll need to think about:
The heat distribution system as larger radiators and underfloor heating are much more effective with a heat pump
Whether the heat pump will also be providing domestic hot water as this will limit efficiency so you may want to consider solar thermal
Making use of the heating controls – ask the installer to take you through this after the installation
Meanwhile, if you have a modern condensing gas or oil boiler, you're best off waiting until it needs replacing rather than having it removed early.
Ground source heat pump costs
Most ground source heat pumps are priced between £8,000 and £12,000.
These prices will vary depending on the manufacturer and model you choose to have installed. So, it's well worth comparing the Best Ground Source Heat Pump Manufacturers.
As well as the cost of the heat pump itself, you need to factor in the installation. The Energy Saving Trust estimates that the cost of a ground source heat pump including installation could come to £10,000 to £18,000.
Find out more in Ground Source Heat Pumps: Prices and Running Costs.
Is ground source right for your home?
A ground source heat pump isn't a suitable heating system for all homes. Some outdoor space is essential as the underground pipe network needs to be buried. These pipes can be installed in either a vertical borehole or horizontal trench.
A vertical borehole sees the pipes sink to further depths than those in a horizontal borehole which spread out wider. A longer the ground loop will be able to extract more heat which means that the more outdoor space you have available, the better more effective the heat pump will be.
To experience all of the ground source heat pump advantages your property must be well insulated and have large radiators or underfloor heating.
Get free heat pump quotes
Do the ground source heat pump advantages outweigh the potential disadvantages for your home? Then we can connect you with qualified heat pump installers in your area. Take a few moments to complete our online form and we'll take care of the rest.
Up to 3 local heat pump installers will be in touch to provide you with a free no-obligation quote. You'll then be in a position to compare these quotes and go ahead with your ground source heat pump installation confident that you're getting the most competitive price.
---
Get FREE Heat Pump Quotes
---