Need a new boiler?
Get FREE no-obligation quotes now!
Get FREE no-obligation quotes now!
No delays! Get quotes today

Compare quotes & get the best prices

Gas Safe & OFTEC registered engineers
The smarter way to find approved boiler engineers
What
work do you require

?
Fuel type
Boiler type
Manufacturer
Ideal Logic Heat 24kW Regular Gas Boiler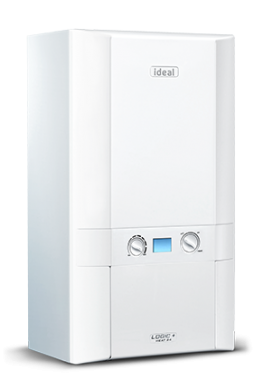 Typical Price (inc VAT)
£850
Typical installation Cost (inc VAT)*
£500 - £1,000
Total Cost
£1,350 - £1,850
| | |
| --- | --- |
| Make | Ideal |
| Model | Logic Heat 24kW Regular Gas Boiler |
| Is Condensing | Condensing |
| Efficiency Rating | 90% |
| Band Rating | A Rated |
| LPG Compatible | No |
| Standard Warranty | 2 Years |
| kW Options | 24kW |
| Mounting | Wall Mounted |
| Flow Rate | N/A |
| Typical Price (inc VAT) | £850 |
| Typical installation Cost (inc VAT)* | £500 - £1,000 |
| Total Cost | £1,350 - £1,850 |
| ERP Rating | A Heat |
Product Description

DISCONTINUED. This boiler is now discontinued by the manufacturer but can still be used in the Comparison Tool.

The Logic Heat regular gas boiler requires a hot water cylinder which is fed by a cold water storage cistern and a feed and expansion cistern, both of which are usually located in the attic. It is a wall mounted condensing boiler that has been made and manufactured by Ideal. With an efficiency rating of 90% it is an A rated boiler and has an output rating of 24kW. This makes it suitable for smaller properties which do not have a high demand for hot water. This unit has a low lift weight and has been designed to be installed quickly with minimal fuss. It includes push and clip clue turret connections and no need for compartment ventilation. These features make for a quick and easy installation to help save you time and money.

Key features that make it a particularly reliable boiler include a 75mm deep translucent condensate siphon, full modulating operation to low outputs, a preformed mains lead that is 2m long, fast fix telescopic horizontal flue, universal condensate connection and a wide range of additional flueing options. This unit also features built in frost protection to help protect the boiler in those winter months when the unit is needed most.

This boiler is an efficient and easy to use unit with straightforward controls and a clear digital display helping to give you maximum control over the boiler. This unit has been recommended by the Energy Saving Trust as well as being awarded the Queen's Award for Enterprise and Innovation, so you can be sure that it is a highly reliable boiler. In addition it also includes a 2 year warranty on parts and labour.
* This is a guide price for a straightforward, like-for-like boiler replacement. Installation costs will vary dependent on work required.
Why not compare these similar boilers?
Boiler Model
kW
Efficiency
Warranty
Typical Price

Available

Ideal Logic System 30kW Gas Boiler
30kw
98.3%
2 years
£980
Ideal EvoMax 60kW Regular Gas Boiler
60kw
96.9%
2 years
£2,700
Ideal EvoMax 150kW Regular Gas Boiler
150kw
96.7%
2 years
£4,500
Ideal Vogue GEN2 C26 Combi Gas Boiler
18kw
93%
8 years
£1,165
Ideal Vogue GEN2 C32 Combi Gas Boiler
26kw
93%
8 years
£1,334
Ideal Vogue GEN2 C40 Combi Gas Boiler
32kw
93%
8 years
£1,354
Ideal Vogue GEN2 S15 System Gas Boiler
15kw
92.4%
10 years
£976
Ideal Vogue GEN2 S18 System Gas Boiler
18kw
93.2%
10 years
£1,074
Ideal Vogue GEN2 S26 System Gas Boiler
26kw
93.1%
10 years
£1,142
Ideal Vogue GEN2 S32 System Gas Boiler
32kw
93.2%
10 years
£1,264
Ideal Logic Max C24 Combi Gas Boiler
24.2 kw
94%
10 years
£968
Ideal Logic Max C30 Combi Gas Boiler
24.2 kw
94%
10 years
£1,026
Ideal Logic Max C35 Combi Gas Boiler
24.2 kw
94%
10 years
£1,156
Ideal Vogue Max C26 Combi Gas Boiler
18 kw
93%
10 years
£1,089
Ideal Vogue Max C32 Combi Gas Boiler
26 kw
93%
10 years
£1,206
Ideal Vogue Max C40 Combi Gas Boiler
32 kw
93%
10 years
£1,323
Ideal Logic Plus Combi C24 Gas Boiler
24.2 kw
94%
7 years
£847
Ideal Logic Plus C30 Combi Gas Boiler
24.2 kw
94%
7 years
£1,019
Ideal Logic Combi C24 Gas Boiler
24.2 kw
94%
2 years
£750
Ideal Logic Combi C30 Gas Boiler
24.2 kw
94%
2 years
£845
Ideal Logic Combi C35 Gas Boiler
24.2 kw
94%
2 years
£950
Ideal Logic Max S15 System Gas Boiler
15 kw
93%
10 years
£970
Ideal Logic Max S18 System Gas Boiler
18 kw
93%
10 years
£N/A
Ideal Logic Max S24 System Gas Boiler
24.2 kw
94%
10 years
£1,049
Ideal Logic Max S30 System Gas Boiler
30.3 kw
93%
10 years
£1,084
Ideal Vogue Max S15 System Gas Boiler
15 kw
92.4%
10 years
£1,030
Ideal Vogue Max S18 System Gas Boiler
18 kw
93.2%
10 years
£1,125
Ideal Vogue Max S26 System Gas Boiler
26 kw
93.1%
10 years
£1,201
Ideal Vogue Max S32 System Gas Boiler
32 kw
93.2%
10 years
£1,258
Ideal Logic Plus System S15 Gas Boiler
15 kw
93%
7 years
£874
Ideal Logic Plus System S18 Gas Boiler
18 kw
93%
7 years
£885
Ideal Logic Plus System S24 Gas Boiler
24.2 kw
94%
7 years
£918
Ideal Logic Plus System S30 Gas Boiler
30.3 kw
93%
7 years
£954
Ideal Logic System S15 Gas Boiler
15 kw
93%
2 years
£785
Ideal Logic System S18 Gas Boiler
15 kw
93%
2 years
£834
Ideal Logic System S24 Gas Boiler
24.2 kw
94%
2 years
£856
Ideal Logic System S30 Gas Boiler
30.3 kw
93%
2 years
£920
Ideal Logic Max Heat H12 Regular Gas Boiler
12 kw
93%
10 years
£885
Ideal Logic Max Heat H15 Regular Gas Boiler
15 kw
93%
10 years
£920
Ideal Logic Max Heat H18 Regular Gas Boiler
18 kw
93%
10 years
£957
Ideal Logic Max Heat H24 Regular Gas Boiler
24.2 kw
94%
10 years
£998
Ideal Logic Max Heat H30 Regular Gas Boiler
30.3 kw
93%
10 years
£1,117
Ideal Logic Plus Heat H12 Regular Gas Boiler
12 kw
93%
7 years
£732
Ideal Logic Plus Heat H15 Regular Gas Boiler
15 kw
93%
7 years
£760
Ideal Logic Plus Heat H18 Regular Gas Boiler
18 kw
93%
7 years
£810
Ideal Logic Plus Heat H24 Regular Gas Boiler
24.2 kw
94%
7 years
£845
Ideal Logic Plus Heat H30 Regular Gas Boiler
30.3 kw
93%
7 years
£987
Ideal Logic Heat H12 Regular Gas Boiler
12 kw
92%
2 years
£712
Ideal Logic Heat H15 Regular Gas Boiler
15 kw
93%
2 years
£771
Ideal Logic Heat H18 Regular Gas Boiler
18 kw
92%
2 years
£814
Ideal Logic Heat H24 Regular Gas Boiler
24.2 kw
93%
2 years
£813
Ideal Logic Heat H30 Regular Gas Boiler
30.3 kw
93%
2 years
£939
Ideal Mexico HE MEX 15 Regular Gas Boiler
14.6 kw
88.5%
2 years
£1,123
Ideal Mexico HE MEX 18 Regular Gas Boiler
18.2 kw
88.2%
2 years
£1,208
Ideal Mexico HE MEX 24 Regular Gas Boiler
23.4 kw
87.9%
2 years
£1,641
Ideal Mexico HE MEX 30 Regular Gas Boiler
30.1 kw
88.5%
2 years
£1,986
Ideal Mexico HE MEX 36 Regular Gas Boiler
37 kw
89%
2 years
£2,769

Discontinued

Ideal Vogue 40kW Combi Gas Boiler
26kw
89.10%
7 years
£1,210
Ideal Logic Code Combi ES 26kW Gas Boiler
26kw
89.00%
2 years
£1,110
Ideal Logic System 15kW Gas Boiler
15kw
89.30%
7 years
£700
Ideal Logic Heat 12kW Regular Gas Boiler
12kw
89.40%
7 years
£770
Ideal Mexico HE 24kW Regular Gas Boiler
24kw
88.8%
2 year
£1,400
Ideal Logic Combi 24kW Gas Boiler
24kw
94%
2 years
£775
Ideal Logic Combi 30kW Gas Boiler
30kw
94%
2 years
£950
Ideal Logic Combi 35kW Gas Boiler
35kw
94%
2 years
£955
Ideal Logic Combi ESP1 24kW Gas Boiler
24kw
94%
2 years
£770
Ideal Logic Combi ESP1 30kW Gas Boiler
30kw
94%
2 years
£714
Ideal Logic Combi ESP1 35kW Gas Boiler
35kw
94%
2 years
£765
Ideal Logic Plus Combi 30kW Gas Boiler
30kw
94%
7 years
£845
Ideal Logic Plus Combi 35kW Gas Boiler
35kw
94%
7 years
£995
Ideal Logic Plus Combi 24kW Gas Boiler
24kw
94%
7 years
£740
Ideal Logic Plus Heat 12kW Regular Gas Boiler
12kw
89.4%
7 years
£775
Ideal Logic Plus Heat 15kW Regular Gas Boiler
15kw
89.4%
7 years
£775
Ideal Logic Plus Heat 18kW Regular Gas Boiler
18kw
89.6%
7 years
£835
Ideal Logic Plus Heat 24kW Regular Gas Boiler
24kw
89.8%
7 years
£785
Ideal Logic Plus Heat 30kW Regular Gas Boiler
30kw
89.5%
7 years
£925
Ideal Logic Plus System 15kW Gas Boiler
15kw
89.4%
7 years
£815
Ideal Logic Plus System 18kW Gas Boiler
18kw
89.4%
7 years
£895
Ideal Logic Plus System 24kW Gas Boiler
24kw
89.8%
7 years
£920
Ideal Logic Plus System 30kW Gas Boiler
30kw
89.5%
7 years
£905
Ideal Vogue 15kW System Gas Boiler
15kw
92%
10 years
£840
Ideal Vogue 18kW System Gas Boiler
18kw
93%
10 years
£930
Ideal Vogue 26kW System Gas Boiler
26kw
93%
10 years
£910
Ideal Vogue 32kW System Gas Boiler
32kw
93%
10 years
£1,004
Ideal Logic Code Combi ES 33kW Gas Boiler
33kw
91%
10 years
£1,480
Ideal Logic Code Combi ES 38kW Gas Boiler
38kw
91%
10 years
£1,500
Ideal Logic System 18kW Gas Boiler
18kw
97.8%
2 years
£890
Ideal Logic System 24kW Gas Boiler
24kw
98.5%
2 years
£960
Ideal Logic Heat 15kW Regular Gas Boiler
15kw
90%
2 years
£700
Ideal Logic Heat 18kW Regular Gas Boiler
18kw
98.5%
5 years
£791
Ideal Logic Heat 24kW Regular Gas Boiler
24kw
90%
2 years
£850
Ideal Logic Heat 30kW Regular Gas Boiler
30kw
89.3%
2 years
£950
Ideal Mexico HE 15kW Regular Gas Boiler
15kw
89.7%
2 years
£1,030
Ideal Mexico HE 18kW Regular Gas Boiler
18kw
89.7%
2 years
£1,120
Ideal Mexico HE 30kW Regular Gas Boiler
30kw
88.9%
2 years
£1,925
Ideal Mexico HE 36kW Regular Gas Boiler
36kw
89%
2 years
£2,200
Ideal EvoMax 30kW Regular Gas Boiler
30kw
96.7%
2 years
£2,300
Ideal EvoMax 40kW Regular Gas Boiler
40kw
96.2%
2 years
£2,600
Ideal EvoMax 80kW Regular Gas Boiler
80kw
97.2%
2 years
£3,100
Ideal EvoMax 100kW Regular Gas Boiler
100kw
96.7%
2 years
£3,800
Ideal EvoMax 120kW Regular Gas Boiler
120kw
96.6%
2 years
£4,100
Ideal Vogue Max 26kW Combi Gas Boiler
26kw
93%
10 years
£1,015
Ideal Vogue Max 32kW Combi Gas Boiler
32kw
93%
10 years
£1,125
Ideal Vogue Max 40kW Combi Gas Boiler
40kw
93%
10 years
£1,248
Ideal Vogue Max 15kW System Gas Boiler
15kw
92%
10 years
£995
Ideal Vogue Max 18kW System Gas Boiler
18kw
93%
10 years
£1,091
Ideal Vogue Max 26kW System Gas Boiler
26kw
93%
10 years
£1,037
Ideal Vogue Max 32kW System Gas Boiler
32kw
93%
10 years
£1,135
Ideal Logic Max 24kW Combi Gas Boiler
24kw
94%
10 years
£894
Ideal Logic Max 30kW Combi Gas Boiler
30kw
94%
10 years
£980
Ideal Logic Max 35kW Combi Gas Boiler
35kw
94%
10 years
£1,077
Ideal Logic Max 15kW System Gas Boiler
15kw
93%
10 years
£959
Ideal Logic Max 18kW System Gas Boiler
18kw
93%
10 years
£960
Ideal Logic Max 24kW System Gas Boiler
24kw
94%
10 years
£915
Ideal Logic Max 30kW System Gas Boiler
30kw
93%
10 years
£952
Ideal Logic Max Heat 12Kw Regular Gas Boiler
12kw
93%
10 years
£839
Ideal Logic Max Heat 15kW Regular Gas Boiler
15kw
93%
10 years
£876
Ideal Logic Max Heat 18kW Regular Gas Boiler
18kw
93%
10 years
£911
Ideal Logic Max Heat 24kW Regular Gas Boiler
24kw
94%
10 years
£946
Ideal Logic Max Heat 30kW Regular Gas Boiler
30kw
93%
10 years
£1,059