UK Not Servicing Boilers Often Enough
Homeowners in the UK are not servicing their boilers regularly enough, running the risk of them operating less effectively, breaking down, or at worst, face exposure to dangerous carbon monoxide fumes.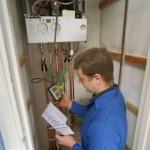 That's the findings of a recent survey by Carillion Energy Services, which reveals that 26% of homes in the UK have not had their central heating boilers serviced in the last 12 months. To keep a boiler running efficiently, it must be serviced at least once a year.
"Most manufacturers recommend this, and in fact, it's a requirement for most warranties," explains Vince Barry, the marketing manager for Carillion Energy Services.
"The danger is that with everyone's personal budget so stretched at the moment people will delay, or even avoid, having their boiler serviced at all, and it really isn't a good idea," he added.
This means that with approximately 26 million households in the UK, 6.7 million are running wasteful boilers, collectively spending an unnecessary £400 million a year.
According to the Carbon Trust, a non-serviced boiler can use around 10% more energy than a well-maintained boiler.