Warwick District Council Trials Baxi Biomass Boiler
In line with its environmental best practice policy, Warwick District Council has chosen to trial Baxi's Bioflo domestic biomass boiler at one its remotely located housing refurbishments.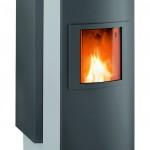 The timber-framed property in Lowsonford, a small village in Warwickshire, is located off the gas mains and has undergone a refurbishment between tenancies. The council property also features solar thermal water collectors and photovoltaic panels.
The Baxi Bioflo biomass boiler is connected to the domestic hot water and central heating system in much the same way as gas-fired condensing boilers, and thanks to its modern design and compact size, it's very well suited to installation in living areas, as it is to traditional biomass boiler locations, which are usually out of view.
Warwick District Council manages more than 5,000 homes and is committed to the sustainable development and lowering the carbon footprint of all of its buildings.