It won't be news to you that there are very few women currently working as heating engineers and/or plumbers. While it's hard to put a figure on it, the Institute of Engineering and Technology recently stated that less than 10% of the UK's engineers are women which is the lowest percentage in Europe. Of the 100,000 registered Gas Safe engineers in the UK, fewer than 500 are female.
There's plenty of debate around why this is the case and several possible reasons from the fact that young girls are not encouraged to pursue a trade or a career in STEM (Science, Technology, Engineering, Maths), despite the fact that up until they have to make career-led education choices girls are taking part and achieving in these subjects just as well as boys. Some argue that there are more social issues at play with certain practical careers being perceived as more suited to men while women are encouraged into supportive and nurturing roles.
Another argument which is quickly losing credibility is that women simply don't want to do the job. There are enough surveys and statistics out there which show this theory to be nonsense, but after attending the Women Installers Together conference on 4th July, it's crystal clear to me that this is far from the case.
Women Installers Together
The event is run Stopcocks Women Plumbers as an opportunity for female plumbers and heating engineers from all over the UK to expand their professional network, celebrate their achievements and provoke debate about what is preventing more girls and women from entering the industry. I asked the women at the best-attended WIT conference yet to talk about their experiences as women in a male dominated industry and how they've tackled gender bias when they've come across it.
Kelly:'I stand my ground. I'm too confident in my abilities and my knowledge and I don't think I even give customers the opportunity to doubt or question me.'
Jo: 'My own mum still thinks I am not a plumber and never will be. She says that women should not do that kind of work. She even had her kitchen done recently and asked a male plumber to do the work. I told her I didn't mind because she can't afford me anyway. I try to keep it lighthearted, but you have to have a thick skin.'
Sarah: 'I attended a college open day and told the head of construction at the time that I wanted to do plumbing. He told me I couldn't do plumbing as there were child protection risks involved in having a 35 year old woman in a class of 16 year old boys. There were older men there, but they were not seen as a problem. It was a ridiculous statement but even more so considering I was a teacher at the time. I reported the conversation to senior management and I believe it was one of many incidents which led to his dismissal.'
Laura: 'I was working on an extension in a home as the plumber. When the builders came in they looked at me like they'd seen a ghost and said, 'Who are you?' I said, 'I'm Laura, I'm the plumber', and he said, 'I thought you were the babysitter'. After that, he was very overbearing and kept suggesting how I should be doing my job. I was working for someone else at the time and I said to him that I refused to return to the job if that individual was still there. Thankfully, I was supported and he was moved to another assignment, but I don't know if he was told what he had done that was inappropriate.'
Rose: 'I find that the best response I can give people who doubt me is to simply get on with the job and to do it well. I know I'm thorough and can do the job as well as any other engineer out there, and once they see that my gender doesn't matter. Most of my customers find me because I've been recommended by someone else, and several times the recommendation has come from someone who wasn't confident in my ability at first. That's a good feeling, because it feels like I've gone a little way to changing someone's mind about female engineers.'
Why Bring More Women into the Industry?
A diverse workforce is a stronger workforce and more and more sectors are recognising that people from different genders, ethnic backgrounds, religions, education and ages working together is key to development and growth. However, the heating industry in particular would benefit from attracting more women.
Firstly, the industry's workforce is aging with fewer young people taking up the training every year. According to the Gas Safe Decade Review, half of gas engineers due to retire in the next decade, the industry is facing a huge skills shortage. Bringing more women (of any age) could help to boost these numbers.
In addition, employers may be missing out on a competitive advantage as a several surveys including one by the Federation of Master Builders found that 35% of women would prefer to hire a female tradesperson.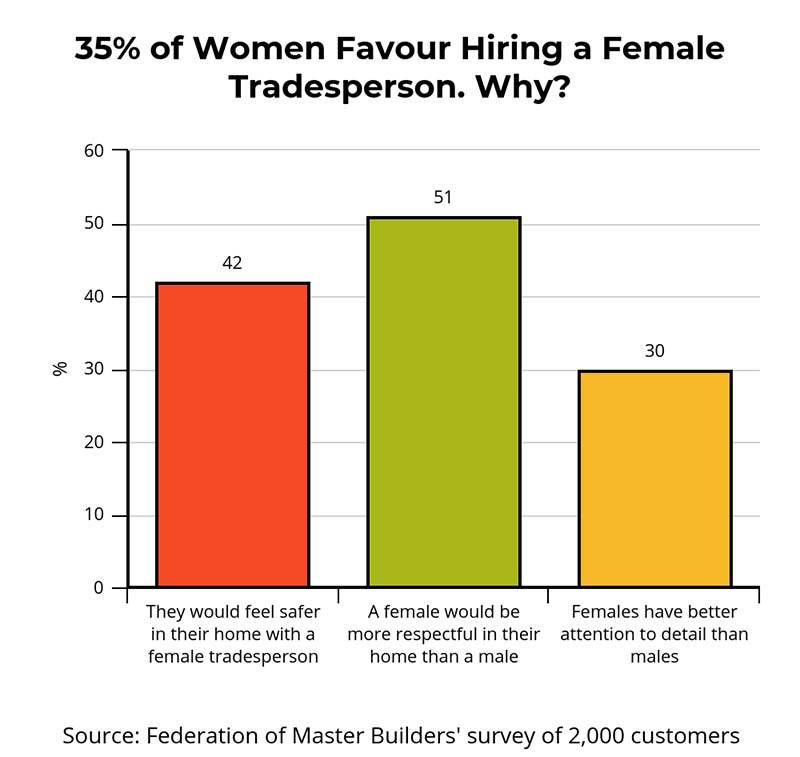 There are several reasons behind this and while many of them are related to gender stereotyping and unconscious gender bias, if you are able to offer your customers the option of a female engineer where your competitors cannot you may be able to secure more business. You'll also be showing your brand to be inclusive, diverse and forward-thinking.
How Can the Industry Bring Women into the Heating & Plumbing Trades?
While the majority of professionals in the industry may have no objections to working with female plumbers or engineers or seeing them become more established in general, being passive about the issue is not going to instigate change.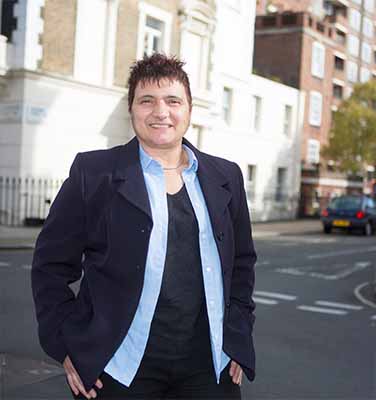 Hattie Hasan is the founder of Stopcocks Women Plumbers which is the organisation behind the Women Installers Together conference. Speaking before the most recent event on 4th July 2019, Hattie said that she believes that when it comes to tackling the heating and plumbing industry's gender imbalance, long-term change needs to come from within the industry.
"Given the massive difference in the proportion of women to men in the industry, to expect the minority (the women) to be the ones to make this change is unrealistic, especially if many are young women fresh from college and at a disadvantage because of their age and relative inexperience.

"The industry is beginning to change, but slowly, and so slowly that impetus can be lost as long as it's seen to be only an issue of concern for women.There is an increasing cohort of male heating engineers who support the growth in the number of women in the industry and several manufacturers now actively support women in the industry."
A proactive and practical approach is what is required in order to encourage women to enter the industry and to support them to ensure that they remain. How can male heating engineers and male-dominated companies help to tip the scales and bring more women on board? Here are some ways in which you may be able to play a more active role in bringing diversity into the industry.
Show Support in Your Marketing
Whether you are an independent engineer or a company, it's likely that you'll have some level of presence on social media. If so, this is a great opportunity to support women in the industry by positively interacting with them, networking, sharing expertise and even collaborating. Help them to raise their profile and, if you see discrimination or even unconscious bias, take a positive stand. In addition, if you use stock images in your marketing make sure you include men and women as equally as possible. Women may be deterred from a career in the industry if they cannot see females already out there doing it or if believe that they won't be taken seriously, so set the standard and others will follow.
Connect with Young People
Before we've even reached puberty we have internalised ideas about what we are able to achieve in life and have developed patterns and biases based on gender (among other factors). Be part of the change and go along to a local school's career day or a careers fair and promote the industry to both girls and boys. If/when you have an apprenticeship to offer, make sure your adverts are written and presented as gender neutrally as possible and that you make it clear you will be considering applications from girls and boys.
Offer Apprenticeships to Adults
One of the biggest obstacles that the women at the WIT conference talked about was the lack of apprenticeship opportunities for women, i.e. those aged over 24 who are trying to change careers. This is because the government will provide funding to companies which take on an apprentice who is aged 16-24 whereas an older candidate needs to be fully funded by the company. This makes these opportunities rare and competitive, so if you have an apprenticeship on offer and are able to, advertise it to as wide an audience as possible so candidates of all ages and genders can apply.
If you can't afford an apprenticeship, consider giving a woman who is changing careers the opportunity to shadow you or your engineers. Many women will be happy to work on a voluntary basis so they can get the experience they need.
How to Promote Gender Diversity in Recruitment
Whether it's for an apprenticeship or a fully qualified engineer, your recruitment procedures can be adapted to encourage a more diverse pool of candidates. For example, if you offer flexible working hours and good holiday allowance, make sure you promote this as it may encourage candidates with families to apply. If you include photos in your adverts, represent both men and women. Highlight your commitment to equality and diversity and that you have a welcoming team with a friendly atmosphere.
When writing an advert for a qualified engineer role, keep your list of essential requirements to a minimum and consider whether or not you really need someone with X years of experience. Studies have shown that women will only apply for a job if they meet 100% if the criteria, so being too prescriptive could deter perfectly capable candidates.
At Boiler Guide we provide thousands of UK heating engineers with qualified sales leads for jobs in their local area, but currently we have no female engineers on our network. We hope that as the number of women entering the industry increases, one day soon the first of many female engineers will be growing their business with our sales leads.