"I would highly recommend using Boiler Guide and look forward to continuing to build our working relationship."
Lee Dobson, Operations Director at Conscious Energy
For Conscious Energy, the future of the planet is at the heart of everything they do.
As a nationwide renewable energy specialist, Conscious Energy fits air source heat pumps, solar PV and battery storage systems right across the country. And since starting up in 2019, they've gone from strength to strength. But when the coronavirus pandemic hit, the team at Conscious Energy needed support getting more jobs. That's where we've been able to help.
We spoke to Lee Dobson at Conscious Energy about Boiler Guide leads, their response to the COVID-19 pandemic and the future of home heating.
Meet Lee at Conscious Energy
Lee Dobson is Conscious Energy's Operations Director.
After 12 years working at Barclays, Lee's interest in the renewable energy market inspired him to take the plunge at an opportunity to become a Director at Conscious Energy.
Two years later and Lee hasn't looked back. His experience has helped him to make a huge impact at Conscious Energy and the renewable energy market as a whole.
Getting to know Conscious Energy
Conscious Energy is a company that has the future of the planet in mind.
They were established in May 2019 with the ambition of helping the UK move towards a greener future.
Within the business, they work on everything from lead generation, surveys and technical design, through to the installation and commissioning of the technology. Customers can also count on them for servicing and maintenance after the installation too.
And the lead generation side of things is where we have been able to help.
How our qualified leads are helping Conscious Energy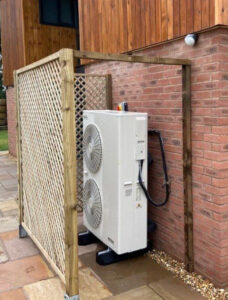 Conscious Energy started using Boiler Guide as the pandemic began to take hold.
As the nation went into lockdown, they came up against all sorts of barriers. And these barriers were having an impact on the number of jobs they had in the pipeline.
So, to increase their workload, Conscious Energy were looking to pair their own lead generation efforts with an outside source. That's when they found Boiler Guide.
Our qualified renewables leads come from homeowners who are actively looking for quotes from companies. This is largely thanks to the level of detail we get from enquirers: "The amount of detail that is collected by Boiler Guide makes our lives a lot easier as we have a good view of what the customers are looking for and how we can help."
Not only have our leads helped Conscious Energy as a business, they've also been beneficial on a more personal level too: "Boiler Guide leads have helped with the anxiety that comes along with building your own company. Especially with the pandemic that has impacted us all."
How we've helped Conscious Energy
Since joining Boiler Guide, Lee has been impressed with our service in a number of ways.
Constant supply of work
Whether you need us to supply all of your work or keep you topped up with jobs, we can help. Conscious Energy uses our service to support their own in-house lead generation: "We have seen some really good success off the back of the leads we have purchased from Boiler Guide. It has helped us keep our pipeline of work healthy on top of our other lead avenues."
Each lead comes with plenty of detail
Our leads are all qualified or telephone-verified. This allows us to get as much information from the customer about the work they need before we make the lead available to buy: "The amount of detail that is collected by Boiler Guide makes our lives a lot easier as we have a good view of what the customers are looking for and how we can help."
We'll then only release the lead if we're certain that they're ready to talk to installers.
Supportive team
Our team of Account Managers are on hand to help with anything our customers need and having this support has been a big benefit to Conscious Energy: "We have found the team friendly and supportive on any issues we have come up against and our working relationship keeps going from strength to strength."
Finance
Through our service, installers can offer finance options to customers to help them spread the cost of renewable technology or heating systems with a personal loan. Lee believes finance is a great way to turn more homeowners to renewables: "The finance feature is another great step to pushing the net-zero agenda into the public eye making it affordable for anyone wanting to make the change to a renewable future."
Open to feedback
We are always looking to learn and support the businesses of our customers as best as we can. This is something that Lee has picked up on: "They are open to feedback and are constantly looking to improve in any way they can."
"Boiler Guide is a collaborative lead generation company who understands the industry we work in."
Their thoughts on the future of home heating
As a company with a keen eye on the future of heating, we had to ask Lee about his thoughts on reaching net-zero targets.
Lee believes that demand for renewables is out there but points to a lack of investment in the UK: "I think the installation workforce needs to be invested in and grown ASAP. The demand is out there but I'm not sure the UK is ready to meet that demand.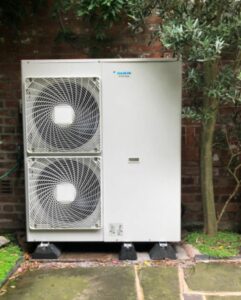 "We are working all the time to grow our team and their knowledge of this industry and hope to see other companies doing this so we can meet the net-zero targets. I think it is moving in the right direction but the pace at which this is being done does concern me."
In an attempt to speed up the switch to renewables, the government launched the Green Homes Grant scheme in 2020. It was hoped that the scheme would make 600,000 homes more efficient by offering grants for renewable technology and insulation.
Unfortunately, the scheme didn't go to plan and ended in March 2021. 12 months earlier than planned. Despite its failure, Lee has seen some positives: "Although the GHGS was not an overwhelming success it helped with bringing these technologies to customers
minds.
"Consumers are much more aware of the impact they have on our environment and planet when using fossil fuels. And the desire consumers have to make these changes is really exciting and encouraging to see."
Thanks to Lee Dobson and the team at Conscious Energy for contributing to this article.