Homeowners are becoming more aware of alternative heating systems and demand for renewables is increasing as a result. By becoming a renewables installer, you can future proof your business and secure even more work.
Why is the demand for renewable heating systems on the rise?
In recent years, the public has become increasingly environmentally conscious. Media coverage of our impact on the environment has increased and the UK government has targeted net-zero carbon emissions by 2050.
As a result, many homeowners are making more environmentally conscious decisions in many areas of their lives. Including home heating.
The boiler – particularly gas boilers – have been an ever present fixture of homes for many years. However, times are changing. Homeowners are more aware of alternative options to the boiler and with many of these alternatives promising lower heating bills and a smaller carbon footprint, the demand is increasing.
One of the best ways to see how demand for renewables is increasing is to look at Renewable Heat Incentive (RHI) applications. The RHI is a government initiative which rewards homeowners with payments for generating their own renewable heat.
In April 2014, there were a total of 5 successful applications for the RHI: 2 for air source heat pumps, 2 for biomass, 1 for ground source heat pumps and 0 for solar thermal.
Since then, the landscape has changed dramatically.
In month of July 2020, the applications dwarfed those in April 2014 as 55,883 were received for air source heat pumps (36,073), biomass boilers (9,381), ground source heat pumps (6,258) and solar thermal (4,171).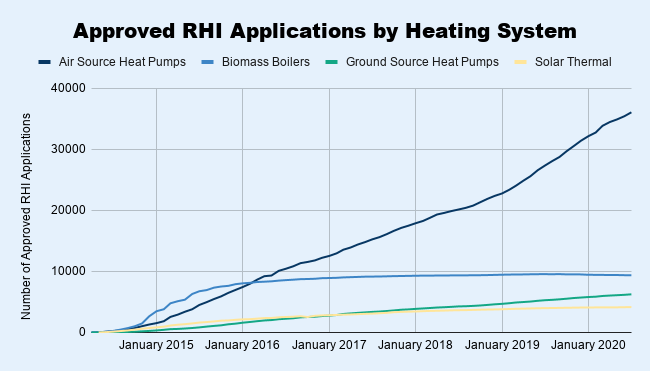 Despite this rise in demand for renewable heating from homeowners, they're only heating around 2% of UK homes. And according to research carried out by the Department for Business, Energy & Industrial Strategy in 2018 found that 48% of people in the UK have never heard of renewable heat. So the scope for even more growth is massive.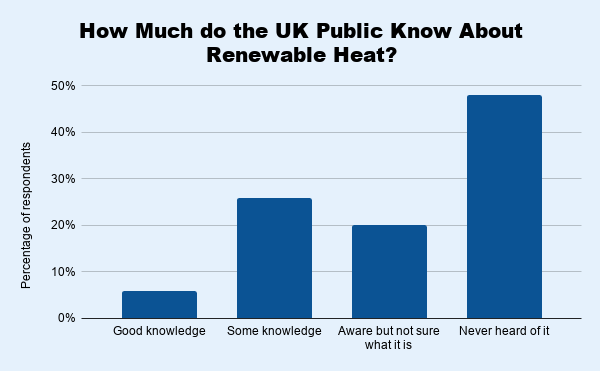 Survey conducted by the Department for Business, Energy & Industrial Strategy (BEIS) in 2018.
How to become a renewable energy installer
To install renewable heating systems you must be certified by the Microgeneration Certification Scheme (MCS). MCS is a quality assurance scheme and being MCS certified shows that your company installs renewable technology to the highest standard.
When applying to become MCS certified you will need to choose which renewable systems you wish to install, these include:
Solar PV
Solar Thermal
Air Source Heat Pumps
Ground Source Heat Pumps
Biomass
Wind Turbines
Micro Hydro
Micro CHP
Not all of these are renewable heating systems as solar PV, wind turbines and micro hydro generate electricity.
Becoming an MCS certified installer can be broken down into four main parts.
1. Assessment
The route to becoming an MCS installer begins with an assessment against the MCS 001 Standard as well as meeting the standard for the specific technology you're seeking to be certified to install.
To do this, you will need to be assessed by a Certification Body. The selected certification body will assess you based on company practices and then inspect one of your installations.
There are multiple certification bodies to choose between, all of which set their own rates and offer assessments of different technologies. Below are the third-party certification bodies recognised by MCS and the qualifications you can earn with them.
| Certification Body | Technologies |
| --- | --- |
| APHC Certification Ltd. | Biomass, heat pumps, solar thermal and MCS023 |
| CERTSURE LLP t/a ELECSA | Biomass, heat pumps, solar thermal, solar PV, micro CHP, wind turbines and MCS023 |
| CERTSURE LLP t/a NICEIC | Biomass, heat pumps, solar thermal, solar PV, micro CHP, wind turbines and MCS023 |
| HETAS | Biomass and solar thermal |
| NAPIT Certification Ltd. | Biomass, heat pumps, solar thermal, solar PV, micro CHP, wind turbines and MCS023 |
| OFTEC | Biomass, heat pumps and solar thermal. |
| STROMA Installer Certification | Heat pumps, solar thermal, solar PV and MCS023 |
MCS023 is essential if you plan to complete work through the Green New Deal.
2. Renewable Energy Consumer Code (RECC)
Before being assessed by a certification body, your company must belong to a Trading Standards Institute (TSI) approved Consumer Code. This means becoming part of the Renewable Energy Consumer Code (RECC).
3. Demonstrating competency
Being able to display the competency of you and your employees is an essential part of earning MCS certification. Anyone set to work on an installation in any way, including carrying out the installation or commissioning of an MCS system, must hold certification.
There are two ways for you to display competency and these include:
Completing an MCS accepted qualification and/or course
Demonstrating it to your MCS certification body
You can find further information on meeting MCS competency standards in MCS 025, Competency Guidance and MCS Installer Standards.
4. Demonstrating the operation of a Quality Management System (QMS)
To complete the process of becoming an MCS certified installer, you will need to display the ability to operate a QMS. This assessment will be carried out by the selected certification body.
Which renewable heating system should I install?
Renewable heating systems come in several forms. Each of the different systems works to extract heat from different sustainable energy sources. Renewable heating systems designed for domestic installation include:
Air source heat pumps
Ground source heat pumps
Biomass boilers
Solar thermal panels
Heat pumps are the most popular renewable heating system. Particularly air source heat pumps. Data from the Renewable Heat Incentive shows that since the scheme was first opened to applications in 2011, over 50% of applications have been for air source heat pumps.
| Renewable Heating System | Percentage of RHI applications |
| --- | --- |
| Air source heat pumps | 58.6% |
| Ground source heat pumps | 16% |
| Biomass boilers | 14% |
| Solar thermal | 11.4% |
Benefits of installing renewables
Being qualified to install renewables adds another dimension to your business. You'll be able to cater for even more potential customers and as demand for renewable heating grows, you'll be ready.
As an MCS certified installer of renewables, you'll also be able to complete work that's eligible for the Green Deal, Renewable Heat Incentive and Green Homes Grant.
Through the Green Deal, a homeowner, landlord or tenant is given a loan to cover the costs of making energy efficient improvements to a property. This could be installing renewable technology, improving the insulation or the fitting of a new heat distribution system.
One of the big incentives for homeowners to install a renewable heating system is the Renewable Heat Incentive (RHI). Through the RHI, homeowners generating their own renewable heating receive quarterly payments over a 7 year period. For an installation to be eligible for the RHI, the heating system must be MCS certified and installed by an MCS accredited installer.
The most recent incentive to turn to renewables is the Green Homes Grant. Until March 2021, homeowners can receive a government grant of up to £5,000 to help cover the costs of installing a renewable heating system. This scheme is likely to boost demand for renewable installers and your business could benefit.
To complete work through the scheme you must be certified through the Microgeneration Scheme (MCS) for the specific heating system being installed. Find out all you need to know about carrying out work through the scheme in our Green Homes Grant Guide for Renewable Energy Installers.
Don't miss out on more work
As we've seen, demand for renewable heating systems is on the rise and it's only going to increase. Adding to your skill set by earning a qualification to install renewables will open your business up to opportunities to earn more work.
The easiest way to find those customers is with Boiler Guide. We're receiving requests from homeowners every day for us to connect them with renewable energy installers in their local area. And you could be the installer we match them with.
Our service is completely free to join with no hidden membership or subscription fees. You only ever pay for the work you want as and when you want it. So sign-up today to see the work available in your area.