We've been introducing heating engineers to homeowners for nearly 20 years now and we're proud to have helped thousands of businesses get more jobs and grow.
Over 3 million homeowners visit our website each year seeking the expertise of a heating engineer – a number that's growing every year. Using the data we've collected over the years, we analysed 10 years of boiler enquiries to find out which UK regions have requested the highest numbers of boiler repairs.
Find out where boilers are most likely to be on the blink.
Note on the data: Directly comparing the number of enquiries in each region wouldn't be a fair comparison as some regions are more densely populated than others. To solve this, we found out the total number of households in each region via the Office of National Statistics (as of June 2019). This information was then used to work out the number of boiler enquiries we received as a percentage. To finish, we multiplied them by 10,000 to get our final results for the comparison.
Where are boilers breaking down?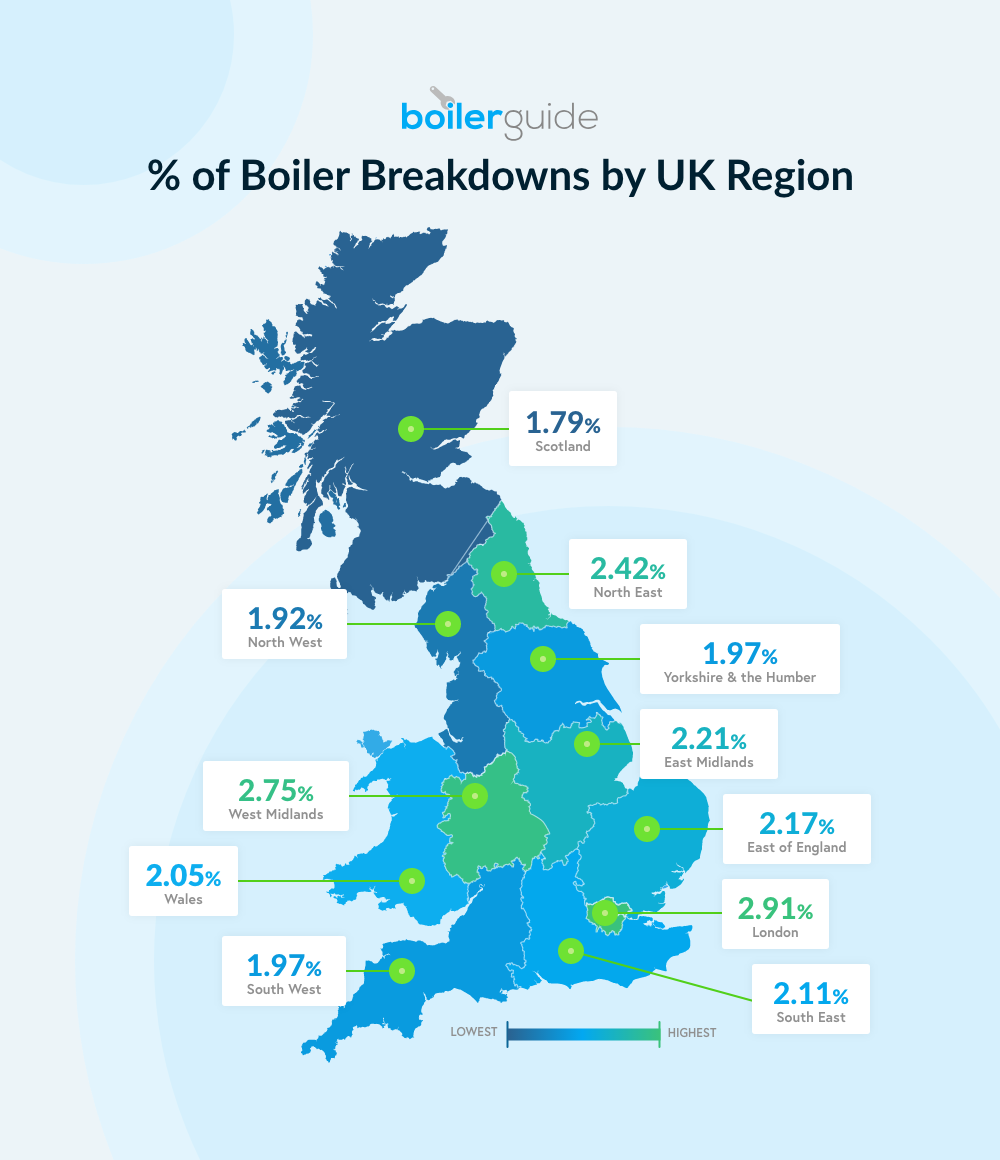 Households in London needed the most help with their boilers with 2.91% of households in the capital requesting boiler repair quotes in 2019. Following London was the West Midlands (2.75%) and the North East (2.42%).
On the flipside, only 1.79% of Scottish households requested repair quotes while the North West of England wasn't too far behind (1.92%).
| UK Region | Percentage of Homeowners Requesting Boiler Repair Quotes in 2019 |
| --- | --- |
| London | 2.91% |
| West Midlands | 2.75% |
| North East | 2.42% |
| East Midlands | 2.21% |
| East | 2.17% |
| South East | 2.11% |
| Wales | 2.05% |
| South West | 1.97% |
| Yorkshire | 1.97% |
| North West | 1.92% |
| Scotland | 1.79% |
Now, we don't recommend moving your company to the area with the most breakdowns but there is something you can do to earn more business. Sign up to Boiler Guide.
All of these boiler breakdowns have something in common. The owner of that boiler came to us and requested to be connected with a heating engineer in their area.
Why are more boilers breaking down in London?
London may have more households than other areas of the UK but we took this into account when delivering the data. Yet, London still came out on top. There are a number of possible reasons why this is the case:
Older properties with dated heating systems
Warmer temperatures through the year
More renters than homeowners
Multiple occupancy
Hard water
Outdated heating systems
Many of the houses in London are older buildings which means they're more likely to have older heating systems. The capital is also full of listed buildings too which may restrict the options when attempts are made to update the heating system.
Warmer year-round temperatures
Being in the south means that London is treated to warmer average temperatures than areas further north. As a result, boilers could well be left inactive for longer periods of time.
Higher volume of renters
In 2019, it was found that only 37.2% of people living in London own their home (Resolution Foundation). This means that the responsibility of having the boiler repaired, serviced and replaced falls onto the shoulders of the landlord. A tenant is far less likely to report a minor problem, only alerting the landlord once they no longer get heating or hot water.
This idea is supported by the fact that West Midlands and North East of England – two other areas popular with renters – also reported a high number of boiler repairs.
Multiple occupancy dwellings
With many properties housing multiple occupancies, this can put more strain on the heating system.
Hard water areas
Properties in London are supplied with hard water which can lead to limescale and increased chances of blockages forming.
Why are fewer boilers breaking down in Scotland?
Closely followed by the North West of England and Yorkshire, boilers properties in Scotland reported fewer boiler problems than anywhere else in the UK. So, why is this?
Well, Scotland is a soft water area, which could well be aiding the reliability of the heating systems. After all, we know that London is a hard water area and that's where most repair enquiries came from.
Secondly, due to the lower year-round temperatures above the border Scottish homeowners may be better prepared.
In 2019, the average temperature in Scotland was 7.9℃ which is a fair bit lower compared to the relatively toasty temperatures in England (10.4℃) and Wales (9.7℃).
Alternatively, perhaps Scottisch people are more comfortable in lower temperatures and don't call on their heating systems so much.
What the results tell us
Some areas of the UK seem to have more trouble with their boilers than others. However, if there's one thing this data reveals is that no matter where you are in the UK, eventually, you're going to need a heating engineer.
This experience is something that's been shared by almost all homeowners for a number of years. Part of the experience which has changed over the years is how homeowners connect with heating engineers.
We're living in an increasingly digital world. And here at Boiler Guide, we offer a service that benefits heating engineers looking to connect with homeowners who want to find a professional online.
Enquirers complete an online form on our Boiler Guide website, providing details of the work they want completing. We then give them a quick call to double check all of their information and confirm they want to be contacted by professional heating engineers.
At this point, we make the lead available to buy. You can see the leads available in your area for free by signing up today. You'll only ever pay if you want to buy a lead – there are no hidden fees along the way.