The demand for more efficient heating systems is on the rise amongst consumers and that has seen a growing interest in electric boilers.
Heating installers who aren't already qualified to install an electric boiler, could potentially stand to benefit from earning an electric boiler qualification.
Especially as gas boilers are set to be banned from new build homes as of 2025.
At Boiler Guide, we've seen an increase in demand for electric boilers firsthand with the number of people visiting our website rising by 1,072% between May 2016 and May 2019.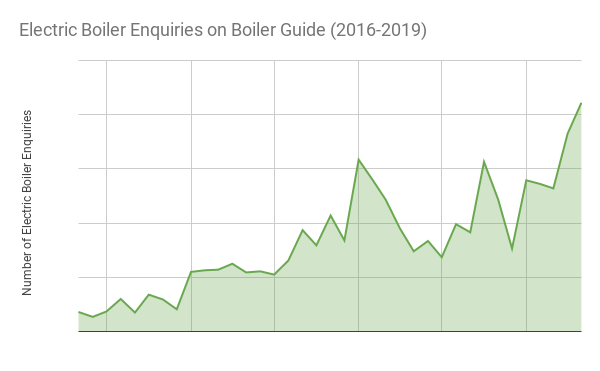 For many heating engineers, electric boilers might be completely new territory but as you can see from the above graph, offering the service could really benefit your business.
Why are customers turning to electric boilers?
Despite the higher running costs of an electric boiler, compared to gas and oil, the many benefits they offer are appealing to customers:
Tend to be smaller in size so take up much less space
Operate quietly
Don't produce any emissions
No chance of a carbon monoxide leak
Remove the need for a flue to make installation simpler and much more flexible
Less maintenance thanks to fewer moving parts
They don't need to be serviced as frequently as gas and oil boilers
With the rising demand for electric boilers, earning a qualification to install an electric boiler could help to secure you even more work.
Electric Boiler Installation Tips
From preparing for the questions you're likely to face from customers to making sure you're installing the most suitable boiler, these electric boiler installation tips will help any installer when carrying out an electric boiler installation.
1. Prepare for questions
First and foremost, we highly recommend preparing for questions from customers.
An electric boiler is an unfamiliar heating system to most so expect questions about the technology. In addition to knowing how to install an electric boiler, your customer might want to understand the technology a bit more so it's important to knowing about them inside out.
Advise on running costs
Many consumers interested in an electric boiler can be put off by the potential running costs. Knowing how to help customers keep these costs as low as possible will prepare you for one of the most commonly asked questions:
Install a solar PV system to generate free renewable electricity
Solar thermal panels can heat the water in the cylinder using solar energy
Take advantage of cheaper night tariffs such as Economy 7 – particularly if installing a Dry Core Storage boiler
Understand efficiencies
Electric boiler efficiency is often a cause of confusion.
An efficiency rating of 99-100% appears alongside an ErP rating as low as D, which doesn't add up when you consider that gas and oil boilers can be A-rated despite a lower efficiency.
For any customers interested to know why this is, electricity is considered a 'carbon intensive' fuel as a result of most electricity in the UK being generated using fossil fuels. Due to this, electricity is expensive and means that electric appliances have a low ErP rating.
2. Property suitability
Electric boilers aren't suitable for all properties. They don't tend to be powerful enough to meet higher demands for heating and hot water, making them best placed in smaller homes and flats.
So, if a customer comes to you for an electric boiler quote but their property isn't suitable, you might need to advise them to install an alternative heating system.
3. Check the fuse
Knowing the size of the fuse within a property is essential. Typically, an electric boiler uses 48 amps (although this will vary from model to model) and when you consider that some older UK properties have a 60 or even 30 amp fuse, the boiler takes up the vast majority.
A fuse can be upgraded to a larger size, such as 80 or 100 amps, giving those in the property more flexibility
4. Assess the property
Every property is different so it's important to assess the heating and hot water needs each time. While some electric boilers can supply heating and hot water, many are heat-only and need a separate hot water cylinder for domestic hot water.
5. Check the label
Ensuring that the electric boiler being installed meets the Building Regulations is vital and to do so you'll find an electrical assessment label on the unit.
6. Wiring condition
Checking the circuitry is something that should be done at every electric boiler installation but is particularly relevant in older buildings and properties. Electric boilers use a lot of power and as a result need a dedicated circuit.
7. Flush the central heating system
No matter the type of heating system being installed, flushing out any potentially contaminated water should always be a high priority. Not doing so will restrict the new electric boiler from performing as efficiently and effectively as it could.
8. Regular services
For consumers, one of the advantages of having an electric boiler installed is that they don't need an annual service. Having said this, as a heating engineer it's highly important to check on the performance of the system beyond the installation and throughout its life.
Finding more customers
One final bit of advice we can provide you with when it comes to not only electric boiler installation, but any type of boiler installation is how to find more customers.
At Boiler Guide we're generating leads from customers right across the UK who are in need of a heating engineer.
The quality of our leads is of the highest priority and is why 80% of our Boiler Guide leads go on to buy a new boiler. How can we ensure the quality of our leads? Well, we get as much information from each customer by contacting them to check:
Name, address & up to date contact details
Whether they are a homeowner, landlord or tenant
Best times for you to get in contact with them
Urgency of the work
Location of the boiler
Type of boiler needed
Flue type
So, when you see that a lead is available to buy in your area, you can be confident that we've already collected the information you'll be needing.