When deciding whether or not to buy a boiler lead, you want to know where the lead has come from, that they are a real person who is looking for quotes and that they are genuinely interested in buying a new boiler.
At Boiler Guide we don't think that's too much to ask for, which is why we are committed to generating high quality leads and a strict qualification procedure. We know we generate genuine sales opportunities which help businesses like yours to grow, but we thought you might like to see some proof…
How many of our leads are ready to buy a new boiler?
In May 2019 we invited a significant number of Boiler Guide enquirers to complete a survey about their experience of requesting quotes through the website. We received overwhelmingly positive feedback about the service from the homeowner's point of view, but we also wanted to find out what happened after we put them in touch with heating engineers.
80% of the respondents went on to replace their boiler.
At least 54%* of these people bought their boiler from a company introduced to them by Boiler Guide.
*18% of the respondents said they were unsure if the company they used came via Boiler Guide or not, so this figure could well be higher.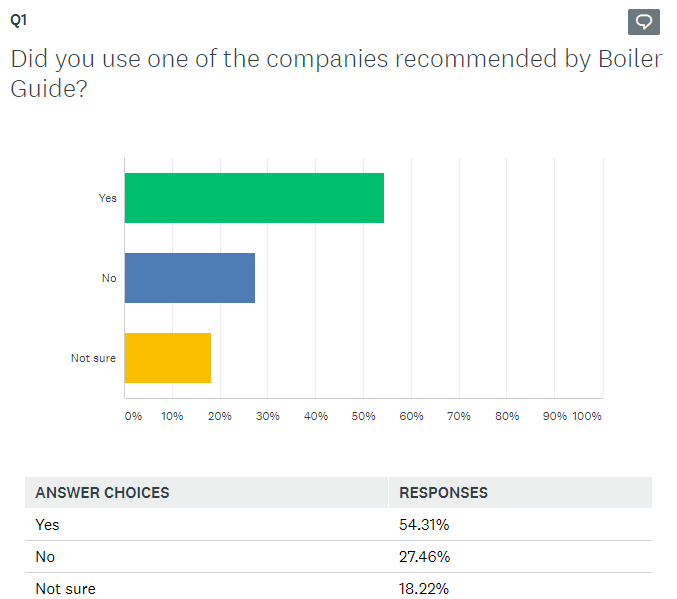 Of the 20% who had not had a boiler installed, over 77% gave the following reasons:
Can't afford it
Decided to carry on with present boiler.
Haven't got round to it.
Booked in for a future date.
Why are homeowners turning down quotes?
We asked the 27% who definitely did not use a company introduced by Boiler Guide why they chose to use a different company.
The most common reason given was that they had found a better price elsewhere, while several others went with a recommendation from family or friends or they chose to hire an installer they had already used in the past.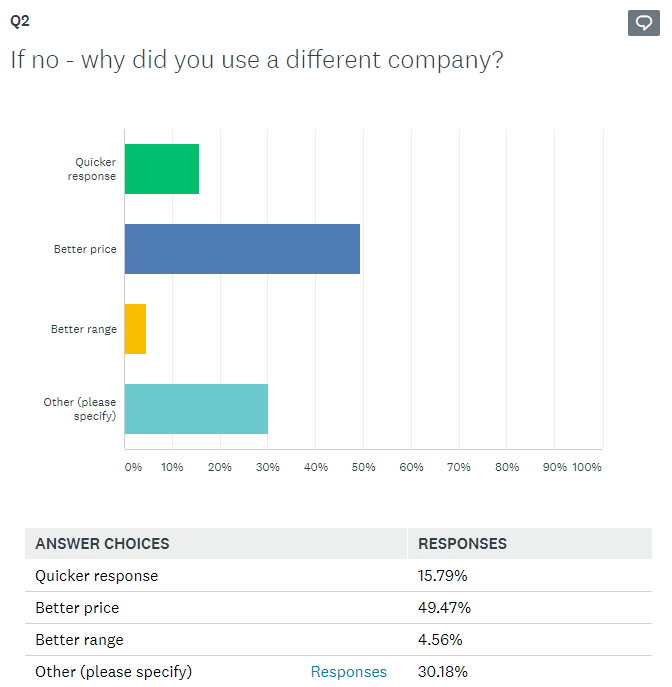 Other statistics you might find interesting…
How much are homeowners paying for a new boiler?
77% of the total survey respondents told us the price they paid for the supply and installation of their new boiler.
The average price paid was £2,343 with given prices ranging from £400 to £6,300.
Which boiler makes are homeowners buying?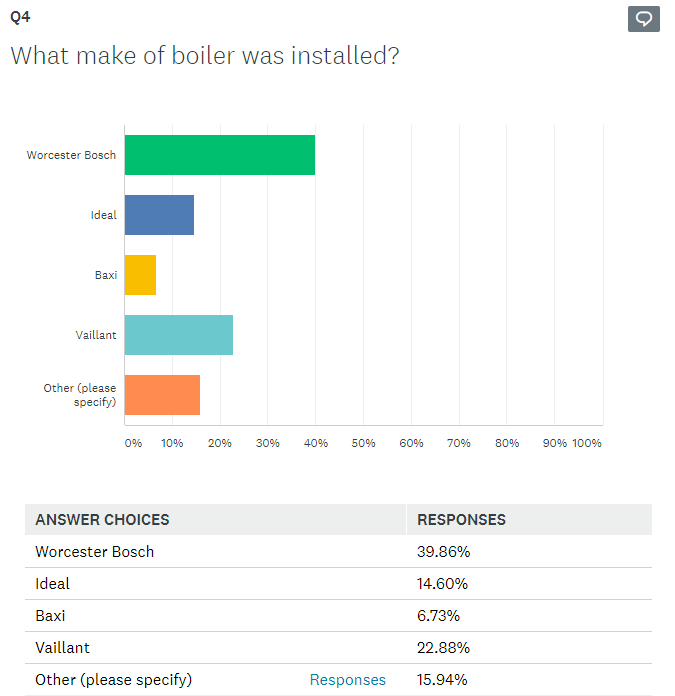 The most commonly installed boiler make was Worcester Bosch followed by Vaillant, Ideal and Baxi. Of the 'Other' 16%, the following boiler makes were installed:
18% Viessmann
16% Glow-worm
8% Intergas
7% Atag
5% Vokera
3% Alpha
2% Potterton
1% Zanussi
1% Main
Ready to find new customers?
Over 1.9 million unique visitors visit our Boiler Guide website each year, looking for central heating and boiler quotes, and this survey suggests that 80% of these enquirers have a genuine intention to buy a boiler.
However, before we class an enquiry as a sales lead, we telephone qualify it, i.e. we call the customer to check:
We have the correct contact details
Whether they are a tenant or homeowner
The best time for you to contact them
When they need the job done
Key details about the job, e.g. the type of boiler needed, where the boiler is, etc.
They are ready to buy and want to receive quotes.
Apart from the contact details, you'll have all of this information before you buy. When these genuine sales leads are combined with our strict lead qualification procedures, it's easy to see why we supply the best quality leads to thousands of UK heating companies.
Of course, we don't think you should just take our word for it. Here's what just some of the companies growing their business with our boiler leads think of Boiler Guide.
Moorwarmth: "Boiler Guide are the best and most productive lead generators I have used […] I have been with them for quite awhile and have no intentions of moving." Read Moorwarmth's story here.
UK Boiler Care:"From our experience, Boiler Guide leads are by far the best leads available. Boiler Guide leads have consistently generated the lion's share of our monthly new boiler sales revenue. […] If you want to grow your business and are looking for a lead provider they should be your first port of call." Read more about UK Boiler Care's success here.
CU Plumbing Ltd: "It's been a great way to find work, great communication and leads are genuine. Price per lead is fair and it is great that we can see when the customer wants the job done."
HomeFit Direct: "Very good company to deal with, customer service spot on […] We've increased our business through Boiler Guide."