Young adults in the UK don't have the skills to carry out basic repairs around the home, a Water Regulation Advisory Scheme (WRAS) survey has found.
The survey asked 2,000 adults how confident they would feel carrying out certain tasks around the home and found that those born after 1985 are much less confident.
Only 1 in 3 adults aged 18-34 (31%) would know what to do when it comes to bleeding a radiator, compared to 79% of people over-55.
While younger generations are less likely to attempt bleeding a radiator, it's still the repair that more than half of UK homeowners would feel confident taking on.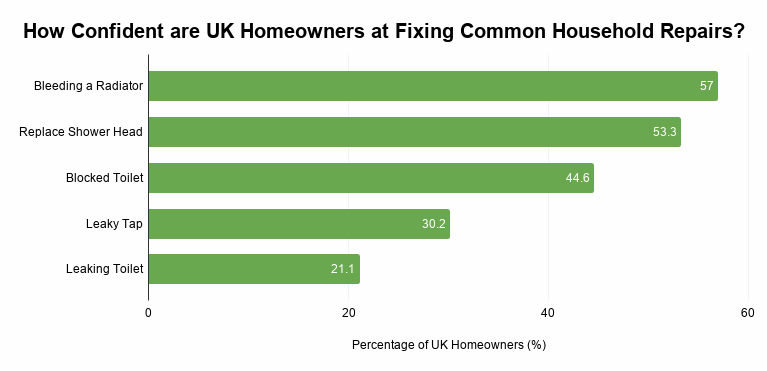 So, how do the results of this survey compare to the repair leads we're generating?
Our Boiler Guide website is generating boiler leads from homeowners across the UK in need of a heating engineer to carry out repair, replacement or a service on their central heating system. Looking at the repair leads we generated in 2019 (up until 30th September), it looks like there could be some truth to the fact that older generations are more confident at home repairs. Of all the repair leads we've made available to heating engineers right across the UK, 55-64 year olds and 65+ don't make up as many of those leads as the 25-34, 35-44 and 45-54 age brackets.
Young adults aged 18-24 meanwhile don't visit Boiler Guide as much as older adults – which we could put down to still living with parents or being in a rented property.
It's worth noting that these enquiries will also include repairs that only a fully-qualified heating engineer should attempt to fix, as well as the 'smaller' issues such as bleeding a radiator.
Data collected between 1 January and 30 September 2019. The 18-24 bracket has been removed as it makes up a comparatively small percentage (2.24%).

Interestingly, the percentage of adults aged over 55 requesting a heating engineer to carry out repair work through Boiler Guide has actually risen in 2019 from 2018.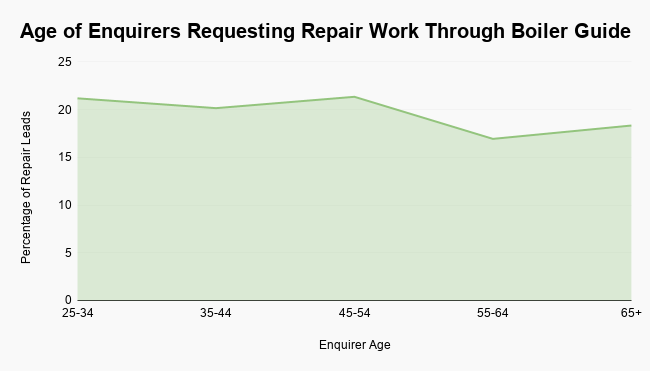 Data collected between 1 January and 31 December 2018. The 18-24 bracket has been removed as it makes up a comparatively small percentage (1.30%).
Not only has there been an increase in older adults requesting repair work, we've seen a dramatic rise in the overall number of repair leads that we're generating too.
We compared the total number of repair leads generated through Boiler Guide in September 2018 with September 2019 and found that there's been a 256% increase. So, what does this tell us? Well, it could be a sign that more people are turning to the internet to find a qualified heating engineer and if you're looking for more work Boiler Guide can help you to find it.
Find more customers in your area
We're generating boiler repair leads all year round and you can gain immediate access to the leads available in your area by creating your free account
There are no hidden membership or subscription fees, simply pay for the leads you want as and when you want them:
Free sign-up
Zero subscription fees
No-obligation to buy leads