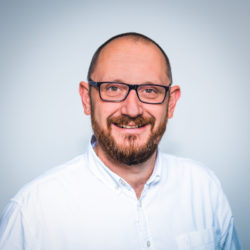 Meet Michael Mayfield, otherwise known as Mike, Boiler Guide Sales Director and one of the most experienced members of the team.
We sat down with Mike to find out more about his role within Boiler Guide and how the company has evolved during his time here.






How long have you worked for Boiler Guide and how has the company changed in that time?
"I've been with Boiler Guide for 6 years and it's always been a great place to work. During this time, we've continued to evolve our culture to ensure we maintain our positive environment.
"We've developed our systems, improved our technology and moved our focus to key heating and home improvement markets. We've also changed our business name to focus on our key brand: Boiler Guide."
As Mike mentioned, one of the biggest changes the company has gone through in the past 6 years is a change of name. You may or may not know that until 2020 our company name was Holmes Media.
Boiler Guide has always been one of our key homeowner-facing brands and as the years went by it continued to go from strength to strength. As the Boiler Guide name thrived, the decision was made for it to replace the Holmes Media name.
What are your key responsibilities as Sales Director?
"As the Sales Director, I'm responsible for all day-to-day and strategic sales, service and credit activities for the business. I also lead our sales and account management function to ensure that performance is inline with the aims of the business.
"Some additional responsibilities include:
Recruitment and HR for the sales teams
Identifying and securing new business opportunities and partnerships
Developing the sales strategy".
What does a typical day involve for you?
"My days are really varied, and although there's always something that needs my focus, really none of them are the same. Most of my time is divided between 4 key areas:
Driving business performance
Exploring opportunities to work with new partners and businesses
Improving our business processes or systems to make our service better
Ensuring the team are empowered to perform their roles"
What do you feel separates Boiler Guide from other lead generation companies?
"Our focus on quality and our account management team.
"We recognise companies using our service want well-qualified sales leads that lead to sales. And we focus extremely hard on ensuring our product lives up to these expectations.
"Thanks to our account management team, we're able to help our customers maximise their chances of achieving a sale."
What do you like most about your role?
"Each day brings a variety of challenges and opportunities, it's great to be able to find a role that offers a positive balance between them."
What do you look for when recruiting for the sales team?
"We've employed people with varying levels of experience in the past and most have been successful. To me, this proves that it's more about the person than just the CV.
"I'm interested in people with energy, who want to do a great job and be part of our team's success."
What do you think is the most important quality when managing a team?
"Personally, when leading a business function the most important quality, in my opinion, is authenticity. Being genuine, open and working with the team to achieve a goal is incredibly important, and often overlooked."
How do you spend your free time outside the office?
"I love nothing better than being out on my paddleboard or gravel bike, exploring the great British countryside."
And finally, what has been your highlight of working at Boiler Guide?
"There have been a number of really great highlights over the past few years, but the one that jumps out is the outstanding feedback from our enquirer survey in early 2020.
"We discovered that 80% of our enquirers go on to complete a purchase. This is an incredibly high completion rate that demonstrates our ongoing focus on the quality of our product."
To read more about the survey Mike is so proud of, visit 80% of Boiler Guide Leads go on to Buy a New Boiler.