Best 40kW Combi Boilers: Comparison & Costs
The best 40kW combi boilers can meet demand for hot water in homes with two bathrooms.
However, you may notice a drop in water pressure if two showers are in use at the same time. So, you'd be better off with a system boiler, which can meet high hot water demand by storing it in a cylinder.
One benefit of turning to a combi boiler is that there's no need for a cylinder. Instead, they heat water on demand and send it straight to the tap. So, you'll be saving space. Plus, you'll always have a supply of hot water too (you'll often need to wait for a hot water cylinder to fill back up).
All the leading boiler manufacturers have powerful 40 kW combi boilers so you have plenty of choice:
ATAG i40C
Baxi 800 Platinum+
Ideal Vogue Max
Navien NCB
Worcester Bosch Greenstar 8000 Life
What is a combi boiler
Combi boilers give your home instant heating and hot water.
To do this, they're connected directly to the mains water supply. So every time you turn a hot water tap on, the combi heats water from the mains and sends it straight to the tap.
System and regular boilers don't do this. Instead, they store hot water in a cylinder. This means that from time-to-time, the cylinder will be empty and you'll need to wait for it to fill up with hot water again.
The plus side of having a cylinder is that they can meet higher demand for hot water. So you can get a strong supply of hot water to more than one outlet at a time. Something most combi boilers struggle to do. That is unless you fit one with a high output rating for domestic hot water. Like one of the best 40kw combi boilers.
Is a 40kw combi boiler right for my home?
A 40 kW combi boiler has a domestic hot water output rating of 40 kilowatts (kW).
This means they may be able to meet the high demand for hot water in homes with 2 bathrooms.
The output rating is a measure of the boiler's power. Combi boilers have a separate output rating for central heating (CH) and domestic hot water (DHW). This is unlike system and regular boilers which only have a CH output rating (because they store hot water in a cylinder).
No combi boiler on the market has a central heating output as high as 40kW. But all of the best 40kW (DHW) combi boilers are powerful enough to heat 15-20 radiators.
It's important that you get the output rating for your new boiler right. If it's too powerful then your heating bills will shoot up. Too low and it won't be able to meet your demand for heating or hot water.
The best boiler type for homes with two or more bathrooms is a system boiler.
I'm not sure if a 40kW combi is right for my home…
If you're unsure, you don't have to worry. There are plenty of heating engineers out there who can offer their expert advice. You you can get free quotes from heating engineers based in your area today.
Best 40 kW combi boilers
If a Gas Safe registered engineer recommends a 40kW combi boiler for your home then you're in luck. There are plenty of premium models on the market.
ATAG i40C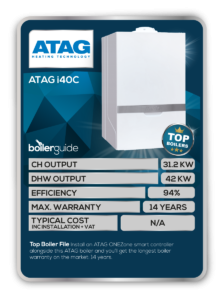 For homes with more than a single bathroom the ATAG i40C is a powerful option as it has a high hot water flow rate. It's also incredibly efficient, which will help to lower your energy bills and you'll be well covered by a lengthy 10 year warranty.
Achieves an A+ efficiency rating when used with the ATAG One Zone controller
Lifetime replacement guarantee on the iCON stainless steel heat exchanger
Automatically adjusts the flow temperature depending on the conditions outside
Compact dimensions of 700 x 440 x 355mm (HxWxD) if you don't have much space
High flow rate of 16.2 litres per minute (at 35°C temperature rise)
Endorsed by the Energy Saving Trust
Baxi 800 Platinum Plus

Baxi are a well recognised boiler manufacturer, especially amongst installers. The Baxi 800 Platinum Plus is well suited to larger homes and runs very efficiently to help lower your energy bills.
OpenTherm technology allows you to take control from your smartphone or tablet
A flow rate of 16.4 litres per minute at a 35°C temperature rise makes it well suited to homes with multiple bathrooms
Built-in frost thermostat for protection from freezing through the winter months
Can be installed with multi-fit flue kits to offer more flexible installation
Energy Saving Trust endorsed
Ideal Vogue Max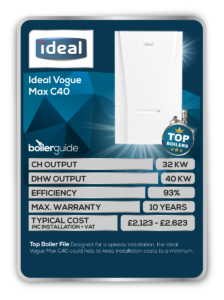 Ideal Boilers are well known for manufacturing premium products and their Vogue Max range is no different. Only the best components have been used within this boiler and Ideal clearly has plenty of confidence in it as the warranty can stretch to up to 12 years.
The warranty period can be extended from 10 to 12 years when installed by an Ideal Max accredited installer
Boiler frost protection to keep the unit running in even the coldest of conditions
As a combi boiler with low lift weight the installation is made much simpler, which could save you money when it comes to hiring an installer
In the unlikely event of a fault, the LCD display shows clear text messages to describe the issue
Navien NCB

Navien might not have been around for as long as other boiler manufacturers to feature in this list but their NCB combi boilers can compete with even the most well established brands.
Offers great flexibility with where to install the boiler thanks to 'class leading' flue lengths
Flow rate of 16.4 litres per minute (35°C temperature rise)
Fitted with primary and secondary stainless steel heat exchangers which helps to extend the life of the boiler
Should an error occur, Navien boilers have a quick and clear message that will help you to understand the issue and get it back up and running
Worcester Bosch Greenstar 8000 Life 40

The Greenstar 8000 Lifestyle range from Worcester Bosch includes Life boilers (30 – 50kw) and Style boilers (30 – 50 kW). One of the main differences is that Style boilers are available in black and white, while Life units only come in white. Whether you have a Life or Style boiler installed, they share a number of industry-leading features:
Fully compatible with Bosch EasyControl which allows you to control the heating and hot water from your phone – you don't even have to be in the house
1:10 modulation to increase efficiency during operation
How much do 40kW combi boilers cost?
Combi boilers are often the most affordable boiler type. Mainly because there's no need for any external tanks or cylinders.
It's possible that you could find a 40kW combi for no more than £1,500 (before installation).
| Best 40 kW Combi Boiler | Potential Cost (excluding installation) |
| --- | --- |
| ATAG i40C | – |
| Baxi 800 Platinum Plus | £1,200 – £1,500 |
| Ideal Vogue Max | £1,350 – £1,400 |
| Navien NCB | £900 – £1,000 |
| Worcester Bosch Greenstar 8000 Life | £1,175 – £1,300 |
| Worcester Bosch Greenstar 8000 Style | £1,250 – £1,400 |
In terms of installation costs, all heating engineers set their own prices. These can vary depending on the type of boiler being installed, the complexity of the installation and even where you live (London tends to be the most expensive).
To give yourself the best possible chance of getting the most competitive price for your combi boiler installation, we highly recommend comparing multiple quotes. Simply complete our online form, letting us know about the job you need carrying out, and you'll get free quotes from up to 3 local heating engineers.
Best combi boilers for off-grid homes
Not all properties are connected to the gas network. This means off-grid homes need a boiler that runs on an alternative to gas. Fortunately, some of the best 40kW combi boilers are LPG compatible (a gas that can be stored locally).
| Best 40 kW Combi Boiler | LPG Compatible? |
| --- | --- |
| ATAG i40C | Yes |
| Baxi 800 0Platinum Plus | No |
| Ideal Vogue Max | Yes |
| Navien NCB | Yes |
| Worcester Bosch Greenstar 8000 Life | Yes |
| Worcester Bosch Greenstar 8000 Style | Yes |
Oil is another option for properties that aren't connected to the gas network. There are a number of options available that can meet the same heating and hot water demands as a 40kW combi boiler.
| Oil Combi Boilers (35 – 42 kW) | Output Rating | Efficiency | Warranty | Potential Cost (before installation) |
| --- | --- | --- | --- | --- |
| Firebird Envirogreen Combipac HE C35 | 35 kW | 93% | 2 years | £2,500 – £2,750 |
| Grant Vortex Pro External | 36 kW | 94.5% | 2 years | £1,875 |
| Mistral Combi Standard C4 | 41 kW | 87% | 2 years | £2,160 |
If you plan to have an oil boiler installed, then you will need to hire an OFTEC registered heating engineer. You can get free quotes from heating engineers in your area by going through our simple online form.