Gas Boilers in the UK: Everything You Need to Know
With the UK's frosty mornings and icy evenings, there's a hero that keeps the British spirit warm: a gas boiler. In fact, 23 million UK households use gas boilers for heating purposes as of 2023.
As cold months approach, a reliable gas boiler can be the difference between a warm and cosy home and a freezing living space. Yet with a wide gas boiler range available in the UK, choosing the right one can be a daunting and overwhelming task.
So in this article, we'll guide you through the process of choosing between gas heating boilers and explain the different boiler types out there.
Knowing what kind of gas boiler you want, you'll next need to have it installed. Looking for the right boiler installer on your own can take days of your time and sets your family farther apart from feeling comfy and warm during winter.
No worries, Boiler Guide will help you avoid all the tedious and stressful searches. Fill out our short form and receive up to 3 free quotes from heating engineers near you. Compare the prices with no pressure to place any orders. It's all free and doesn't include any hidden fees. Click below to receive your quotes.
Get your best deal
Quickly compare 3 FREE quotes
Quotes from locals engineers
Get quotes today, installed tomorrow
Finance options available
Save up to £500 on installation
0330 808 0405
1,8 million quotes provided in 10 years
What is a gas boiler?
Gas boilers heat water in the same way as any other boiler type, the key difference being that they're powered by natural gas. If your property is connected to the gas network, you can have one installed.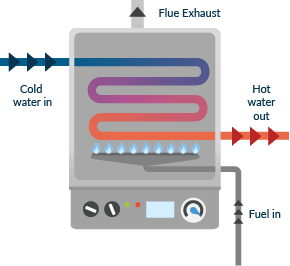 Although it is gas that heats the house and water in the boiler, electricity is used to power specific parts and mechanisms of the central heating system such as the valve that lets gas flow into the combustion chamber, digital displays, and smart thermostats.
Alternatives to gas boilers include LPG (liquefied petroleum gas), oil, biomass, and electric boilers. All of these have their own set of benefits but are mostly installed in off-grid homes.
Gas boilers burn natural gas to heat water that's used for central heating or hot water. This natural gas is delivered to your property, via the gas network, as and when needed by an energy supplier.
Gas boiler efficiency
Gas boiler efficiency mainly depends on age, type, and design. Upgrading to a high-efficiency gas boiler can reduce the homeowners' energy bills and their carbon footprint.
Boiler efficiency is typically measured by its Energy Related Products (ErP) rating, representing the percentage of energy effectively converted into heat.
As of April 2018, the new Boiler Standards require a minimum performance for domestic gas boilers in England to be set not lower than 92%. The primary goal of Boiler Plus is to enhance household energy consumption by enabling homeowners to maximize the efficiency of their boilers.
In Scotland, the minimum efficiency values for gas boilers are based on the SEDBUK (Seasonal Efficiency of the Domestic Boilers in the UK) ratings which require 88% boiler efficiency.
According to the Welsh government, each gas boiler must have a minimum efficiency of 86%, and each oil boiler must have a minimum efficiency of 85%.
The minimum performance standards for gas boilers in Northern Ireland are currently unclear. Nevertheless, Northern Ireland provides the Boiler Replacement Scheme to support owner-occupiers in enhancing the energy efficiency of their residences. It is highly recommended to contact local boiler installers and search for quotes to know the prices for your area.
Such efficiency standards grant homeowners and consumers greater flexibility in choosing their heating methods and offer them increased control over their energy expenses.
| Type of gas boiler | Efficiency rating (ErP) |
| --- | --- |
| Non-condensing | 80-88% |
| Condensing | 88% and above |
| Combi | 90% and above |
| System | 80-85% |
Modern boilers can go as high as the mid-nineties, converting nearly all the fuel to useful heat for the home. Additionally, you can consider several other factors to boost the efficiency of your gas boiler:
Regular boiler maintenance
Sufficient air pressure
Radiator bleeding
Cylinder and pipes insulation
Regular boiler utilisation
Using a smart thermostat
So that gas boilers provide a stable heat supply and become more energy-efficient, they are made condensing and modulating.
Condensing gas boilers
Since April 2005, any boiler installed in the UK must now be a condensing boiler.
Condensing boilers convert water vapour condensation into heat. This allows them to hold onto more of the heat they make when burning gas. With non-condensing boilers, some of the heat goes straight out of the flue pipe and isn't used to heat your home.
And the difference is massive:
A condensing boiler can make up to 30% more heat using the same amount of fuel. So if you have a boiler that's burning less fuel, you won't be paying so much to heat your home.
Modulating gas boilers
Modulating gas boilers operate by adjusting the firing rate of the burner to match the heating requirements of the building. Most modern condensing boilers are able to modulate.
This means they can lower their output rating to run more efficiently. So, a 30kW boiler with a modulation ratio of 10:1 can also run at 3kW. This means the boiler will use less fuel when there's a low demand for heating. This allows you to save money on your heating bills.
One surefire way to cut your utility spendings would be look for quotes from local boiler installers. Looking for quotes is something you could do yourself. But how time-consuming and stressful could this be? Hours of tedious browsing might leave you with some quotes, yet we can't promise it's a bulletproof method.
Alternatively, through our extensive network of vetted engineers, you can quickly get up to 3 free quotes on efficient boilers. Complete a short form and compare the quotes you receive with no obligation to accept any offers. Just click the button below to get started.
Get your best deal
Quickly compare 3 FREE quotes
Quotes from locals engineers
Get quotes today, installed tomorrow
Finance options available
Save up to £500 on installation
0330 808 0405
1,8 million quotes provided in 10 years
Aren't gas boilers being banned?
No, the UK government doesn't plan on having gas boilers banned immediately. The gas boiler ban will take some time to roll out.
According to the International Energy Agency, it has been advised that gas boilers should no longer be permitted beyond 2025. However, this particular ban exclusively applies to newly constructed properties, and there are currently no plans to phase out gas boilers in existing homes.
The UK's official climate advisers have recommended that all gas boilers be prohibited by 2033 as part of efforts to eliminate any further impact on climate change caused by the country. Initially, the ban on the sale of new gas boilers was scheduled to come into effect in 2035. However, due to concerns raised by households that may face financial difficulties in transitioning, there is a possibility of extending this timeline.
For the UK to achieve net-zero carbon emissions by 2050, the way we heat our homes must change. Burning fossil fuels, such as natural gas, releases carbon into the atmosphere. More than 80% of UK homes are heated using a gas boiler.
Now, there's a lot of talk about renewable heating systems - heat pumps, in particular - being the solution. However, it would be expensive and impractical to fit them into the millions of homes being heated by a gas boiler.
So, what's the solution? Well, it could be a hydrogen boiler.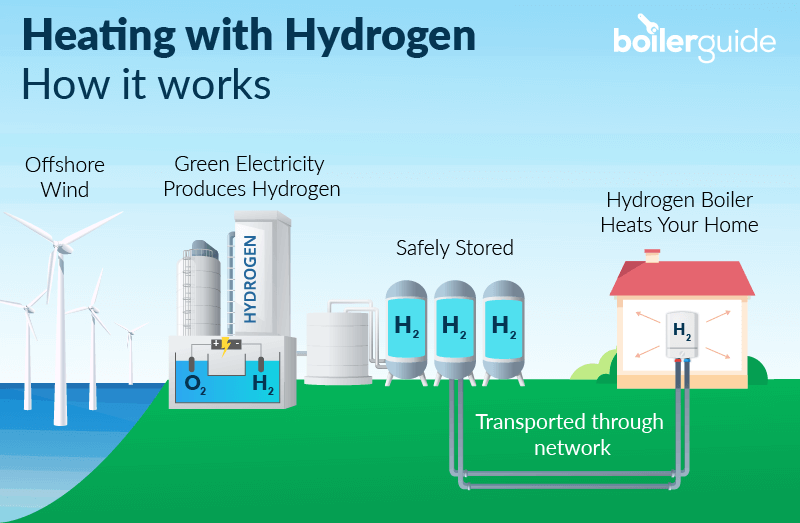 When burned, hydrogen doesn't emit carbon into the atmosphere and it could be sent to your property through the existing gas network. Rather than an immediate switch to a 100% hydrogen network, if it was to get the green light, the transition would be gradual. At first, a hydrogen blend of natural gas and hydrogen would be delivered to properties.
This makes a modern gas boiler replacement well worthwhile ahead of hydrogen becoming a big part of the future of home heating. In 2021, the UK government announced its Hydrogen Timeline Strategy with the goal of establishing a thriving hydrogen economy in the country by 2030. This means new low-carbon heating systems will pop up, which will include hydrogen boilers.
Gas boiler types in the UK
There are three types of boilers: combi, system and regular (conventional) boilers. One of these is far more likely to be better suited to your home than another.
Combi gas boiler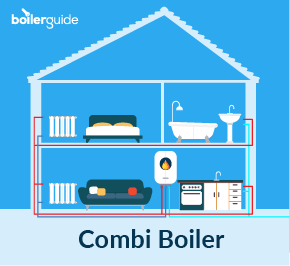 Combi boilers operate by taking water directly from the mains supply to provide instant hot water to taps and showers at a strong pressure. They're compact, cost-effective and don't need to be installed alongside any bulky tanks or cylinders. This focus on space-saving design makes them ideal for smaller properties with limited room.
Everything a combi gas boiler needs to deliver heating and hot water is wrapped up into the boiler itself. This makes it possible for the combi boiler to deliver near-instant heating and hot water on demand.
System gas boiler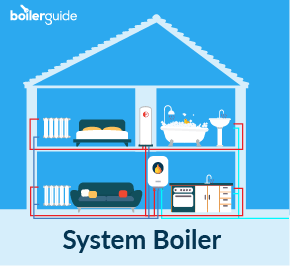 In terms of how they work to heat the home, system boilers sit somewhere between combi and regular boilers.
Like a combi, they're directly connected to the mains - that means no tanks in the loft - but, unlike a combi, they store hot water in a cylinder. While this does mean more space needs to be dedicated to the heating system, it allows them to meet higher demands for domestic hot water.
So, if you live in a property with 2 or more bathrooms, then a system gas boiler is likely to be your best option.
Regular or conventional gas boiler
Conventional boilers work by heating water that circulates around the central heating system and go by many names: regular, heat-only, open-vent and traditional.
While they may be the oldest boiler type, the technology has advanced over the years to make regular boilers more efficient and reliable than ever.
In addition to the boiler itself, a regular boiler needs to be installed alongside feed and expansion tanks as well as a hot water cylinder. Cold water fills in a tank in the loft which is then fed down to the boiler which heats the water before sending it to hot water outlets or a hot water cylinder.
A new regular boiler should only be considered if your property already has one installed. This is because they're complex to install and need extensive pipework.
How much does a new gas boiler cost?
The cost of a new boiler can vary depending on the brand, size, and efficiency rating. A gas boiler total depends on each individual situation. This is because there are many things at play:
Type of boiler
Manufacturer and model
Whether it's a like-for-like boiler replacement (combi replacing a combi, for example)
Rates charged by the installer
A new gas boiler, including installation, costs between £1,000 and £3,750. Remember that this is an average and prices could stretch to £4,000 and beyond.
Homeowners should consider the costs to install central heating, including replacement radiators, pipes and possibly a cylinder as adding factors to the gas boiler replacement cost.
| Boiler type | Cost | Installation costs | New boiler cost (fully installed) |
| --- | --- | --- | --- |
| Combi | £500 - £2,000 | £500 - £1,000 | £1,000 - £3,000 |
| System | £500 - £2,500 | £500 - £1,000 | £1,000 - £3,500 |
| Conventional | £500 - £2,750 | £500 - £1,000 | £1,000 - £3,750 |
However, the prices in this table are averages and the amount you end up paying may differ.
A professional heating engineer would be able to offer you more accurate quotes tailored to your unique heating situation. However, browsing for the right boiler expert on your own could take hours of your free time and still leave you with zero options.
Fortunately, Boiler Guide has a network of engineers across the UK that we've already vetted. Answer a few quick questions about your project and receive up to 3 free quotes from qualified engineers in our area. Compare the quotes with no obligations to place any orders. Click below to begin.
Get your best deal
Quickly compare 3 FREE quotes
Quotes from locals engineers
Get quotes today, installed tomorrow
Finance options available
Save up to £500 on installation
0330 808 0405
1,8 million quotes provided in 10 years
Best gas boiler brands
There's a wide gas boiler range to choose between. Leading manufacturers of gas heating boilers in the UK include (clickable):
The table below highlights key information about each manufacturer, including their reputation, product offerings, and notable features. This information can iron out the leading players in the boiler market and help in the evaluation of different options based on your specific needs and preferences.
ATAG
Baxi
Ideal
Vaillant
Viessmann
Worcester Bosch
Output (kW)
15-40
12-40
12-37
12-64
8-35
9.2-99.5
Efficiency

(ErP)

93-94%
92-

93%

88.7% - 94%
92-94%
92-98%
92-94%
Warranty
Up to 14 years
2-10 years
2-10 years
5-10 years
2-12 years
2-12 years
Condensing units
yes
yes
yes
yes
yes
yes
Price
£1,000-£2,500
£600-1,200
£700- £2,700
£900-

£2,700

£800- £2,900
£600- £4,000
Please note that this table provides a general overview and there are many other reputable boiler manufacturers in the market. It is advisable to conduct further research and consider individual requirements before making a purchasing decision.
Savings with a new gas boiler
According to The Energy Saving Trust, when an old gas boiler is replaced with a modern condensing A-rated boiler in a detached house alongside thermostatic radiator valves, a programmer and a room thermostat it could save you up to £840 a year on your heating bills. You read right, £840. That's in addition to the carbon footprint of your property shrinking too.
You will see the biggest savings if your current boiler is G-rated for efficiency. Modern condensing boilers are all A-rated (potentially even higher with relevant controls).
To maximise your savings, you'll need to think about the wider heating system, not just how efficient the boiler is:
Control the heating with the best smart thermostat
Attach Thermostatic Radiators Valves (TRVs) to each radiator
Insulate your property, the pipes and the cylinder to reduce heat loss.
By following these steps and investing in an efficient boiler, you'll not only experience the joy of being eco-friendly but also enjoy substantial savings over time. It's a win-win situation!
Get free quotes for a new gas boiler
So there you have it: all boiler whats and hows covered. If you believe the time has come for you to install a new boiler then you'll need to hire a Gas Safe registered engineer. Gas Safe registered engineers are the only people certified to install gas heating boilers in the UK. They can also provide a gas boiler service.
Yet, searching for boiler engineers isn't something you'd want to do when you're just back home from work. This hassle can leave you frustrated and exhausted without any reliable contacts at your fingertips.
Thankfully, Boiler Guide can reduce this stress by connecting you with trusted gas boiler installers across the UK. Complete our simple form, and up to 3 installers in your area will provide you with free boiler quotes. You can then compare these quotes without having to accept any of them to ensure you're not being overcharged and are getting the best deal.
Click the button below to begin!
Get your best deal
Quickly compare 3 FREE quotes
Quotes from locals engineers
Get quotes today, installed tomorrow
Finance options available
Save up to £500 on installation
0330 808 0405
1,8 million quotes provided in 10 years
Frequently Asked Questions
What is a gas boiler?
A gas boiler is a heating system that utilises natural gas or propane to provide both hot domestic water and heat. It operates like a controlled furnace, responding to the thermostat's instructions. Burning carbon-based fuel with oxygen generates carbon dioxide and steam, releasing them through a flue.
How long does a gas boiler last?
The average lifespan of a gas boiler is usually 10 to 15 years. The boiler's efficiency throughout the time depends on how well it is maintained. Boiler experts recommend getting quotes for annual boiler services to catch any issues early on.
What is the estimated cost of gas boiler installation?
On average, you can expect a new gas boiler to cost between £1,000 and £3,750 (including installation). The final cost of your gas boiler installation will depend on what heating system you currently have and how much work needs to be done to install the gas boiler.
Get your best deal
Quickly compare 3 FREE quotes
Quotes from locals engineers
Get quotes today, installed tomorrow
Finance options available
Save up to £500 on installation
0330 808 0405
1,8 million quotes provided in 10 years