Ideal Boilers: Compare Efficiency, Warranty & Price

Since 1906, Ideal Heating has been manufacturing boilers to meet the ever-changing heating needs of homeowners across the UK. Ideal offers an extensive range of combi, regular and system gas boilers, meaning there's a suitable option for the heating and hot water demands of almost any home.
As Ideal has so many boilers on offer, it's important to know what you're looking for when comparing them. Some of the key things to look out for include output rating, efficiency, warranty and, of course, the potential cost.
---
Compare Ideal combi boilers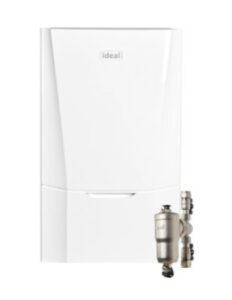 A combi boiler provides heating and hot water on demand as and when needed. Unlike regular and system boilers there's no need for any additional tanks or cylinders, making them cost-effective and space-saving units.
All Ideal combi boilers perform to a highly efficient level and are covered by lengthy warranties of between 2 and 10 years.
---
Compare Ideal regular boilers
Regular boilers are recommended for installation in a property that already has the appropriate pipework. This is because regular boilers need to be part of a heating system which also includes a feed and expansion cistern and a hot water cylinder.
Ideal regular boilers come in a wide range of output ratings, from 18 kW right up to 150 kW.
---
Compare Ideal system boilers
System boilers are a great choice if you have multiple bathrooms and a high demand for hot water. This is because they store hot water in a cylinder where it's ready to be delivered to a hot water outlet when needed.
Ideal system boilers achieve incredibly high efficiency ratings of over 90% with the Logic System reaching 98.7%.
---
Ideal Boilers are a great choice for any homeowner looking for a reliable and competitively priced boiler. To find out exactly how much a new boiler is likely to cost you can send us an enquiry today to receive up to 3 free comparison quotes from Gas Safe engineers in your area.
---
Benefits of an Ideal combi boiler
Lots of UK homeowners opt for a combination or 'combi' boiler – in fact at Ideal, these are one of the most popular product ranges.
The big benefit of an Ideal combi boiler is it doesn't actually need a hot water cylinder or a cistern – which is great if space is at a premium, either in your home or in your loft space.
No storage cylinder means you only heat the hot water you need, as you need it
Hot water on demand so you don't have to wait
It's the energy efficient solution as there's no wastage
This popular boiler design won't break the bank with installation and repair costs
Best selling Ideal combi boilers
To narrow down the wide range of combi boilers offered by Ideal, we have provided a quick overview of some of their most popular models.
Ideal Vogue combi boilers
This combi boiler range is one of Ideal's most popular, and with good reason. Each unit is made in the UK from the best components Ideal have available, and sports several other features and benefits. They all include frost protection which allows for them to be installed in an unheated room such as a garage or loft, have an easy to use colour display which provides text support for any faults, and are designed for quick installation.
Find Out More
Ideal Logic combi boilers
Made with a hard wearing scratch-resistant casing, these robust combi boilers are ready for the wear and tear of everyday life. Their compact design makes them perfect for installing in a cupboard, and their in-built frost protection means they can be installed in a room with a low ambient temperature, if required. Each boiler runs so quietly that it's been awarded with the Quiet Mark, and they are all capable of running on a 20% hydrogen blend without any need for technical adjustments, making them relatively future proof.
Find Out More
Benefits of an Ideal regular boiler
Energy efficiency is one of the biggest benefits you'll experience once you have your new boiler installed. Ideal offers a range of regular boiler options at great prices, but don't forget even if the upfront cost seems like a large expense, you'll be saving money every day once it's up and running.
If peace of mind is important, the Ideal Logic Heat comes with up to 7-year parts and labour warranty, which shows this boiler shouldn't let you down.
Alternatively, if you want an energy efficient floor-standing model, take a look at the Ideal Mexico regular boiler with its modern aluminium finish to match other appliances. The Mexico HE is just one of the boilers from the 'heat only' (regular) collection, which includes Logic + Heat and Imax W. As part of the range it promises performance and superb efficiency, with outputs ranging between 15kW – 36kW.
Highly efficient and floor standing, the Mexico range of 'heat only' boilers are a perfect solution for replacement installations. The Mexico HE comes complete with a one year parts and labour warranty as standard. Beneficial features include frost protection, so your boiler will run in harsh weather, low NOx levels for low emissions, a range of flue options, and a compact design.
Available in smaller sizes to fit in a kitchen cupboard
Simple controls and easy to use
Longer than standard warranties available on some models
Logic Heat is recommended by the Energy Savings Trust*
Best selling Ideal regular boilers
As there are a wide range of regular boilers offered by Ideal, we have provided an overview of some of their best selling models, to help provide a more focused selection.
Ideal Logic regular boilers
Made in the UK, this range of boilers is one of the few models of regular boiler to receive the Quiet Mark accreditation for its quiet operation. They also have built-in frost protection, allowing them to be installed in colder rooms such as a garage or in the loft. All Ideal Logic regular boilers have a compact design which makes them suitable for fitting in a cupboard, and in 2013 and 2017 this range of boilers received the Good Housekeeping Reader Recommended status. The Ideal Logic range of regular boilers is fully compatible with a 20% hydrogen mix, making it prepared for any potential fuel changes in the future.
Find Out More
Benefits of an Ideal system boiler
System boilers are perfect if you need to maximise living space, as they don't require an expansion tank or cold-water cistern.
They are designed to pump hot water to radiators and heat up water in a storage cylinder, often located in an airing cupboard.
The cylinder stores the hot water until it's needed, providing plenty to use when needed.
Suitable for smaller properties as well as larger, well-insulated homes
Compact size, wall-mounted boiler designed to fit in a kitchen cupboard
Approved by the Energy Saving Trust*
Available in a range of outputs to suit all homes and heating requirements.
Best selling Ideal system boilers
There are many system boilers from Ideal available on the market, but some of these are more popular than others. To save people the time and effort of sifting through every system boiler Ideal provides, we have detailed their best selling range.
Ideal Vogue Gen 2 system boilers
The award winning boilers in this range are made in the UK and have a colour display with multifunctional buttons for ease of use. They are not just a great choice for those connected to the gas grid, as they can also use LPG (Liquid Petroleum Gas) as a fuel source. Each unit has built-in frost protection to prevent freezing in sub zero temperatures, and has a compact design, ensuring they take up as little space as possible.
Find Out More
Top 5 boiler brands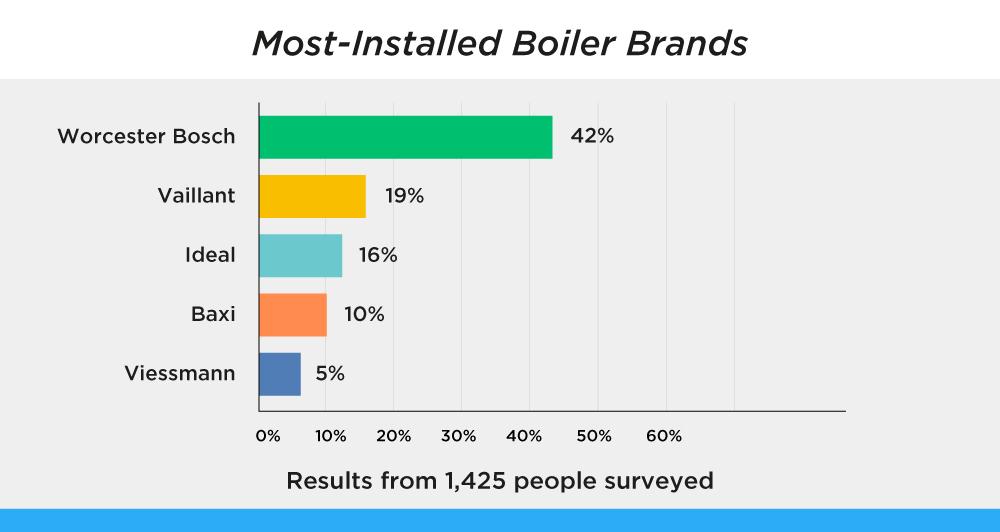 Ideal ranks highly amongst the top 5 most popular boiler brands that homeowners choose to install. They are a trusted and recognised brand with engineers and installers, and can offer customers a wide range of boiler options. See how Ideal boilers compare to other popular brands by using our comparison tool. You can compare up to 4 boilers to find out which is best suited to your needs.
Ideal boiler service
It's important to keep your boiler in the best possible condition with an annual boiler service by a professional engineer. This will ensure the boiler can operate as efficiently as possible, keeping heating bills to a minimum, and that there are no potential safety issues to be concerned about. A boiler service is also a great way to catch and fix small repairs before they have the chance to worsen over time and cause an expensive breakdown. Find out what's involved in an annual boiler service, why it's so important, the benefits and how much they cost in Ideal Boiler Service.
Ideal boiler warranty
Every boiler manufacturer offers a standard warranty with their boilers which last between 1-10 years. The warranty is your insurance policy and means if a fault develops the manufacturer will resolve it within a specified time frame. Some warranties include both parts and labour while others may only cover parts. The most important thing to remember is to get your boiler serviced by a Gas Safe registered engineer every year, as failing to do so is likely to invalidate your warranty.
For more detail about this brand's warranty (including the small print) take a look at our 'Ideal Boiler Warranty' page.
Ideal boiler repair advice
Even the highest quality boiler can develop faults and problems as they age. Some are minor issues you may be able to handle yourself, but most will need a Gas Safe registered engineer to diagnose and repair the problem.
To find out if there are any common problems associated with this manufacturer you can read our guide to 'Ideal Boiler Repairs & Common Ideal Boiler Problems'.
Ideal heating controls
Touch Connect
The Touch Connect is an app-controlled thermostat that enables you to control the heating directly from your smartphone. It is also compatible with Alexa voice control and is designed for Ideal combi boilers.
Touch Thermostats
Ideal offers wall-mounted thermostats with touchscreens for combi boilers (Touch Combi), system and regular boilers (Touch Heat & System). It includes flexible timer options for weekly, day-to-day, weekday and weekend schedules.
Electronic Thermostat
A Radio Frequency (RF) digital timer provides heating and hot water control via a simple wall-mounted unit with a digital user interface.
---
Reference
*Energysavingstrust.org, Ideal Heating Logic Heat (2021)
Visit the Ideal website for further details.