Since 1906, Ideal Boilers has been manufacturing boilers to meet the ever-changing heating needs of homeowners across the UK.
From taking boilers from basements into kitchens in the 1920s, right through to introducing pioneering high efficiency technologies, Ideal have built up a range of high quality and reliable heating solutions, designed with both the installer and homeowner in mind.
Ideal Boilers are a great choice for any homeowner looking for a reliable and competitively priced boiler. To find out exactly how much a new boiler is likely to cost you send us an enquiry today to receive up to 3 free quotes from local Gas Safe engineers.
Ideal boiler types: Combi – Regular – System
The range of Ideal boilers are available in the following fuel types: Gas.
Review the Prices of Ideal Combi boilers
Ideal is a great value choice for your combi boiler, but it's still important to get three comparative quotes from reputable installers. That way you'll get the full picture from the outset on how much you need to budget to get your new combi boiler up and running.
Compare the complete range of Ideal Gas Combi boilers prices…

---
---
Ideal Combi Range & Prices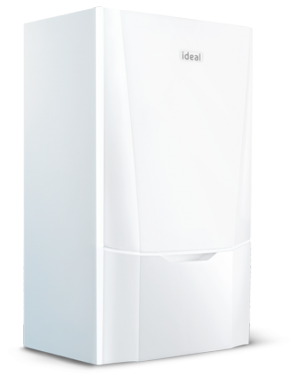 Lots of UK homeowners opt for a combination or 'combi' boiler – in fact at Ideal, these are one of the most popular product ranges.
The big benefit of an Ideal combi boiler as it doesn't actually need a hot water cylinder or a tank – which is great if space is at a premium either in your home or in your loft space.
Benefits of an Ideal Combi boiler
No tank means you only heat the hot water you need, as you need it.
Hot water on demand so you don't have to wait.
It's the energy efficient solution as there's no wastage.
This popular boiler design won't break the bank with installation and repair costs.
Compare the Prices of Ideal Regular boilers
Energy efficiency is one of the biggest benefits you'll experience once you have your new boiler installed.
Ideal offers a range of regular boiler options at great prices, but don't forget even if the upfront cost seems like a large expense, you'll be saving money every day once it's up and running.
Review the complete range of Ideal Gas Regular boilers prices…

---
---
Ideal Regular Range & Prices
If peace of mind is important, the Ideal Logic Heat comes with up to 7-year parts and labour warranty, which shows this boiler shouldn't let you down.
And if you want an energy efficient floor-standing model, take a look at the Ideal Mexico regular boiler with its modern aluminium finish to match in with other appliances. The Mexico HE is just one of boilers from the Heat Only collection, which includes Logic + Heat and Imax W. As part of the range it promises performance and superb efficiency, with outputs ranging between 15kW – 36kW.
Highly efficient and floor standing, the Mexico range of Heat Only boilers are a perfect solution for replacement installations. The Mexico HE comes complete with a one year parts and labour warranty as standard. Beneficial features include frost protection, so your boiler will run in harsh weather, low NOx levels for low emissions, a range of flue options, and a compact design.
Benefits of an Ideal Regular boiler
Available in smaller sizes to fit in a kitchen cupboard
Simple controls and easy to use
Longer than standard warranties available on some models
Logic Heat is recommended by the Energy Savings Trust
A Price Review: Ideal System boilers
Ideal's Logic System boiler comes in a range of outputs and at cost effective price. You'll still have to get quotes for having it installed though. It's best to source a quote from three separate installers to ensure you get the best price for your new Ideal boiler.
Compare the complete range of Ideal Gas System boilers prices…

---
---
Ideal System Range & Prices
System boilers are perfect if you need to maximise living space they don't require an expansion tank or cold-water cistern.
They are designed to pump hot water to radiators and heat up water in a storage cylinder often located in an airing cupboard.
The cylinder stores the hot water until it's needed providing plenty to use on demand.
Benefits of an Ideal System boiler
Suitable for smaller properties as well as larger well-insulated homes.
Compact size, wall-mounted boiler designed to fit in a kitchen cupboard.
Approved by the Energy Saving Trust.
Available in a range of outputs to suit all homes and heating requirements.
Ideal Boiler Service
It's important to keep your boiler in the best possible condition with an annual boiler service by a professional engineer. This will ensure the boiler can operate as efficiently as possible, keeping heating bills to a minimum, and that there are no potential safety issues to be concerned about. A boiler service is also a great way to catch and fix small repairs before they have the chance to worsen over time and cause an expensive breakdown. Find out what's involved in an annual boiler service, why it's so important, the benefits and how much they cost in Ideal Boiler Service.
Ideal Boiler Warranty
Every boiler manufacturer offers a standard warranty with their boilers which last between 1-10 years. The warranty is your insurance policy and means if a fault develops the manufacturer will resolve it within a specified time frame. Some warranties include both parts and labour while others may only cover parts. The most important thing to remember is to get your boiler serviced by a Gas Safe registered engineer every year as failing to do so is likely to invalidate your warranty. For more detail about this brand's warranty (including the small print) take a look at Ideal Boiler Warranty.
Ideal Boiler Repair Advice
Even the highest quality boiler can develop faults and problems as they age. Some are minor issues you may be able to handle yourself but most will need a Gas Safe registered engineer to diagnose and repair the problem. To find out if there are any common problems associated with this manufacturer you can read our guide to Ideal Boiler Repairs & Common Ideal Boiler Problems.
---
---
Ideal Error Codes
Error codes may appear on your boiler's display; it's your boiler's way of telling you that something is wrong. Each manufacturer uses a different coding system to help an engineer to diagnose a fault. In some cases it may be a simple issue such as low pressure which you can adjust yourself but more technical faults will certainly need a professional. We've put together a list of error codes for all Ideal Boilers to help you understand what's wrong before you contact an engineer.
Ideal Heating Controls
Touch Connect
The Touch Connect is an app-controlled thermostat which is compatible with Alexa voice control and heating control directly from your smartphone. This control is designed for Ideal combi boilers.
Touch Thermostats
Ideal offer wall mounted thermostats with touchscreens for Combi boilers (Touch Combi) and System / Heat Only boilers (Touch Heat & System). It includes flexible timer options for weekly, day-to-day, weekday/weekend schedules.
Electronic Thermostat
A Radio Frequency (RF) digital timer providing heating and hot water control via a simple wall mounted unit with a digital user interface.