Over the last 100 years, Ideal have been manufacturing boilers to meet the ever-changing heating needs of homeowners across the UK. With many domestic boilers to choose from, Ideal units are highly efficient and come with reliable warranties.
For reducing environmental impact and homeowner energy bills, the Ideal Solar range is an excellent choice. The company also offers underfloor heating and its sister company, Stelrad, has the UK's widest range of radiators.
Ideal boiler types: Combi – Regular – System
The range of Ideal boilers are available in the following fuel types: Gas.
---
---
---
---
Ideal Combi Range & Prices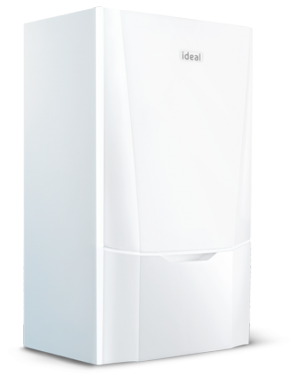 Lots of UK homeowners opt for a combination or 'combi' boiler – in fact at Ideal, these are one of the most popular product ranges.
The big benefit of an Ideal combi boiler as it doesn't actually need a hot water cylinder or a tank – which is great if space is at a premium either in your home or in your loft space.
Benefits of an Ideal Combi boiler
No tank means you only heat the hot water you need, as you need it.
Hot water on demand so you don't have to wait.
It's the energy efficient solution as there's no wastage.
This popular boiler design won't break the bank with installation and repair costs.
Review the Prices of Ideal Combi boilers
Ideal is a great value choice for your combi boiler, but it's still important to get three comparative quotes from reputable installers. That way you'll get the full picture from the outset on how much you need to budget to get your new combi boiler up and running.
Compare the complete range of Ideal Gas Combi boilers prices…
---
---
Ideal Regular Range & Prices
If peace of mind is important, the Ideal Logic Heat comes with up to 7-year parts and labour warranty, which shows this boiler shouldn't let you down.
And if you want an energy efficient floor-standing model, take a look at the Ideal Mexico regular boiler with its modern aluminium finish to match in with other appliances.
Benefits of an Ideal Regular boiler
Available in smaller sizes to fit in a kitchen cupboard
Simple controls and easy to use
Longer than standard warranties available on some models
Logic Heat is recommended by the Energy Savings Trust
Compare the Prices of Ideal Regular boilers
Energy efficiency is one of the biggest benefits you'll experience once you have your new boiler installed.
Ideal offers a range of regular boiler options at great prices, but don't forget even if the upfront cost seems like a large expense, you'll be saving money every day once it's up and running.
Review the complete range of Ideal Gas Regular boilers prices…
---
---
Ideal System Range & Prices
System boilers are perfect if you need to maximise living space they don't require an expansion tank or cold-water cistern.
They are designed to pump hot water to radiators and heat up water in a storage cylinder often located in an airing cupboard.
The cylinder stores the hot water until it's needed providing plenty to use on demand.
Benefits of an Ideal System boiler
Suitable for smaller properties as well as larger well-insulated homes.
Compact size, wall-mounted boiler designed to fit in a kitchen cupboard.
Approved by the Energy Saving Trust.
Available in a range of outputs to suit all homes and heating requirements.
A Price Review: Ideal System boilers
Ideal's Logic System boiler comes in a range of outputs and at cost effective price. You'll still have to get quotes for having it installed though. It's best to source a quote from three separate installers to ensure you get the best price for your new Ideal boiler.
Compare the complete range of Ideal Gas System boilers prices…
---
---
The Ideal Classic Range
Ideal has continued to expand and adapt its Classic range for almost two decades keeping it a firm favourite for installations.
The original Ideal Classic was first launched in 1991. After a revamp in design the Classic SE was marketed in 2001 and was an upgrade of the original design.
The key aims of the Ideal Classic SE are to provide reliability and simplicity of construction, backed up by a reputation for high quality standard-efficiency boilers within a well branded range.
The Classic SE has gained its reputation for reliability due to its simple design and engineering. This has resulted in appliances that are easily installed and that require minimum servicing and maintenance.
The cast-iron construction and the availability of various output types make the Classic SE versatile enough to slot into most existing systems or to be used in conjunction with a new build in which a wall mounted standard-efficiency boiler is key. The Classic SE is specifically engineered for use in fully pumped or gravity systems as a fan flued, wall hanging boiler.
Since 2005 a change in regulations has seen SE boilers becoming replaced by HE models such as the Ideal Classic HE 15 Regular.
The Ideal Classic HE range is a high-efficiency development of the Classic SE collection. It is SEDBUK band B rated, with a one year manufacturer's guarantee. Ease of installation and servicing has been retained and all the boiler models are fan-flued products with fixed outputs for simple operation.
The standard model is the Ideal Classic HE 15 Regular Boiler. It is attractive with a compact design, simple controls and quiet operation, which means it can be sited anywhere in the house. The Classic HE Condensing Regular Boiler has also been developed for new housing or older systems where replacement boilers or boiler upgrades are required.
View the complete range of Ideal Boilers.
The Ideal Mexico Range
For over a century Ideal has been perfecting their central heating range.
From taking boilers from basements into kitchens in the 1920s, right through to introducing pioneering high efficiency technologies, Ideal have built up a range of comprehensive and reliable products, designed with the installer and homeowner in mind.
As environmental concerns continue to grow, Ideal remains dedicated towards creating solutions to meet the needs of the market through a range of renewable energy solutions, perfect for new build and retrofit applications. Their products include combination boilers, system boilers and their heat only range.
The Mexico HE is just one of boilers from the Heat Only collection, which includes Logic + Heat and Imax W. As part of the range it promises performance and superb efficiency, with outputs ranging between 15kW – 36kW.
SEDBUK Band A rated and floor standing, the Mexico range of Heat Only boilers are a perfect solution for replacement installations. The Mexico HE is highly efficient, recommended by the Energy Saving Trust and comes complete with a one year parts and labour warranty as standard. Beneficial features include frost protection, so your boiler will run in harsh weather, low NOx levels for low emissions, a range of flue options, and a compact design.
As well as its low running costs Mexico offers the peace of mind that comes with minimal maintenance. Thanks to their status display featuring temperature control and diagnostics for rapid servicing, they are user friendly, plus they come with an optional remote user kit.
Commercial Range of Boilers from Ideal
Ideal has continued to focus on quality, innovation and value in its range of boilers, system storage and Solar solutions since it was established in Hull, in 1905.
To address major changes to the commercial boiler market in 2006, Ideal now offers a full range of highly efficient Condensing Boilers in the Imax, Concord and GT ranges.
Its Gas Atmospheric Boilers in the Concord range have outputs up to 380kW per single boiler, and High Efficiency Boilers, covered by the Concord Super Series and the Super Plus, feature 85% operating efficiency and low NOx emissions.
Ideal also boasts the widest range of Pressure Jet boilers, which provide outputs from 21kW to 3500kW. These are designed to be compact in size, but tremendously powerful.
Ideal's associated company, Stelrad, produces the widest range of radiators in the UK with its Compact with Style and Concord brands; Compact with Style covers over 50 models from standard to designer, while the Concord range has 4 product styles and over 120 models.
Ideal Boiler Warranty
Every boiler manufacturer offers a standard warranty with their boilers which last between 1-10 years. The warranty is your insurance policy and means if a fault develops the manufacturer will resolve it within a specified time frame. Some warranties include both parts and labour while others may only cover parts. The most important thing to remember is to get your boiler serviced by a Gas Safe registered engineer every year as failing to do so is likely to invalidate your warranty. For more detail about this brand's warranty (including the small print) take a look at Ideal Boiler Warranty.
Ideal Boiler Repair Advice
Even the highest quality boiler can develop faults and problems as they age. Some are minor issues you may be able to handle yourself but most will need a Gas Safe registered engineer to diagnose and repair the problem. To find out if there are any common problems associated with this manufacturer you can read our guide to Ideal Boiler Repairs & Common Ideal Boiler Problems.
---
---
Ideal Error Codes
Error codes may appear on your boiler's display; it's your boiler's way of telling you that something is wrong. Each manufacturer uses a different coding system to help an engineer to diagnose a fault. In some cases it may be a simple issue such as low pressure which you can adjust yourself but more technical faults will certainly need a professional. We've put together a list of error codes for all Ideal Boilers to help you understand what's wrong before you contact an engineer.
Ideal in the Forum & Articles Section