Baxi Boilers: Compare Efficiency, Warranty & Price

With roots going back to 1866 and a UK network of over 200 skilled engineers, Baxi has always been focused on innovation, technology and excellence. All Baxi boilers are designed to run on natural gas, but liquefied petroleum gas (LPG) conversion is available on certain models.
When comparing boilers there are a few important things to look out for, including output rating, efficiency, warranty length and potential price.
Output rating: Measured in kilowatts (kW), the output rating will give you an idea of how powerful the boiler is. This is one of the most important things to check when comparing boilers, as a certain output rating will be more suitable to the heating and hot water demands of your home.
Efficiency: Shows how much of the fuel used by the boiler is converted into energy used to heat the central heating system and domestic hot water. Many modern Baxi boilers have an ErP efficiency rating of 93%. This means that for every £1 spent heating your home, only 7p is lost to the waste gases produced as a gas boiler operates.
Warranty: It's good to know that you're covered after the installation of a new boiler and that's where the warranty comes in. Many Baxi boilers now come with a warranty of between 7 and 10 years, which is an extensive period of time.
Price: A Baxi boiler will potentially cost between £600 and £1,000 which is a very reasonable price for a boiler with the efficiency and reliability of a Baxi.
See how Baxi boilers compare to your existing boiler using our Boiler Comparison Tool. You can compare the key information of up to 4 different boilers by hitting the 'add boiler' symbol.
---
---
Compare Baxi combi boilers
Combi boilers are compact cost-effective units that heat domestic hot water on demand before being delivered directly to the hot water outlet; as opposed to storing it in a hot water storage cylinder. Baxi combi boilers are highly efficient and are covered by warranties of 3-10 years.
Boiler Model
kW
Efficiency
Warranty
Typical Price

Best Sellers

Baxi 825 Combi Gas Boiler
21.2 kw
93%
10 years
£858
VIEW
Baxi 830 Combi Gas Boiler
21.2 kw
93%
10 years
£955
VIEW
Baxi 836 Combi Gas Boiler
26.4 kw
93%
10 years
£1,205
VIEW
Baxi 800 Platinum+ 40kW Combi Gas Boiler
34.4 kw
93%
10 years
£1,307
VIEW

Available

Baxi Duo-tec Combi 28 LPG Gas Boiler
25.9 kw
92%
7 years
£980
VIEW
Baxi EcoBlue Advance Combi 24 Gas Boiler
21.2 kw
93%
10 years
£962
VIEW
Baxi EcoBlue Advance Combi 28 Gas Boiler
25.3 kw
93%
10 years
£1,274
VIEW
Baxi EcoBlue Advance Combi 33 Gas Boiler
29.6 kw
93%
10 years
£1,405
VIEW
Baxi EcoBlue Advance Combi 40 Gas Boiler
33.9 kw
93%
10 years
£1,482
VIEW
Baxi Platinum Combi 24 Gas Boiler
24kw
92%
10 years
£928
VIEW
Baxi Platinum Combi 28 Gas Boiler
24 kw
92%
10 years
£1,015
VIEW
Baxi Platinum Combi 33 Gas Boiler
28 kw
92%
10 years
£1,087
VIEW
Baxi Platinum Combi 40 Gas Boiler
32 kw
92%
10 years
£1,276
VIEW
Baxi Duo-tec Combi 24 Gas Boiler
21 kw
92%
7 years
£761
VIEW
Baxi Duo-tec Combi 28 Gas Boiler
25.9 kw
92%
7 years
£812
VIEW
Baxi Duo-tec Combi 33 Gas Boiler
30.3 kw
92%
7 years
£898
VIEW
Baxi Duo-tec Combi 40 Gas Boiler
34.4 kw
92%
7 years
£908
VIEW
Baxi 224 Combi Gas Boiler
21.8 kw
93%
3 years
£549
VIEW
Baxi 228 Combi Gas Boiler
21.8 kw
93%
3 years
£572
VIEW
Baxi 424 Combi Gas Boiler
21.8 kw
93%
5 years
£649
VIEW
Baxi 428 Combi Gas Boiler
21.8 kw
93%
5 years
£687
VIEW
Baxi 624 Combi Gas Boiler
21.2 kw
93%
7 years
£789
VIEW
Baxi 630 Combi Gas Boiler
21.2 kw
93%
7 years
£879
VIEW
Baxi 636 Combi Gas Boiler
26.4 kw
93%
7 years
£1,050
VIEW

Baxi Combi 105 HE 30kW Gas Boiler
30kw
87.3%
2 years
£948
VIEW
Baxi Neta-Tec Combi 33 GA Gas Boiler
33kw
89%
5 years
£1,110
VIEW
Baxi EcoBlue+ Combi 24 Gas Boiler
24kw
89.1%
7 years
£910
VIEW
Baxi EcoBlue+ Combi 28 Gas Boiler
28kw
89.1%
7 years
£959
VIEW
Baxi EcoBlue+ Combi 33 Gas Boiler
33kw
89.1%
7 years
£995
VIEW
Baxi 124 Combi Gas Boiler
24kw
89.1%
2 years
£785
VIEW
Baxi 128 Combi Gas Boiler
28kw
89.1%
2 years
£835
VIEW
Compare the cost of Baxi regular boilers
A regular boiler (also known as a 'conventional' or 'heat only' boiler) is installed as part of a heating system that also includes a cold water storage cistern (tank), expansion vessel and hot water storage cylinder. Regular boilers are usually only recommended where they are replacements for an old existing regular boiler.
Compare the price of Baxi system boilers
In terms of how they operate, system boilers sit somewhere in between combi and regular boilers. They heat water directly from the mains but store it in a hot water cylinder. This means that they don't take up as much space as regular boilers and can meet higher hot water demands than a combi.
Using Boiler Guide, you can get free quotes from up to 3 local heating engineers for the installation of a new Baxi boiler.
---
---
Baxi boilers: Combi Range
You'll be spoilt for choice with the Baxi range of combi boilers.
Whether you want a perfect fit in terms of output and capacity, excellent design, optimum energy efficiency – or even all of these, Baxi have just the right choice to tick all your boxes.
A combi boiler is amongst the most compact, space-saving hot water and central heating system available today, which is why it's one of the most popular choices for modern homes.
All the clever stuff is included inside, so you don't need to find space for a cold water expansion cistern in the roof, or a hot water storage cylinder – so that's good news!
Benefits of a Baxi Combi boiler
Excellent energy efficiency
Long-term warranties available up to 10 years
Compact space-saver maximises room in your home
Easy to use with digital display and simple controls
Extensive range of products to choose from
When making a decision about a new combi boiler, don't just go for the cheapest option. You need to make sure that the product you choose will work effectively to meet your specific needs. You should consider things like how much hot water you use, how well insulated your home is and how much maintenance your system might need during its lifetime.
Baxi boilers: Regular range
Most of us will be familiar with a regular hot water and heating system, perhaps from parents or even grandparents' houses, as a lot of older properties will have relied on them (and many still do!).
You can recognise a regular boiler because it's always connected to a separate cold water cistern as well as a hot water storage cylinder.
The latter is usually in an airing cupboard and makes a nice warm space for linen and towels.
If you want to take advantage of the benefits of a regular boiler, the modern equivalents are much more energy efficient than their predecessors and look sleeker too.
They still have the three crucial elements (i.e. a cold water feed cistern, a hot water cylinder and the actual boiler), but they also now benefit from modern design and engineering too.
Baxi's regular range offers a number of options.
Benefits of a Baxi regular boiler
A newer like-for-like replacement gives greater energy efficiency than older models
A popular choice in older properties where the pipework is already in place
Good if you want to store plenty of hot water – perhaps if you have more than one bathroom
Ideal if the mains water pressure is low
There are three things to think about when it comes to cost: the purchase price of the new boiler; installation by a qualified engineer; and the overall running cost i.e. energy bills, repairs and maintenance.
The first one is easy as you can find details for Baxi boilers and all their prices on this site. Installation fees however vary from one engineer to another, so it pays to get three quotes for comparison. It's also good to check with your provider regarding whole life costs, as this can impact the type of boiler you buy.
Get quotes for a new Baxi boiler.
Baxi boilers: System range
A system boiler ensures a supply of hot water is pumped efficiently to radiators around the home and to a hot water storage cylinder. This provides an ample supply for baths, showers and hot taps.
This type of system doesn't have an extra cold water cistern or 'expansion' tank, as this part is built into the boiler itself rather than set up separately.
That's good news when it comes to installation and servicing, as it simplifies the process for the engineer and should cost you less in time and therefore money.
Baxi system boilers are particularly energy efficient, so if you want a greener choice this could be the one for you.
Benefits of a Baxi system boiler
Baxi system boilers offer excellent energy efficiency
Economical to run and kind to the environment
Easy and neat to install as most of the major parts are built in
Provides a consistent supply of hot water, even when demand is high
Top 5 boiler brands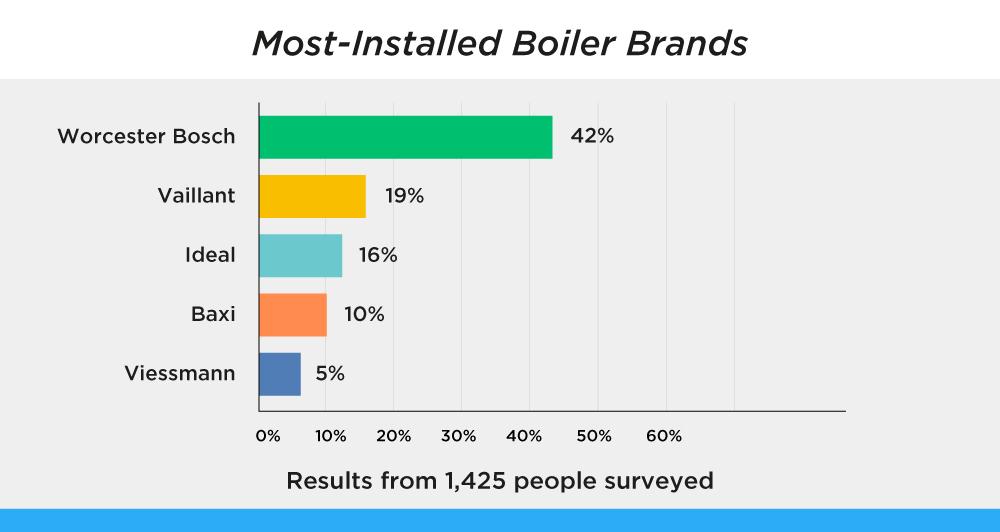 Baxi ranks highly amongst the top 5 most popular boiler brands that homeowners choose to install. They are a trusted and recognised brand with engineers and installers, and can offer customers a wide range of boiler options. See how Baxi compare to other popular brands by using our comparison tool. You can compare up to 4 boilers to find out which is bested suited to your needs.
---
---
Baxi boiler service
It's important to keep your boiler in the best possible condition with an annual boiler service by a professional engineer. This will ensure the boiler can operate as efficiently as possible, keeping heating bills to a minimum, and that there are no potential safety issues to be concerned about. A boiler service is also a great way to catch and fix small repairs before they have the chance to worsen over time and cause an expensive breakdown.
Find out what's involved in an annual boiler service and how much they cost in our 'Baxi Boiler Service' article.
Baxi boiler warranty
Every boiler manufacturer offers a standard warranty with their boilers which last between 1-10 years. The warranty is your insurance policy, and means if a fault develops the manufacturer will resolve it within a specified time frame. Some warranties include both parts and labour, while others may only cover parts. The most important thing to remember is to get your boiler serviced by a Gas Safe registered engineer every year, as failing to do so is likely to invalidate your warranty.
For more detail about this brand's warranty (including the small print) take a look at 'Baxi Boiler Warranty'.
Baxi boiler repair advice
Even the highest quality boiler can develop faults and problems as they age. Some are minor issues you may be able to handle yourself, but most will need a Gas Safe registered engineer to diagnose and repair the problem.
To find out if there are any common problems associated with this manufacturer you can read our guide to 'Baxi Boiler Repairs & Common Baxi Boiler Problems'.
---
Reference
Visit the Baxi website for further details.