Need a new boiler?
Get FREE no-obligation quotes now!
Get FREE no-obligation quotes now!
No delays! Get quotes today

Compare quotes & get the best prices

Gas Safe & OFTEC registered engineers
The smarter way to find approved boiler engineers
What
work do you require

?

Fuel type
Boiler type
Manufacturer
Baxi 618 18kW System Gas Boiler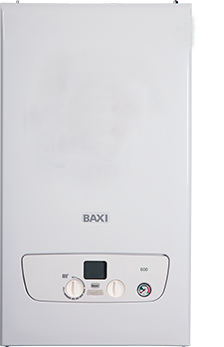 Typical Price (inc VAT)
£N/A
Typical installation Cost (inc VAT)*
£500 - £1,000
| | |
| --- | --- |
| Make | Baxi |
| Model | 618 18kW System Gas Boiler |
| Is Condensing | Condensing |
| Efficiency Rating | 89% |
| Standard Warranty | 7 Years |
| Band Rating | A Rating |
| ERP Rating | A Heat |
| Central Heating Max. Output | 18kW |
| Flow Rate | N/A |
| LPG Compatible | No |
| Mounting | Wall Mounted |
| Typical Price (inc VAT) | £N/A |
| Typical installation Cost (inc VAT)* | £500 - £1,000 |
Product Description
The 618 is a condensing system boiler with an output rating of 18 kW that runs on gas and has been designed and manufactured by Baxi.
How efficient is the Baxi 618 boiler?
Baxi 618 is a highly efficient boiler, as shown by the 89% SEDBUK efficiency rating and ErP A-rating, which means that it could help to save you money on your bills.
What is the output rating of this boiler?
An output rating of 18kW means that the 618 system boiler is best suited to medium-sized homes with a moderate demand for central heating and hot water.
What options are available in this range?
This 18 kW model isn't the only option available in this Baxi boiler range. Additional output ratings of 15 kW and 24 kW are also an option as well as a completely different type of boiler altogether with combi and regular units included too.
Where can the Baxi 618 be installed?
Designed for wall-mounted installation, the compact size of the 618 unit means that it can be installed within a standard cupboard.
Can this boiler help to save you money?
Thanks to its compact size and low lift weight of only 28.1kg, this boiler is considered easy to install, which could see you save money on the installation. After the installation, the highly efficient performance will see that your energy bills are kept to a minimum.
What are the features of the Baxi 618?
Some key features of the Baxi 618 include pipes behind facility within boiler casing, lightweight, it's fully modulating, ease of service to save you money on future maintenance, front access to all components, a brass hydraulics block, central top flue and extensive flue options up to 20 metres to allow for flexible sitting.
Would a system boiler suit your home?
System boilers directly heat the central heating system and hot water for a storage cylinder. Most of the important parts of the hot water and heating system, such as the pump and expansion vessel, are built in on a system boiler – making it quicker and cleaner to install. It also means you get a faster response to demand for heating and hot water than a regular boiler and there's no need for a feed and expansion tank in the loft.
How long is the warranty period?
Baxi 618 boilers feature a 7 year warranty as standard, giving you the peace of mind that it's a highly reliable unit that won't let you down.
Get quotes to supply and fit a new
* This is a guide price for a straightforward, like-for-like boiler replacement. Installation costs will vary dependent on work required.
Why not compare these similar boilers?
Boiler Model
kW
Efficiency
Warranty
Typical Price

Best Sellers

Baxi Duo-tec Combi 24 Gas Boiler
21 kw
92%
7 years
£761
Baxi Duo-tec Combi 28 Gas Boiler
25.9 kw
92%
7 years
£812
Baxi 224 Combi Gas Boiler
21.8 kw
93%
3 years
£549
Baxi 228 Combi Gas Boiler
21.8 kw
93%
3 years
£572
Baxi 800 Platinum+ 40kW Combi Gas Boiler
34.4 kw
93%
10 years
£1,307

Available

Baxi Duo-tec Combi 28 LPG Gas Boiler
25.9 kw
92%
7 years
£980
Baxi EcoBlue Advance Combi 24 Gas Boiler
21.2 kw
93%
10 years
£962
Baxi EcoBlue Advance Combi 28 Gas Boiler
25.3 kw
93%
10 years
£1,274
Baxi EcoBlue Advance Combi 33 Gas Boiler
29.6 kw
93%
10 years
£1,405
Baxi EcoBlue Advance Combi 40 Gas Boiler
33.9 kw
93%
10 years
£1,482
Baxi Platinum Combi 24 Gas Boiler
24kw
92%
10 years
£928
Baxi Platinum Combi 28 Gas Boiler
28kw
92%
10 years
£1,015
Baxi Platinum Combi 33 Gas Boiler
33kw
92%
10 years
£1,087
Baxi Platinum Combi 40 Gas Boiler
40kw
92%
10 years
£1,276
Baxi Duo-tec Combi 33 Gas Boiler
30.3 kw
92%
7 years
£898
Baxi Duo-tec Combi 40 Gas Boiler
34.4 kw
92%
7 years
£908
Baxi Megaflo System 15 Gas Boiler
15kw
88.6%
7 years
£765
Baxi Megaflo System 18 Gas Boiler
18kw
88.6%
7 years
£740
Baxi Megaflo System 24 Gas Boiler
24kw
88.6%
7 years
£895
Baxi Megaflo System 28 Gas Boiler
28kw
88.5%
7 years
£945
Baxi Megaflo System 32 Gas Boiler
32kw
88.5%
7 years
£975
Baxi 424 Combi Gas Boiler
21.8 kw
93%
5 years
£649
Baxi 428 Combi Gas Boiler
21.8 kw
93%
5 years
£687
Baxi 412 Heat 12kW Regular Gas Boiler
12kw
89.2%
5 years
£695
Baxi 415 Heat 15kW Regular Gas Boiler
15kw
89.2%
5 years
£695
Baxi 418 Heat 18kW Regular Gas Boiler
18kw
89.2%
5 years
£805
Baxi 424 Heat 24kW Regular Gas Boiler
24kw
89.1%
5 years
£662
Baxi 430 Heat 30kW Regular Gas Boiler
30kw
89.1%
5 years
£925
Baxi 212 Heat 12kW Regular Gas Boiler
12kw
89.2%
3 years
£695
Baxi 215 Heat 15kW Regular Gas Boiler
15kw
89.2%
3 years
£883
Baxi 218 Heat 18kW Regular Gas Boiler
18kw
89.2%
3 years
£765
Baxi 224 Heat 24kW Regular Gas Boiler
24kw
89.2%
3 years
£815
Baxi 230 Heat 30kW Regular Gas Boiler
30kw
89.1%
3 years
£850
Baxi 624 Combi Gas Boiler
21.2 kw
93%
7 years
£789
Baxi 630 Combi Gas Boiler
21.2 kw
93%
7 years
£879
Baxi 636 Combi Gas Boiler
26.4 kw
93%
7 years
£1,050
Baxi 613 13kW Regular Gas Boiler
13kw
89.2
7 years
£N/A
Baxi 616 16kW Regular Gas Boiler
16kw
89.2%
7 years
£N/A
Baxi 619 19kW Regular Gas Boiler
19kw
89.2%
7 years
£N/A
Baxi 625 25kW Regular Gas Boiler
25kw
89.1%
7 years
£N/A
Baxi 630 30kW Regular Gas Boiler
30kw
89.1%
7 years
£N/A
Baxi 615 15kW System Gas Boiler
15kw
89%
7 years
£N/A
Baxi 618 18kW System Gas Boiler
18kw
89%
7 years
£N/A
Baxi 624 24kW System Gas Boiler
24kw
89%
7 years
£N/A
Baxi 825 Combi Gas Boiler
21.2 kw
93%
10 years
£858
Baxi 830 Combi Gas Boiler
21.2 kw
93%
10 years
£955
Baxi 836 Combi Gas Boiler
26.4 kw
93%
10 years
£1,096
Baxi 818 18kW System Gas Boiler
18kw
93%
10 years
£N/A
Baxi 824 24kW System Gas Boiler
24kw
93%
10 years
£N/A

Show

Discontinued
Baxi Combi 105 HE 30kW Gas Boiler
30kw
87.3%
2 years
£948
Baxi Solo 15 HE A Regular Gas Boiler
15kw
89.2%
2 years
£878
Baxi Neta-Tec Combi 33 GA Gas Boiler
33kw
89%
5 years
£1,110
Baxi EcoBlue+ Combi 24 Gas Boiler
24kw
89.1%
7 years
£910
Baxi EcoBlue+ Combi 28 Gas Boiler
28kw
89.1%
7 years
£959
Baxi EcoBlue+ Combi 33 Gas Boiler
33kw
89.1%
7 years
£995
Baxi EcoBlue Heat 12 Regular Gas Boiler
12kw
89.2%
2 years
£795
Baxi EcoBlue Heat 15 Regular Gas Boiler
15kw
89.2%
2 years
£895
Baxi EcoBlue Heat 18 Regular Gas Boiler
18kw
89.2%
2 years
£913
Baxi EcoBlue Heat 21 Regular Gas Boiler
21kw
89.2%
2 years
£925
Baxi EcoBlue Heat 24 Regular Gas Boiler
24kw
89.1%
2 years
£950
Baxi EcoBlue Advance Heat 13 Regular Gas Boiler
13kw
89.2%
7 years
£795
Baxi EcoBlue Advance Heat 16 Regular Gas Boiler
16kw
89.2%
7 years
£925
Baxi EcoBlue Advance Heat 19 Regular Gas Boiler
19kw
89.2%
7 years
£995
Baxi EcoBlue Advance Heat 25 Regular Gas Boiler
25kw
89.1%
7 years
£1,055
Baxi EcoBlue Advance Heat 30 Regular Gas Boiler
30kw
89.1%
7 years
£1,095
Baxi EcoBlue System 12 Gas Boiler
12kw
89.1%
7 years
£880
Baxi EcoBlue System 15 Gas Boiler
15kw
89.1%
7 years
£925
Baxi EcoBlue System 18 Gas Boiler
18kw
89.1%
7 years
£960
Baxi EcoBlue System 24 Gas Boiler
24kw
89.1%
7 years
£976
Baxi EcoBlue System 28 Gas Boiler
28kw
89.1%
7 years
£1,112
Baxi EcoBlue System 32 Gas Boiler
32kw
89.1%
7 years
£1,127
Baxi 124 Combi Gas Boiler
24kw
89.1%
2 years
£785
Baxi 128 Combi Gas Boiler
28kw
89.1%
2 years
£835