Vaillant Boilers: Compare Efficiency, Warranty & Price

Vaillant's award-winning combi, system and open vent boilers are renowned for their reliability, performance and efficiency. As well as efficient gas combi, regular and system boilers, Vaillant have also been making waves in renewable heating with their own range of heat pumps.
There are a few things that you should look out for when comparing boilers, including output rating, efficiency, warranty and the potential cost. We explain each of these in more detail below.
Output: This is the power of the boiler. Measured in kilowatts (kW), the output rating is one of the most important things to consider when comparing replacement boilers. The right output to suit the heating and hot water demands of your home is essential, as an output that's too low won't meet demand and an output that's too high could increase your energy bills.
Efficiency: Gas is an effective way of heating the home but when burnt there is some waste. The amount of fuel that's turned into usable energy is reflected in the efficiency rating. Vaillant boilers are well known for being highly efficient.
Warranty: A promise from the manufacturer that they will see that you're protected after the installation of your new boiler. Vaillant boilers have warranties of 2-7 years depending on the model and whether certain terms are met.
Price: Vaillant are one of the leading UK boiler manufacturers with prices of around £1,000.
Compare Vaillant boilers using our Boiler Comparison Tool. Hit the 'add boiler' symbol in the table to compare up to 4 different boilers. We recommend adding your existing boiler to the comparison.
---
---
Compare the costs of Vaillant combi boilers
Combi boilers are the best option for homes with 1-2 bathrooms. They deliver hot water on demand rather than storing it in a cylinder; as system and regular boilers do. This means that you never have to wait for the cylinder to fill up, giving you instant access to hot water. Vaillant were pioneers of the combi boiler* and they have a number of reliable and efficient units at various price points, so you are sure to find the right boiler to fit your budget.
Boiler Model
kW
Efficiency
Warranty
Typical Price

Best Sellers

Vaillant ecoTEC plus 825 Combi Gas Boiler
20.4 kw
94%
10 years
£1,152
VIEW
Vaillant ecoTEC plus 832 Combi Gas Boiler
25.7 kw
94%
10 years
£1,248
VIEW
Vaillant ecoTEC plus 835 Combi Gas Boiler
32.2 kw
94%
10 years
£1,431
VIEW
Vaillant ecoTEC plus 838 Combi Gas Boiler
30.1 kw
94%
10 years
£1,408
VIEW

Available

Vaillant ecoTEC Pro 28 kW Combi Gas Boiler
25.9 kw
94%
10 years
£1,119
VIEW
Vaillant ecoTEC Exclusive Green IQ 835 Combi Gas Boiler
26.4 kw
94%
10 years
£1,425
VIEW
Vaillant ecoTEC Pro 30kW combi Gas boiler
25.7 kw
93%
10 years
£1,211
VIEW
Vaillant ecoTEC Exclusive Green IQ 843 Combi Gas Boiler
36 kw
94%
10 years
£1,673
VIEW
Vaillant ecoFIT pure 825 Combi Gas Boiler
19.1kw
94%
10 years
£907
VIEW
Vaillant ecoFIT pure 830 Combi Gas Boiler
26.5 kw
94%
10 years
£1,058
VIEW
Vaillant ecoFIT pure 835 Combi Gas Boiler
26.7 kw
94%
10 years
£1,192
VIEW
Vaillant ecoTEC plus 938 Combi Gas Boiler
30.9 kw
94%
10 years
£1,703
VIEW
Vaillant ecoTEC Pro 24kW Combi Gas boiler
24.8 kw
94%
10 years
£1,015
VIEW

Vaillant ecoTEC exclusive 832 Combi Gas Boiler
32kw
89.3%
2 years
£1,200
VIEW
Vaillant ecoTec plus 937 Combi Gas Boiler
37kw
89.3.%
5 years
£1,500
VIEW
Vaillant EcoTEC Exclusive 32kW Combi Gas Boiler
32kw
89.8%
5 years
£1,395
VIEW
Vaillant EcoFIt sustain 825 Combi Gas Boiler
25kw
89.3%
5 years
£1,250
VIEW
Vaillant EcoFIt sustain 830 Combi Gas Boiler
30kw
89.3%
5 years
£1,500
VIEW
Vaillant EcoFIt sustain 835 Combi Gas Boiler
35kw
89.3%
5 years
£1,300
VIEW
Vaillant Home 25kW Combi Gas Boiler
25kw
89.3%
2 years
£1,525
VIEW
Vaillant Home 30kW Combi Gas Boiler
30kw
89.3%
2 years
£1,025
VIEW
Vaillant Home 35kW Combi Gas Boiler
35kw
89.3%
2 years
£1,300
VIEW
Compare Vaillant Regular boiler prices
Regular boilers are the best option if your home is already being heated by a regular boiler. Otherwise, a combi or system boiler would make for a much more straightforward installation. With output ratings of 15 kW up to 35 kW, there will be a suitable Vaillant regular boiler for a range of property types.
Compare Vaillant system boiler prices
There are plenty of options in the Vaillant system range of boilers, so you should be able to find something that ticks your boxes. No matter what your heating and water requirements are, there will be an option that doesn't blow the budget either.
Boiler Model
kW
Efficiency
Warranty
Typical Price

Best Sellers

Vaillant ecoTEC plus 612 System Gas Boiler
12.2 kw
92%
10 years
£902
VIEW
Vaillant ecoTEC plus 615 System Gas Boiler
15.4 kw
93%
10 years
£971
VIEW
Vaillant ecoTEC plus 618 System Gas Boiler
18.5 kw
94%
10 years
£1,098
VIEW
Vaillant ecoTEC plus 624 System Gas Boiler
24.4 kw
94%
10 years
£1,227
VIEW
Vaillant ecoTEC plus 630 System Gas Boiler
30.4 kw
94%
10 years
£1,363
VIEW
Vaillant ecoTEC plus 637 System Gas Boiler
37.6 kw
94%
10 years
£1,537
VIEW

Available

Vaillant ecoFIT pure 612 system Gas boiler
12.3 kw
94%
10 years
£894
VIEW
Vaillant ecoFIT pure 615 system Gas boiler
15.2 kw
94%
10 years
£980
VIEW
Vaillant ecoFIT pure 618 System Gas boiler
18.3 kw
94%
10 years
£1,058
VIEW
Vaillant ecoFIT pure 625 System Gas boiler
25.4 kw
94%
10 years
£1,243
VIEW
Vaillant ecoFIT pure 630 System Gas boiler
30.5 kw
94%
10 years
£1,227
VIEW
Vaillant ecoTEC exclusive Green iQ 627 System Gas Boiler
26.7 kw
94%
10 years
£1,390
VIEW
Vaillant ecoTEC plus 64kW System Gas Boiler
64kw
94%
5 years
£2,700
VIEW
Vaillant ecoTEC plus 48kW System Gas Boiler
48 kw
94%
5 years
£2,264
VIEW

Vaillant EcoTEC 65kW System Gas Boiler
65kw
95.5%
2 years
£1,500
VIEW
Vaillant EcoTEC 46kW System Gas Boiler
46kw
95.8%
2 years
£2,400
VIEW
Vaillant Home 12kW System Gas Boiler
12kw
93%
2 years
£2,090
VIEW
Vaillant Home 15kW System Gas Boiler
15kw
93%
2 years
£N/A
VIEW
Vaillant Home 18kW System Gas Boiler
18kw
93%
2 years
£N/A
VIEW
Vaillant Home 25kW System Gas Boiler
25kw
89.4%
2 years
£825
VIEW
Using Boiler Guide, you can get free quotes from up to 3 Gas Safe registered engineers for the installation of a Vaillant boiler.
---
---
Benefits of Vaillant combi boilers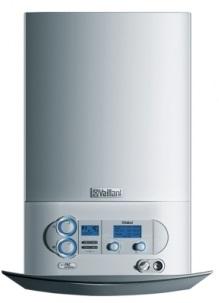 Combination boilers or 'combi' boilers are the most popular type of boiler in the UK.
These space saving boilers don't require a hot water cylinder or a tank and offer various outputs across three ranges:
ecoTEC Plus combi boilers
ecoTEC Exclusive combi boilers
ecoTEC Pro combi boilers
Benefits of these Vaillant combi boilers include:
No need for a hot water storage tank or lots of pipework
Straightforward to install and cost effective for repairs
Provides your hot water on demand, so you're not limited by a tank size
An energy efficient choice as you only heat the water you actually need
Benefits of Vaillant regular boilers
Choosing a new boiler can be daunting, especially if the existing boiler has been in place for years.
Boilers have changed significantly in the last decade and are more energy efficient than ever before.
Vaillant offer the ideal solution for older properties with their regular boiler range.
These are the perfect modern-day replacement for your older boiler and should be close to like-for-like in terms of design and pipework, but with the benefits of a new system.
Benefits of a regular boiler
Older property? This is an ideal replacement as the pipework will be similar
It's fine to use more than one tap at the same time
Works well with an electric immersion heater as a hot water back-up
Can be used with solar thermal panels to heat your water
Benefits of Vaillant system boilers
Modern home owners will love the Vaillant system range of boilers, as they're designed for the way we live today.
When space is at a premium, who wants to find loft space for a bulky cold water feed tank? And if you're lucky enough to have a loft conversion, there's simply no room for it up there.
The Vaillant system range is the ideal solution for lots of reasons.
Many heating components are built-in, so installation is easy
No need for a cold water feed tank means it's ideal for smaller homes or those without loft space
Thinking of using solar to heat water? A system boiler is compatible
Serves multiple taps simultaneously without reducing water pressure or temperature
Top 5 boiler brands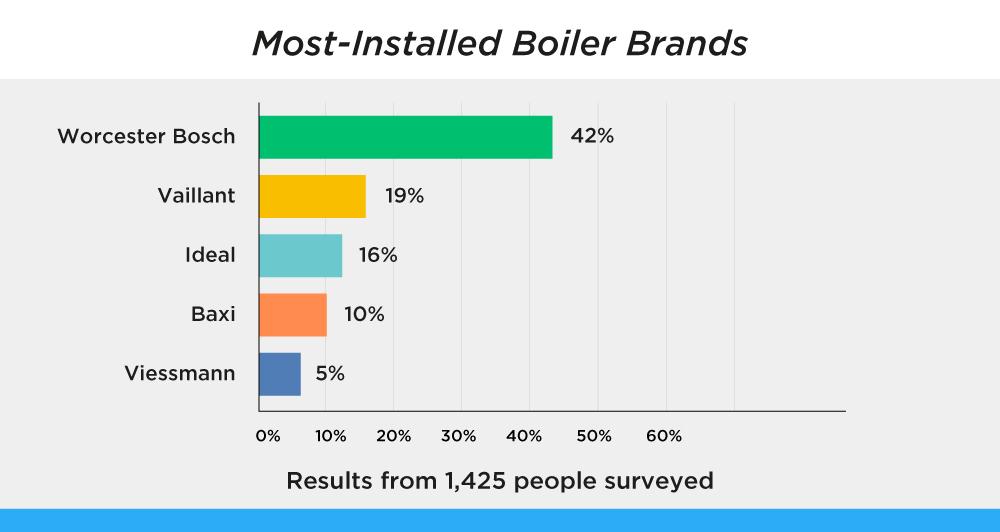 Vaillant ranks highly amongst the top 5 most popular boiler brands that homeowners choose to install. They are a trusted and recognised brand with engineers and installers, and can offer customers a wide range of boiler options. See how Vaillant compare to other popular brands by using our comparison tool. You can compare up to 4 boilers to find out which is bested suited to your needs.
---
---
Vaillant boiler service
It's important to keep your boiler in the best possible condition with an annual boiler service by a professional engineer. This will ensure the boiler can operate as efficiently as possible, keeping heating bills to a minimum, and that there are no potential safety issues to be concerned about. A boiler service is also a great way to catch and fix small repairs before they have the chance to worsen over time and cause an expensive breakdown.
Find out what's involved in an annual boiler service, why it's so important, the benefits and how much they cost on our 'Vaillant Boiler Service' page.
Vaillant boiler warranty
Every boiler manufacturer offers a standard warranty with their boilers which last between 1-10 years. The warranty is your insurance policy and means if a fault develops the manufacturer will resolve it within a specified time frame. Some warranties include both parts and labour, while others may only cover parts. The most important thing to remember is to get your boiler serviced by a Gas Safe registered engineer every year, as failing to do so is likely to invalidate your warranty.
For more detail about this brand's warranty (including the small print) take a look at 'Vaillant Boiler Warranty'.
Vaillant boiler repair advice
Even the highest quality boiler can develop faults and problems as they age. Some are minor issues you may be able to handle yourself, but most will need a Gas Safe registered engineer to diagnose and repair the problem.
To find out if there are any common problems associated with this manufacturer you can read our guide to 'Vaillant Boiler Repairs & Common Vaillant Boiler Problems'.
---
---
Vaillant heating controls
Vaillant offers a wide range of different controls and thermostats, from simple analogue heating timers to a thermostat smartphone app – vSMART – which enables you to manage your heating from a smart device wherever you are.
Vaillant renewable heating solutions
Vaillant also offer one of the widest ranges of renewable heating solutions on the market including:
Air Source Heat Pump: aroTHERM
Ground Source Heat Pump: geoTHERM
Water Source Heat Pump: flexoTHERM and fluoCOLLECT
Solar Thermal Collectors: auroTHERM VFK
In addition, Vaillant also manufacture a hybrid heating solution, the aroTHERM Hybrid, which is a combination of an air source heat pump and a condensing gas combi boiler. The intelligent system automatically detects which of the two technologies is more energy efficient and cost effective to use depending on the weather, and switches between them to heat water for your home.
---
Reference
*Vaillant.co.uk, Who Are We (2021)
Visit the Vaillant website for further details.