Vaillant Boilers: Prices, Reviews, Pros & Cons in 2023
With a rich history spanning over 140 years, Vaillant has cemented its position as a leading force in the European heating and ventilation industry. Renowned for their superior engineering, efficiency, and commitment to sustainability, the Vaillant boiler range is sure to offer the perfect heating solution for your home.
In addition to being a recognised global player in environmentally friendly energy solutions, Vaillant is on course to becoming the UK's most popular manufacturer of boilers, with the UK branch being a key pioneer in the introduction of combi boilers. Notably, all modern Vaillant boilers utilise condensing technology and boast over 90% efficiency rates, helping you make substantial savings on annual energy bills.
In this article, we will delve into Vaillant's popular range of combi, regular, and system boilers. We will also provide you with insights into Vaillant boiler prices and reliable customer reviews.
It's important to note that finding the ideal heating solution for your home involves more than just selecting a boiler. With so many types, models and installers to choose from, it can become an overwhelming task to navigate all your options and choose the perfect fit. Here at Boiler Guide, we want to ensure that you get the best value for your money!
Through our services, you can be provided up to 3 free boiler quotes from local gas safe engineers so that you can make the best choice for your home. Save countless hours of research and unnecessary stress by clicking the button below.
Vaillant boiler prices: cost of Vaillant boilers in the UK
You may be asking yourself, how much does a Vaillant boiler cost? Depending on the type, Vaillant boilers cost between £907 to £1,533. In this section, we break down the expected baseline costs for various boiler types offered by Vaillant.
Vaillant boiler prices
Boiler Type
Price
Vaillant combi boiler
£907 – £1,920
Vaillant system boiler prices
£894 – £2,700
Vaillant regular boiler prices
£792 – £1,533
A new Vaillant boiler cost relies on a few factors, such as boiler type, model and output. From the broad range of combi, regular and system boilers on offer, Vaillant combi boilers stand out as the most efficient, given that they connect directly to your mains supply and eliminate the need for an additional cold water tank or hot water cylinder. Vaillant combi boiler prices can range from £907 to £1,920, depending on your home size, heating demand and output range.
The most popular boiler range by Vaillant in the UK is without a doubt the Vaillant ecoTEC line, reputable for its ease of installation and repair, thus helping you get the most out of your heating system.
Below you can find a breakdown of what you can expect from a Vaillant combi boiler cost, and some specs to help you identify options suitable to your needs:
Combi Boiler Model
Output Range
Price Range
Vaillant ecoFIT pure 825 Combi Gas Boiler
25 – 35kW
£

907

– £1,100
Vaillant ecoTEC Pro Combi
24 – 30kW
£1,119 – £1,800
Vaillant ecoTEC Plus Combi
26 – 40kW
£1,100 – £1,500
Vaillant ecoTEC Exclusive w/ Green iQ System
35 – 43kW
£1,400 – £1,920
Alternatively, Vaillant also offers a range of popular and efficient system boilers. Unlike combi boilers, system boilers feature a separate cylinder for water storage, thus allowing them to provide constant hot water throughout a home. This makes system boilers the most ideal choice for larger homes with higher heating and hot water demands. A Vaillant boiler cost regarding system boilers ranges from £894 up to £2,700 depending on your heating demands.
Below you can find a breakdown of Vaillants available system boiler models to help you identify options that may suit your homes heating needs:
System Boiler Model
Output Range
Price Range
Vaillant ecoFIT pure 612 system Gas boiler
12 – 37kW

£894

– £1,375
Vaillant ecoFIT Pure System
12 – 30kW
£980 – £1,227
Vaillant ecoTEC Exclusive w/ Green iQ System
27kW
£1,390
Vaillant ecoTEC Plus 48kW & 64kW System
48 – 64kW
£2,264 – £2,700
Finally, Vaillant also offers a range of regular or "conventional" boiler models. These boilers are able to provide central heating and hot water via a boiler, a storage cylinder, and a cold water tank. Water from the mains is drawn into the tank, which is then heated by the boiler, and fed into the storage cylinder.
As such, conventional boilers allow hot water to be used simultaneously throughout the home without interference. This makes regular boilers an ideal heating solution for multi-person homes with higher demands. However, it may take some time to reheat once the hot water runs out due to the cylinder storage system.
For regular models, a Vaillant boiler price can range from £792 up to £1,533 depending on your heating demands.
Below you can find a breakdown of Vaillants available regular boiler models to help you identify options that may suit your homes heating needs:
| Regular Boiler Model | Output Range | Price Range |
| --- | --- | --- |
| Vaillant ecoFIT Pure Regular | 12 – 35kW | £792 – £1,533 |
| Vaillant ecoTEC Plus Regular | 12 – 35kW | £805 – £1,453 |
In addition to a new boiler cost, one could expect the installation costs to sit between £1000 to £3000, although many factors influence this. The type, boiler sizes, chosen model, and whether your home requires optimising for your new system are all points that can affect overall installation costs.
Choosing the perfect boiler from Vaillant's wide range of types, models, and outputs can also be a daunting task. Add in the challenge of finding professional Gas Safe registered installers at affordable rates, and it's easy to find yourself spending weeks immersed in stressful research.
Take advantage of our services and acquire price quotes tailored to your home and specific needs. Receive up to 3 complimentary quotes from local Gas Safe engineers, with zero obligations to accept. Simply click the button below to begin!
Vaillant boiler review: the pros and cons
Vaillant has certainly built a positive reputation based on its product quality and reliability, yet it still is important to weigh up the pros and cons you could expect when making a decision on any boiler brand. Despite upholding an excellent reputation, it is normal for any product to develop issues over time.
Below, we will address the key benefits and drawbacks associated with Vaillant's boiler range so that you make an informed and thorough decision.
Advantages of Vaillant boilers

Reputation for Excellence: All Vaillant products are hand built, ensuring an unparalleled attention to detail and quality control in the manufacturing process. As such, the brand has consistently upheld a reputation for quality and reliability.
A-Rate Efficiency: Practically all Vaillant boilers operate at over 90% boiler efficiency rates, earning them an A rating in energy efficiency. As such, Vaillant boilers allow you to make considerable savings on your energy bills by limiting wasted energy.
Competitive Service Plans: A Vaillant boiler warranty offers a compelling servicing package that ensures you get the most out of your boiler. Some key features include coverage for boiler repairs up to £1,500, boiler replacements up to £750, and a strong dedication to only using genuine Vaillant parts in repairs.
Outstanding Customer Support: Alongside customer reviews shared on Vaillants own site, the company boasts over 19,000 largely positive reviews on Trustpilot, a globally reliable review platform. Vaillant UK also holds an impressive 4.5 in overall ratings.
High "Which?" Score: Vaillant's overall Which? score is an impressive 80%, earning the brand the coveted "Best Buy" tag. Vaillant also excels with top marks in categories such as product quality, ease of repair, and engineer recommendations.
Disadvantages of Vaillant boilers

Low Water Pressure: Indicated with the fault code "F22", low water pressure is one of the more common issues one could expect to come across. This happens when pressure in a boiler drops too low, thus affecting its ability to properly heat radiators and water. The good news is that the problem is often relatively easy to correct yourself, or a walk in the park for an engineer.
Boiler Lockout: When a Vaillant boiler's gas valve becomes stuck, or experiences an air duct leak, it'll automatically go into lockdown mode, highlighted by the fault code "F62". As a result, you will not be able to reset your boiler, or have it work until a licensed engineer can come and fix it.
Frozen Condensate Pipe: While the issue is certainly not exclusive to Vaillant boilers, it is a problem that affects most boilers in freezing weather conditions. The condensate pipe is the part of the boiler by which wastewater is disposed. As it runs from outside your home, it risks freezing over in colder temperatures. Luckily, all it takes to fix the issue is to pour warm water over the pipe until it thaws, and you should be good to go!
Ready to upgrade your home with an A-Rated Vaillant boiler? Look no further than Boiler Guide for all the assistance you need in securing the best deal for your heating needs. Access up to 3 complimentary quotes from local Gas Safe engineers through our services, without any pressure to commit. Simply click the button below to begin!
Vaillant customer reviews: what do others think?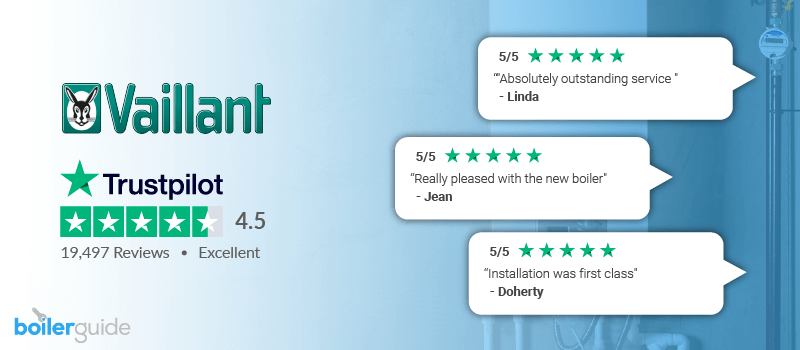 Vaillant's reputation certainly precedes it, but what's more reassuring than the feedback of everyday Vaillant boiler users?
Fortunately, Trustpilot serves as a treasure trove for Vaillant boiler reviews, with over 19,000 individual reviews and counting. Vaillant also proudly rates at an excellent score of 4.5 out of 5, with over 3 quarters of their individual reviews sitting at 5 stars.
Vaillant reviews by customers tend to praise the brand's installation and maintenance services, as well as the boiler's reliability and efficiency.
How do Vaillant boilers compare to other boiler brands?
Vaillant is one of the most popular boiler manufacturers on the market, which already leaves little room for comparison. Nevertheless, there are several other popular contenders that deliver quality products and exceptional services.
One close contender is Worcester Bosch, a key player in its own right. With over six decades of industry expertise, Worcester Bosch manufactures a wide range of combi, regular and system boilers for all home types and heating needs. Worcester Bosch is also one of the most popular boiler manufacturers across the UK and Europe.
So what do the two manufacturers share in similarities?
The boilers of both manufacturers are typically all A-rated in terms of energy efficiency, and pride themselves with product quality and innovativeness.
Customers praise both brands for their focus on customer needs, as seen by their near perfect Trustpilot ratings and extensive warranty of boilers.
Both brands have also been awarded the coveted Which? Best Buy status, amongst other awards and recognitions for their excellent products.
What makes the two manufacturers different?
Vaillant boilers are typically slightly costlier than those of Worcester Bosch, but given the exceptional quality of their products, this is to be expected.
Worcester Bosch produces a relatively larger range and variation of boilers than Vaillant does, but not by a large margin. Both manufacturers still cater to a wide variety of home types and heating needs.
Vaillant produces combi boilers at an output maximum of 38kW, while Worcester Bosch  has combi boilers up to 50kW. Nonetheless, a 38kW boiler is usually sufficient for larger homes with higher heating demands.
So in the case of Vaillant vs Worcester Bosch, which is the better choice? Our verdict is that the answer depends on your specific needs!
Whether a Vaillant or Worcester boiler, both manufacturers are highly applauded, with decades of industry expertise and customer praise. Both brands deliver high quality products, excellent services and impressive warranty plans.
For a more thorough comparison between boiler brands, check out our overview for the most popular combi boilers:
| Combi Boiler | Output (DHW) | Output (CH) | Warranty | Price |
| --- | --- | --- | --- | --- |
| Vaillant ecoTEC Pro Combi Boiler | 24 – 30 kW | 25.8 – 25.7 kW | 7 Years | £1,015 – £1,211 |
| Worcester Bosch Greenstar 2000 Combi Boiler | 25 – 30 kW | 20 kW | 10 Years | £730 – £850 |
| Alpha E-Tec Plus Combi Boiler | 28 – 38 kW | 26 – 32 kW | 10 Years | £800 – £1,033 |
| Viessmann Vitodens 050-W Combi Boiler | 19 – 32 kW | 19 – 32 kW | 7 Years | £916 – £1,230 |
| Ideal Vogue GEN2 Combi Gas Boiler | 26 – 40 kW | 19.3 – 34.3 kW | 10 Years | £1,165 – £1,354 |
Through out boiler comparison tool, you may also compare the most popular system boiler brands in 2023:
Boiler Model
kW
Efficiency
Warranty
Typical Price

Best Sellers

Vaillant ecoTEC plus 612 System Gas Boiler
12.2 kw
92%
10 years
£902
VIEW
Vaillant ecoTEC plus 615 System Gas Boiler
15.4 kw
93%
10 years
£971
VIEW
Vaillant ecoTEC plus 618 System Gas Boiler
18.5 kw
94%
10 years
£1,098
VIEW
Vaillant ecoTEC plus 624 System Gas Boiler
24.4 kw
94%
10 years
£1,227
VIEW
Vaillant ecoTEC plus 630 System Gas Boiler
30.4 kw
94%
10 years
£1,363
VIEW
Vaillant ecoTEC plus 637 System Gas Boiler
37.6 kw
94%
10 years
£1,537
VIEW

Available

Vaillant ecoFIT pure 612 system Gas boiler
12.3 kw
94%
10 years
£894
VIEW
Vaillant ecoFIT pure 615 system Gas boiler
15.2 kw
94%
10 years
£980
VIEW
Vaillant ecoFIT pure 618 System Gas boiler
18.3 kw
94%
10 years
£1,058
VIEW
Vaillant ecoFIT pure 625 System Gas boiler
25.4 kw
94%
10 years
£1,243
VIEW
Vaillant ecoFIT pure 630 System Gas boiler
30.5 kw
94%
10 years
£1,227
VIEW
Vaillant ecoTEC exclusive Green iQ 627 System Gas Boiler
26.7 kw
94%
10 years
£1,390
VIEW
Vaillant ecoTEC plus 64kW System Gas Boiler
64kw
94%
5 years
£2,700
VIEW
Vaillant ecoTEC plus 48kW System Gas Boiler
48 kw
94%
5 years
£2,264
VIEW

Vaillant EcoTEC 65kW System Gas Boiler
65kw
95.5%
2 years
£1,500
VIEW
Vaillant EcoTEC 46kW System Gas Boiler
46kw
95.8%
2 years
£2,400
VIEW
Vaillant Home 12kW System Gas Boiler
12kw
93%
2 years
£2,090
VIEW
Vaillant Home 15kW System Gas Boiler
15kw
93%
2 years
£N/A
VIEW
Vaillant Home 18kW System Gas Boiler
18kw
93%
2 years
£N/A
VIEW
Vaillant Home 25kW System Gas Boiler
25kw
89.4%
2 years
£825
VIEW
Finally, here is an overview of the most popular conventional boiler brands in 2023 for you to compare:
Should you get a Vaillant boiler? A conclusion
All things considered, Vaillant stands out as a highly impressive boiler manufacturer, and for very good reason. With over a century of innovation and industry experience, Vaillant has perfected their products and established themselves as a leading supplier of boilers in the UK and beyond.
Yet the question remains, which Vaillant boiler is best?
Vaillant is most renowned for its combi boilers, which are also the preferred option for most homeowners in the UK. Given their compact size, low installation costs, and efficiency in delivering reliable hot water and heating access, combi boilers are widely preferred systems found everywhere from simple studio flats all the way to large multiple bathroom homes.
Additionally, as they don't require a hot water cylinder or storage tank to operate, combi boilers free up both your home space and your money!
So if you are in the market for a space saving, cost effective and efficient heating solution for your home, then a Vaillant combi boiler might just be your best choice.
Boiler Guide can help ensure that you receive the best installation and Gas Safe registered engineer rates for your area by providing you with 3 free of charge quotes, with zero obligations to follow through. Simply click the button below to begin.
Frequently Asked Questions
How much is a new Vaillant boiler UK?
The price of a Vaillant boiler varies depending on the type of boiler, model and size that you opt for. For a Vaillant combi boiler, you can expect a baseline price to range from £850 to £1,920. For a more detailed breakdown of Vaillant boiler prices based on type and model, check out our interactive boiler comparison tool.
Are Vaillant boilers efficient?
Yes, Vaillant boilers are renowned for their high energy efficiency. Almost all Vaillant boilers operate at a Grade A efficiency rate, which equates to over 90%.
Why are Vaillant boilers so expensive?
Given the exceptional quality of Vaillant boilers, a higher price tag is to be expected. All Vaillant boilers are hand assembled from the highest quality components, and are ensured to function with excellent reliability and energy efficiency. As a premium brand, Vaillant delivers high quality products that reflect its price.
What is the life expectancy of a Vaillant boiler?
For an average household, a Vaillant boiler can be expected to last up to 10 to 15 years, with regular maintenance when necessary.
Is Vaillant a good brand?
Vaillant is an excellent brand for boilers. With a strong reputation for their reliability and efficiency, Vaillant is one of the most popular choices amongst UK households.