Boiler Types Explained: Combi, System and Conventional
There are many different types of boilers and picking the right one depends on your home and heating needs. This article will guide you through the 3 main types of boilers (combi, system, and conventional) and what advantages/disadvantages they bring with them.
However, if you already know what type of boiler you want, why not press the button below to receive a free, non-binding quote from 3 engineers in your area? It can be difficult to parse through complex terminology and find an engineer that you can trust, so our service is here to help you make the right choice. A faulty installation or an overpriced process can cost you thousands of pounds, so it's important to make sure you're making the right decision. Compare the offers side-by-side and choose the best deal. Press the button below and let the experts help you out!
Get your best deal
Quickly compare 3 FREE quotes
Quotes from locals engineers
Get quotes today, installed tomorrow
Finance options available
Save up to £500 on installation
0330 808 0405
1,8 million quotes provided in 10 years
Different boiler types: 3 most common boiler system types in the UK

The most popular types of boiler systems in the UK are:
Combi boilers
System boilers
Conventional boilers
These different types of boilers have their pros and cons, so let's break it down.
Combi boilers
A combi boiler, also known as a combination boiler, is highly efficient and compact, making them ideal for smaller homes. The name combi refers to the fact that these boilers can act as both a water heater and also a central heating unit. Thanks to their space-saving features, combi boilers are one of the most popular choices in the UK - accounting for over half of the domestic new boiler installations each year.
Combi boilers heat water directly from the mains, eschewing the need for a hot water storage cylinder or cold water tank. This makes them ideal for smaller properties without an airing cupboard or ones that have insufficient roof space. This heating method also makes them very energy efficient and affordable to run, as water is not heated and stored (or wasted if it's not used).
While combi boilers have some great advantages, there are also considerations you should make before going ahead with an installation.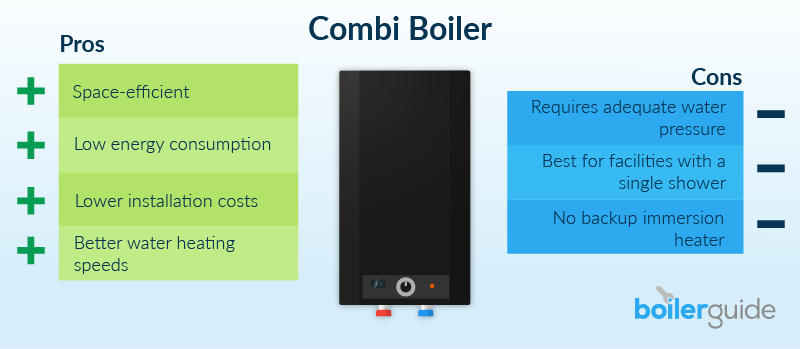 Advantages of a combi boiler
Space-efficient: Taking out a conventional boiler or gas boiler and replacing it with a combi boiler can free up a lot of space as the latter are far more compact due to their lack of additional elements.
Low energy consumption: Most gas boilers have an efficiency rating of around 93%, while most electric combi boilers can have a 99%-100% efficiency rating which can massively decrease energy costs.
Lower installation costs: Combi boilers forego the need for complex pipework making them simpler and cheaper to install.
Better water heating speeds: Combi boilers operate on an "on-demand" basis which allows them to produce hot water instantly as opposed to storing it for future use. This can be especially useful in facilities with long queues for hot water.
Disadvantages of a combi boiler
Require adequate water pressure: Homes with low water pressure may not be suitable for combi boilers. They also do not work with power showers for the same reason.
Best for facilities with a single shower: Facilities that require multiple showers may need to get a higher capacity set up. They can be less efficient for homes that have more complex water needs. These homes may require a system boiler. Find out more about the differences in our combi boiler vs system boiler guide.
No backup immersion heater: A backup immersion heater can keep your water heated despite a boiler breakdown.
System boilers
A system boiler receives cold water directly from the mains, heats it, and transfers it to an unvented hot water storage cylinder for storage until it is needed.
System boilers have a built-in expansion vessel that contains air and water derived from the central heating system. This component maintains the right level of pressure in the system guided by the central heating pump. This mode of heating allows the boiler to take on higher capacities than combi boilers, making them better suited for facilities with higher water usage.
Users can plan for the times when they expect to use hot water the most and the boiler can abide by their schedule. The downside is that, outside of these planned times, overusing the hot water will deplete it and require reheating for any water that has cooled.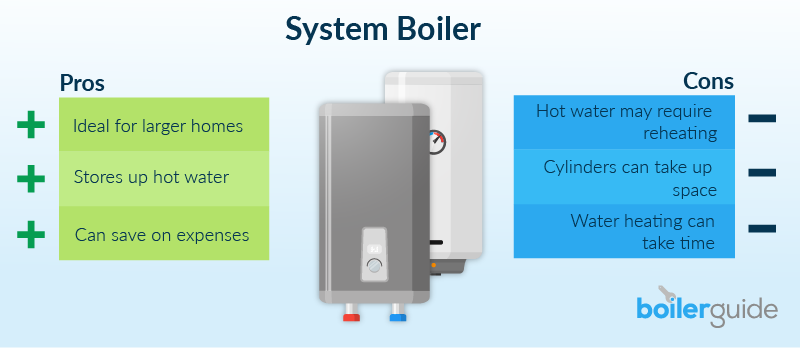 Advantages of a system boiler
Ideal for larger homes: System boilers can operate smoothly even with multiple bathrooms within one facility.
Stores hot water: These units can store a large amount of hot water within a cylinder. As long as the cylinder retains heat, hot water can be available in the building or home.
Can save on expenses: System boilers can save money on utilities when replacing older boilers or when powered with solar or thermal energy systems.
Disadvantages of a system boiler
Hot water may require reheating: System boilers can require insulation to maintain water temperature levels.
Cylinders can take up space: While smaller than water tanks, the cylinders require space making these units less suitable for smaller homes.
Water heating can take time: You may need to plan ahead to make sure you have sufficient hot water stored up otherwise it can take some time to receive hot water for a bath or shower.
Conventional boilers
Also known as a regular boiler, conventional boiler systems are comprised of a number of parts including a boiler, heating controls, a hot water cylinder, a cold water storage cistern plus a feed, and an expansion cistern.
Two tanks which are located in the loft feed the conventional boiler system. The first of these, the cold water storage tank, draws cold water from the mains supply. The second one, known as the feed and expansion tank, loads the boiler system and manages any water that expands in the system after being heated.
The boiler heats up the water which is then stored in a hot water cylinder until it is needed for radiators or domestic use. These types of boilers can be reliant on either gas or oil. Conventional gas boilers can be potentially hazardous due to carbon monoxide. This is always why there could be a gas boiler ban in 2035.
Conventional boilers are often found in older homes, however, a lot of modern homeowners choose to replace them with a system or combi boiler as these 2 can deliver higher water pressure. Homeowners often choose not to install a new conventional boiler because it requires a lot of space and a complex installation process. Even though they are outdated, some older properties may not have pipework suitable for higher water pressure and thus may need to keep using a conventional boiler system.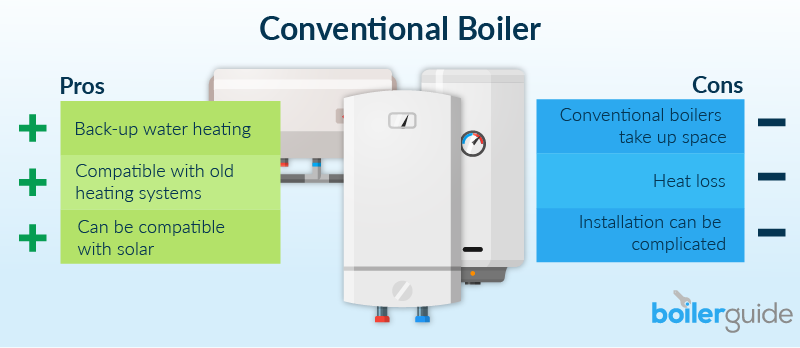 Advantages of a conventional boiler
Back-up water heating: A conventional boiler can be equipped with an immersion heater, which can continue to provide hot water even if the boiler breaks down.
Compatible with old heating systems: This unit can be a solid option for older homes without modern amenities, making them a cheaper option than renovations.
Can be compatible with solar: Solar thermal panels can make the heating system more efficient.
Disadvantages of a conventional boiler
Conventional boilers take up space: You may need extra loft space to house the cold water tank along with needing an airing cupboard for the hot water cylinder.
Heat loss: Without proper insulation, your water cylinder will lose heat. Conventional boilers can take time to reheat and provide hot water once the heat is lost.
Installation can be complicated: Conventional boilers can be costly to install due to all the parts and the pipework.
After having looked over the various types of boilers, have you made up your mind on what you need for your ideal setup? If so, you can click the button below to receive up to 3 free, non-binding quotes from Gas Safe registered engineers in your area. Let the experts provide you with the best market rates so you can avoid the hassle of tiring research into various types of boilers and make an informed decision with expert guidance. You can save precious time and money while ensuring that you aren't getting ripped off by an untrustworthy engineer. Click the button and we'll handle the rest.
Get your best deal
Quickly compare 3 FREE quotes
Quotes from locals engineers
Get quotes today, installed tomorrow
Finance options available
Save up to £500 on installation
0330 808 0405
1,8 million quotes provided in 10 years
Which boiler type is the best for my home?
One of the primary factors you need to consider before picking a boiler is the water demand of your household. How much water you use on a daily basis can determine what setup you need. For example, homes with a single shower will do well with a combi boiler but those with large households and higher water usage would be better suited to system boilers.
Another factor that determines what type of boiler you need is your existing setup and how much switching from one boiler type to another can cost. Old houses with outdated pipes and central heating may find it difficult to switch out their conventional boiler.
Availability of space is another factor. Combi boilers take the least space while system boilers and conventional boilers require a fair amount of room for their additional components. Conventional boilers can even require space equivalent to a loft or attic space.
Should you switch boilers?
Switching boilers can be expensive depending on your home's setup. If you have a conventional boiler, you might need to go through an expensive process of adjusting the pipes and heating system. While such changes can be expensive, they can have a number of benefits.
New boilers last anywhere from 10-20 years while also decreasing the risk of issues, such as system failure. Switching can also be less expensive in the long run as constant repairs can eventually overtake the new boiler cost and newly installed boilers have a far higher rate of energy efficiency (at least 92%).
Switching from a conventional to another type of boiler, such as a combi, can save space in your house, decrease energy consumption, and enhance water heating speeds. Similarly, switching from a combi to a system boiler can also save on expenses while improving your home's hot water capacity (this is useful if you have more people living in your home than a combi boiler can handle).
However, a like-for-like replacement (replacing with the same type of boiler) can be less costly since it requires a lot less pipework and installation. In the end, it's beneficial to look at your budget and weigh up the pros and cons of each system. If saving space is more important a combi boiler might be the best option. However, if you feel that you need more hot water capacity, a system boiler might be the right choice.
Find trusted boiler installers in the UK near you
If you've made up your mind about what type of boiler you need and you'd like some help navigating the market, you can obtain a free, non-binding quote from 3 experts in your area. Trusted engineers can help you cut through the noise and make the best decision for your home. Our service gives you access to the best prices with ease so be sure to check it out by pressing the button below.

Get your best deal
Quickly compare 3 FREE quotes
Quotes from locals engineers
Get quotes today, installed tomorrow
Finance options available
Save up to £500 on installation
0330 808 0405

1,8 million quotes provided in 10 years
FAQ
What are the 3 types of boilers?
Combi boilers, system boilers, and conventional boilers are the 3 most prominent types of boilers. All of these boilers have their own pros and cons.
What is the most common type of boiler?
Combi boilers are the most common type of boilers in the UK, especially for small to medium sized homes. This type of boiler has many advantages that make it a popular choice.
What is the best type of boiler in the UK?
Combi boilers are the most popular type of boiler and do well in smaller households but gas boilers can be the most effective fuel type for boilers. Overall, the best type of boiler for your needs can vary based on a set of different factors.