Need a new boiler?
Get FREE no-obligation quotes now!
Get FREE no-obligation quotes now!
No delays! Get quotes today

Compare quotes & get the best prices

Gas Safe & OFTEC registered engineers
The smarter way to find approved boiler engineers
What
work do you require

?

Fuel type
Boiler type
Manufacturer
Vaillant EcoFIT Pure 15kW Regular Gas Boiler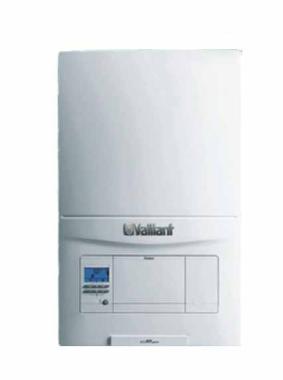 Typical Price (inc VAT)
£715
Typical installation Cost (inc VAT)*
£500 - £1,000
Total Cost
£1,215 - £1,715
| | |
| --- | --- |
| Make | Vaillant |
| Model | EcoFIT Pure 15kW Regular Gas Boiler |
| Is Condensing | Condensing |
| Efficiency Rating | 89.1% |
| Band Rating | B Rated |
| LPG Compatible | No |
| Standard Warranty | 2 Years |
| kW Options | 15kW |
| Mounting | Wall Mounted |
| Flow Rate | N/A |
| Typical Price (inc VAT) | £715 |
| Typical installation Cost (inc VAT)* | £500 - £1,000 |
| Total Cost | £1,215 - £1,715 |
| ERP Rating | A Heat |
Product Description
The EcoFIT Pure 15kW is a highly reliable, condensing Regular gas boiler that's been designed and manufactured by Vaillant.
As a compact and lightweight unit, it will help to save you some much needed space in your home. Housed in a high-quality aluminium casing, it's easy to maintain and will have lengthy life.
Within the casing is a highly efficient boiler that comes with a seasonal efficiency rating of 89.1% and ErP A rating. An output rating of 15kW makes this boiler suitable for smaller homes, with 1 bathroom, that don't have such a high demand for heating and hot water. Also available in the range are outputs of 12kW, 18kW, 25kW, 30kW and 35kW, meaning that there's a boiler to suit nearly anyone's home heating demands. Featuring simple-to-use controls that help give you maximum control over the boiler, a powerful aluminum heat exchanger to help lower energy consumption, the ability to reduce itself by 20% when you do not need as much heat which will save you money on your bills, a rear flue option so that you can have flexibility with where the boiler can be installed.
As this is a Regular boiler (Heat Only or Conventional), it heats your central heating system directly and also produces hot water for your cylinder. Due to the fact that you need a hot water cylinder, which is often fed by a cold water storage cistern located in the attic, Regular boilers aren't suitable for smaller homes or properties where space is limited.
Available with a 2 year warranty as standard, you'll be getting the peace of mind that the EcoFIT Pure won't let you down.
Get quotes to supply and fit a new
* This is a guide price for a straightforward, like-for-like boiler replacement. Installation costs will vary dependent on work required.
Why not compare these similar boilers?
Boiler Model
kW
Efficiency
Warranty
Typical Price

Available

Vaillant ecoTEC plus 825 Combi Gas Boiler
25kw
89.3%
2 years
£1,025
Vaillant ecoTEC exclusive 832 Combi Gas Boiler
32kw
89.3%
2 years
£1,200
Vaillant ecoTEC plus 435 35kW Regular Gas Boiler
35kw
89.20%
5 years
£1,500
Vaillant ecoTEC plus 415 15kW Regular Gas Boiler
15kw
88.70%
5 years
£790
Vaillant ecoTEC Pro 28 kW Combi Gas Boiler
28kw
89.3%
2 years
£990
Vaillant ecoTec plus 937 Combi Gas Boiler
37kw
89.3.%
5 years
£1,500
Vaillant ecoTec plus 624 System Gas Boiler
24kw
89.4%
5 years
£1,005
Vaillant ecoTec plus 630 System Gas Boiler
30kw
89.4%
5 years
£1,150
Vaillant ecoTec plus 637 System Gas Boiler
37kw
89.2%
5 years
£1,250
Vaillant EcoTEC Exclusive Green IQ 835 Combi Gas Boiler
26.4 kw
94%
5 years
£1,425
Vaillant ecoTEC Pro 30kW combi Gas boiler
30kw
89.3%
2 years
£950
Vaillant EcoFIt sustain 825 Combi Gas Boiler
25kw
89.3%
5 years
£1,250
Vaillant EcoFIt sustain 830 Combi Gas Boiler
30kw
89.3%
5 years
£1,500
Vaillant EcoFIt sustain 835 Combi Gas Boiler
35kw
89.3%
5 years
£1,300
Vaillant ecoFIT pure 612 system Gas boiler
12kw
89.3%
2 years
£925
Vaillant ecoFIT pure 615 system Gas boiler
15kw
89.1%
2 years
£915
Vaillant ecoFIT pure 618 system Gas boiler
18kw
89%
2 years
£975
Vaillant ecoFIT pure 625 system Gas boiler
25kw
89%
2 years
£1,175
Vaillant ecoFIT pure 630 system Gas boiler
30kw
89.3%
2 years
£1,256
Vaillant ecoTEC plus 832 Combi Gas Boiler
32kw
89.3%
5 years
£1,125
Vaillant ecoTEC plus 835 Combi Gas Boiler
35kw
89.3%
5 years
£1,275
Vaillant ecoTEC plus 838 Combi Gas Boiler
38kw
89.3%
5 years
£1,355
Vaillant ecoTEC plus 430 Regular Gas Boiler
30kw
89.3%
5 years
£1,550
Vaillant ecoTEC plus 424 24kW Regular Gas Boiler
24kw
89.3%
5 years
£975
Vaillant ecoTEC plus 412 Regular Gas Boiler
12kw
89.3%
5 years
£825
Vaillant ecoTEC plus 418 Regular Gas Boiler
18kw
89.3%
5 years
£875
Vaillant ecoTEC Pro 24 kW Combi Gas Boiler
24kw
89.3%
5 years
£955
Vaillant EcoTEC Exclusive Green IQ 843 Combi Gas Boiler
36 kw
94%
5 years
£1,673
Vaillant EcoFIT pure 825 Combi Gas Boiler
25kw
89%
2 years
£875
Vaillant EcoFIT pure 830 Combi Gas Boiler
30kw
89%
2 years
£955
Vaillant EcoFIT pure 835 Combi Gas Boiler
35kw
89%
2 years
£1,100
Vaillant ecoTEC exclusive Green iQ 627 System Gas Boiler
27kw
94%
7 years
£1,100
Vaillant EcoTEC plus 938 Combi Gas Boiler
38kw
89.3%
5 years
£1,275
Vaillant Home 25kW Combi Gas Boiler
25kw
89.3%
2 years
£1,525
Vaillant Home 30kW Combi Gas Boiler
30kw
89.3%
2 years
£1,025
Vaillant Home 35kW Combi Gas Boiler
35kw
89.3%
2 years
£1,300
Vaillant EcoTEC 65kW System Gas Boiler
65kw
95.5%
2 years
£1,500
Vaillant EcoTEC 46kW System Gas Boiler
46kw
95.8%
2 years
£2,400
Vaillant EcoTEC Plus 64kW System Gas Boiler
64kw
94%
5 years
£1,500
Vaillant EcoTEC Plus 48kW System Gas Boiler
48kw
94%
5 years
£2,490
Vaillant Home 12kW System Gas Boiler
12kw
93%
2 years
£2,090
Vaillant Home 15kW System Gas Boiler
15kw
93%
2 years
£N/A
Vaillant Home 18kW System Gas Boiler
18kw
93%
2 years
£N/A
Vaillant Home 25kW System Gas Boiler
25kw
89.4%
2 years
£825
Vaillant Home 12kW Regular Gas Boiler
12kw
89.4%
2 years
£N/A
Vaillant Home 15kW Regular Gas Boiler
15kw
89.4%
2 years
£915
Vaillant Home 18kW Regular Gas Boiler
18kw
89.4%
2 years
£855
Vaillant Home 25kW Regular Gas Boiler
25kw
89.4%
2 years
£895
Vaillant Home 30kW Regular Gas Boiler
30kw
89.4%
2 years
£925
Vaillant ecoFIT pure 12kW Regular Gas Boiler
12kw
89.3%
2 years
£1,005
Vaillant EcoFIT Pure 15kW Regular Gas Boiler
15kw
89.1%
2 years
£715
Vaillant EcoFIT Pure 18kW Regular Gas Boiler
18kw
89%
2 years
£760
Vaillant EcoFIT Pure 25kW Regular Gas Boiler
25kw
89%
2 years
£825
Vaillant EcoFIT Pure 30kW Regular Gas Boiler
30kw
89.3%
2 years
£965
Vaillant EcoFIT Pure 35kW Regular Gas Boiler
35kw
89.7%
2 years
£1,300

Discontinued

Vaillant ecoTec plus 612 System Gas Boiler
12kw
89.0%
5 years
£850
Vaillant ecoTec plus 615 System Gas Boiler
15kw
89%
5 years
£965
Vaillant ecoTec plus 618 System Gas Boiler
18kw
89.3%
5 years
£965
Vaillant EcoTEC Exclusive 32kW Combi Gas Boiler
32kw
89.8%
5 years
£1,395