Vented vs Unvented Hot Water Cylinders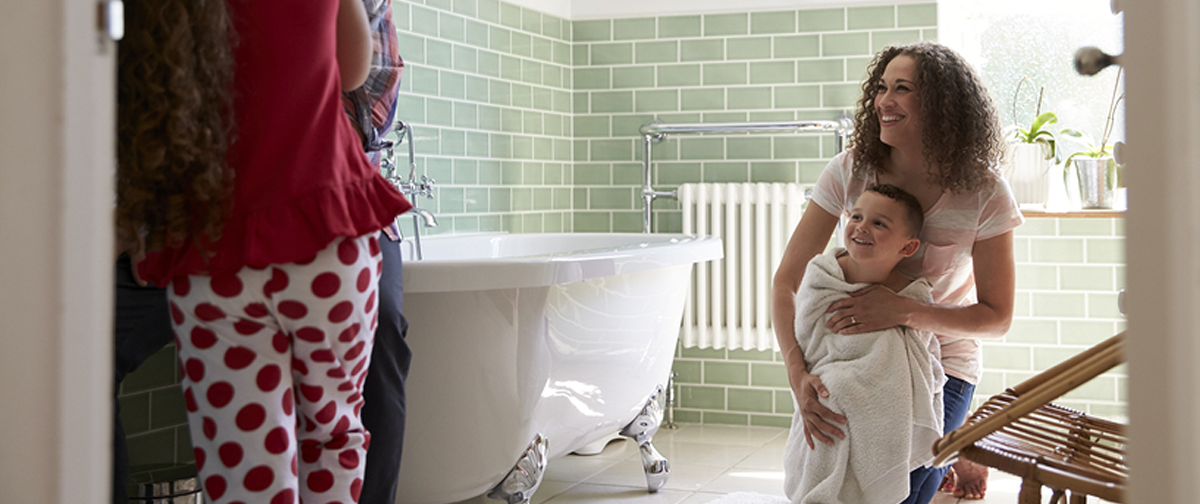 Hot water cylinders store and heat domestic hot water for when you need it.
There are two types of hot water cylinder: vented and unvented. The type of hot water cylinder you need as part of your heating system depends on whether you have a system boiler (unvented) or a regular boiler (vented).
---
---
Vented vs Unvented: What's the difference?
Vented hot water cylinders, or vented hot water storage units, need to be fed from a cold water cistern tank, which is kept in the loft. The water travels down from the tank via a feed pipe to the bottom of the hot water cylinder.
As the water is heated it expands, but the presence of the vent pipe and tank in the loft provides an escape route for the excess. This excess water travels through the vent pipe and back into the cold water storage tank in the loft. The vent pipe will also dissipate any air at the top of the hot water cylinder.
Unvented cylinders, on the other hand, are connected directly to the mains. This removes any need for a cold water tank in the loft and is why they need to be installed alongside a system boiler. You're essentially cutting out the middleman and the pressure of your water should be stronger.
Unlike vented cylinders, there isn't a vent pipe or tank to cope with excess water as it heats and expands. To remedy this, unvented cylinders have inbuilt safety features like an expansion unit at the top or an air bubble that is inserted at installation.
Both unvented and vented cylinders can either be heated directly by an immersion heater in the cylinder, indirectly by a boiler or as part of a solar thermal system. Many homeowners use a boiler to indirectly heat the water but have an immersion heater as an backup in case of a boiler breakdown.
Benefits of vented and unvented cylinders
Let's take a look at the advantages that vented and unvented cylinders have to offer.
Vented cylinder advantages
Often simpler to install and cheaper as a result
Straightforward to maintain
If mains water supply is cut off you will still have access to a tank of water in loft
Unvented cylinder advantages
No need for a water tank so the system takes up less space, giving you flexibility with where to install it
Tend to provide stronger water pressure (depending on the strength of the mains)
No need for a tank of water that could freeze in winter or be contaminated
---
---
Choosing the right hot water cylinder
When making a decision between a vented or an unvented cylinder you need to consider a few key factors:
What existing heating system do you have?
The older your home the more likely it is that you have a vented hot water cylinder and a regular heating system. This is important to know as installing an unvented cylinder could create a higher water pressure than your old network of pipes and radiators can handle.
How strong is the mains pressure?
If your mains pressure is low then you need to consider if introducing an unvented cylinder is the best option, as it will provide water directly from the mains at the same low pressure. Some people with vented cylinders who have problems with low mains pressure will install an additional pump to boost the flow.
How big is your house?
Do you have lots of space, preferably in an upstairs space like a loft? If the answer is no then a vented cylinder is probably not for you. You will struggle to store the large cold water tank in a high enough position to deliver the gravity the system needs.
If you have 2 or more bathrooms a vented cylinder may be the better option. This is because the cold water tank provides lots of water at the same time with no effect on pressure. An unvented tank relies on the flow of the mains which, if directed to too many outlets at once, will split and weaken. This shouldn't be an issue in homes with up to 2 bathrooms.
How much will it cost to install and maintain?
The simpler and cheaper option to install is a vented cylinder. Unvented cylinders need specialist installation (the engineer must have a G3 Unvented Hot Water qualification in addition to being Gas Safe registered) and ongoing maintenance to keep them working at optimum levels.
However, in terms of convenience, the installation of an unvented cylinder is considerably less hassle as it can be placed anywhere in your home and, with no cold water tank needed, doesn't take up as much physical space.
Running costs will be affected by your cylinder's heating method. Vented and unvented cylinders can be heated either directly or indirectly.
Indirect heating system: Most cylinders are indirectly heated. This means that the cylinder is connected to an external boiler by a heat exchanger. The boiler is usually powered by gas, which is considerably cheaper than electric, or solar energy which is free.
Direct heating system: Some cylinders rely solely on an internal element like an immersion heater which is powered by electricity. This makes it the more expensive option, but for homes with no access to gas it may be more convenient.
There is a potential problem with choosing an indirect heating system. There is a chance that your boiler could fail and leave you with no hot water. You can prepare for this by also having an immersion heater in your cylinder that you can switch on in hot water emergencies.
---
---
What size hot water cylinder do I need?
It's important that your cylinder is, on the one hand, big enough to handle the hot water demands of your home, but not so big that it wastes energy heating and storing far more water than you need.
Cylinder capacity is usually measured in litres which, unfortunately, doesn't mean a lot to most of us – the simplest way to work out what you need is to base it on the number of bedrooms, bathrooms and showers. The capacity you need will vary slightly depending on whether you are directly or indirectly heating the water; this is because cylinders that are heated by boilers (indirectly) tend to reheat quicker.
The below figures are used by industry professionals as a guideline:
Bedrooms
Showers / Bathrooms
Indirect (litres)
Direct (litres)
1
1
75/120
120/150
2
1
150
180
3
2
180
210
4
2
210/250
250/300
Larger Properties
300+
300+
Stainless steel, copper or glass lined?
Unvented cylinders need to be able to store water under pressure so need to be strong and as resistant to corrosion as possible. They are usually made from copper, stainless steel or glass lined mild steel.
The best type of cylinder is generally considered to be Duplex stainless steel as it is durable, corrosion resistant and lightweight. Models such as the Megaflo (often referred to as Megaflow) by Heatrae Sadia and the StainlessLite by Gledhill are great examples of this.
If a cylinder is made from copper you should make sure it is well insulated to prevent heat loss. Most cylinders include some level of insulation such as foamed polyurethane, but you can further insulate your hot water tank and pipes using a jacket and foam tubing.
It's also important that the immersion heater is made from corrosion resistant material. Titanium is ideal for a direct cylinder or incoloy for an indirect. You should also consider whether your water is 'hard' or 'soft' as this will influence your choice.
Best hot water cylinders
When you've decided on the right type and size of cylinder, your next choice will be which brand to opt for. While the Megaflo Eco by Heatrae Sadia has been very popular for many years, several other brands are now rivalling them with cylinders of equal quality at competitive prices.
Here are the leading hot water cylinder brands in the UK today:
| Cylinder Model | Sizes Available (volume in litres) | ErP Rating (Energy Efficiency) | Heating Method | Warranty |
| --- | --- | --- | --- | --- |
| Megaflo Eco by Heatrae Sadia | 70 / 125 / 145 / 170 / 210 / 250 / 300 | B | Indirect or Direct | Lifetime |
| Greenstore by Worcester Bosch | 90 / 120 / 150 / 180 / 210 / 250 / 300 | B | Indirect only | 25 years |
| Vitocell 200-V by Viessmann | 90 / 120 / 150 /180 / 210 / 250 / 300 | C | Indirect but includes a backup immersion heater | 25 years against corrosion |
| StainlessLite by Gledhill | 90 / 120 / 150 180 / 250 / 300 / 400 | C | Indirect or direct | 25 years |
| Tempest by Telford | 90 / 125 / 150 / 170 / 200 / 250 / 300 | C | Indirect or direct | 25 years |
---
---
Disadvantages of vented and unvented cylinders
For all of their advantages, it's worth considering the potential downside of these cylinders.
Vented cylinder disadvantages
Gravity fed so the height of the cold water tank will dictate the pressure
Taps upstairs are weaker than downstairs – an additional pump might need to be installed
Unvented cylinder disadvantages
More expensive to install and maintain
If the water supply is turned off there will be no hot water
Not always compatible with modern power showers
Would a combi boiler be a better option?
If you don't have space for a hot water cylinder then you may want to consider a combi boiler.
A combi boiler is the ideal choice for smaller homes that are short on space and have 1-2 bathrooms. They're cost-effective all-in-one compact units that heat water directly from the mains, providing all your heat and hot water as and when you need it. It doesn't store any water so, as you'd expect, doesn't require a water tank in the loft or a hot water cylinder and no extra energy is used in keeping a surplus of hot water.
It's important to note, however, that a combi won't be able to supply a high volume of hot water to several outlets at the same time. In this case, your demands will be better suited to a hot water cylinder.
Common hot water cylinder problems
Hot water cylinders are very reliable but if your hot water storage experiences an issue, there are some common hot water cylinder problems that a qualified heating engineer will be able to repair. Common problems include:
No hot water
Not enough hot water
Water is too hot
Discoloured water
Smelly water
Loud and strange noises
No water
If you're experiencing any of the above problems with your vented or unvented hot water cylinder, by using Boiler Guide you can get free repair quotes from fully qualified heating engineers in your local area.
Time for a new hot water cylinder?
Whether you're looking to replace your existing hot water cylinder or you're having one installed for the very first time, we can help. We have a network of heating engineers spanning right across the UK who are qualified to fit and replace hot water cylinders.
To get free quotes from up to 3 of our installers, all you have to do is visit our sister website Unvented Cylinder and complete a simple form. By comparing at least 3, you can be confident that you're getting the most competitive price possible.