Which is the Best Smart Thermostat?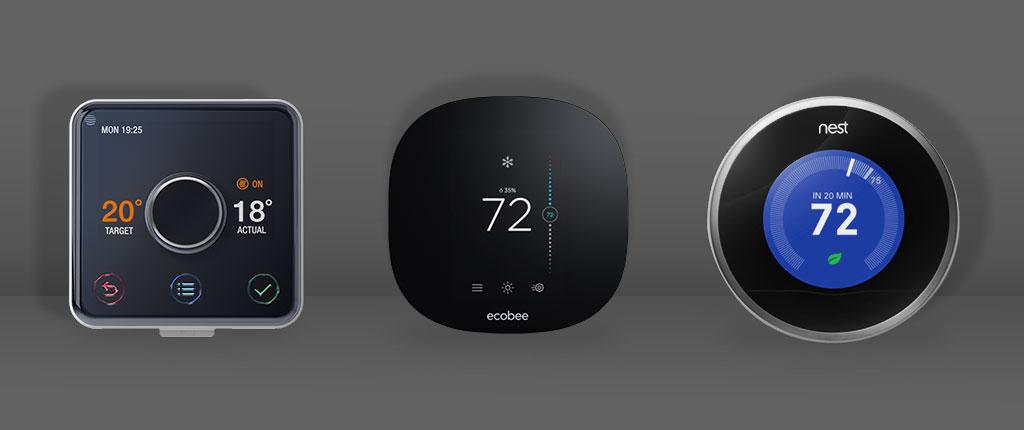 Smart thermostats give homeowners much more control over their central heating system, helping to keep ever-rising energy bills as low as possible.
The market has really grown in recent years, making it harder to know which smart thermostat you should purchase. That's why we've listed the best smart thermostats to help you find the right one for your home.
---
Buy Your Smart Thermostat Today
---
What is a Smart Thermostat?
Before we list the best smart thermostats available in the UK, let's find out exactly how a smart thermostat works and what makes them different to a conventional thermostats.
Smart thermostats can be controlled from mobiles and tablets, giving you the power to adjust the heating around your house whether you're at home or out and about. All you need is an internet connection.
Not only are more homeowners turning to smart thermostats but other smart devices too, such as voice-controlled devices like the Google Home and Amazon Alexa. Many smart thermostats can be paired with these devices, allowing you to control the heating with your voice. It's important to check that the smart thermostat you're considering is compatible with your voice-controlled device before purchasing though.
One acronym you might see quite a lot when looking at buying a smart thermostat is IFTTT, which means "if this, then that". Smart thermostats that have IFTTT capability can be set to activate when a room drops to a temperature you've selected.
Is a Smart Thermostat Right for Your Home?
Smart thermostats can help with reducing energy bills and this is a common reason why many homeowners are interested in installing one. You'll feel the most benefit, compared to a conventional programmable thermostat, if you're in and out of your home at different times of the day and don't have a set routine. This is because many smart thermostats will be able to 'learn' your habits and adapt to the way you use central heating and geolocation technology gives smart thermostats the ability to know when the house is empty.
Despite these energy saving technologies, a smart thermostat will work best when paired with a modern, highly-efficient boiler and if you want to get quotes for a new boiler or book an appointment with a fully-qualified heating engineer about thermostat options, send us an enquiry today.
Something that puts some homeowners off installing a smart meter is thinking that they wouldn't then be able to switch energy suppliers. The good news is that you can continue looking for a cheaper energy bill and still switch to another supplier after you have a smart thermostat installed.
How do Smart Thermostats Help You Save Money?
For many, saving money on energy bills is the primary reason for installing a smart thermostat and they boast many features to help your home do just that.
Learning: A smart thermostat will track how you currently heat your home and programme itself to this schedule so you only use energy when you need it.
Geolocation: Using your smartphone's GPS location a smart thermostat can tell when you are home or away and turn the heating on and off accordingly.
Motion Detecting: A monitor is used to detect when you leave and enter your home so that heating can be automatically adjusted.
Weather Responsive: A smart thermostat checks the weather forecast or temperature outside and adjusts your home heating to account for this. This stops energy wastage on warmer days and prevents frozen pipes in winter.
Website and Smartphone Controls (Control the central heating from a mobile phone): Control heating from your mobile phone or via website controls wherever you are, which means you can turn the heating up or down wherever you are.
Multi-zone: You can control individual rooms or 'zones' in your home separately, so you only heat the areas you are using.
How to Choose the Right Thermostat for your Home
As well as the many features you can look for in a smart thermostat, there are a few essentials you might want to consider before committing to a certain make and model:
Compatibility with other smart technology (Google Home, Amazon Echo)
Hot water control in addition to central heating
Whether compatible smart thermostatic radiator valves (TRVs) are available
A mobile app for complete control
Before jumping in and buying a smart thermostat, it's a good idea to speak with your energy supplier to see if they recommend a certain model or supply their own. Doing this could also help you to get a great deal.
What are the Best Smart Thermostat Options?
There are several key players in the UK smart thermostat market right now and new systems are being released all the time. Our smart thermostat comparison table will help you find the perfect model to fit your needs. If you want to learn about smart thermostat systems in more detail visit our information pages on Honeywell Evohome, Heatmiser Neo, Tado, Nest, Climote, Heat Genius and Hive Active Heating.
Nest Learning Thermostat, 3rd Generation
According to Nest, their smart thermostats have saved over 8 billion kwh of energy in homes around the world, mainly because it's able to 'learn' your central heating habits. After only a week of being installed, it will adapt to the central heating habits of your home and be able to set comfortable temperatures automatically.
All Nest smart thermostats work with your existing thermostatic radiator valves (TRVs) which means that you don't have to have new Nest TRVs installed along with the smart thermostat.
Key Features:
Knows when you're not at home using geolocation from your mobile phone.
Adapts to your central heating habits after 1 week.
Modern, sleek design to suit any home.
Hot water control.
Energy reports on your mobile showing your usage and savings.
A green leaf will appear on the digital display when your home is being heated efficiently.
Compatible with Google Home and Amazon Echo.
Tado Smart Thermostat
The Geofencing technology is likely to be the most eye-catching feature of the Tado Smart thermostat as it removes the worry of whether the central heating has been left on and, in turn, will help to lower heating bills. In addition to this, Geofencing also means that the smart thermostat knows when you're almost home and can begin heating the house.
Tado have received high praise from customers and industry experts for their Geofencing technology, considered one of the most advanced on the market.
Key features:
Check and adjust temperatures using the Tado app.
Adapts to the behaviour around the home.
Sends recommendations to your phone, such as: "Your bathroom is rather humid, open a window or turn on the fan to prevent mould".
Geofencing technology.
Compatible with Amazon Alexa and Apple HomeKit.
IFTTT channel.
Hive Active Heating System
According to British Gas, the company behind the Hive Active Heating System, their Hive smart thermostats are able to save you up to £130 a year on your heating bills. In addition to giving you more control over your central heating, this Hive thermostat can also control your hot water too.
Key features:
Geolocation technology knows when the home is empty.
Multi-zone functionality.
Compatible with Amazon Echo.
IFTTT channel.
Honeywell Lyric T6/T6R
Honeywell smart thermostats boast Geofencing technology that turns the heating off when you're not at home but also make sure that the temperature is how you like when you get back.
There are 2 different models, the T6 and T6R. The T6 model is wall mounted, replacing a traditional thermostat, while the T6R is mobile and can be moved around the house.
Key features:
Control the smart thermostat from anywhere using the Honeywell Home app
Compatibility with Apple HomeKit, Amazon Echo, Apple Watch and Google Home
Supplier, Price and Installation
Features
| | Learning | Geolocation | Motion Detecting | Weather Responsive | Website Controls |
| --- | --- | --- | --- | --- | --- |
| Nest (3rd Generation) | ✔ | | ✔ | ✔ | ✔ |
| Nest E | ✔ | | ✔ | ✔ | ✔ |
| Netatmo | ✔ | | | ✔ | ✔ |
| Hive Active Heating | | ✔ | | | ✔ |
| Tado | ✔ | ✔ | | ✔ | ✔ |
| Climote | | | | | ✔ |
| Honeywell Lyric T6/T6R | | ✔ | | | Mobile App Only |
| Heat Genius | ✔ | ✔ | ✔ | ✔ | ✔ |
| Heatmiser Neo | ✔ | ✔ | | | |
| EcoBee4 | | | ✔ | | ✔ |
Compatible Heating Systems
Compatible Heating Systems
Water Heating
Underfloor Heating
Nest (3rd Generation)
Combi and condensing, system and heat-only boilers (+air-source and ground-source heat pumps for heating only), heating systems with OpenTherm technology
Yes
Yes (wet)
Nest E
Combi and condensing, system and heat-only boilers (+air-source and ground-source heat pumps for heating only), heating systems with OpenTherm technology
Yes
Yes (wet)
Netatmo
Gas, fuel and wood boilers (+ some heatpumps)
Hive Active Heating
Gas, oil and
LPG boilers (+ some electric boilers)
Yes
Hive Active Heating 2
Gas, oil and
LPG boilers (+ some electric boilers)
Yes
Yes (wet)
Tado
Combi and condensing, system and heat-only boilers (+ heatpumps for heating only)
Yes
Yes (wet/ electric)
Climote
Combi, gas and oil boilers
Yes
Honeywell Evohome
Gas, combi, system and
LPG boilers
Yes
Yes (wet)
Heat Genius
Gas, oil and biomass boilers (+ heatpumps)
Yes (optional extra)
Heatmiser Neo
Combi boilers
Yes
 Yes (wet/ electric)
OWL Intuition
Gas and oil boilers
Yes
Salus iT500
Combi and system boilers
Yes
PassivLiving HEAT
Gas, electric, oil and
LPG boilers
Yes (optional extra)
Cosy
Gas, oil, LPG, electric and biomass systems
Yes (optional extra)
 Yes
MiTime RF Pack 1
Combi boilers
Yes
Ecobee3
Gas, Oil, LPG, and electric boilers
(This is a general overview, some specific heating systems may not have been included. Please check individual brand websites for more detailed information and to find out if your heating system is compatible.)
Multi-Zone Controls
A zone is an area of your home that you'd like the thermostat to treat differently when it comes to the central heating. These zones might be upstairs and downstairs or individual rooms, depending how many zones the smart thermostat you install will give you access to.
| | Multi-Zone Control | Max no. of Zones | Cost Per Extra Zone |
| --- | --- | --- | --- |
| Nest (3rd Generation) | Yes | 20 | £199 |
| Nest E | Yes | 20 | £199 |
| Netatmo | Yes | | |
| Hive Active Heating Control Kit | Yes | 3 | £99 |
| Tado Smart Thermostat | Yes | 25 | |
| Climote | Yes |  3 | Included in price |
| Honeywell Lyric T6 | No | 12 | £60 (per radiator controller) |
| Heat Genius | No | 30 | £60 (per radiator valve) |
| Heatmiser Neo | Yes | 32 | £69 |
| Ecobee4 | Yes | | |
Smart Thermostat Voice Control Compatibility
If you're looking to pair a smart thermostat with a voice-controlled device such as Google Home and Amazon Echo, you'll need to make sure that you purcahase a compatible smart thermostat.
| | Google Home | Amazon Echo |
| --- | --- | --- |
| Nest (3rd Generation) | ✔ | ✔ |
| Nest E | ✔ | |
| Netatmo | ✔ | ✔ |
| Hive Active Heating Control Kit | ✔ | ✔ |
| Tado Smart Thermostat | ✔ | ✔ |
| Climote | | ✔ |
| Honeywell Lyric T6 | ✔ | ✔ |
| Heat Genius | | |
| Heatmiser Neo | ✔ | ✔ |
| Ecobee4 | ✔ | ✔ |
(Please note that the prices in this article have been rounded to the nearest pound)
---
Buy Your Smart Thermostat Today
---