Which is the Best Smart Thermostat?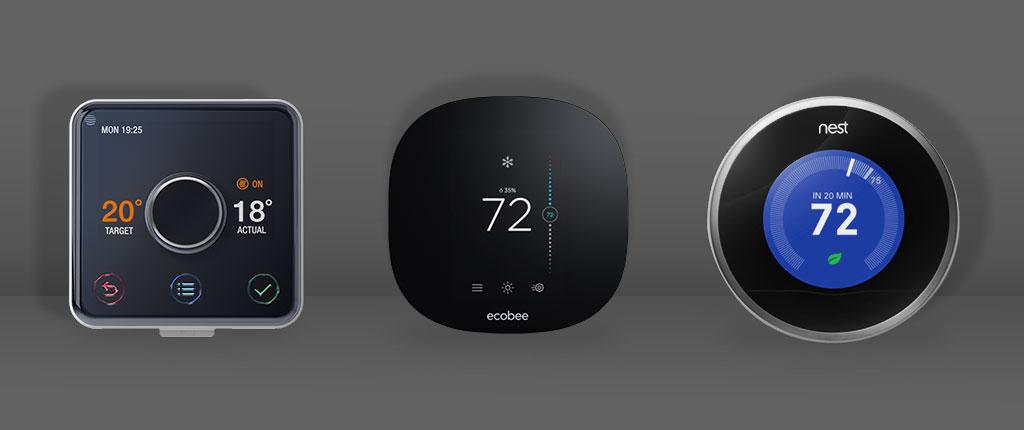 The best smart thermostats are designed to adapt to the unique central heating demands of your property. Doing so allows your central heating to run more efficiently, lowering your energy bills as a result.
With the number of smart thermostats available growing rapidly, knowing which model would suit your home can be tough. So we're going to take you through a list of the best smart thermostats.
What is a smart thermostat?
In their earliest form, thermostats simply had a dial that could be turned to set the heating to a specific temperature. Thermostats then became more digital and even allowed the user to set schedules – albeit in a fairly limited form. Now we have smart thermostats which give the greatest level of control over the central heating.
Smart thermostats connect to the internet and you don't even need to be at home to control them. Using a smartphone or tablet, you can set the temperature and turn the heating on or off.
Depending on the model, smart thermostats can include a host of features with the best smart thermostats offering the most. Some smart thermostat features include:
The ability to monitor the weather conditions and automatically adjust the heating
Learn about your home heating habits and adapt to your routine
Recognise when the property is empty through Geolocation technology
One acronym you might see quite a lot when looking at buying a smart thermostat is IFTTT, which means "if this, then that". Smart thermostats that have IFTTT capability can be set to activate when a room drops to a temperature you've selected.
If you've already been investing in smart technology, then you'll be happy to hear that many smart thermostats can be paired with other smart devices. This includes your smartphone and tablet as well as voice-controlled assistance such as Google Home and Amazon Echo. Through this pairing you can control the heating with your voice. It's important to check that the smart thermostat you're considering is compatible with your voice-controlled device before purchasing.
---
---
Is a smart thermostat right for your home?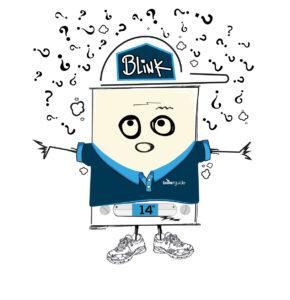 The main reason many homeowners turn to a smart thermostat is for greater control over the heating, which can result in lower heating bills.
A smart thermostat will be most beneficial, compared to a conventional programmable thermostat, if you don't have a set weekly routine. By this, we mean that you're in and out of your home at different times depending on the day of the week. This is because many smart thermostats will adapt to your heating routine by 'learning' your habits. Many models even know when the property is empty through Geolocation technology. So, if you're prone to leaving the heating on by mistake or getting home later than planned, a smart thermostat is the perfect solution.
Something that puts some homeowners off installing a smart meter is thinking that they wouldn't then be able to switch energy suppliers. The good news is that you can continue looking for a cheaper energy bill and still switch to another supplier after you have a smart thermostat installed.
Despite these energy saving technologies, a smart thermostat will work best when paired with a modern, highly-efficient boiler. By completing our simple online form, you can get free quotes for a new boiler from a heating engineer who can also assist with thermostat options.
Which are the best smart thermostats?
There are several key players in the UK smart thermostat market right now and new systems are being released all the time.
The best smart thermostats are Nest, Hive, Tado, EcoBee, Honeywell, Netatmo, Drayton Wiser and Heatmiser.
It's important to compare smart thermostats on more than the price. While price is obviously a key factor with any purchase, to find the best smart thermostat you'll also need to consider the following:
Learning
A smart thermostat will track how you currently heat your home and programme itself to this schedule so you only use energy when you need it.
Geolocation
Using your smartphone's GPS location a smart thermostat can tell when you are home or away and turn the heating on and off accordingly.
Motion sensor
A monitor is used to detect when you leave and enter your home so that heating can be automatically adjusted.
Weather responsive
A smart thermostat checks the weather forecast or temperature outside and adjusts your home heating to account for this. This stops energy wastage on warmer days and prevents frozen pipes in winter.
Compatible heating systems
The smart thermostat must be compatible with your heating system otherwise it won't work.
Multi-zone controls
You can control individual rooms or 'zones' in your home separately, so you only heat the areas you are using.
Voice assistant compatibility
Many smart thermostats can be controlled via a voice assistant however you'll need to make sure it's compatible with the specific model that you plan to use.
Our smart thermostat comparison table will help you find the perfect model to fit your needs.
| Model | Learning | Geolocation | Motion sensor | Weather responsive | Compatible heating systems | Multi-zone controls |
| --- | --- | --- | --- | --- | --- | --- |
| Nest Learning Thermostat 3rd Generation | ✔ | | ✔ | ✔ | Condensing combi, system and regular boilers as well as air source and ground source heat pumps | ✔ |
| Nest Thermostat E | ✔ | | ✔ | ✔ | Condensing combi, system and regular boilers as well as air source and ground source heat pumps | ✔ |
| Hive Active Heating | | ✔ | | ✔ | Gas, oil and LPG boiler as well as some electric boilers | ✔ |
| Tado by SSE | ✔ | ✔ | | ✔ | Condensing combi, system and regular boilers and central heating for heat pumps | ✔ |
| Ecobee3 Lite | | | ✔ | | Most gas, oil, LPG and electric boilers | ✔ |
| Ecobee4 | | | ✔ | | Most gas, oil, LPG and electric boilers | ✔ |
| Honeywell Evohome | | | ✔ | | Combi and system boilers that run on gas and LPG as well as most air and ground source heat pumps | |
| Lyric | | ✔ | | | Most combi, opentherm and traditional boilers as well as heat pumps | |
| Netatmo by EDF | | | | | Gas boilers, biomass boilers and some heat pumps | ✔ |
| Drayton Wiser | | | | | Combi boilers | |
| Heatmiser Neo | ✔ | ✔ | | | Combi boilers | ✔ |
Nest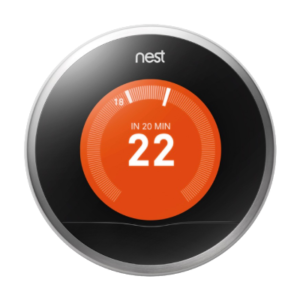 According to Nest, their smart thermostats have saved over 8 billion kwh of energy in homes around the world.
There are 2 types of Nest thermostat: Nest 3rd Generation Learning Thermostat and the Nest Thermostat E.
With the Nest 3rd Generation Learning Thermostat you can control your domestic hot water as well as the central heating. If you have a hot water cylinder then you can use the Nest app to set a hot water schedule and increase the heat on demand. Plus, if you are out of your property for a few days then the Nest will automatically turn the hot water off.
Through the Nest app you can monitor your energy usage and see how much you're spending. Having this clear report on hand will allow you to see areas where you could lower your energy usage and save even more money.
Not only will the Nest smart thermostat give you more control of your heating system and increase efficiency, it can increase safety too. This is because you'll get an alert if the pipes are at risk of bursting.
The Nest Thermostat E offers many of the same features as the Learning Thermostat and comes at a lower price. A Nest Thermostat E can also 'learn' your heating habits and has voice-control but the main difference lies in the limited design options and the number of heating systems it's compatible with. So before committing to a Nest Thermostat E, check that your heating system is compatible. Otherwise, the Nest Learning Thermostat might be needed.
Key features of the Nest smart thermostat include:
Knows when you're not at home to prevent the heating an empty home
Adapts to your central heating habits after 1 week
Modern design
Domestic hot water control
Energy reports on your mobile showing your usage and savings
A green leaf appears when your home is being heated efficiently
Compatible with Google Home and Amazon Echo
Hive Active Heating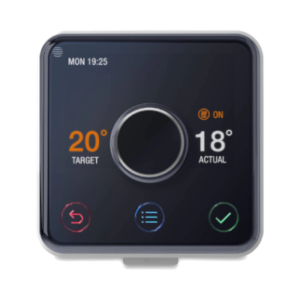 According to British Gas, the company behind the Hive Active Heating System, their Hive smart thermostats are able to save you up to £130 a year on your heating bills. In addition to giving you more control over your central heating, this Hive smart thermostat can control your hot water too.
Using the accompanying Hive app you can take control of your heating even when you're not at home. Through the app you can set up to 6 daily time slots for when the heating and hot water should be on or off. To help prevent you from heating an empty home an alert will be sent to your phone when the heating is on and the property is empty. This alert will prompt you to turn the heating off which will avoid any unnecessary rises in your energy bills.
During the winter months, boilers installed in lofts or garages can be prone to freezing. To help prevent this, when the temperature in your property drops below 7°C, the Hive thermostat will turn the heating on. A feature that will help to avoid an unexpected repair bill.
Key features of the Hive Active Heating smart thermostat include:
Take control of your heating and hot water on your phone via the Hive app
Geolocation technology knows when the home is empty
Multi-zone functionality
Compatible with Amazon Echo and Google Home
IFTTT channel
Full compatible with the vast majority of heating systems and energy suppliers
Nest and Hive are arguably the best smart thermostats available on the market and you can compare them in Nest vs Hive.
Tado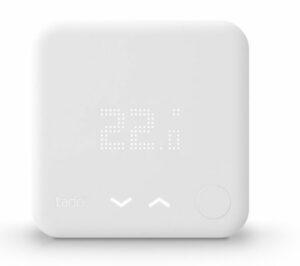 Making a Tado smart thermostat part of your central heating system could potentially lower your energy consumption by as much as 31%. This is a significant figure that would mean much lower energy bills.
Tado are so confident that your energy bills will drop thanks to their smart thermostat that you can claim money back if it doesn't.
The Tado smart thermostat is always monitoring the weather outside. So if the temperature begins to rise outside, the Tado will automatically turn down the heating. Not only that but the Tado can detect open windows too and remind you to adjust the heating as a result. These features mean that you'll always be using your heating system as efficiently and effectively as possible.
Key features of the Tado smart thermostat:
Check and adjust temperatures using the Tado app
Adapts to the behaviour around the home
Recommendations are delivered straight to your phone, such as: "Your bathroom is rather humid, open a window or turn on the fan to prevent mould"
Geofencing technology
Compatible with Amazon Alexa and Apple HomeKit
IFTTT channel
Can be installed yourself without the need for a professional installer
---
---
EcoBee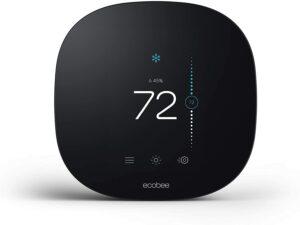 With an EcoBee smart thermostat you could be saving up to 23% on your energy bills. To do this, the EcoBee learns about how and when you heat your home and adapts itself to your routine. The thermostat has an intuitive and user-friendly design and can be controlled from a smartphone.
To help you reduce your heating bills, the EcoBee smart thermostat has a number of important features:
Alert you if there is a sudden drop in temperature that could be caused by a broken pipe
Receive a monthly energy usage report and even compare your home to other properties in the area
Learns how long it takes your home to reach certain temperatures
Add a SmartSensor and the EcoBee thermostat will know when you've left the home
Honeywell

Honeywell smart thermostats are advanced heating controls that will always ensure your home is at a comfortable temperature. When you set the heating to a certain temperature at a specific time, the Honeywell knows how long it will take to reach that temperature. That way, you can be confident your home will be a comfortable temperature when you need it to be.
The Honeywell smart thermostat boasts location-based temperature control, otherwise known as Geofencing. This feature prevents the system from heating an empty home while also setting a comfortable temperature upon your return.
As with many of the best smart thermostats, you can take control of the heating system wherever you are through an app. The Honeywell Home app will help to get you started before giving you greater control of your home heating system. And depending on the number of people in your home, everyone can control the thermostat from their smart device.
Some key features of Honeywell smart thermostats include:
Geofencing technology knows when the property is empty – so you'll never be heating an empty home
Control the smart thermostat from anywhere using the Honeywell Home app
Compatibility with Apple Homekit, Apple Watch, Amazon Alexa, Google Home and IFTTT
Netatmo

The Netatmo smart thermostat – alongside other smart heating controls – gives you greater control over the heating.
Each month you'll receive an energy report from Netatmo which includes a clear summary of your energy usage. You'll even get energy saving tips to help you lower your heating bills even further.
These are some of the key features of the Netatmo smart thermostat:
Ability to use the outdoor temperature and level of insulation in your home to work out when the heating should turn on
The Auto-Care function will make you aware of any issues with the heating system
Drayton Wiser

By pairing Drayton Wiser smart heating controls could potentially half your energy usage if you aren't currently using controls. If you're looking to replace existing controls then the Wiser thermostat could still reduce energy usage by as much as 40%.
To allow you to get the most out of the Drayton Wiser thermostat, it has a number of features:
The Wiser app gives you control of the central heating from anywhere in the world
An Open Window Detection feature knows when you've opened a window and adapts the heating accordingly
Eco Mode, Comfort Mode and Away Mode make it easier to limit energy usage and increase efficiency
Pair the thermostat with Wiser radiator valves and you can control the temperature in individual rooms
Compatible with Amazon Alexa and Google Home
Heatmiser Neo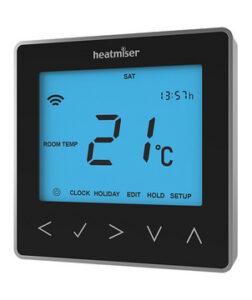 A Heatmiser Neo smart thermostat includes a neoStat, neoStat-hw and neohub. These individual parts are the thermostat itself, a programmer and a hub that allows the devices to communicate with each other. Once connected, a Heatmiser Neo offers greater control over the central heating in a user-friendly manner.
The features that will give you more control over the central heating include:
The ability to set unique temperatures in different rooms through multi-zones
Adjust the temperature of your home from wherever you are through the neoApp
Take control of the domestic hot water too (if you have a hot water cylinder)
How much do smart thermostats cost?
On average, the best smart thermostats cost between £100 and £200.
 
Some smart thermostats are extremely straightforward to install and can even be fitted yourself in some cases. Meanwhile, some manufacturers offer a professional installation service which is necessary for some models.
| Brand/Manufacturer | Model | Average price excluding installation | Average price including installation |
| --- | --- | --- | --- |
| Nest by Google | Nest Learning Thermostat 3rd Generation | £140 – £200 | £220 – £280 |
| | Nest Thermostat E | £170 – £200 | £250 – £280 |
| Hive by British Gas | Hive Active Heating 2 | £140 – £250 | £210 – £320 |
| Tado by SSE | | £100 – £200 | £170 – £299 |
| Ecobee | Ecobee3 Lite | £130 – £170 | £200 – £240 |
| | Ecobee4 | £160 – £250 | £230 – £320 |
| | Lyric | £120 – £170 | £190 – £240 |
| Netatmo by EDF | | £120 – £250 | £190 – £320 |
| Drayton Wiser | | £126 – £186 | £196 – £256 |
| Heatmiser | Neo | £70 – £205 | £140 – £275 |
Where specific installation costs can't be found, an average installation price of £70 has been used.
Do smart thermostats help you save money?
A smart thermostat will give you greater control over your heating system which could help to lower your heating bills.
 
Smart thermostats are designed for the very purpose of reducing the energy being used in a property. And with that will come lower energy bills for those in the property.
While the best smart thermostats have a wealth of features to reduce the amount of energy being wasted, they can only do so much. To get the most from a smart thermostat, there is still responsibility on you as the user.
The best smart thermostats will deliver clear energy usage reports and deliver alerts when you've left the heating on. It's up to you to use this information to act and adapt your home heating habits accordingly.
Other ways to reduce your heating bills
There's no doubt that a smart thermostat can play an important role in increasing the efficiency of your heating system. But they're not the only solution.
Heating bills can also be reduced by replacing your boiler, arranging an annual boiler service, bleeding radiators, improving insulation, installing double glazing and switching to a cheaper energy supplier.
Replace your boiler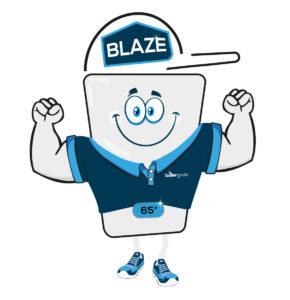 The best place to start is by looking at your boiler. A boiler that was installed more than 8 years ago won't be as efficient as it once was. This means that it will gradually need to use more fuel to provide the same level of central heating. And this will lead to a rise in your heating bills.
Replacing an old inefficient boiler with a modern condensing unit can have an immediate impact on increasing a property's efficiency. They achieve highly efficient levels of around 93% meaning that very little heat is wasted.
Once a new boiler has been installed, it's important to ensure that it runs efficiently for the longest possible time. And the best way to do this is with an annual boiler service.
Insulate
Reducing your heating bills isn't all down to the boiler. You could have a brand new highly efficient boiler in your property but if the heat is allowed to escape then you won't see a drop in your heating bills. This is where insulation comes in.
Insulation comes in many forms: cavity wall insulation, loft insulation, double glazing and floor insulation. In addition, if you have a system or regular boiler, then it's worth insulating the hot water cylinder too.
Bleed the radiators
If you've noticed that some radiators aren't heating up as effectively as others then they may need bleeding. Bleeding a radiator is the act of releasing trapped air from the heating system. Too much air in the heating system can cause a blockage which prevents hot water from circulating around the radiators. This leads to cold patches on the radiators and puts the heating system under unnecessary strain to heat the space. Bleeding the radiators is something that you can do yourself but don't hesitate to contact a professional heating engineer.
So while a smart thermostat can help to lower your heating bills – and the best smart thermostats even more so – don't forget there's much more that can be done too.
---
---