Biomass Boilers: False Economy or the Future?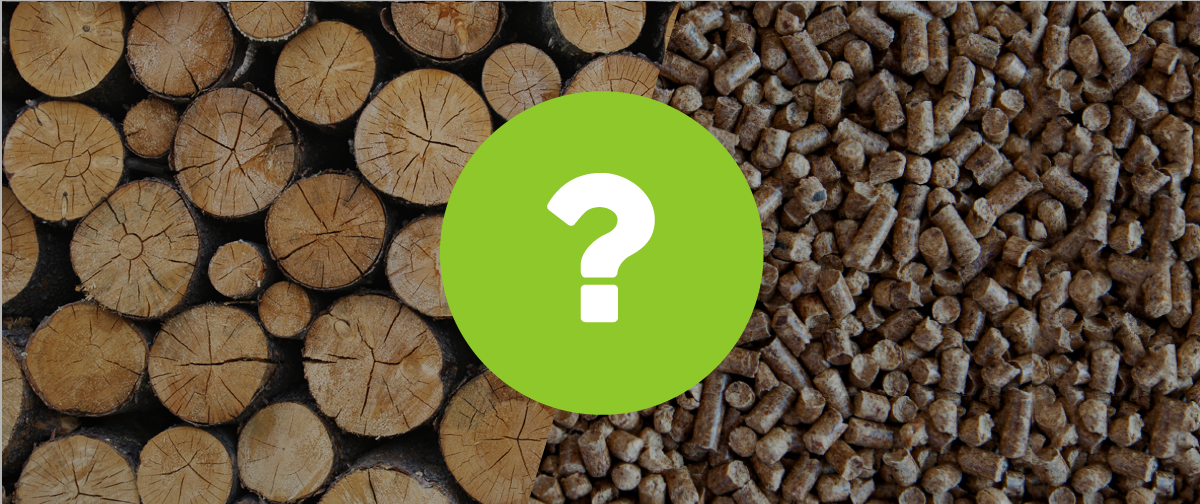 Burning wood to keep warm isn't a revolutionary idea; it's one of the first things we discovered way back in the Stone Age. So why is there such a debate about the idea of burning wood in our modern central heating systems?
What is biomass?
Biomass is biological material that comes from plants or plant-based organisms. When it comes to domestic boilers this material is usually wood logs, chips or pellets.
Gas and oil boilers produce extra carbon dioxide which is a major contributor to global warming. Biomass, however, only emits as much carbon dioxide as it originally took from the air as it was growing. This means it is carbon neutral. Using wood that would otherwise be clogging up our landfill sites is also a major plus. And, if you aren't convinced yet, it is also a more sustainable fuel as we can continue to grow new trees but can't replace the gas, coal and oil that took millions of years to form.
What exactly is biomass fuel?
Biomass fuel is usually made from wood. It can be logs, wood chips or compressed pellets of sawdust and wood shavings. They are less expensive per kWh than gas, electricity and oil and many biomass boilers can be fueled by logs which, if you know where to look, are free.
How much do they cost?
The main drawback of a biomass boiler is the price as they can be up to 10 times more expensive than gas systems. Smaller models that need to be hand fed fuel will cost between £4,000 – £10,000 while some bigger, automated boilers cost £9,000 – £21,000.
But how efficient are they?
When it comes to energy usage a biomass boiler is equal to the highest efficiency gas, oil and electric boilers running at 88 – 91%. This means for every £1 you spend on energy, only 9 – 12p is wasted.
What about maintenance?
Biomass boilers have a reputation for being high maintenance because manual models require daily, weekly and monthly checks and cleaning. For example, checking the ash level and emptying it each week and cleaning the combustion chamber, as well as manually adding fuel every few days.
However, automated biomass boilers require very little regular maintenance as they hold a larger quantity of fuel, self-clean and automatically refuel via the hopper. This means you should only need to add fuel every couple of weeks and empty the ash bin as little as once a year.
As with any boiler, an annual service by a professional is highly recommended to keep the system running efficiently.
Will a biomass boiler suit my home?
The most important factor to consider is the size of a biomass boiler; it is much larger than a gas, oil or electric boiler, especially if you are installing an automatic hopper alongside it. A good estimation of the space needed is about 10m² which includes the fuel storage and expansion vessel. It is possible to keep fuel outside but you will need to be able to keep it dry and be able to transport it to the boiler easily. Some people use garages or build special sheds to house everything together. A manual, hand fed boiler is usually smaller so may be a better option for smaller homes, if you don't mind topping up the fuel more regularly.
You will also need a high chimney which is suitable for burning wood. An existing chimney may be able to be converted by adding the right flue materials, but this may add extra cost.
Depending on the type of fuel you choose, you will need to ensure you have enough storage space and that the area is easily accessible for delivery trucks.
---
Interested in a biomass boiler?
---
Benefits of biomass
Environment
Gas and oil boilers are steadily damaging our environment with their carbon emissions. The production of biomass fuel is carbon neutral as it only emits as much carbon as it absorbed from the atmosphere during its lifetime as a tree. Not only this, but as long as we keep planting trees we will have a source of this fuel. Gas, coal and oil take millions of years to form and as we are using all of them at a much, much faster rate, our supply is limited.
Other environmental benefits include the reduction in wood waste going to landfill and the fact that the ash produced by biomass boilers can be used as soil fertiliser. This means, in a way, that the trees literally return to the earth to begin the lifecycle again.
Fuel cost
Biomass fuel is significantly cheaper per kW than oil and electricity and slightly cheaper than gas. And, if you have a supply of free wood, your fuel costs could disappear completely.
Renewable Heat Incentive
To encourage us to do so, they introduced the Renewable Heat Incentive (RHI) in 2014.
If you install a MCS accredited biomass boiler (fitted by an MCS accredited engineer), the government will pay you 4.21p* for every kilowatt-hour of heating that your home requires (up to maximum of 25,000kWh). This figure is estimated based on the Energy Performance Certificate (EPC) which your property should already have. You receive quarterly payments every year for 7 years. The table below is intended as a rough guide as to the repayment you could receive:
| Annual Home Heating Demand (kWh) | Approx annual payment (kWh x 4.21p) | Approx payment total (after 7 years) |
| --- | --- | --- |
| 10,000 | £420 | £2,940 |
| 20,000 | £840 | £5,880 |
| 25,000 | £1,050 | £7,350 |
*This is the correct tariff for new applications between 1st January – 1st March 2017 but is subject to change.
Efficiency
Biomass boilers are as efficient as those that burn fossil fuels, reaching levels of 88 – 91%.
Things to think about...
Cost
The initial installation cost of a biomass boiler is far higher than standard gas and oil boilers. Originally in 2014 the RHI was offered 12.2p per kWh, which when added up over the 7 years of payments, more than covered the costs. However, over the years the rates have been degressed to 4.2p per kWh which is not so impressive as a payback.
Fuel supply and storage
The most environmentally friendly and cost effective way to get your fuel is to have it delivered in bulk e.g. a year's supply at a time. If you are ordering fuel in a large quantity you need to be sure your home is accessible for delivery and that you have a contained, dry and large area to store it in. It's also preferable is the storage area is near the boiler to avoid having to do heavy lifting over a long distance.
If this is isn't an option you could organise several deliveries throughout the year but this will add to ongoing costs. If this is the case make sure you have relatively local suppliers to avoid extra expense.
Using your own logs is a free option that bypasses these issues, but you will need to leave them somewhere contained to dry out for a long time before you can use them; otherwise they will produce smoke and tar when burned.
Maintenance
While modern biomass boilers are mostly automated you will still need to be responsible for manually topping up the fuel supply and cleaning out the ash. This isn't necessarily a huge time commitment but more so than standard gas boilers which take care of themselves. Cheaper systems may require more regular attention to keep them running efficiently.
Size
A biomass boiler is bigger than standard boilers because of its need for physical fuel. This is particularly true of the most advanced models with automated hoppers which need up to 10m² in space. When you combine this with the storage needed for fuel it may not be realistic for smaller homes.
What's the verdict?
Biomass boilers are definitely not for everyone. There are currently far fewer models on the market than gas or oil fired boilers meaning your options are limited. They are physically very big compared the the sleek, compact gas and oil boilers and not all homes have the space to make them a realistic option. In addition, the needs for a large quantity of physical fuel poses challenges in terms of both delivery and storage. Some people are put off by the idea of manually adding fuel or cleaning out the ash, no matter how infrequently it's needed. And, of course, they cost far more to install than gas or oil boilers.
However, there are very real reasons that some people may wish to consider a biomass boiler. The environmental issues we face and the government's commitment to the RHI suggest that the concept is not a passing fad. We all know the harm caused by carbon emissions and most of us are consciously making efforts to reduce our impact on the planet in other ways such as recycling and reusable bags.
In addition to our environmental responsibility, cheaper or even free fuel is a very attractive option. Plus, if you take the RHI payments into account the high upfront cost is lessened to a degree. If it's affordable, your home has the space and you don't mind putting a little effort into maintaining the system, biomass boilers are as energy efficient as any other type of boiler and could even save you money in the long run.
---
Interested in a biomass boiler?
---
Still unsure about biomass boilers? If you're considering moving away from a conventional boiler to a biomass boiler, we have some guides that might help you make that all important decision. Find out more here