Boiler Breakdown Hotspots: Hard Water vs Soft Water
We are lucky enough in the UK to have a reliable and clean water supply, but you may not know that, depending on where we live, the type of water we use in our homes can vary. Water is categorised as hard or soft and while you may not realise it, the type you use could cause your energy bills to be more expensive and your appliances – such as your boiler – more likely to break down.
Read on to find out if you live in a boiler breakdown hotspot caused by a hard water supply.
Difference between hard and soft water
Hard water has a high concentration of minerals such as magnesium and calcium left behind by rocks and rich soil which have dissolved in the water. These minerals and ions are beneficial in many ways, but they can cause real problems for household appliances like washing machines, kettles, plumbing and boilers. This is because, over time, calcium carbonate builds up which is commonly referred to as limescale.
Soft water, as you might expect, is water which has a lower concentration of magnesium and calcium ions. The water is usually surface water which falls as rain in areas of the UK where the soil and rocks are low in calcium and do not dissolve as easily. Soft water can also be produced by putting hard water through a softening process. In the UK, water is considered soft if it contains less than 50 mg/l of calcium carbonate.
Whether or not your home is supplied with hard or soft water will depend on where you live in the UK.
---
---
Why is hard water a problem for homeowners?
Homeowners living with a hard water supply are more likely to experience problems in terms of home maintenance.
Limescale buildup
The minerals which are left behind will build up and form a coating of limescale in your plumbing and home appliances which use water. This will reduce the efficiency of the pipes and appliances and can eventually lead to breakdowns.
Difficulty cleaning
The minerals in hard water prevent soap, cleaning products and water from foaming up as effectively which can make cleaning more difficult.
Higher running costs
Using hard water in your washing machine, dishwasher, boiler and kettle will mean that the appliances need to work harder and will use more electricity to do so. This can increase energy bills.
Note: There is also some debate around whether or not drinking hard water could lead to health problems, but there is no evidence to support that theory.
Hard water and central heating problems
While hard water can be a potential problem for many of your appliances, we are mainly concerned with the problems it can cause in your boiler and central heating system. Hard water can lead to limescale building up in the pipes, radiators and in the boiler itself. It is a particular issue when limescale builds up on the boiler heat exchanger as this will reduce how much heat it can emit.
Limescale in pipes will reduce how much hot water and gas can pass through which will reduce how effective your heating system is. It can also make it difficult for the system to maintain a consistent heat which means the boiler will be working harder and less efficiently. If left for too long, limescale can cause boiler breakdown.
If you have cold spots in your radiators and/or your boiler and pipe make rattling noises when fired up, you could have issues with limescale buildup.
---
---
Do you live in a hard water area?
If you live in a hard water area, you are more likely to experience problems with your heating system, but where in the UK are boilers most at risk?
We took a look at all the boiler repair enquiries we received in 2019 and where in the UK they came from. As some UK regions are more densely populated than others, to simply compare the number of enquiries from each wouldn't be a fair comparison. To make sure our findings were proportionally representative and accurate, we checked with the Office of National Statistics for the total number of households in each region (as of June 2019). We then looked at how many boiler enquiries came from each of them to calculate the number of enquiries as percentages.
Here's what we found out:
| UK Region | Percentage of Homeowners Requesting Boiler Repair Quotes in 2019 | Hard or Soft Water Area? |
| --- | --- | --- |
| London | 2.91% | Hard |
| West Midlands | 2.75% | Hard |
| North East | 2.42% | Hard/soft |
| East Midlands | 2.21% | Hard |
| East | 2.17% | Hard |
| South East | 2.11% | Hard |
| Wales | 2.05% | Soft |
| South West | 1.97% | Soft |
| Yorkshire | 1.97% | Soft |
| North West | 1.92% | Soft |
| Scotland | 1.79% | Soft |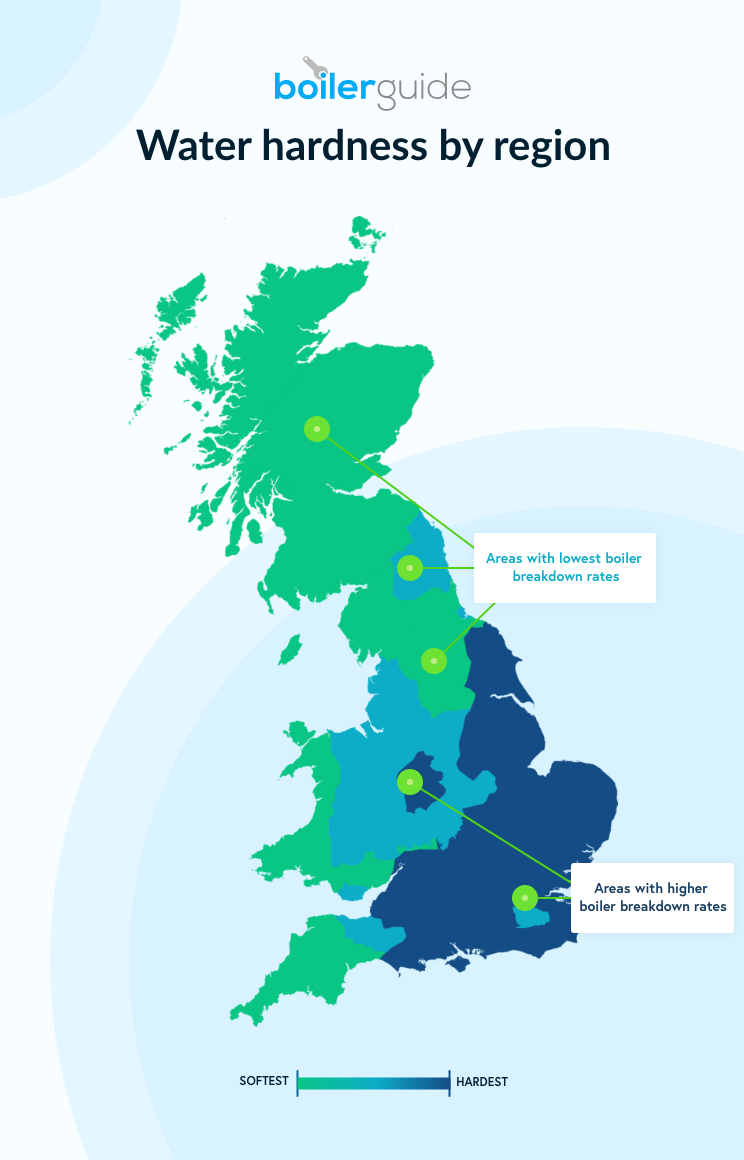 Click here to read the full Boiler Breakdown Study 2020.
Our data showed that there was a clear link between hard water areas and the frequency of boilers breaking down. London, the North East and the West Midlands, are supplied with hard water and placed the highest number of repair enquiries.
Scotland, the North West and Yorkshire are supplied with soft water and homeowners in these regions made the fewest boiler repair enquiries in 2019.
What to do if you live in a hard water area
If you live in a hard water area you can install a water softener machine somewhere in your home or property to filter out the minerals and ions before they come into contact with your pipes or appliances.
In addition, Whether you live in a hard or soft water area, there are some simple ways to take care of your boiler and heating system to prevent a boiler breakdown.
Get your boiler serviced every year by a Gas Safe engineer. Your boiler needs regular servicing and maintenance to keep it in safe and efficient working condition.
Insulate your external pipes with lagging in winter to prevent them from freezing and causing a boiler breakdown.
Regularly check that the water pressure level is between 1 to 2 bars and adjust it using the manufacturer's instructions if not.
Make sure that the pilot light is a strong blue flame (not yellow or orange).
Bleed the radiators to get rid of air pockets which build up and stop your radiators from heating up fully.
During the summer, turn your heating on once a month for 15 minutes to keep water flowing and prevent blockages from forming.
Don't ignore strange noises or a drop in performance. If the boiler seems to be struggling to reach a high enough temperature, call a Gas Safe engineer to take a look.
Need a boiler repair?
The easiest way to find Gas Safe engineers in your area is to send us a request for quotes. We'll find you quotes from up to 3 approved engineers who will provide free no-obligation quotes for the work. It's then up to you to choose which quote – if any – you want to use.
---
---