What's the Difference Between Horizontal & Vertical Boiler Flues?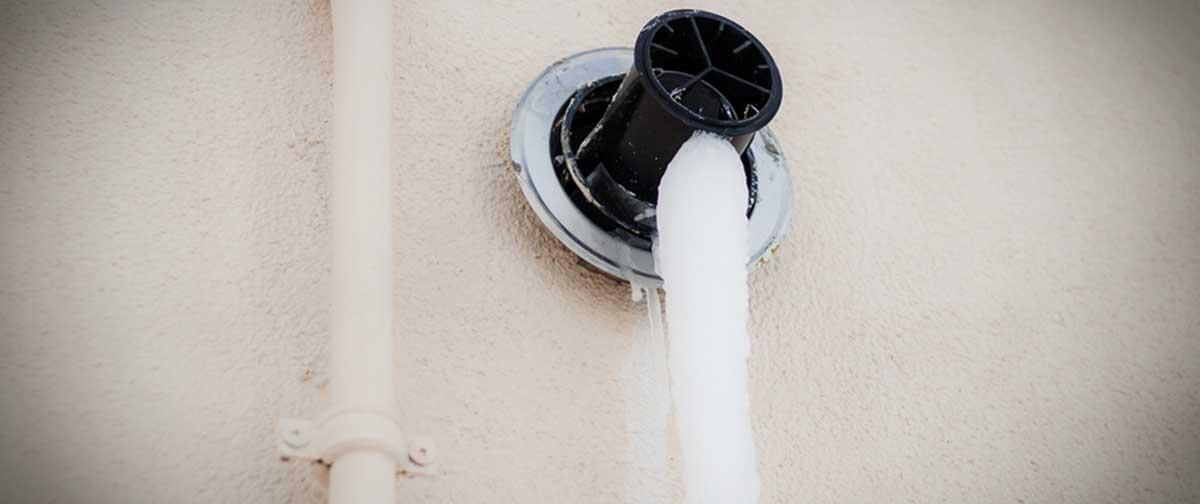 The only difference between horizontal and vertical flues is the way they are positioned on your property – they both operate in the same way. A horizontal flue will stick out from a wall (pictured above), while vertical flues are found on the roof.
Most homes in the UK have horizontal flues, but a vertical flue could be necessary on some properties.
Boiler flues carry out the same job no matter whether they're installed horizontally or vertically. And that job is to release waste gases produced by the boiler ensuring they don't leak into the home.
Knowing whether you have a horizontal or vertical flue will be helpful when discussing a boiler replacement with a heating engineer.
---
Get Boiler Quotes
If it's time to replace your current boiler, use our free service to
get quotes now
---
What is a boiler flue?
A boiler flue pipe is an essential part of any heating system that burns fossil fuels. As well as producing heat, the process of burning fuels creates harmful gases. If breathed in, these gases could prove harmful to those in the property. Simply put, boiler flues do the same job as an exhaust pipe on a car.
Differences between horizontal and vertical flues
Horizontal and vertical flues may look different but they carry out the same job: to emit waste produced by the boiler out and away from the property.
Horizontal flue
A horizontal flue protrudes out from a wall horizontally. They're the most common boiler flue type in the UK and are normally a round shape in a black or white colour.
Vertical flue
Typically, a boiler will be installed onto the internal side of an external wall. In the event that this isn't possible or the boiler is installed in a loft, then a vertical flue will be needed. Rather than leaving through a side wall, vertical flues go up and out of the roof – similar to a chimney.
Most boiler installations can be carried out by a single fully-qualified installer. However, when the flue leaves vertically through the roof, a roofing contractor may also be needed. Having the flue surveyed by a roofing contractor will ensure that the roof has been sealed correctly.
How to find the flue
If you have a combi, regular or system boiler that runs on natural gas, liquified petroleum gas or oil then your home will have a flue pipe. Without a boiler flue, your heating system won't be meeting Gas Safe regulations.
You'll be able to identify the flue as a white or black pipe installed either horizontally out of a wall or vertically from the roof. When the boiler is in operation, you will notice steam leaving the flue – this is condensation and waste gases being emitted away from your home.
Do all boilers need a flue pipe?
The only cases where a property won't have a flue pipe is if it's heated by a back boiler, electric boiler or renewable heating system. And this is for the following reasons:
Back boilers are installed in a chimney so the waste gases and steam can be released up and out of the home, without a flue. Back boilers grew in popularity during the 1960s but are now outdated as they're large units and can't perform to the same levels of efficiency as modern boilers.
Electric boilers don't burn fuel to heat a home, instead they use the supplied electricity to generate heat which is then circulated to the heating system.
Any boiler that burns fossil fuels, such as gas and oil, will need a flue pipe. This is because burning fossil fuels produces waste gases that would be harmful to the occupiers if emitted into the home. One of these gases is carbon monoxide. Carbon monoxide is a potentially harmful gas that can't be detected without a carbon monoxide alarm as it's both colourless and odourless. It's important to be aware of the symptoms of carbon monoxide poisoning, which includes:
Headaches
Dizziness
Breathlessness
Nausea
Collapsing
Falling unconscious
Even if your boiler has a flue, if there's a fault with the unit then carbon monoxide could potentially leak into the property. So, as well as a CO alarm, you should have your boiler serviced annually by a Gas Safe registered engineer.
So, if you have a boiler or heating system that doesn't burn fossil fuels a flue isn't necessary.
Why don't electric boilers need a flue?
As opposed to gas and oil boilers, electric boilers don't burn any fuel which means that they don't produce any waste gases that need to be emitted out of the home. Electric boilers are typically best suited to smaller properties, such as flats, that have a single bathroom and low demand for central heating.
How much do boiler flues cost?
When having a new boiler installed, the cost of the flue won't be something you have to be too concerned about. This is because it will be included in the cost of the boiler. Should you need to replace your existing flue pipe, you could expect to pay around £100.
| Flue Type | Potential Cost |
| --- | --- |
| New horizontal or vertical boiler flue | £70 – £120 |
| Extension flue pipe / flue bends | £40 per metre |
Boiler flue regulations explained
The whole point of a boiler flue is to prevent potentially harmful gases from being breathed in and for that reason boiler flue regulations are in place. These regulations ensure the flue isn't too close to windows and doors of the property it's fitted onto and neighbouring buildings.
So, where can a flue be fitted? Under the regulations, a flue pipe typically has to be installed between 30-60cm away from windows and doors – this will vary depending on the size of your property.
Temperature of the flue also has to be taken into consideration. After all, they're emitting gases when the boiler is burning fuel. This means that the flue should be well away from anything that can melt, such as plastic gutters.
How do you know if a flue is blocked?
Being outside, there's a chance that various bits of debris can make their way into the flue and cause a blockage. Should this happen, waste gases will be unable to leave the property and could lead to the boiler overheating or carbon monoxide leaking into the property.
This is one of the many reasons why an annual boiler service is important. As part of the service, the engineer will check the flue to ensure that it's free from obstruction.
When there's a fault with your boiler, the issue will commonly be displayed as an error code (or fault code) on the unit's digital display. We've picked out the error codes displayed on the boilers of some leading manufacturers that could mean there's an issue with the boiler flue pipe in the table below.
| Boiler Manufacturer | Error Code(s) |
| --- | --- |
| Alpha | 3, 25 |
| Baxi Platinum | E28 |
| Vaillant ecoTEC Plus | F25, F77 |
| Worcester Bosch Greenstar 8000 | 2927 B |
You might want a flue terminal guard
To prevent debris getting into the flue, a flue terminal guard can be fitted over the flue pipe. Flue terminal guards potentially cost £5-£45 depending on the size and shape necessary to cover the flue pipe.
Time for a new boiler and flue?
When the time comes to replace your boiler, we highly recommend comparing quotes from up to 3 fully-qualified heating engineers. This will give you the confidence that you're getting the most competitive price from the most suitable company for the job. And we're here to take the hassle out of finding multiple heating engineers.
All you need to do is complete our simple online form – which should only take a few moments. We'll then be able to use the information to match you with heating engineers in your local area. You'll then get free quotes from each of them for you to compare.
---
Get Boiler Quotes
If it's time to replace your current boiler, use our free service to
get quotes now
---