Boiler Problems – Boiler Noise, Leaking, Knocking, Grinding, Clicking, Low Pressure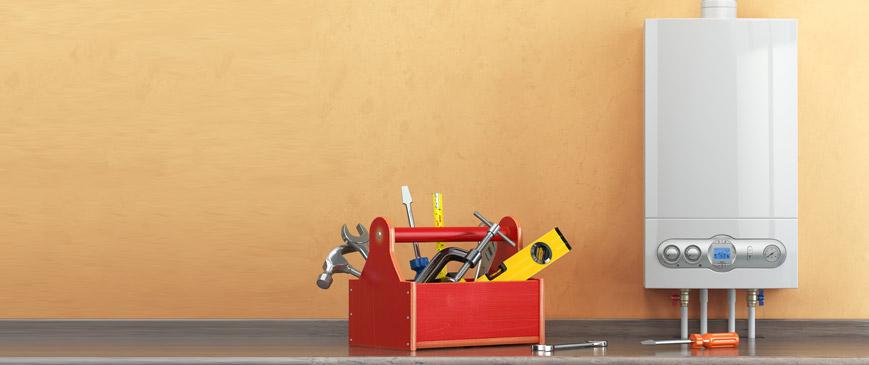 Although a well-fitted, modern and reliably-sourced boiler from a reputable company or supplier is less likely to cause issues than an older, cheaper boiler, all boilers generally suffer from a variety of similar ailments when they do develop problems.
Stress on your boiler may also increase the likelihood of it developing common boiler problems other than the usual wear and tear over time, even resulting in the loss of hot water and heat. If your boiler is experiencing an issue, then take a look at some of the most common boiler problems below to find out how to get it resolved.
---
---
Common Boiler Issues
Most issues a boiler may have are difficult to diagnose with a glance, with problems such as poor heat maintenance, noise and unreliability being the only signals that there could be something wrong. We've listed some common boiler problems below, along with what might be causing the issue and how they can be resolved.
Some of these repairs can be carried out yourself, without the need for a heating engineer, but if you're in any doubt whatsoever then you should contact a qualified professional.
Loss of Pressure
Your boiler will work at its optimum level only if the water pressure is made constant. Most modern Combi boilers will be pressurised with the water entering its system from the mains cold though a device called the 'filling loop'. Any loss of pressure in a modern Combi boiler therefore can be fixed by adding water through the filling loop to the system.
Water Leaks and Dripping
Water leaks can be very small at first and cause a loss of pressure in your boiler. Checking the pressure on your boiler's pressure gauge is a good idea to keep abreast of any possible water leaks in the system – as small leaks often evaporate quickly and are therefore hard to find, but can develop into larger leaks.
The correct pressure of your boiler should be between the 1 and 1.5, it should never drop below 0.5 or be found rising over 2 bar. Topping up the filling loop, which should be close to the boiler itself, will re-pressurise the system again if it drops too low.
Our guide Why is My Boiler Leaking? can help you to find the cause of your leaking boiler.
Blockages
Blockages are often a build up of sludge that's gradually hardened but can also be caused by something solid making its way into the central heating system – especially common if you have a open tank in the loft. Blockages can be detected by a loss of heat or water through parts of the system or by an abnormal pressure reading on the boiler itself. You should not attempt to resolve this issue yourself and should instead contact a Gas Safe engineer.
---
---
No Heat or Hot Water
We have boilers installed so that we're provided with heating and hot water so finding that one or both of these has stopped working, then it needs to be resolved. This issue is commonly caused by broken diaphragms and airlocks, failure of motorised valves, a thermostat playing up or low levels of water.
Should you find that you have no heating or hot water and there doesn't seem to be an issue with the thermostat, then we highly recommend contacting a Gas Safe registered engineer who will be able to get your heating system back up and running.
Not come across the issue your boiler is experiencing? Take a look through our 10 Most Common Boiler Problems to find a resolution.
Frozen Condensate Pipe
Condensate pipes are a feature of any condensing boiler, whether Combi, System or Regular. This pipe sends acidic water, produced by waste gases, out of your home and down a drain outside. As a result of being outside, they're susceptible to freezing during the winter months.
It's possible to thaw a frozen condensate pipe yourself, without a qualified engineer, by simply pouring hot water (not boiling) over the area of the pipe that's blocked. Once it's thawed out, you might have to reset the boiler to get it going again.
Watch our step-by-step guide to thawing a frozen condensate pipe before carrying out the work. If you feel the slightest bit unsafe, you should call out an engineer.
Error Codes
When there's a fault, your boiler will display an error code so that you can easily find the fault. Sometimes these codes aren't exactly the clearest messages though, so we've put together a guide to the error codes used by many boiler manufactures. Just find the manufacturer of your boiler and look for the code you're seeing on the display.
Repairing Common Boiler Problems
If you don't feel comfortable attempting to resolve any issues that are possible without a Gas Safe engineer, you should still contact one. Rather than contacting 1 engineer and arranging for them to come to your property, you should get quotes from several engineers to allow you to compare quotes and help you find the best deal.
Avoiding Common Boiler Problems
Boilers are most likely to develop problems if they aren't serviced regularly. You should aim to have your boiler serviced annually by a Gas Safe registered engineer to ensure it is working correctly and efficiently, and not posing any risk to your health or safety.
---
---