Boiler repairs rise 26% year on year - in spite of UK wide lockdown
The number of homeowners looking for boiler repair specialists increased by 26% during the six week period of the strictest UK lockdown measures between March 23rd and May 11th, vs the same period last year.
This is in spite of the country-wide lockdown which required Brits to avoid all but essential visits to their home. The increase is based on enquiry data from Boiler Guide from homeowners and tenants across the UK.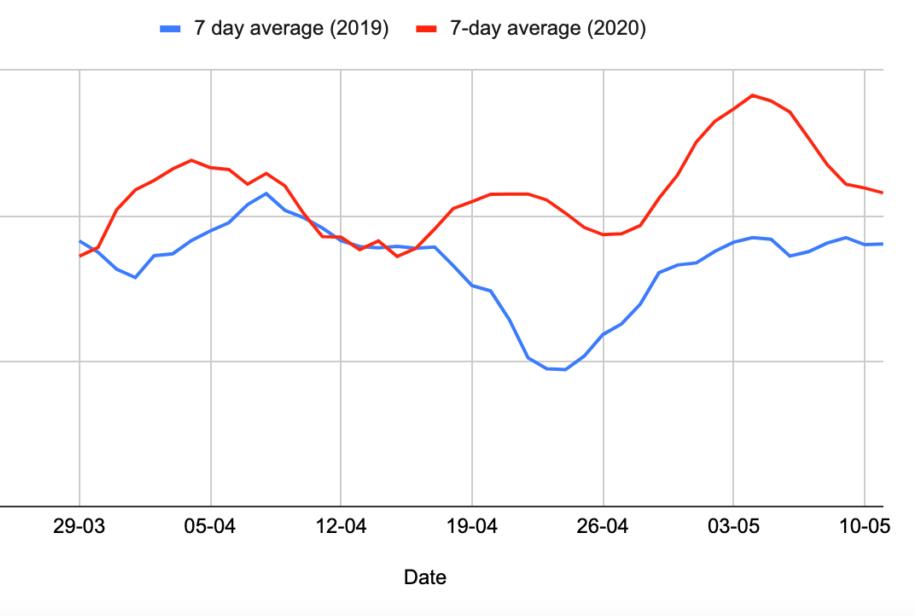 As shown in the chart above, the rolling seven day average number of enquiries has increased (red line) over the six weeks. In 2019, enquiries over this period decreased.
Lockdown boiler enquiries on the rise
Typically, the months approaching summer show reductions in enquiries, as warmer weather tends to take our attention away from our boilers.
This latest data suggests our desire to improve our homes during lockdown has driven a focus on boiler maintenance, perhaps as a result of cost savings elsewhere, or in response to increased demand on hot water and heating while we've been stuck indoors.
Of course, boiler maintenance isn't only relevant when/if your boiler breaks down and, as the old adage goes, prevention is better than cure! That's why it's important to keep boilers in good order throughout the year – plus, call out fees are often cheaper during the summer to reflect the typically lower demand for boiler repair services while it's warm.
An increase in home improvement
Boiler repair is just one aspect of home maintenance that's increased during the Covid-19 lockdown. According to Google data, searches relating to home improvement have increased significantly as people seek to make their spaces better.
The following table shows the percentage increase in searches for each term comparing May 2019 to May 2020:
| Search query | Percentage increase |
| --- | --- |
| DIY | 124% |
| Home Improvement | 83% |
| How to Wallpaper | 175% |
| Gardening | 172% |
| Home Decor | 124% |
How to take care of your boiler all year round
Boiler care should be a year-round consideration. Here are our tips to help you keep your boiler in top condition:
Arrange an annual boiler service
An annual service is as important to your boiler as your MOT is to your car. Even if it seems there's nothing wrong with the boiler, the best way to avoid any unexpected breakdowns and the related fees is to have an expert check it over for any signs of wear, which can be addressed immediately if needed.
Your service will also help your boiler work efficiently which will save you money over its lifetime, so it's well worth the small investment in maintaining it regularly.
Turn the heating on (even when it's hot!)
Leaving your boiler turned off during the summer months can cause its parts to seize up and put unnecessary strain on it when it comes to time to restart.
A good way to avoid this is simply to turn your boiler on intermittently through the summer months. Even just turning it on for 15 minutes can ensure your boiler is ready to go when you need it.
Bleed your radiators
Bleeding your radiators means removing excess air from them so that they can work efficiently and effectively.
Bleeding your radiators also reduces the strain that using them puts on your boiler. An unbled radiator requires more effort to work and the added stress can damage your boiler. You should aim to bleed your radiator a couple of times a year.
Act quickly against issues
It's likely that part of the increase in enquiries for boiler repair is down to us simply being more aware of what's going on in our home. While in 'normal' times we might fail to spot the early warning signs of a boiler taking longer to start up or making strange noises, the lockdown means we've been much more attuned to the 'normal' functioning of appliances.
Be sure to continue this post lockdown; if your boiler is making any strange sounds or not functioning as it normally does, it's worth having someone out to check it, rather than waiting for something to break.
David Holmes, Founder at Boiler Guide, said:
"We're used to seeing homeowners and tenants turn their attention away from their boilers as we move into the summer so it's great to see people using the lockdown as an opportunity to make sure their heating system is in top condition.
"Before lockdown it was easy to put those odd jobs off and save the money for holidays or leisure. With those industries having to put their services on hold, there's never been a better time to put the money towards home improvement.
"With so many people taking the time to replace, repair or service their boiler while the weather is nicer, they can be confident that it will be ready to keep them warm when the winter comes round."