Does My Boiler Need Ventilation?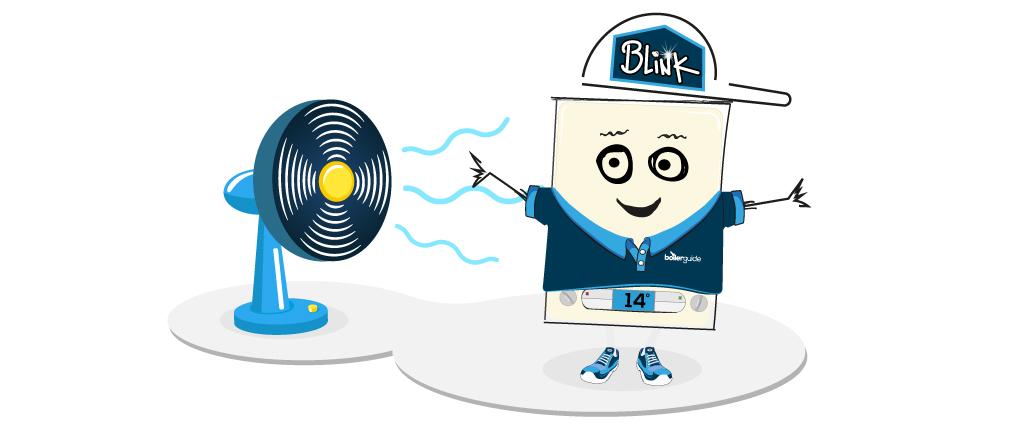 You shouldn't have to worry about boiler ventilation if you have a condensing boiler.
All condensing boilers have a balanced flue pipe which gives the boiler all the ventilation it needs. Even if it's hidden away in a cupboard. And if you've had a new gas boiler fitted since April 2005 then it will be condensing.
Any home with an older non-condensing boiler will need to think about boiler ventilation. But the better idea would be to get a new condensing boiler.
Boiler ventilation explained
Gas boilers need oxygen – mainly to help burn gas and keep certain parts cool – but most modern boilers are room-sealed. This means the combustion chamber (where the gas is burned) is sealed off from the room.
A room-sealed boiler gets all the air it needs through a balanced flue pipe. These balanced flue systems let air into the boiler and get waste gases out.
Older boilers have an open-flue and aren't room-sealed. This means the flue pipe releases waste gas but doesn't bring in oxygen. So they need to be well ventilated.
As long as you have a room-sealed boiler with a balanced flue, boiler ventilation shouldn't be a problem. But it's always a good idea to check with your installer.
---
---
What is a balanced flue pipe?
Thanks to balanced flue pipes, worrying about boiler ventilation is a thing of the past.
Modern condensing boilers (all gas boilers installed from April 2005 onwards are condensing) have a balanced flue pipe. A balanced flue pipe has two tubes:
One tube takes waste gases away from the boiler and out into the atmosphere
One tube allows oxygen into the boiler
This gives a condensing boiler all the ventilation it needs.
Non-condensing boilers only have a conventional flue pipe that expels gas but can't bring in oxygen. This is why older boilers need to be well ventilated.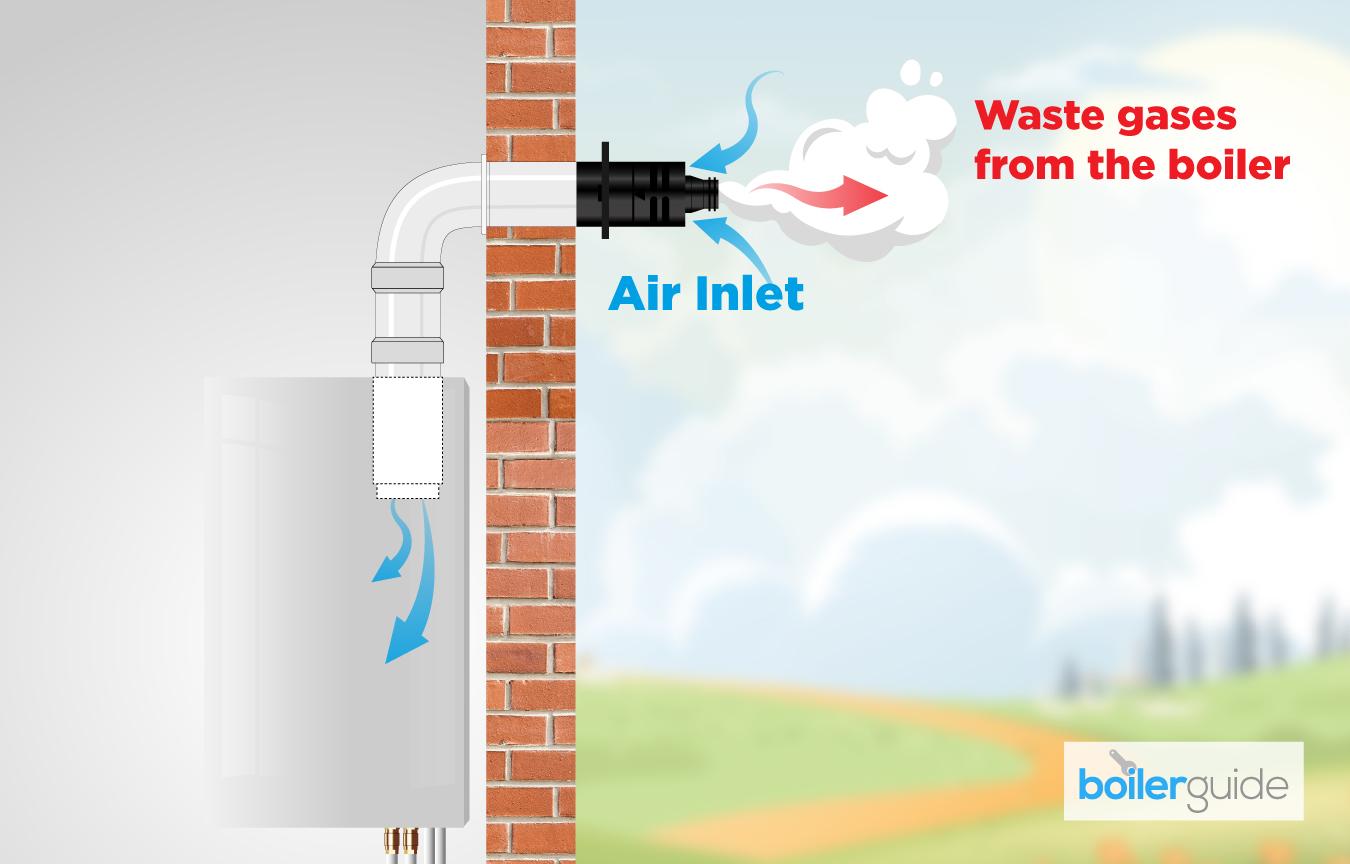 Does a boiler in a cupboard need ventilation?
A room-sealed boiler can be fitted into a cupboard without any concerns about ventilation. It's also safe to install them into a bedroom – unlike older open-flued boilers.
Access for a heating engineer is the main thing to think about when hiding a boiler in a cupboard. This is to give your heating engineer easy access when they need to service, maintain or replace your boiler.
These are the main points from the boiler cupboard regulations:
Cupboard door must open
300mm gap between top of the boiler and top of the cupboard
A 100mm gap between bottom of the cupboard
A gap of no less than 700mm between the front of the cupboard and another wall
To help meet boiler cupboard regulations, some boiler cupboards may not have a top or bottom.
Always follow the manufacturer's instructions before hiding a boiler in a cupboard.
Does an oil boiler need ventilation?
Oil boiler ventilation is no different to gas boiler ventilation.
An oil boiler needs oxygen for burning fuel so a supply of air is essential. Modern oil boilers will have a balanced flue system to let in air and remove waste gases. This removes the need for any air vents around the boiler.
If your oil boiler does need ventilation then the vents must have openings that don't close.
An open flue oil boiler takes air from the room where it's installed. This can increase the risk of a carbon monoxide leak. So, they can't be fitted into bedrooms, bathrooms or garages.
Ask an OFTEC registered technician for advice about how much ventilation your boiler needs.
Why you need a condensing boiler
A condensing room-sealed boiler can benefit your home in many ways.
As we've seen, with a condensing boiler you don't need to pay boiler ventilation a second thought (always check manufacturer instructions though). That's all thanks to the balanced flue pipe which brings oxygen into the boiler. A balanced flue can't be fitted to a boiler that isn't condensing or room-sealed.
A balanced flue pipe removes the need for any additional ventilation around the boiler. So it will be harder for the heat from your radiators to escape – keeping your home warmer for longer.
They're also far safer as the part of the boiler that burns fuel is sealed off from your home. Which is why they're also known as room-sealed boilers. This gives you the chance to move your boiler into a bedroom, bathroom or garage. Unlike older boilers that aren't room-sealed.
---
---
Back boiler ventilation
Back boilers were popular heating systems in the 1960s, 70s and 80s. They were bulky heating systems fitted behind a gas fire or stove and are no longer made.
In terms of ventilation, a back boiler is likely to need much more than a modern condensing boiler. They need to be fitted near an open vent which allows fresh air to replace waste gases released through the flue. Check the manufacturer handbook to see how much ventilation your back boiler needs.
If your home is still heated by a back boiler then you really should consider a replacement boiler – your best bet is a combi boiler.
Get quotes for a brand new boiler
If you have an old non-condensing boiler then you're missing out.
Condensing boilers are more efficient, far more reliable and much safer. They even open up the possibility of fitting the boiler into a bedroom, bathroom or garage.
Boiler installers in your area are ready and waiting to quote on your new boiler installation. Simply take a moment to complete our online form and you'll get free quotes from up to three of them.
Once you have your quotes, you'll be free to compare them. This will give you the confidence that you've found the right person for the job. So get your free quotes today.
If you're still looking for a new boiler, compare the best in our Boiler Comparison Tool.