Central Heating Inhibitor Explained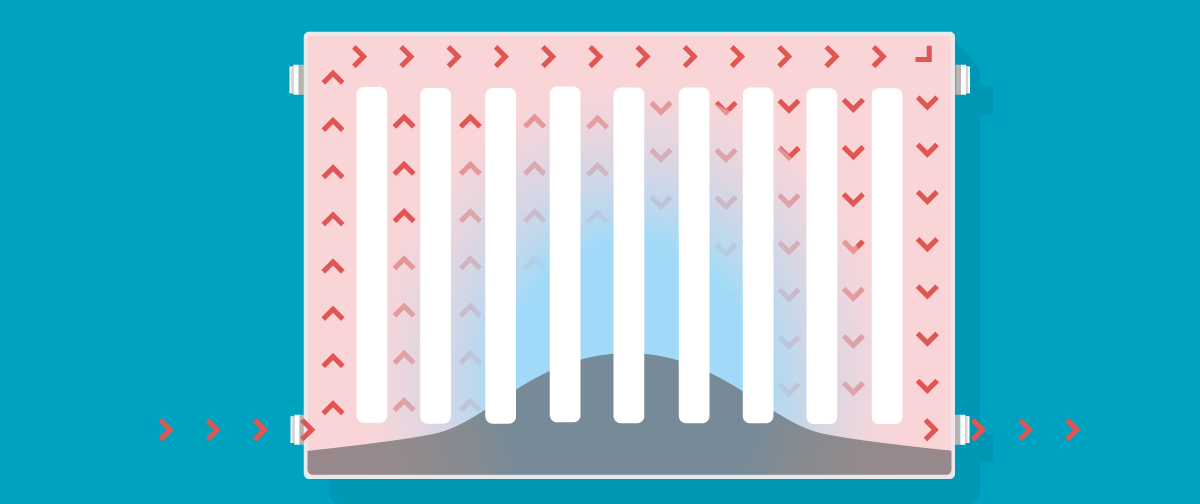 We all want a central heating system which keeps us warm, reaches temperature quickly, is cheap to run and doesn't waste fuel. And, of course, we want it to last for as long as possible.
So, how do we get this?
Adding inhibitor to a central heating system is an essential step in making sure your heating is working to its full potential. Here's what you need to know about central heating inhibitor.
What is central heating inhibitor?
Central heating inhibitor is a chemical solution which is added to the water in a central heating system to keep it working efficiently and effectively, to prevent breakdowns and to prolong the boiler's life.
As central heating systems are essentially made up of metal pipes and components and water, over time the metal pipes and radiators can develop rust. This rust and other dirt can build up into a sludge which causes blockages in the system and can lead to corrosion, costly repairs and breakdowns.
Blockages and failing components can also increase how much gas the boiler uses to heat your home as the boiler will take longer to heat your radiators making the system more expensive to run as well as increasing your carbon footprint.
In addition, many manufacturer's state in their boiler warranty that the system should be dosed with inhibitor on a regular basis, e.g. as part of the annual service. If the system is not being protected in this way, your warranty may be void.
---
Find a local heating engineer
---
Protecting your central heating system
Clearly, central heating inhibitor is very important when it comes to looking after your heating system, but it is not the whole story. To keep your heating system in top condition for as long as possible, the following steps should be taken.
Book a powerflush
Powerflushing is a professional cleaning process for central heating system which involves flushing it with powerful chemicals at high speed to dislodge and break down sludge and dirt in the system. Over time the dirt and debris can lead to boiler breakdowns and cause the system to run inefficiently. Find out more about what's involved in a Powerflush and how much it's likely to cost.
Add central heating inhibitor
When the system has been cleaned inhibitor should be added to protect it from future contamination and corrosion. The inhibitor will also need to be topped up annually or when the system is drained.
Install a magnetic filter
After the inhibitor has broken the dirt and debris down it will need to be removed from the system via a magnetic filter. This will catch the sludge before it can enter the boiler and needs cleaning annually as part of a boiler service.
Add a scale reducer
If you live in a hard water area, you may also want to add scale reducer which will remove limescale which builds up because of natural minerals in the water. Limescale can cause lots of problems in a heating system when it builds up on the boiler's heat exchanger, thermostat, pipes and radiators.
In summary, central heating inhibitor is important, but it's useless if you don't have a way of removing the sludge material from the system after it's been broken down. A Powerflush to clear the system, inhibitor to prevent further problems, a magnetic filter to remove the sludge and limescale reducer will protect you from costly repairs and breakdowns. It will also ensure your heating works as effectively as possible, that your heating bills are as low as possible and that your manufacturer's warranty remains valid.
---
Find a local heating engineer
---
When to top up central heating inhibitor?
Central heating inhibitor should be topped up on an annual basis as it will become diluted over time and your system will lose its protection against limescale and rust. Ideally you should add inhibitor when you system is drained or your engineer should add it when they carry out the annual service. A central heating inhibitor test kit will provide you with an accurate measurement of the concentration of inhibitor in the system. The test is very simple as it involves taking a sample of water from the radiator and placing it in a tube.
How to add central heating inhibitor
Adding inhibitor to your central heating system is relatively straightforward but can be an intimidating task at first. Firstly you need to know what kind of heating system you have – open vented or sealed – as this will affect how you should add the inhibitor.
Adding inhibitor to an open vented system
If you have two tanks of water in your loft, you probably have an open vented system. You need to add the inhibitor to the expansion tank which is the smaller of the tanks.
The first step is to stop the flow of water at the mains or by turning the valve on your tank. When the tank has drained, make sure the tank is clean and there are no signs of corrosion as this will need to be sorted out before you go any further. If the tank is in good condition, pour the inhibitor into the tank and turn the water back on.
Adding inhibitor to a sealed system
If you only have one large tank in the loft you have a sealed system. You can add inhibitor to the system via the boiler filling loop.
Adding inhibitor to a combi boiler system
When adding inhibitor to a combi boiler system the heating should be turned off and the radiators should be cool before you begin. The inhibitor is added directly into a radiator either via the bleed valve or, in the case of towel radiator, the plug at the top. Select a radiator to add the inhibitor to (you only need to add it to one) and shut both valves on the radiator. Attach the inhibitor bottle to valve or plug and pour it in before turning the heating back on.
---
Find a local heating engineer
---
How much central heating inhibitor should you add?
As a general rule of thumb, a 1 litre of bottle inhibitor will treat up to 8-10 radiators but you should always read the advice and instructions from the manufacturer. If you have more than 8 radiators, you may need to use two bottles.
If you would like to speak to a professional heating engineer about your cleaning and protecting your heating system, contact us today and we'll put you in touch with up to 3 heating engineers in your area.
Which is the best central heating inhibitor?
Most heating engineers recommend that you use leading inhibitor brands such as Sentinel X100, MagnaClean MC1 or Fernox F1. Each brand offers a range of different products which are designed to treat different issues in a heating system.
Which magnetic filter is best?
The leading magnetic filter brands are MagnaClean, BoilerMag, Fernox and Sentinel.
The size of magnetic filter you install will need to fit the boiler's inlet pipe which will be either 22mm or 28mm in size. Once you have chosen the right size for the boiler pipe, you will need to decide which brand and size of filter you need. For example, MagnaClean produce a standard size, the MagnaClean Pro 2, and a more compact version which is the MagnaClean Micro. The smaller the filter the cheaper it will be, but it will need to be cleaned out more regularly.
What about scale reducer?
To prevent the build up of limescale you should also add a scale reducer to the system. There are many brands on the market with MagnaClean and ScaleMaster being very popular.
Avoid causing problems...
It's important to note that if you are regularly topping up your boiler pressure this could lead to a loss of protection. Boiler pressure can be caused by a leak somewhere in the system – even a pin-sized hole can cause a loss in pressure. When you top up the pressure you are adding more water to the system and diluting the inhibitor. Over time this will mean your heating system is no longer protected.
If your boiler is losing pressure on a regular basis it's important to find the cause and get it repaired by a Gas Safe engineer before adding the correct concentration of inhibitor again.
Looking for a local heating engineer?
If you are not confident about adding inhibitor to your central heating system and/or would like to improve its performance and efficiency, send us an enquiry today. We'll put you in touch with up to 3 local Gas Safe heating engineers who will provide free no-obligation quotes to clean and protect your heating system.
---
Find a local heating engineer
---