Central Heating Pumps Explained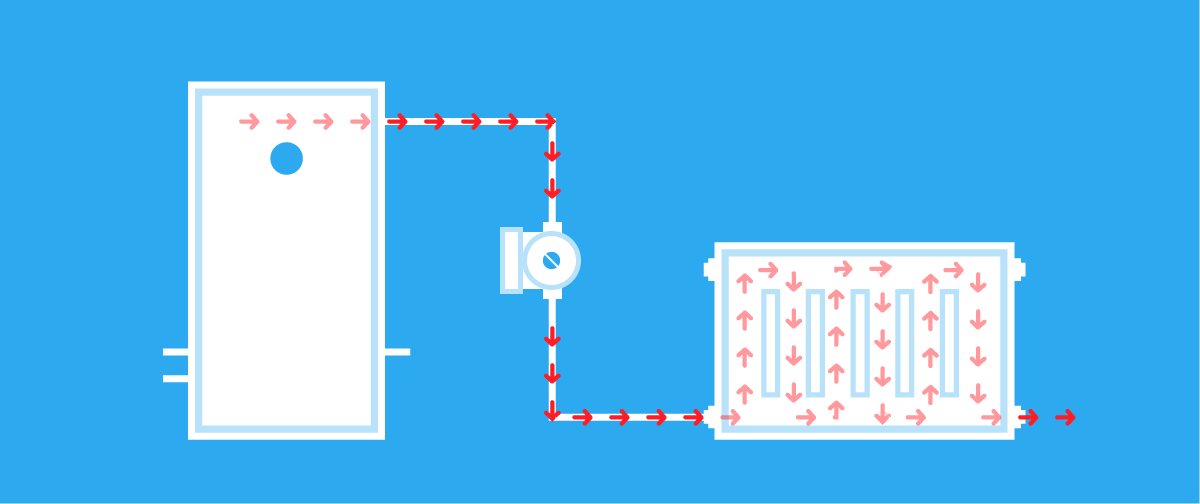 To get all of the radiators around your home to warm up when you turn the heating on, your central heating system requires a pump to circulate the water.
They're an essential part of any central heating system so it's important that you install the right model. Our guide will take you through how central heating pumps work, the potential costs and finding the cause of common faults they might run into.
---
---
What is a central heating pump?
A central heating system is there to circulate hot water around your home when you turn the heating on, this process is made possible by a central heating pump.
This rather small component is able to efficiently circulate hot water around to the radiators and back to the boiler before it cools down.
Where is the Central Heating Pump?
More often than not, the central heating pump will be pretty close to the boiler. If not, you'll probably find it in the airing cupboard or under the stairs.
Get speed settings right
All central heating systems are different, from the number of radiators in the home to the size of those radiators. This means that there isn't one size of pump to suit every home; instead, many central heating pumps come with speed settings that can be adjusted to suit your home.
A central heating pump running too fast can cause your electricity bills to soar, while a setting that's too slow can mean that your radiators won't heat up as they should. The installer will be able to set the central heating pump to the correct speed when they fit it into your system.
| To Fast | To Slow |
| --- | --- |
| Wasting electricity | Radiators won't heat up properly |
| More noise | Boiler can overheat |
| Wears out sooner | Water return temperature too low |
When looking for a new central heating pump, you'll find that the various models available offer different speed settings: single speed, multiple-fixed speed, variable speed and combination.
Single Speed
Central heating pumps with a single speed are extremely rare nowadays but are best suited to smaller homes with up to 10 radiators.
Multiple Speed
Pumps with more than a single speed will often have 3 speed settings, meaning that the speed can be adjusted.
Variable Speed
A few models will be automatically adjusting the speed setting as the heating is in operation. If the radiators around your home have thermostatic radiator valves (TRVs), then you shouldn't install a variable speed pump as it could lead to boiler damage.
Combination
Combination pumps give you the ability to choose between one of 3 fixed speeds or a variable setting.
How much do central heating pumps cost?
A high-quality central heating pump could set you back around £300 but typically, you'll be looking at anywhere between £80 to £200. You shouldn't just go for the cheapest one you find though as a little bit more investment will likely get you a pump that with a longer lifetime.
These potential costs don't include installation, which will vary depending on the installer carrying out the work. To find the best deal, you'll get the greatest chance by comparing quotes from several installers.
After completing one of our simple online forms, you'll be contacted by up to 3 trusted installers in your area who will all provide quotes. Once they have, you're go with the deal that's right for you.
---
---
Best central heating pumps
There are several central heating pump manufacturers, with Grundfos and DAB being among the most popular. In many cases Grundfos pumps are fitted to many new boilers as standard.
Start the search for a pump that's right for your central heating system using the table below.
| Central Heating Pump | Speed Setting | Weight | Temperature Range | Warranty | Potential Cost |
| --- | --- | --- | --- | --- | --- |
| Grundfos UPS2 15-50/60 | Multiple | 2.6kg | 2°C – 95°C | 5 years | £80 – £100 |
| DAB Evosta 40-70/130 | Variable | 2.4kg | 2°C – 95°C | 3 years | £60 – £150 |
| CPL CP50 | Variable | 2kg | -10°C – 95°C | 3 years | £60 – £70 |
| DAB Evotron 60/130 | Variable | 2.7kg | -10°C – 110°C | 2 years | £85 – £230 |
Common central heating pump problems
Over time, you might find that your central heating pump will run into a fault that needs to be resolved. We've listed some of the most common problems they experience below but if you find that your pump is playing up, we recommend contacting a professional engineer.
Leaking
A leaking boiler should be addressed as soon as possible because the water can end up causing damage, not only to the boiler, but furniture too. If the leak is coming from the pump then it could be the result of poor installation, the pump loosening or corrosion.
Radiators not heating up properly
If you're turning the heating on only to find that the radiators are only partially heating up then the speed settings on the pump might be too low. Normally, the pump will have a switch on top that can be easily adjusted from 1-3 (1 being the slowest, 3 being the highest) but before doing this, we highly recommend getting the advice of a professional engineer.
Loud noises
In the case that your central heating pump starts making unfamiliar noises then the likeliest cause is a buildup of air in the system. To remove the air, the pump needs bleeding, which can be done by simply unscrewing the bleed screw. It's a good idea to do this slowly though as water might escape.
Blockage
A build-up of dirt and grime that can happen over time will prevent water from passing through the pump towards the radiators and taps. The pump will require a hot flush that will clear the blockage and get the system going again.
To prevent this from happening, a magnetic filter can be installed which will attract any debris before it has chance to block the system.
Not pumping water
The most common reason that a pump will stop pumping water around the central heating system is due to a part getting stuck. This is a fault usually experienced by pumps that have been operating for a number of years and is a strong indication that it needs to be replaced.
How to fix a broken central heating pump
Finding that you central heating pump has broken isn't exactly ideal, especially during the cold winter months. To get it repaired, you should contact a qualified engineer who will be able to find the cause of the fault and get it resolved, leaving you with a nice warm home again.
---
---