How to Check Your Boiler Engineer is Gas Safe
The Gas Safe Register is the official list of businesses that are legally qualified to work with gas appliances such as boilers and cookers. Only people who are Gas Safe registered are allowed to install, remove, repair or service a gas appliance and not all engineers are able to carry out all types of work.
Here at Boiler Guide we take gas safety very seriously. Every 24 hours we automatically check the qualifications of every engineer on our network against the official Gas Safe Register. This means that you can rest assured any quotes you receive through Boiler Guide are from Gas Safe registered engineers with up to date qualifications and training.
However, it's also important that you carry out your own checks before they start work in your home.
---
---
How to check an engineer is Gas Safe registered
Gas Safe engineers are issued with a Gas Safe ID card every year which you should ask to see when they arrive. On the front of the card you should be able to see:
The engineer's photo
The start and expiry dates
The licence number
The security hologram
Confirmation that the engineer is from the business you employed.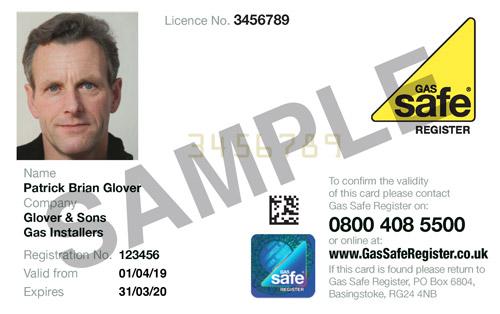 On the back of the card you can check that they are qualified to do the work you have hired them to do. This is also important as not all Gas Safe engineers are qualified to work with all types of gas appliance or to carry out all types of work, e.g. some may be qualified to service your boiler but not to install it.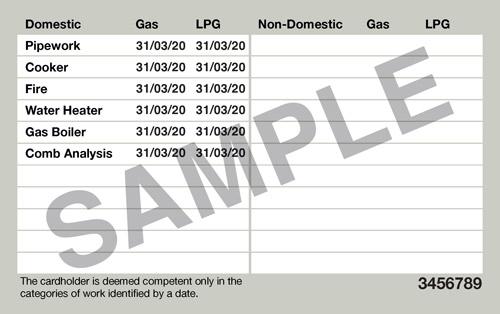 In addition to checking the person at your door matches the photo on the card, you should also look for the unique 7-digit licence number. By entering this licence number on the Gas Safe Register website you can check that they are currently qualified to work with gas appliances.
Click here to visit the Gas Safe website for more information and/or to check the official Gas Safe Register. The engineer's ID number changes each year when they receive a new ID card.
Why is gas safety so important?
According to data from the Gas Safe Register, around 1 in 6 gas appliances in the UK is classified as unsafe. When gas appliances such as boilers, heaters and cookers are poorly installed or maintained or are broken, the consequences can be lethal.
These appliances can cause fires, explosions and carbon monoxide leaks. Carbon monoxide (CO) is a colourless, odourless and tasteless gas. It is produced when gas appliances do not burn fuel correctly and breathing it in can lead to permanent brain damage or even death.
Early symptoms of CO poisoning are very much like the flu, e.g. headaches, dizziness, nausea and vomiting, confusion, tiredness, pain in the stomach and/or difficulty breathing. If you suspect that you or someone is experiencing symptoms of CO poisoning, evacuate the property and call 999.
It's strongly recommended that you install a carbon monoxide detector which will alert you when there is a leak. To prevent your gas appliances from becoming dangerous it's important to have your gas appliances serviced once every 12 months by a Gas Safe registered engineer. If your boiler hasn't been serviced in the last 12 months, get a free gas boiler service quote from a Gas Safe registered engineer in your local area using Boiler Guide.
How to keep your home Gas Safe
In addition to installing a carbon monoxide detector and organising an annual service for all your gas appliances with a Gas Safe registered engineer, you should be aware of potential signs of an unsafe appliance.
You can smell gas
If you can smell the distinctive rotten egg smell of gas, turn off the gas supply, open windows and doors, evacuate the property and call the Gas Emergency Service on 0800 111 999. DO NOT turn switches on or off, create sparks, naked flames, smoke cigarettes or use a mobile phone as this could cause an explosion.
Yellow or orange flame
A gas flame should be burning blue, not yellow or orange. If it is not blue the appliance could be producing carbon monoxide.
Black stains around or on the boiler
Black stains could also indicate a gas leak. Damaged, rusty, discoloured or corroded gas pipework should also be inspected by a Gas Safe engineer as soon as possible.
---
---