Combi Boiler Installation: What to Expect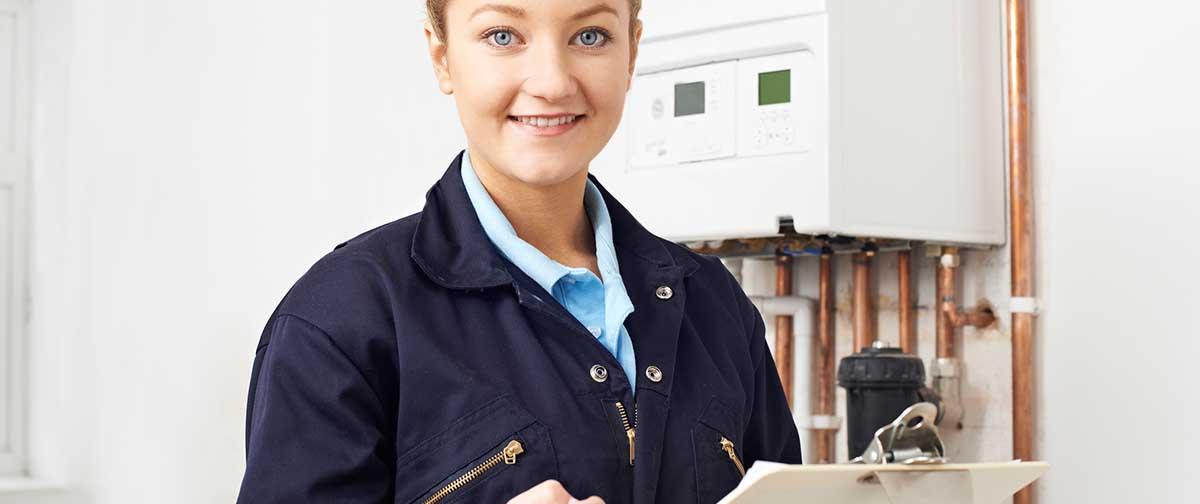 Combi boilers are hugely popular across the UK.
They don't take up much space and there's no need for any additional tanks or cylinders. This can mean that combi boiler installation can be finished in 1-2 days.
So, if you're looking for a new combi boiler, here's everything you need to know.
How combi boiler installation works
Before the installation
Start out by comparing quotes from at least three different engineers.
A quote involves a Gas Safe registered engineer will visit your home to take a look at the work involved. They'll work out what size boiler you need, whether pipework needs replacing and, give you a complete quote. By arranging for more than one engineer to give you a quote, you'll have a better chance of finding the most competitive price.
It's then up to you to choose the best quote and organise a day for the installation to take place.
Installation day
When they arrive, the engineer will cover up the carpets and surfaces where they will be working. So they don't damage or dirty any of your belongings.
The first day should involve a powerflush. This will clear out any debris (rust, limescale and sludge) from the heating system. Once cleared, the hot water will be able to flow round your radiators without getting blocked – making them far more efficient. This in itself can take a whole day.
There's a chance that a like-for-like combi replacement could be done in a day. But it would be a long day. Most boiler replacements will take at least a couple of days. While the longest jobs (moving a boiler or a full central heating system replacement) can take four days or more.
Once the boiler's been fitted
After the installation of your new boiler, the engineer will show you how to use the controls and answer any questions.
They will also fill out the Bechmark Checklist found at the back of the boiler manual. The installer will also register the installation with the manufacturer to start the warranty. You'll also get a Building Regulations Certificate through the post. Make sure you hold onto all of this information.
Costs to install a combi boiler
Combi boiler prices range from as little as £500 up to £3,000 depending on the brand, output and fuel type (oil boilers tend to be more expensive than gas boilers). The tables below give some averages for combi boiler costs for some of the leading brands (without installation).
Gas combi boiler prices
| Manufacturer | Average price (without installation) |
| --- | --- |
| Glow-worm | £500 – £1,600 |
| Ideal | £650 – £1,250 |
| Baxi | £600 – £1,300 |
| Worcester Bosch | £700 – £2,400 |
| Vaillant | £800 – £1,700 |
---
---
Oil combi boiler prices
| Manufacturer | Average price (without installation) |
| --- | --- |
| Firebird | £1,300 – £4,000 |
| Grant | £1,900 – £3,200 |
| Worcester Bosch | £1,800 – £2,500 |
These prices are for the supply of the combi boiler only. To get the boiler installed you'll need to pay a Gas Safe registered engineer (or OFTEC registered engineer in the case of oil boilers) for their labour.
Combi boiler installation costs include the labour, any additional parts or pipework needed and VAT. When you replace a boiler it's common practice for the engineer to carry out a powerflush on your heating system. Many heating companies will include this service as standard within their quote but sometimes there may be an extra charge for this.
Other work that could add to the cost of a combi boiler installation include moving a boiler to a new location, replacing or relocating a gas pipe, adding a condensate pipe, removing expansion tanks and/or hot water cylinders and any structural changes to the home such as bricking up an old flue hole.
Here are some average industry costs for some scenarios to consider:
| Type of installation | Average cost | Time |
| --- | --- | --- |
| Combi to combi (same location) | £1,000 – £2,000 | 1-2 days |
| Combi to combi (different location) | £2,200 – £2,800 | 2 days |
| System to combi | £2,200 – £2,700 | 2-3 days |
| Conventional to combi | £2,500 – £3,000 | 2.5 days |
| New central heating system with combi | £3,000 – £5,500 | 4+ days |
Replacing a combi with a combi
The cheapest option is to replace an existing combi boiler with a new combi boiler in the same location as it requires very few changes. The job can be done in a day but at a push. The best heating engineers will spend the first day flushing out the heating system – known as a powerflush. This will clear out any rust, debris and limescale from the pipes and allow the heating to run more efficiently. shouldn't take any more than 1 day and costs between £1,000 – £2,000 on average.
However, if you'd like to move your combi boiler to a new location the cost is likely to rise to £2,200 – £2,800 and could take around 1.5 days.
Replacing a system boiler with a combi
Changing from a system boiler to a combi boiler is more costly than a straightforward combi swap as you'll need to get rid of the hot water cylinder. A combi boiler produces hot water on demand and so doesn't need to store water. This could cost on average £2,200 – £2,700 and take around 2 days to complete.
Changing from a regular boiler to a combi
If you're switching from a Conventional or Regular boiler to a combi it will be more costly again as it requires the removal of a feed and expansion tank in the attic as well as a hot water storage cylinder. The combi boiler gets its water supply directly from the mains and so more pipework will be required. This job could cost between £2,500 – £3,000 and will take around 2.5 days.
Installing a new central heating system
The costliest option is (unsurprisingly) installing a completely new central heating system from scratch. This could cost between £3,000 – £5,500 depending on the size of your home and the complexity of the installation. The job could take anywhere between 4+ days to complete.
When to get a new combi
If you're without heating and hot water then your reasons for getting new boiler quotes are quite straightforward! However, you shouldn't wait for your boiler to breakdown to have it replaced. There are many signs that you need a new boiler:
Your boiler is over 8 years old
A good quality boiler should last between 10-15 year. So if your boiler is getting close to this age then now might be a good time to get quotes for a replacement. Replacing it before it packs in will save you a nasty surprise.  At the very least, you'll know what kind of costs you're looking at when the time comes.
Your boiler needs repairing more and more
Boilers can become more unreliable as they age. Calling out an engineer time and time again to repair it will see the costs soon add up. While the upfront cost of a new boiler can be daunting, you may well save more in the long run by avoiding ongoing repairs. In addition, you may find that, while your boiler hasn't died completely, the cost to get it running again could be close to a brand new boiler.
Your heating bills are high
Modern condensing boilers are more efficient than non-condensing boilers. Which can save you a significant amount of money on your heating bills. Depending on the boiler you're replacing, and the size of your home, you could see annual savings of as much as £580* with a new boiler.
You might be selling your home in the future
According to recent research adding a new energy efficient boiler to your home could increase its value by as much £8,000**. Knowing they're buying a home with a new heating system is a real selling point for potential buyers.
Find the right combi boiler
Combi boilers are the most commonly installed in the UK and there are plenty of models to choose from.
Your choice of manufacturer may come down to personal choice. For example, if you've always had the same brand and are happy with it. Or, you may want to ask a professional for their recommendation. Most people are also likely to be swayed by the price – which will vary from manufacturer to manufacturer.
Combi boilers come in a range of outputs (sizes) which are measured in kilowatts (kW). The right size boiler for your home will depend on the number of radiators and bathrooms. The bigger your home, the more powerful the boiler will need to be.
If you have more than one bathroom a combi boiler may struggle to meet demand. This is because it heats water on demand and sends it straight to the tap when you need it. If hot water is needed from two taps at the same time then the pressure will drop.
This table gives you an idea of the kind of boiler outputs usually recommended by type and size of home:
| Type of House | Bedrooms | Bathrooms | Radiators | Boiler size |
| --- | --- | --- | --- | --- |
| Small terrace, flat or bungalow | 1-2 | 1 | Up to 10 | 24-27kW |
| Medium terrace, bungalow or semi-detached house | 3-4 | 1-2 | Up to 15 | 28-34kW |
| Large semi-detached or detached house | 4+ | 2+ | Up to 20 | 35-42kW |
So you know: It's important to hire a professional to be sure you're getting the right size boiler, as every home (and family) is unique.
Find a local combi installer
A gas boiler installation has to be carried out by a Gas Safe registered engineer to ensure it meets building and safety regulations. If you need an oil boiler installation, you should find an OFTEC registered engineer.
Gas Safe registered engineers
Only engineers listed on the Gas Safe register are legally allowed to work with gas appliances. You can check if an engineer is on the Gas Safe register on the Gas Safe website and should always ask to see an engineer's Gas Safe ID before they begin work in your home. The ID will not only confirm that they are competent but also which types of appliances they are able to work on.
You should never attempt to install a boiler yourself. This is not only dangerous but will also put your home at risk. Plus, even if you did get the boiler installed, it will still need to be checked and signed off by a professional – and most Gas Safe engineers will not sign off work they haven't done themselves. In addition, a boiler that hasn't been fitted by a Gas Safe engineer will no longer be covered by the manufacturer's warranty.
Manufacturer accredited installers
Many manufacturers have their own installer accreditation schemes. If an engineer is affiliated with a particular manufacturer in this way, choosing them to install your boiler means you may be entitled to a longer warranty.
Get the best combi boiler installation quotes
Comparing quotes from multiple engineers is the best great way to keep costs down and ensure you're getting top advice. You can get free quotes from up to three engineers in your area using Boiler Guide. Once you've got your quotes, compare them and be confident that you've found the right person for the job.
Reference
*Energy Saving Trust, Heating Your Home: Boilers (2022)
Based on replacing an old gas boiler with a condensing A-rated boiler with thermostatic radiator valves, programmer and room thermostat in a detached home. Figures are based on fuel prices as of April 2022.
**According to research by GoCompare: https://www.boilerguide.co.uk/articles/adds-value-house