Combi Boiler Installation: What to Expect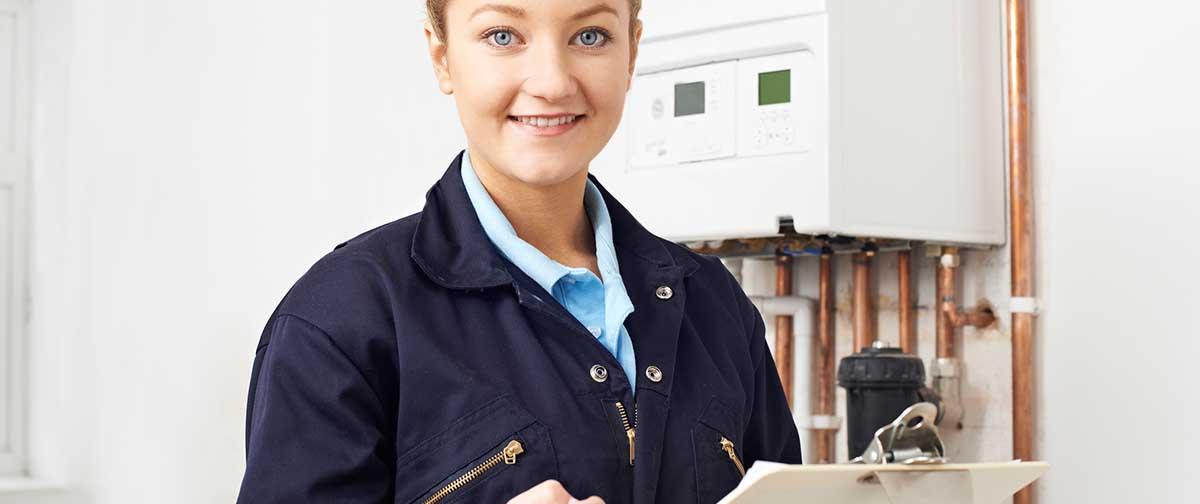 Combi boilers are the most commonly installed type of boiler in the UK because of their compact size and convenience both in terms of producing hot water on demand and their simple installation. If you're looking for a new Combi boiler, here's everything you need to know about Combi boiler installation.
---
---
What Happens During a Combi Boiler Installation?
Before the Installation

It's a very good idea to get quotes from at least 3 different engineers are prices can vary considerably. Each Gas Safe engineer will visit your home to assess what kind of size of Combi boiler is best for your home based on the number of bedrooms, bathrooms and the size of your family. They will also need to see what pipework or additional work will be needed to be able to give you a price quote for the job. This visit also gives them the opportunity to see what tools and equipment they'll need for the job so they can turn up with everything they need.

It's then up to you to choose the best quote and organise a day for the installation to take place.

Installation Day

The engineer will cover up the carpets and surfaces where they will be working so they don't damage or dirty any of your belongings. It's best practice for engineers to carry out a powerflush to clear the heating system of rust and debris before connecting the new boiler.

The engineer may finished within a single day if it's a simple Combi boiler swap but if you are changing boiler type or relocating your boiler it may take a little longer. Once the boiler is installed the engineer will take you through the controls and answer any questions you may have. For example, you may want them to run through basic maintenance like adjusting the pressure gauge.

Signing Off & Registering Warranty

You'll be given a Building Regulations Certificate; Gas Safe registered engineers are required by law to notify the local authority when they've installed a gas appliance. Often the engineer will also be responsible for registering your boiler with the manufacturer so you get your warranty, but it's always worth checking if this is the case.

Combi Boiler Installation Prices & Costs

Combi boiler prices range from as little as £500 up to £3,000 depending on the brand, output and fuel type (oil boilers tend to be more expensive than gas boilers). The tables below give some averages for Combi boiler costs for some of the leading brands (supply only).

Gas Combi Boiler Prices

| Boiler Manufacturer | Average Price Excluding Installation |
| --- | --- |
| Glow-worm | £500 – £1,600 |
| Ideal | £650 – £1,250 |
| Baxi | £600 – £1,300 |
| Worcester Bosch | £700 – £2,400 |
| Vaillant | £800 – £1,700 |

Oil Combi Boiler Prices

| Boiler Manufacturer | Average Price Excluding Installation |
| --- | --- |
| Firebird | £1,300 – £4,000 |
| Grant | £1,900 – £3,200 |
| Worcester Bosch | £1,800 – £2,500 |

These prices are for the supply of the Combi boiler only; to get the boiler installed you'll need to pay a Gas Safe registered engineer (or OFTEC registered engineer in the case of oil boilers) for their labour.

Combi boiler installation costs include the labour, any additional parts or pipework needed and VAT. When you replace a boiler it's common practice for the engineer to carry out a power flush on your heating system which clears rust, sludge and any other debris from the system so the new boiler isn't contaminated. Many heating companies will include this service as standard within their quote but sometimes there may be an extra charge for this.

Other work that could add to the cost of a Combi boiler installation include moving a boiler to a new location, replacing or relocating a gas pipe, adding a condensate pipe, removing expansion tanks and / or hot water cylinders and any structural changes to the home such as bricking up an old flue hole.

Here are some average industry costs for some scenarios to consider:

| Type of Installation | Average Cost | Approximate Time to Complete |
| --- | --- | --- |
| Combi to Combi (same location) | £1,000 – £2,000 | 1 day |
| Combi to Combi (different location) | £2,200 – £2,800 | 1.5 days |
| System to Combi | £2,200 – £2,700 | 2 days |
| Conventional to Combi | £2,500 – £3,000 | 2.5 days |
| New Central Heating System with Combi | £3,000 – £5,500 | 2 – 4 days |

Replacing a Combi Boiler with a Combi Boiler

The cheapest option is to replace an existing Combi boiler with a new Combi boiler in the same location as it requires very few changes. The job shouldn't take any more than 1 day and costs between £1,000 – £2,000 on average.

However, if you'd like to move your Combi boiler to a new location the cost is likely to rise to £2,200 – £2,800 and could take around 1.5 days.

Replacing a System Boiler with a Combi Boiler

Changing from a System boiler to a Combi boiler is more costly than a straightforward Combi swap as you'll need to get rid of the hot water cylinder. A Combi boiler produces hot water on demand and so doesn't need to store water. This could cost on average £2,200 – £2,700 and take around 2 days to complete.

Changing from Conventional Boiler to Combi Boiler

If you're switching from a Conventional or Regular boiler to a Combi it will be more costly again as it requires the removal of a feed and expansion tank in the attic as well as a hot water storage cylinder. The Combi boiler gets its water supply directly from the mains and so more pipework will be required. This job could cost between £2,500 – £3,000 and will take around 2.5 days.

Installing a New Central Heating System with a Combi Boiler

The costliest option is (unsurprisingly) installing a completely new central heating system from scratch. This could cost between £3,000 – £5,500 depending on the size of your home and the complexity of the installation. The job could take anywhere between 2 – 4 days to complete.

---

---

Benefits of a New Combi Boiler Installation

If you're boiler has broken down completely and you're without hot water then your reasons for getting new boiler quotes are quite straightforward! However, there are some scenarios in which it may be beneficial to get a Combi boiler installed, even if your current boiler is still working.

Your boiler is over 12 years old

A good quality boiler should last between 12-15 years so if your boiler is approaching this age now might be a good time to get some quotes for a replacement. Replacing it before it packs up completely will save you a nasty surprise and at the very least you'll know what kind of costs you're looking at when the time comes.

Your boiler needs repairing more and more

As boilers age they can become unreliable and will need more and more repairs and the costs can quickly add up. While the upfront cost of a new boiler can be daunting you may well save more in the long run by avoiding ongoing repairs. In addition, you may find that although your boiler is repairable (i.e. hasn't died completely) the cost to get it running again is comparable to a brand new boiler.

Your heating bills are high

Modern condensing boilers are more energy efficient than ever before which can save you a significant amount of money on your heating bills. Depending on the efficiency of the boiler you're replacing and the size of your home you could see annual savings of as much as £305* by switching to a new boiler.

You might be selling your home in the future

According to recent research adding a new energy efficient boiler to your home could increase its value by as much £6,000; the idea that they're buying a reliable and efficient heating system that will last for several years to come is a real selling point for prospective buyers.

Finding the Right Combi Boiler

Combi boilers are the most commonly installed in the UK and there are plenty of manufacturers to choose from. Your choice of manufacturer may come down to personal choice, for example if you've always had the same brand and are happy with it, or you may want to ask a professional for the recommendation. Most people are also likely to be swayed by the price which will will vary from manufacturer to manufacturer.

Combi boilers come in a range of sizes or outputs which are measured in kilowatts (kW). The right size for your home will depend how many bedrooms and bathrooms you have as the bigger your home the more powerful to boiler will need to be to deliver all the hot water needed. If you have more than one bathroom a Combi boiler may struggle to supply both with hot water at the same time as it takes a single supply of water directly from the mains; if it needs to supply two outlets at once it will have to split to flow of water which will weaken the pressure.

This table gives you an idea of the kind of boiler outputs usually recommended by type and size of home:

| Size / Type of House | Number of Bedrooms | Number of Bathrooms | Number of Radiators | Recommended Boiler Size |
| --- | --- | --- | --- | --- |
| Small terrace, flat or bungalow | 1-2 | 1 | Up to 10 | 24-27kW |
| Medium terrace, bungalow or semi-detached house | 3-4 | 1-2 | Up to 15 | 28-34kW |
| Large semi-detached or detached house* | 4+ | 2+ | Up to 20 | 35-42kW |

REMEMBER: It's important that your home and hot water demand is assessed by a professional to be sure you're getting the right size boiler as every home (and family) is unique.

Finding an Engineer for a Combi Boiler Installation

A gas boiler installation has to be carried out by a Gas Safe registered engineer to ensure it meets building and safety regulations. If you need an oil boiler installation, you should find an OFTEC registered engineer.

Gas Safe Registered Engineers

Only engineers listed on the Gas Safe register are legally allowed to work with gas appliances. You can check if an engineer is on the Gas Safe register on the Gas Safe website and should always ask to see an engineer's Gas Safe ID before they begin work in your home. The ID will not only confirm that they are competent but also which types of appliances they are able to work on.

IMPORTANT: Attempting to installing a gas boiler by yourself is very dangerous and even if you do manage to get it installed it will still need to be checked and signed off by a professional and most Gas Safe engineers will not sign off on work they've not carried out themselves. In addition, a boiler which is not fitted by a Gas Safe engineer is usually no longer covered by the manufacturer's warranty.

Manufacturer Accredited Installers

Many manufacturers have their own installer accreditation schemes. If an engineer is affiliated with a particular manufacturer in this way, choosing them to install your boiler means you may be entitled to significantly longer warranty.

Get the Best Combi Boiler Installation Quotes

Comparing quotes from multiple engineers is the best great way to keep costs down and ensure you're getting top advice. Send us an enquiry and we'll put you in touch with up to 3 Gas Safe installers in your area who will provide free, no-obligation quotes for a Combi boiler installation.

---

---

*According to estimated figures from the Energy Saving Trust based on installing a new A-rated condensing boiler with a programmer, room thermostat and thermostatic radiator controls (TRVs) in a detached, gas-heated home from a G rated older boiler with a programmer and room thermostat. Savings will vary depending on the size and thermal performance of your home. Figures are based on fuel prices as of April 2018.