Emergency Boiler Repairs & Fixed Cost Repairs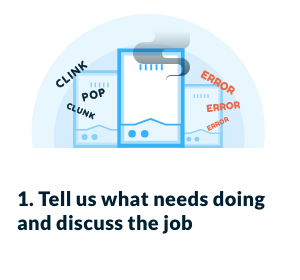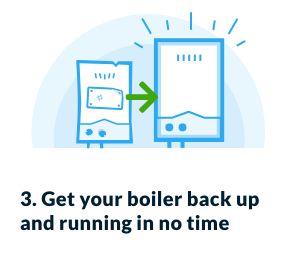 Arranging an emergency boiler repair is often the last thing you want on your plate. Then trying to find a heating engineer and facing a boiler repair bill only adds to the stress.
To help you get your home back to normal as soon as possible, we've outlined everything you need to know about emergency boiler repairs.
What counts as an emergency boiler repair?
You need an emergency boiler repair if you're experiencing either of the following:
No heating or hot water during the winter, especially if there are children in your home
Suspected gas leak (natural gas or carbon monoxide)
In the event that you need a boiler repair but it isn't an emergency, you can contact a heating engineer to carry out a one-off boiler repair.
You can hire an engineer to carry out a one off boiler repair as and when a fault occurs. In fact, many engineers offer an emergency call out service which could be available on a 24 hour basis.
The cost of this could be based on the time the engineer takes to repair your broken boiler. In this case an engineer will usually estimate the time that will be needed and the cost of the job, but this could increase if unexpected complications arise.
---
---
I can smell gas, what should I do?
Gas leaking into your property from your boiler is an emergency situation and should be treated as such.
If you can smell gas, evacuate your home and contact the Gas Safe emergency line on 0800 111 999.
In the event that you suspect a gas leak, whether natural gas or carbon monoxide, you should follow these steps:
Open all windows and doors
Do not press switches or light any flames
Evacuate the property
Call the Gas Safe emergency line on 0800 111 999
Natural gas and carbon monoxide are both colourless and odourless gases that can cause illness if undetected. A natural gas leak is easier to detect because a smell – resembling rotten eggs – is added to it. As well as physical symptoms, such as headaches and dizziness, natural gas is highly flammable and could lead to a fire or explosion if undetected.
Carbon monoxide is a colourless and odourless gas that, unlike natural gas, doesn't have a smell added to it. This is because, unlike natural gas which is delivered to your property by a supplier, carbon monoxide is produced within the boiler when the fuel doesn't burn to completion. For this reason, carbon monoxide is much more difficult to detect and a carbon monoxide alarm should be installed close to your boiler.
It's important to be able to recognise the symptoms of carbon monoxide poisoning:
Headache
Dizziness
Nausea
Breathlessness
Collapsing
Loss of consciousness
If anyone in your home is displaying symptoms of carbon monoxide poisoning then call 999.
Leading causes of a carbon monoxide leak include insufficient ventilation and poor maintenance. If the boiler isn't being ventilated well enough then it could be the case that chimneys, flues or vents are being obstructed.
The best way to avoid a gas leak from your boiler is to arrange an annual boiler service by a Gas Safe registered engineer. As well as helping to keep your boiler safe from gas leaks, an annual boiler service is also necessary to keep your warranty valid.
Who can carry out an emergency boiler repair?
Only a fully-qualified heating engineer should ever carry out an emergency boiler repair. This means that if you have a gas boiler you should hire a Gas Safe registered engineer. If you have an oil boiler then you'll need an OFTEC technician.
NEVER attempt to carry out an emergency boiler repair yourself. ALWAYS hire a Gas Safe registered engineer.
Don't let your need for an emergency boiler repair get in the way of ensuring that you're hiring a fully-qualified heating engineer. When hiring an engineer to repair your boiler, you should:
Check the company is listed on the Gas Safe register
Ask the engineer to present their Gas Safe ID before beginning any work
At Boiler Guide, we check that our network of heating engineers have valid Gas Safe certification on a daily basis. So when you use Boiler Guide, you can be confident that you'll be connected with a fully-qualified engineer.
Complete our simple online form today to get free quotes for an emergency boiler repair from up to 3 Gas Safe companies near you.
How soon could an engineer be here?
Emergency boiler repairs are exactly that, an emergency, so ideally, they would be fixed as quickly as possible. Typically, you're looking at around 24 hours to get your boiler back up and running but this will vary depending on the severity of the problem and the availability of your local heating engineers.
Emergency boiler repairs are often carried out within 24 hours but this will depend on the availability of the heating engineer.
A gas leak is one of the most dangerous of boiler problems and can prove fatal. If you suspect a gas or carbon monoxide leak, you should contact the Gas Safe emergency line on 0800 111 999.
How much will an emergency boiler repair cost?
Emergency boiler repair costs ultimately depends on the severity of the fault.
An emergency boiler repair could potentially cost anywhere from £100 to upwards of £500.
Your boiler is most likely to have stopped working due to a faulty part which may either need repairing or replacing depending on the severity. If a replacement part is needed then this is likely to add to the costs.
| Cause of the Emergency Boiler Repair | Potential Cost |
| --- | --- |
| Pump | £100 – £300 |
| Diverter valve | £150 – £350 |
| Fan | £100 – £200 |
| Flue | £150 |
| Heat exchanger | £300 – £500+ |
| Motorised valve | £300 |
| Printed circuit board (PCB) | £150 – £500+ |
Heating engineers will all have their own rates which makes it a good idea to compare quotes. Should the heating engineer come across more problems as they carry out the repair, this could add to the costs.
However, many engineers offer a fixed price boiler repair. This is also known as fixed fee boiler repair and means the price you're quoted won't change, even if the job takes longer than initially planned. Parts and labour should be included in this price so there are no surprises down the road.
My boiler is displaying an error code
Modern boilers have a digital display that shows an error code in the event of a fault. This error code helps to diagnose the issue and quickly get to the root cause of the problem.
All boiler manufacturers have their own set of boiler error codes. And to find out what the error code being displayed on your boiler means either take a look through the boiler manual.
While you can find out what the boiler error code means, it doesn't mean you should attempt to repair it. The vast majority of boiler repairs must be carried out by a Gas Safe registered engineer. Not hiring a fully-qualified heating engineer could lead to a complete boiler break down or an unsafe appliance.
What are the most common boiler repairs?
A boiler could stop working for any number of reasons. And the problem you're experiencing could help to point you towards the fault. Below you can find some of the most common boiler repairs based on the issue.
No heating or hot water
A boiler's job is to heat your home and provide hot water so if you aren't getting either, it can be considered an emergency. A number of issues can prevent your boiler from doing its job, including:
Airlocks (air trapped in the system that blocks hot water from circulating)
Broken diaphragm (combi boilers send hot water to either the central heating or domestic hot water outlets and this is made possible by the diaphragm. When broken, the combi boiler will fail to deliver hot water one way or the other)
Motorised valve failure (control the level of hot water in the system and when broken the boiler will fail to start)
Low boiler pressure (boiler pressure relates to the strength of the water flowing through the boiler and if it drops too low the boiler will fail to work)
Thermostat problems (a thermostat can be used to control the heating so if it's failing then the heating system won't know when to fire into action)
If there is a fault with any of these parts then it's highly likely that they'll need to be replaced.
Dripping and leaking
Leaking could be due to a broken seal or pressure valve, corrosion of the pipes or even incorrect installation. Even the slightest of drips from the heating system shouldn't be ignored as it will only get worse. If you've spotted a leak coming from any part of your heating system, turn off the water supply and contact a Gas Safe registered engineer.
Boiler keeps switching off
If your boiler keeps switching off then there is a very good chance there is an issue with the water pressure. A sudden drop in pressure is a strong indication of a broken component such as a closed valve or pump.
Should your boiler fail to run during a period of freezing weather then the condensate pipe may have frozen. A condensate pipe leads waste water – produced as the boiler heats your home – away from the boiler and out of your home down a drain. During the winter months, external condensate pipes can be prone to freezing, causing a blockage that prevents the boiler from working.
Thawing out a frozen condensate pipe is one of the few boiler repairs that you can tackle yourself. Simply pour warm, never boiling, water over the frozen area of the pipe. Find out more in How to Thaw a Frozen Condensate Pipe.
Get free quotes from up to 3 local heating engineers for the most common boiler repairs with Boiler Guide.
Should I have boiler insurance?
Many heating installers offer an ongoing boiler repair contract in addition to a one off boiler repair service. This is like insurance for your boiler and, as long as you pay a monthly fee, an engineer will come out to repair your boiler or heating system with no extra charges.
Boiler insurance can give peace of mind that should you need emergency boiler repair, you won't be faced with a large bill out of the blue.
These contracts are often arranged via monthly payments which vary in line with how much is included in your cover. For example, some will only cover your boiler while others also include the controls, radiators, drains and plumbing. They may also include annual servicing of your boiler or even protect you against accidental damage. Insuring your boiler is likely to cost between £10 and £25 monthly with more expensive policies likely to cover more.
Before looking into a boiler insurance contract it's worth checking if boiler repairs are covered by your home insurance policy. And if it isn't included, you may be able to add it for a small amount. When looking to include boiler repair as part of your home insurance, always remember to check the small print.
Get quotes for emergency boiler repairs
An emergency boiler repair is never a welcome problem and could leave you facing an unexpected bill. Finding a way to keep the costs down will be a priority for many and that's where we can help.
Our network of heating engineers spans the UK and by completing our simple online form you can get free quotes from up to 3 engineers local to you. Comparing multiple quotes gives you the greatest opportunity of getting the most competitive price for an emergency boiler repair.
---
---