Is Your Family Gas Safe?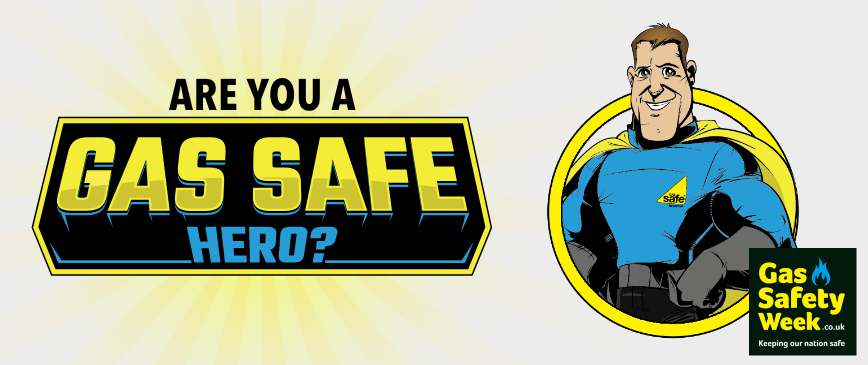 Boiler Guide are proud to support Gas Safety Awareness Week 2018.
This year's Gas Safety Week is running from 17th – 23rd September and is organised by the Gas Safe Register to raise awareness of gas safety in the UK. The Gas Safe Register is the official list of gas engineers who are legally permitted to work with gas.
To show Boiler Guide's support for Gas Safety Week, and particularly their Family Matters focus, we've created an easy to read guide for children so they can learn all about the importance of gas safety in the home.
Our 'Are You a Gas Safe Hero?' gas safety guide for children is completely free to download and includes all the important things they need to know about gas safety (plus a word search for fun!).
Why is Gas Safety Important?
If gas appliances are poorly fitted and / or not regularly serviced it can lead to gas leaks, fires and explosions which can have devastating consequences.
Another potential danger of faulty gas appliances is carbon monoxide poisoning. Carbon monoxide is a colourless, tasteless and odourless gas which can lead to serious ill health and even death. Each year thousands of people are diagnosed with carbon monoxide poisoning. You can find out more about the symptoms and dangers of carbon monoxide poisoning in our article Carbon Monoxide Poisoning: 10 Things You Need to Know.
Fires, explosions and carbon monoxide leaks are very real dangers, but all can be prevented if we take gas safety seriously. The topic is even being discussed in parliament as MPs and the Gas Safe register work to find new ways to educate the public about the dangers and prevent incidents. For example, one suggestion is to make home insurance policies only available to homes with both a smoke alarm and a carbon monoxide detector fitted.
Gas Safety Checklist
Get your gas appliances serviced every year by a registered Gas Safe engineer. If you're a tenant you need to make sure your landlord organises this.
When an engineer comes to your home to carry out any work you should ask to see their Gas Safe ID. This will confirm that they are qualified to work with gas and what type of work they care allowed to carry out, e.g. domestic or commercial.
You can also check whether an engineer is Gas Safe registered or not by visiting GasSafeRegister.co.uk or calling 0800 408 5500.
Look out for signs that gas appliances aren't working properly, e.g. lazy orange / yellow flames rather than blue, black marks around the appliance, lots of condensation in the room or a pilot light that keeps going out.
Remember the symptoms of carbon monoxide poisoning: headaches, dizziness, breathlessness, nausea, collapse and loss of consciousness. Another telltale sign is if your symptoms get better or go away when you're not at home.
Install an audible carbon monoxide alarm which will sound when it detects carbon monoxide in your home.
If you haven't had a boiler service and gas safety check in the last 12 months, there's no time like the present to make sure your family is safe.
---
---
If you'd like more advice on gas safety you can visit GasSafeRegister.co.uk.