How to Hide a Boiler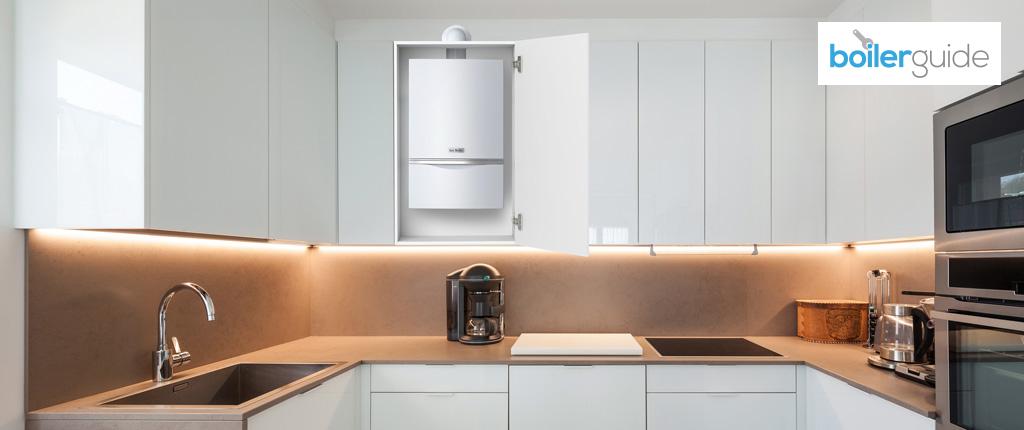 Hiding a boiler could increase the value of your home.
The good news is, there are many ways to hide a boiler: you could simply fit it into a kitchen cupboard, move it to a different room or let your creative juices flow (we'll give you some inspiration later in this article).
There are plenty of ideas out there but you can't get too carried away. After all, the boiler still needs to be accessible for heating engineers.
Let us take you through everything you need to know when hiding a boiler.
Why should I hide my boiler?
As essential as they are, boilers aren't always the most pleasant to look at.
Rather than having the boiler in plain view, many homeowners are now choosing to hide their boiler. And for good reason too.
It's estimated that choosing not to hide your boiler could knock around £5,000 off the value of your house. So it's well worth your time.
Source: nPower
You could add even more value to your property by replacing an old boiler before hiding it. A new boiler typically costs around £2,000 but could see your house's value shoot up by as much as £8,000.
All you need to know about boxing in a boiler
Fitting a boiler into a kitchen cupboard has proven to be the most popular way to hide a boiler.
Known as 'boxing in a boiler', putting a cupboard around the boiler keeps it hidden while also fitting in with the rest of the room. They can also be designed to give heating engineers the access they need for services and maintenance.
How to hide a boiler in a kitchen cupboard
One of the main concerns when hiding a boiler in a cupboard is ventilation. It's true that older boilers needed plenty of space as the air in the room kept them ventilated. However, boiler ventilation is nothing to worry about with modern condensing boilers. They get all the air they need through the flue pipe.
Still there are a number of boiler cupboard regulations to follow:
The cupboard door must open
A gap of at least 700mm between the front of the boiler and any obstructions, such as a wall
300mm gap between top of the cupboard and top of the boiler
100mm gap from the foot of the cupboard to the bottom of the boiler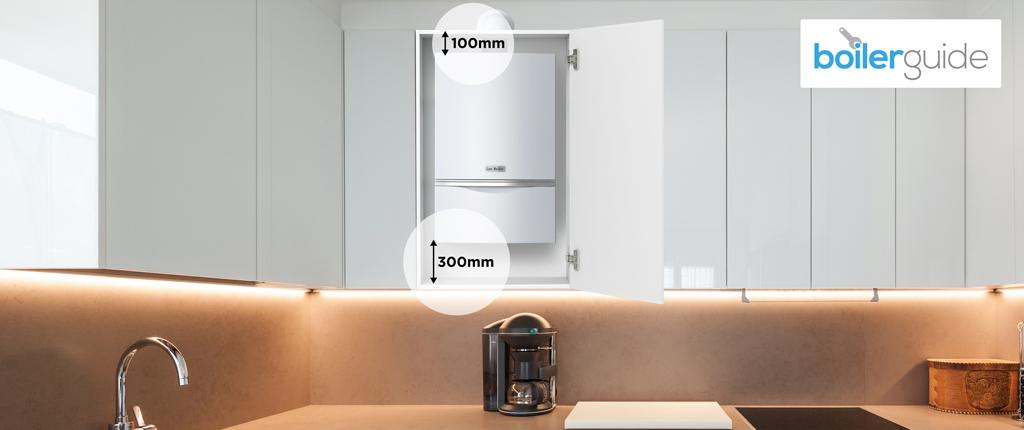 Creative ways to hide a boiler
Boiler cupboards are a great way to hide the boiler. But you can get a little more creative.
Chalkboard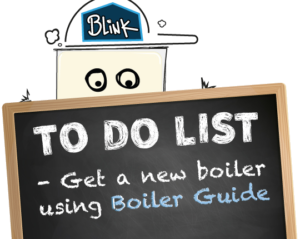 Rather than a standard cupboard, fit your boiler into a chalkboard cupboard. This will add a rustic feel to the room.
Plus, it can be pretty useful.
Storage cupboard
Most boiler cupboards do a perfect job of hiding the boiler but you could make better use of the space with a floor to ceiling storage unit. That way, you'll have a place to hide the hoover, broom and any other bits and pieces too.
Boiler curtain
If your boiler is in a corner then you could surround the boiler with a U or L-shaped curtain. This will cover the exposed front and side of the unit.
Alternatively, a smaller curtain right across the front of the boiler will keep it hidden if both sides are already blocked from sight.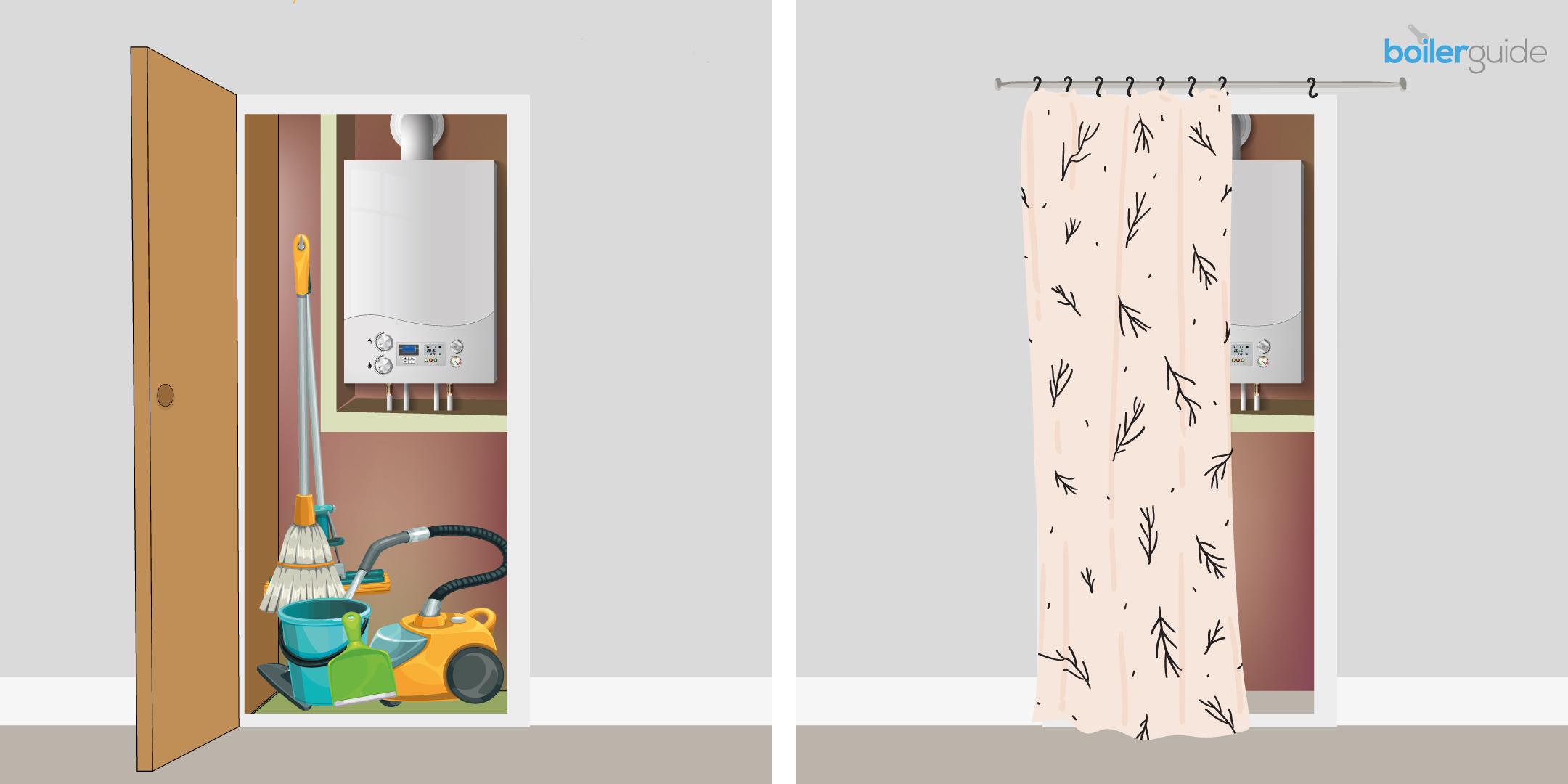 Paint the boiler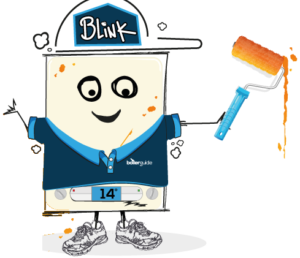 Some places suggest hiding a boiler by painting it. After all, most boilers are white, making them a great canvas.
This is perfectly possible as long as you have heat and moisture resistant paint. But just because it can be done doesn't mean it should be done.
You run the risk of paint ending up in the wrong places or covering important bits of information. Some boiler manufacturers might not look too keenly on painting a boiler either and your warranty could end early.
So talk to the manufacturer before painting your boiler.
How to hide an outdoor boiler
External oil boilers help to free up space in your home but aren't the nicest things to look at when you're out in the garden.
A popular way to hide a boiler in a garden is with some fencing. The fence can then be surrounded by plants and you'd never know a boiler is there.
Remember that heating engineers still need access to the boiler. So either keep one side free from fencing or fit a small gate.
How to hide boiler pipes
The best way to hide boiler pipes is by boxing them in with some pipework casing.
Most boiler pipe casing costs somewhere between £30 and £60. With prices going up based on the dimensions. If you need especially tall casing then the costs can increase to over £100.
Alternatively, if you're hiding the boiler behind a curtain then you could get one long enough to cover the pipes too.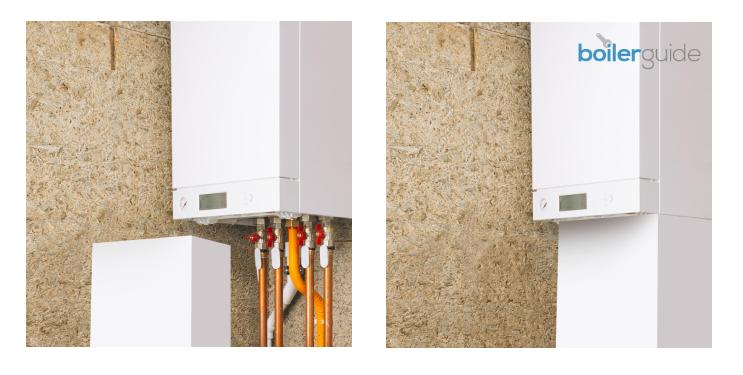 Why not move your boiler?
Modern condensing boilers can be fitted just about anywhere around the house. From the kitchen or utility room to an airing cupboard, bathroom or even a bedroom.
Moving your boiler to a different room can free up some space and make it easier to hide. Depending how far you plan to move the boiler, it can cost £300 to £2,800 and is best done when having a new boiler installed.
To get the best price for your new boiler installation, it's a good idea to compare quotes. And we're here to make getting quotes easy.
Simply head to our online form – which is right here – and you'll soon get quotes from heating engineers near you. You'll then be able to compare them and get your new boiler for the best possible price.
---
---