Honeywell Lyric Smart Thermostat: Pros, Cons and Costs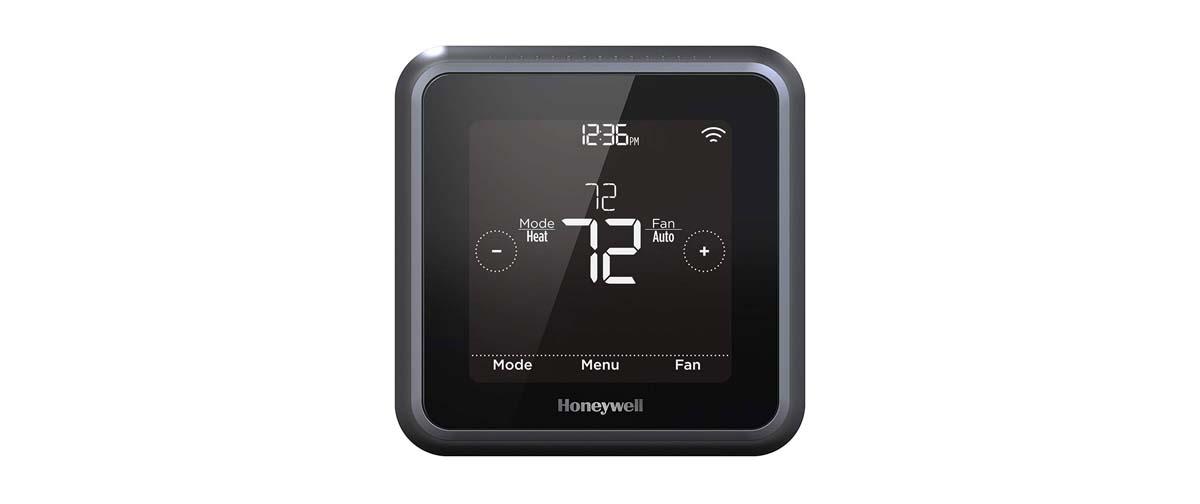 Reducing energy usage is key for many homeowners and smart thermostats like the Honeywell Lyric T6 give you more control while also adapting to your lifestyle.
The Honeywell Lyric T6 is an easy-to-use smart thermostat that allows you to take control of the central heating with your smartphone, tablet or voice controlled assistant.
---
---
Honeywell Lyric T6 Smart thermostat
The Honeywell Lyric T6 is a smart thermostat that's programmable, adjustable and adaptable to the heating routines of your home. There are 3 different models available:
Honeywell T6 Wired: the most traditional option, the Honeywell T6 is designed to go in the place of a traditional thermostat – being fixed to the wall in one location.
Honeywell T6R Wireless: communicates with the central heating system wirelessly, using a boiler control unit, which means that it doesn't have to be fixed to a wall.
Honeywell T6R-HW Wireless: works in the same way as the T6R but with the addition of hot water control.
Each model is compatible with combi, opentherm, and traditional boilers but don't support hot water storage.
Honeywell Lyric T6 specifications
The various Honeywell Lyric T6 models are all similar in their appearance, differing in the size, mounting and how they work.
Honeywell Lyric T6 Smart Thermostat Specifications
Weight
200g
Dimensions (HxWxD)
T6: 103 x 280 x 103mm
T6R: 103 x 108 x 68mm
Colour
Black
User interface
Touchscreen
Room temperature display range
0°C to 50°C
Number of zones
1
Compatible heating systems
Most wet heating systems including combi and system boilers
Mounting
T6: Wall-mounted
T6R: Freestanding
Smart home support
Apple HomeKit, Apple Watch, Amazon Echo, Google Home and IFTTT
How does the Honeywell Lyric T6 work?
The Honeywell Lyric smart thermostat is easy to set-up yourself, simply download the accompanying app and you'll be taken through the process. Once it's up and running, the Honeywell Lyric T6 boasts a number of smart features to make your home more comfortable while also helping to reduce your energy bills.
Location based temperature control (Geofencing)
The Honeywell Lyric T6 uses the location on your smartphone to know when you're not home so that it isn't heating an empty home – helping to save energy and keep your bills down. Plus, the Honeywell Smart thermostat will also know when you're on your way home and make sure the temperature is just right.
Programmable
Choose between 7-day scheduling or take control of your heating from anywhere with the Honeywell Home app.
Voice compatible
The Honeywell Lyric T6 is compatible with voice assistants such as the Apple HomeKit, Amazon Echo and Google Home, giving you the power to control the central heating with voice commands.
IFTTT
IFTTT (if this then that) functionality allows you to create scenarios to that your Honeywell T6 knows how to heat your home in certain situations.
---
---
Benefits of the Honeywell Lyric T6 Smart
Adding a smart thermostat to your home heating system will give you greater control as well as helping to lower energy bills. With the Honeywell Lyric T6 you'll be able to benefit from the following:
Adapts to your lifestyle to learn how to most efficiently heat your home
Reduce energy bills and increase home comfort
Install several T6 smart thermostats for control over the heating in various rooms
Take control of the domestic hot water too with the Honeywell Smart T6R-HW
Connect several smart devices to the thermostat
Choose between a wired and wireless model
Compatible with the Apple Watch
IFTTT functionality
Honeywell Home App
By downloading the Honeywell Home app, you can take control of the Honeywell Lyric T6 from wherever you are – available on Android and iOS. Once downloaded, you can use the app to set the temperatures for the next 7 days, adjust the current temperature and your Honeywell Lyric T6 will know when you're not in – turning the heating off and on at appropriate times to save energy and increase comfort.
Honeywell Lyric Smart costs
The price of a Honeywell Lyric T6 depends on the retailer as well as the model you have installed: wired, wireless or hot water control.
| Honeywell Lyric T6 Smart Model | Potential Cost |
| --- | --- |
| Wired T6 | £124 – £184 |
| Wireless T6R | £134 – £234 |
| Wireless T6R-HW | £166 – £242 |
All of these prices are based on only buying the smart thermostat and setting it up yourself. Depending on the retailer, you might also be given the option of installation too, which will add to the price.
---
---