How to Drain a Combi Boiler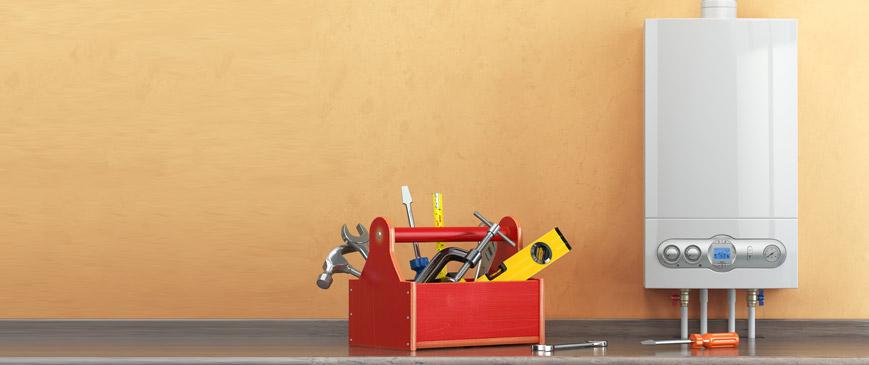 Draining a combi boiler is best left to a professional.
It's a hard task if you're not sure what you're doing and could end badly. So we recommend making life easier for yourself by hiring a professional.
But you can take on the challenge yourself if you have the know-how. And we'll take you through the safest way to drain a combi boiler.
We highly recommend leaving the job of draining a combi boiler to a professional heating engineer. Attempting it yourself could damage your heating system and see your boiler warranty end early.
---
Find a local heating engineer.
---
When should I drain my combi boiler?
There are a few occasions when you might want to drain your combi boiler:
You're going to be replacing the radiators or pipes
To clear any blockages from the heating system
To avoid coming home to frozen pipes if you're going away for a few days during the winter
How to drain a combi boiler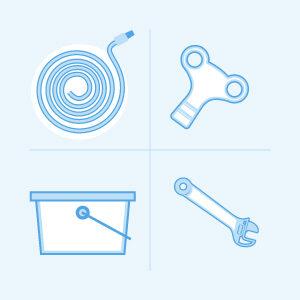 First things first. Switch off your combi boiler and disconnect it from the power supply. You'll want to wait until the water in the system has cooled right down before starting.
You'll need a few things to hand to drain a combi boiler:
Hose
Bucket
Spanner
Radiator valve key
1. Find the drainage valve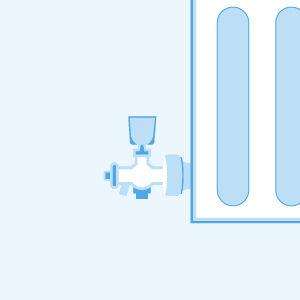 You'll find the drainage valve at the lowest point of your heating system. Normally to one side of a downstairs radiator. But it could be outside.
If it is outside then you won't have to worry so much about water spillages.
2. Attach a hose to the valve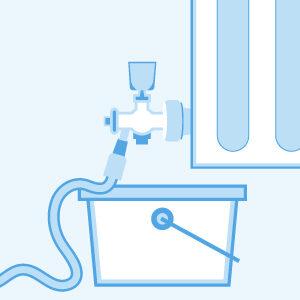 We need to lead the water that will drain from your heating system outside. To do this, fit a hose pipe to the valve, leaving the other end of the hose over a drain or somewhere you don't mind getting pretty wet.
Keep a close eye on the hose pipe as you drain the heating system as it can come off.
It's also a good idea to put a bucket underneath the valve to catch any little dribbles of water.
3. Open the valve

This is where things get serious. Using a spanner, turn the valve to open it. Water will now drain out of the heating system and through the hose pipe.
Wait a few minutes for the water to drain out of the system.
4. Open the bleed valves on the upstairs radiators

After giving the water a few minutes to drain from the heating system, it's time to turn your attention to the radiators upstairs.
Grab your valve key and turn the bleed valve on each radiator to open it up. You'll find the bleed valve at the top left or right of the radiator.
Turn the valve until you hear a sucking noise. This means the valve is open.
This allows water to make its way down to the lowest radiator and eventually out through the drainage valve.
You'll also want to drain the other downstairs radiators to get rid of any excess water.
Note: The heating system in some properties is split into two. This means you'll need to drain water from the heating system on both sides of the house.
It can be easy to get caught out by this. And that's one of the many reasons why you should hire a heating engineer.
5. Tighten up the valves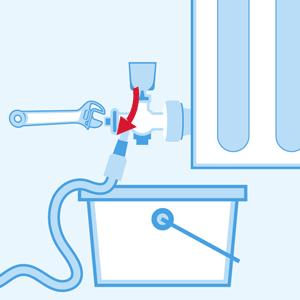 Once the water has stopped running out of the hose, your heating system has been drained.
Now you can tighten up the drainage valve and all the open bleed valves around your home.
How to refill a combi boiler
After draining a combi boiler, you'll need to refill the system with water.
To do this, you'll need to find the filling loop.
The filling loop connects the mains water pipe to the central heating pipe. It's normally underneath the boiler and looks like a flexible silver hose connecting two pipes.
You'll see a valve at each end. Turn them both to open them up and allow water to flow into the heating system.
When the valves are open, keep an eye on the boiler's pressure gauge. You want the pressure to sit somewhere between 1.5 and 2 on the pressure gauge but always check the manufacturer's instructions.
My boiler is leaking, what do I do?
Ending up with a leak is one of the reasons why a heating engineer is the best person to drain a combi boiler.
And a leak will only get worse.
At the earliest sign of a leak – no matter how small – you should turn the water off and contact a professional.
Give your heating engineer as much information as possible by finding the possible cause of a leaking boiler.
Flushing a combi boiler
Flushing a combi boiler is a cleanse for your boiler. Chemicals are flushed through the heating system to clear out any rust, limescale or debris – known as a powerflush.
Without a powerflush, sludge can form which is bad news for your heating system.
A build-up of sludge blocks hot water from getting around the radiators. So they won't be as hot as they could be. And that will mean your heating is on for longer and see you get a higher heating bill.
The alternative to a powerflush is a magnetic filter. Magnetic filters are recommended by heating engineers as they catch any rust, limescale and debris before it all has a chance to cause a blockage.
Get a heating engineer to drain your combi boiler
It's much easier to get free quotes from heating engineers near you than it is to drain a combi yourself.
To get your free quotes, simpley complete our online form. It should only take a moment. And before you know it, as many as three heating engineers will be in touch to quote on your job. Once you have your quotes, you'll be able to compare them and have confidence that you're getting the most competitive price. Simple.
---
Find a local heating engineer.
---