The Day I Had A Smart Meter Installed by Scottish Power (and what happened next)
The introduction of smart meters for your electricity and gas were announced way back in 2009. This revolutionary technology was supposed to be installed in every building with a meter by 2024 as detailed in the Conservative manifesto of 2015; that's 32 million properties at a cost of around £11 billion (and counting).
At the time of writing, around 12 million meters have been installed so far, so not quite the revolution the government had hoped for but not insignificant. It's well documented in the press that the roll out has had its issues. This has left many bill payers reluctant to have one installed.
Subsequently in 2017 the government (Conservative) changed its manifesto pledge of 2015 so that all customers will now be offered a Smart Meter by the end of 2024, but there's no obligation to have one fitted. Well almost.
While we the great British public maintain our freedom of choice, the energy companies aren't so lucky. The OFGEM issued license that gas and electricity companies need before they can service the market contain a standard condition. This condition obligates them to take all reasonable steps to ensure that a smart metering system is installed in each of the households and small non-domestic premises they supply, on or before 31 December 2024.
All reasonable steps isn't defined but it would suggest, given the huge amounts invested in the Smart Meter program to date, that you're going to have to say no a lot should you decline to join the smart energy revolution.
Not to be deterred by scare stories in the press or apparent backroom politics, when a member of the Boiler Guide team was offered a Smart meter by Scottish Power, of course they accepted. Any reluctance was put aside in the name of good consumer journalism.
---
---
Smart Meter Installation Day
Company installing the Smart Meter: Actavo (on behalf of Scottish Power)
Time required to install Gas and Electricity smart meters: 2 hours 30 minutes
Armed with a list of questions and camera (and a hope that on arrival we didn't scare the installer off), the smart revolution in an East Midlands house began at 12.30pm.
Gary (a former self employed heating engineer) was punctual, very efficient and happy to chat through the two and a half hours the installation took. We liked Gary; he even asked if it was ok to trample on the plants. He dutifully showed his ID on arrival; if your installer doesn't do this be sure to ask them for ID. The front of the card will confirm their registration and identity, the back of their ID will confirm their competence to work on gas.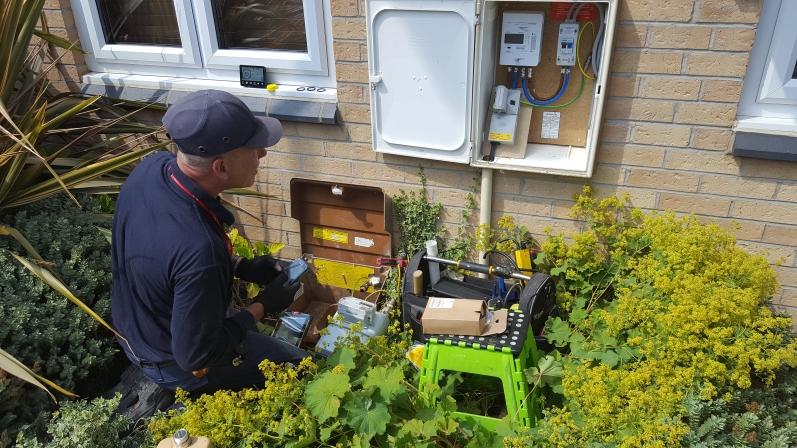 Pre-installation Advice:
Scottish Power provide a "How to prepare for your Smart Seter installation" video which basically tells you to clear any of your household items away from the meter so the engineer has easy access. Here's the pre-install checklist you'll be asked to do:
Ensure ALL electrical equipment is switched off and unplugged
Ensure ALL gas appliances are switched off
Ensure the central heating boiler timer and supply is switched to the off position
Keep fridges and freezer doors closed
Remember to reset any clocks or timers once the power has been restored.
What Type of Smart Meter Was Installed by Scottish Power?
The old electricity meter was replaced with an Elster AS300P which is the unit chosen by Scottish Power. You can download the technical specification of this meter here. E.on also use this Smart Seter.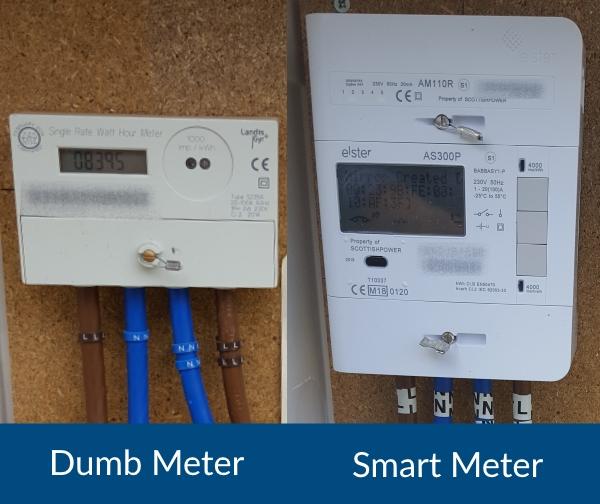 This meter communicates with the energy company via mobile sim card using the Global System for Mobile (GSM) so you need to be in an area with some mobile connectivity. Our installer checked the mobile signal prior to switching over. We presume if there was no mobile signal available the Smart Meter wouldn't have been installed. Should your Smart meter lose signal your data won't be lost; it will be stored and shared once the signal re-connects.
---
---
Can You Have a Smart Gas Meter?
Given that smart meters require electricity to work, and gas and electricity aren't such great bedfellows, we did enquire how the Smart Meter works with the gas. The simple answer is a battery.
How long will the battery last?
According to the manufacturer, Elster, the long life battery should last up to 20 years depending on use. However, your energy company will know if it runs out and will pop round to exchange the battery.
Basically the Smart Gas meter (an Elster Themis BK-G4 E) communicates with the electricity meter which in turn communicates with your energy supplier.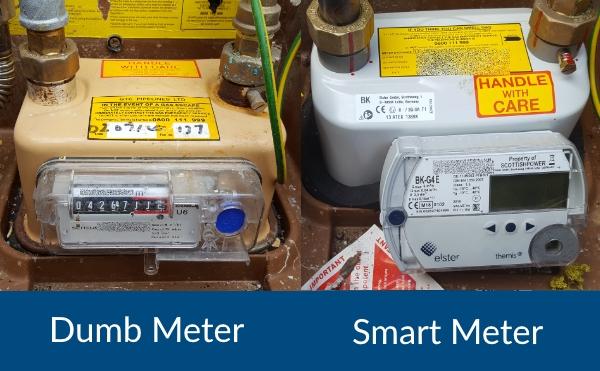 The meters fitted by Scottish Power are first generation smart meters called a SMETS1 meter. This is what the majority of homes will have installed should you choose to switch to a smart meter prior to October 5th 2018. After that date energy companies are supposed to install a 2nd generation meter called a SMETS2. However, roll out could be as late as January 2019.
Potential Problems with 1st Generation SMETS1 smart meters:
If you switch suppliers after installing your Smart Meter, the new supplier might not be able to operate your meter in smart mode, so you'll be back to meter reading.
If the meter that you have installed isn't compliant with the Data Communications Company (DCC) communications system you might need to have an upgrade installed. This will most likely only affect meters that were installed in the early stages of 2016.
The good news is that the SMETS2 meters should do away with the issues above and the more recent SMETS1 meters can be upgraded remotely so you shouldn't have to change meters.
The roll out of SMETS2 meters should also make switching suppliers quicker and add the flexibility to switch gas and electricity separately, though given the teething problems so far this may be some time away.
Smart Meter Installed – Now What?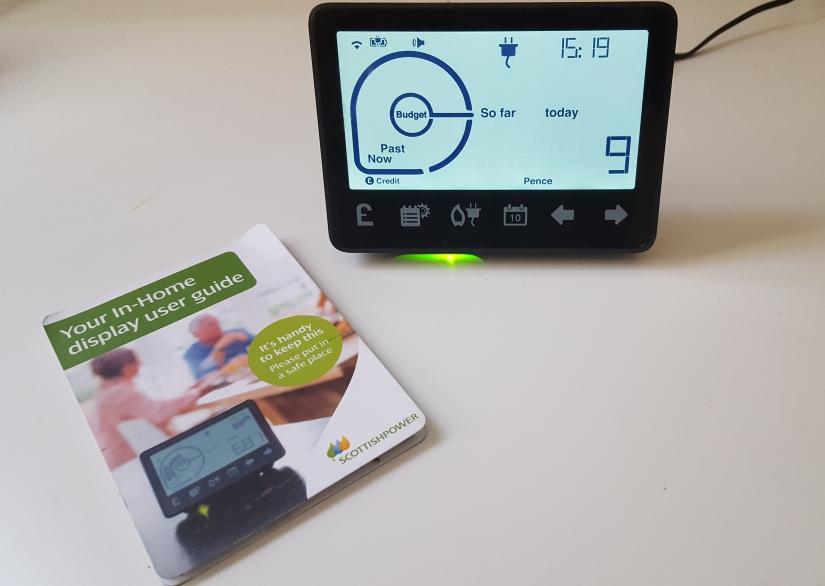 Once the meters have been swapped over, your installer (in our case Gary) will provide you with an In Home Display (IHD) unit; you should keep this in a visible place so you can see how much money you're literally burning through each hour, day or month. Hopefully it will encourage you to turn off a few lights and be less frivolous with energy when you realise that each time you re-boil your kettle it's costing you about 10p. Anyone a serial re-boiler for one cup of tea?
They provide a handy instruction pamphlet and video to talk you through how to use it. Ask your installer if you're unsure about anything.
It's worth noting that the display unit supplied by Scottish Power communicates with the Smart Meter via Wifi. The Wifi signal strength is quite poor and needs to be located as close as possible to your meter. In our case this was a side room which rarely gets used so the visual impact of what you're spending is kind of lost. It also costs 20p a year to keep plugged in.
Once you're familiar with the IHD unit then the installation process is done. Our installer did a final check of the boiler and gas hob to make sure they were working and we restored the power.
The entire install process was pretty painless and Gary was a credit to Scottish Power.
Will a Smart Meter Make a Difference?
We'll update this article periodically to see if having a Smart Meter has changed our habits or lowered the bills. We imagine the impact of seeing how much money you're spending on gas and electricity on a daily basis will probably wear off quite soon. That said there's no more taking readings in the rain or snow which is definitely a bonus.
Scottish Power do provide you with some information on what our various devices cost to run:
Tumble Dryer for 1 hour: £0.21p
Mobile phone: 12 hour charge: £0.01p
Washing Machine, one wash at 40 degrees: £0.10p
Laptop 2 hours use:£0.01p
Dishwasher, one load at 65 degrees: £0.18p
Games Console, 2 hours play: £0.04p
Although meter reading is a pain and not having to do it is a bonus, that's one of the minor reasons we're being offered smart meters. Being able to switch easily and quickly is another but the main reason is to try and lower our usage of fossil fuels. Switching things off and turning things down may not have a massive impact on your bills, but these small changes aggregated across all UK homes should reduce our negative impact on the planet.
---
---
Energy Saving Top Tips
Kitchen
Only boil what you need in the kettle
Wash dishes in a basin instead of under a running tap
Fully load your washing machine and wash at 30 degrees
Fully load your dishwasher and use the ECO setting
Lighting
Turn off lights when you don't need them
Replace halogen down lights with an LED alternative
Replace traditional light bulbs with energy saving bulbs
Garden
Dry your clothes on a washing line, especially in summer
Bathrooms
Try taking one minute off your shower & fit aerating shower heads and taps inserts
Appliances
Switch off appliances at the plug when not in use to avoid standby
Heating
Set your heating to only come on in rooms where you need it, by using your radiator controls
Only have the heating come on when you need it, by using your boiler programmer
Set your thermostat to between 18°C to 21°C, turning your heating down by just 1 degree can save between £85-£90 a year
Smart Meter FAQs
Is there a charge for having a Smart Meter?
There is no upfront charge for having a Smart Meter installed. Part of your bill contributes to the cost.
What are the side effects of smart meters?
Smart meters emit a radio frequency signal. A recent study by independent government advisor Public Health England (PHE) concluded that your exposure to radio waves by smart meters is likely to be much lower than that of everyday devices such as mobile phones and WiFi equipment and they do not pose a risk to health.
Is it compulsory to have a Smart Meter?
No. There is no obligation for you to have a Smart Meter. If you have one installed and no longer want it you can request it be decommissioned back to a dumb meter.
Do you need WiFi for a Smart Meter?
No, a Smart Meter communicates with your energy supplier using the mobile phone network. Your Smart Meter also uses a Home Area Network (HAN) to communicate with your in-home display.
Do smart meters work in flats?
In most cases yes. However, depending on how far away your flat is from your meter will depend on how well the in home display will work as they have a limited WiFi range. Your energy supplier will be able to advise on individual circumstances.
How long does it take to install a Smart Meter?
Installing both a smart gas and electricity meter will take between 2-3 hours. Less if you only have an electricity supply. You will be without power for around 1 hour.
How much does it cost to install a Smart Meter?
There is no additional cost to install a Smart Meter. The cost is absorbed into your bill and amounts to around £6 per year.
Which energy suppliers are installing smart meters?
The following energy companies are currently offering smart meters to their customers:
British Gas
SSE
E.ON
EDF Energy
Scottish Power
Npower
First Utility
OVO Energy
Can you get a Smart Meter for gas?
Yes, smart meters are available for gas. If you have mains gas you'll most likely have electricity so a Smart Meter can be fitted for both.
Can you change supplier if you have a Smart Meter?
Yes, having a Smart Meter doesn't keep you tied to the supplier who fitted it. You may lose the smart functionality by moving supplier in which case your meter will revert to a "dumb" meter. Check with your supplier before moving.
Can you get a Smart Meter if you have solar panels?
Most of the large energy companies can install a Smart Meter if you have solar panels but it's worth checking with your supplier first. The most common problem experienced by solar panel owners are with the Display Units or Apps not showing the electricity generated and exported by the solar panels.
Do you still get Economy 7 with smart meters?
If you have Economy 7 speak to your energy supplier to see if they can support a Smart Meter.
Do smart gas meters need a power supply?
Yes, but they are generally powered by a long life battery rather than a mains supply. The information in the gas meter is generally sent to the electricity meter which is connected to the mains which in turn passes it on to your energy company. If the battery dies (and they can last 20 years) your energy company will know and come and replace it.
Can the energy company cut off my power when they like?
With a Smart Meter It is technically possible for your supplier to cut off your supply remotely, but this would be a last resort. Smart meters grant no additional powers to disconnect a supply than existing meters do.
Can energy companies tell when I'm on holiday?
They can't actually tell if you're on holiday, just that you're not using very much energy for a prolonged period of time.
---
---