Introducing the Zero Emission Boiler (the ZEB)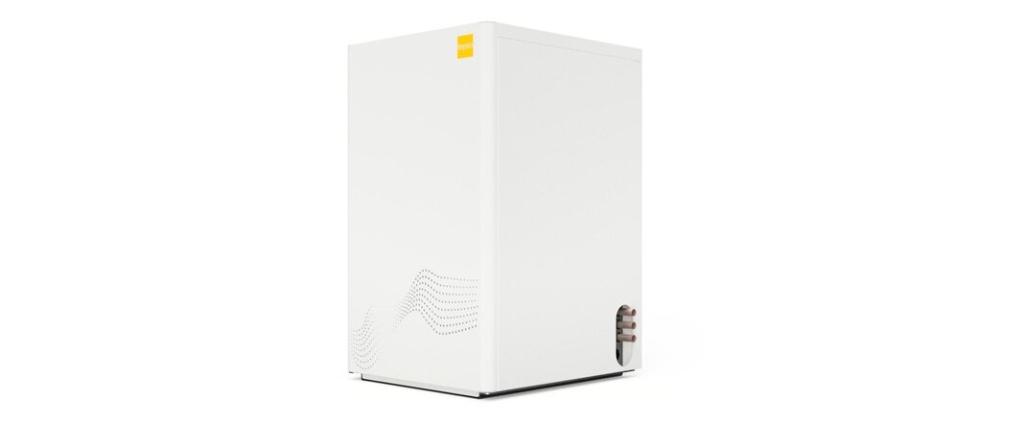 Name: The ZEB
Manufacturer: Tepeo
Fuel: Electricity
How does the ZEB work? The ZEB is an electric heating system which stores heat until you need central heating or hot water.
At the heart of the boiler is an insulated storage core where heat is stored. When you need heating or hot water, air flows around the core and moves the heat over to the heat exchanger. Water then flows through the heat exchanger, warms up and travels to the radiators or hot water taps.
So why is it called the ZEB? ZEB stands for Zero Emission Boiler.
Are there really no emissions? Electric heating systems, like the ZEB, heat your home without releasing carbon into the atmosphere.
Wait, doesn't making electricity create emissions? In the UK, electricity is generated in a number of ways: fossil fuels, nuclear and renewables. Burning fossil fuels to make electricity emits carbon into the atmosphere – which is a leading cause of climate change. And this is how most of our electricity has been generated for many years.
But times are changing.
Renewable electricity generation is on the rise and the National Grid is aiming to be carbon free by 2025. Tepeo are well aware of this and have designed the ZEB's core to charge up at the cheapest and greenest times of the day.
You can also choose to switch to a green energy supplier who will provide your home with 100% renewable energy at all times.
So what makes the ZEB different from other electric boilers? Storing heat is what separates the ZEB from other electric boilers. Rather than storing heat, electric boilers heat the water for heating and hot water as and when you need it.
Will it store enough heat for my home? The current models can store up to 40 kilowatt-hours (kWh) of heat and charge at a rate of 9 kWh per hour.
40 kWh? I won't need that all the time. You're right, it's unlikely that you'll need the boiler to hold onto that much heat all of the time. So the ZEB has been designed to keep your energy usage to a minimum.
It's a very clever heating system that learns your heating and hot water habits and adapts to them. It will also look at the weather forecast for the next 24 hours and estimate demand.
You can take control of storage too by setting it to charge when it's better for the environment or your bank account using a simple sliding scale.

Credit: Tepeo
When can I get a ZEB? System and regular versions of the ZEB will be released late in 2021 – there's no set date at the moment.
But I need a combi boiler. Then you'll have to wait a while as a combi version isn't being developed until 2022. Instead, let us point you in the direction of the best electric combi boilers on the market right now.
I'm still not sure, electricity is too expensive for home heating. There's no hiding the fact that electricity costs more than gas. On average electricity in the UK costs around 16.36 p/kWh while gas sits at 4.17p/kWh.
But the ZEB is no ordinary electric boiler. It can charge up the core when electricity prices are at their cheapest and hold onto the heat for when you need it.
Could it run on the electricity from my solar panels? Yes, if you have solar PV panels then the ZEB will store excess electricity generated by your panels as heat. So you could be heating your home and hot water for free.
Hmm... I'm not sure it could replace a gas boiler though. A Zero Emission Boiler can directly replace a gas boiler. Oil boilers too. They work with the same radiators and heat water to the same temperatures (35-80C).
If you have a system or regular boiler then there's no reason why your next boiler couldn't be a ZEB. Especially if you're conscious of your home's impact on the planet. That is unless you live in a large home with high demand for heating and hot water.
Will they be priced the same as gas boilers? A ZEB will cost around £5,000 which is higher than average gas boiler costs (£500 – £2,500). You'll also need to consider ongoing management costs but the price of these is currently unknown.
There must be other low-carbon alternatives. There are plenty of low-carbon heating systems on the market but they can cost more than a ZEB. Air source heat pumps have proven the most popular so far but there are also ground source heat pumps, biomass boilers and solar thermal panels.
You might also want to think about pairing your boiler with a heat pump to make a hybrid heating system.
No thanks, I'll stick with gas. We don't blame you. For most homes, a gas boiler is still the best option. They're reliable, affordable to run and more efficient than ever. However, if your current gas boiler was installed 10 or more years ago then you should be thinking about a replacement.