Unvented Cylinder Installation: A Guide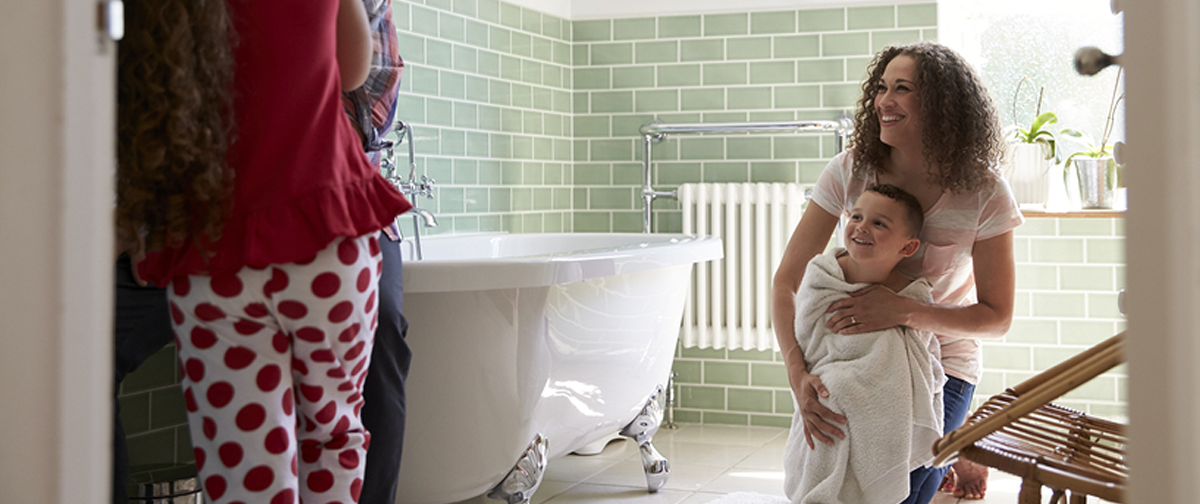 If you have a vented hot water cylinder (which is supplied by a tank of water in the attic) you might want to consider replacing it with an unvented hot water cylinder. This article will explain what you need to know about unvented cylinder installation including advantages, disadvantages, the likely cost, and free installation quotes.
Why install an unvented cylinder?
The majority of homes in the UK have a combi (combination) boiler. However, some homes with a higher demand for hot water (i.e. more radiators and multiple bathrooms) need an additional hot water cylinder to heat and store a higher volume of water than a combi boiler can provide.
These heating systems are known as regular or system, depending on the type of boiler and hot water cylinder you have. There are two types of hot water cylinder: vented and unvented.
What's the difference between a vented and unvented cylinder?
Traditionally, a hot water cylinder in a central heating system would be vented, which means that it takes its water supply from a large tank in the attic. The cylinder is pressurised so that when a tap is turned, hot water is supplied instantly. This means there is no need to vent the system. The disadvantage of this setup is that the water supply tank in the attic takes up a lot of space and the pressure of the water supply relies on gravity.
Since 1986, unvented hot water cylinders have become more and more popular. An unvented cylinder takes its water supply directly from mains, so there is no need for the water tank in the attic which saves a lot of space. Another advantage is that the cylinder is supplied directly from the cold mains which delivers a higher pressure and more reliable flow of water.
Is an unvented cylinder right for you?
Many homeowners want to get rid of their traditional regular boiler with its vented cylinder because the water tank in the attic takes up a lot of space and the system often delivers weak water pressure. With the exception of some older properties with old pipework which cannot take higher water pressure, most people have a couple of alternatives to consider:
If you live in a property with less than 10 radiators and one bathroom, you may be able to remove your vented cylinder and water tank in the attic and install a combi boiler instead. A combi boiler is an all-in-one unit which produces hot water and heating on demand.
If you live in a larger property with more than 10 radiators, two or more bathrooms, and lots of inhabitants, it may be better to install a system boiler with an unvented cylinder.
Advantages of unvented cylinder installation
Because an unvented cylinder takes water directly from the mains, you can get rid of the water tank in the attic, freeing up space in your home.
Water supplied from the mains usually delivers a stronger flow of water which is more reliable.
Removing the tank from the attic removes the risk that the tank of cold water and pipes in your attic will freeze during the winter.
You will receive a high volume of hot water which can supply multiple taps and showers at the same time.
Unvented cylinders are often able to be used alongside solar thermal panels, which means you can heat water for free using natural energy from the sun, reducing your heating bills and carbon footprint.
An unvented cylinder can be installed anywhere in the home, whereas a vented cylinder needs to be located beneath the cold water tank in the attic.
Unvented cylinders are often quieter as there is not gurgling due to the water tank being refilled slowly.
Unvented cylinders are part of a sealed system which removes the risk of the cold water tank being contaminated.
---
---
Disadvantages of unvented cylinder installation
Because an unvented cylinder is supplied by the mains, if the mains is turned off for any reason, you will not have hot water.
Unvented cylinder systems are more costly to install than vented systems as they operate under extreme pressure and require extra safety systems.
Unvented cylinders must be installed by a qualified installer with G3 qualifications and maintained regularly.
How does an unvented cylinder work?
An unvented cylinder is connected to the mains cold water supply meaning that the water is stored under constant pressure.
Unvented cylinders are either directly heated, or indirectly heated. When the cylinder is heated by an electric immersion heater which sits inside the vessel, this is direct heat. When the cylinder relies on an external source of heat such as a boiler, heat pump, or solar thermal panels, this is indirect heat. Often, an unvented cylinder will be largely heated by an external heat source, but will include an immersion heater as a backup.
When you turn a hot water tap or turn an appliance on, hot water is distributed via an outlet pipe which takes it where it is needed. The hot water is replaced by cold water from the mains, ensuring the pressure in the system remains the same, regardless of how many outlets require hot water at the same time.
Unvented cylinders are equipped with safety systems which will vent pressure or lower the temperature if there is a risk of the pressure or heat becoming dangerously high. Unvented cylinders are usually made from stainless steel or heavy gauge copper, and can be insulated with additional lagging to reduce heat loss.
Who can install an unvented cylinder?
According to the government's G3 Building Regulations, any vessel containing more than 15 litres of hot water under pressure must be installed by a qualified engineer. Unvented cylinders need to be installed by a qualified installer who has completed CITB training and G3 certification. The system operates under extreme pressure and a large volume of hot water, so getting the installation wrong can have disastrous consequences.
Before you have an unvented system installed, you need to contact your local Building Control Department to tell them. This is because the property may need some pressure relief pipework and valves to be installed which will vent out of the building. This is a precautionary measure taken to ensure the water pressure and temperature do not build to unsafe levels and cause an explosion.
Unvented cylinder installation cost?
An unvented cylinder on its own typically cost between £300-£1,500, but some can cost in excess of £2,000. The cost of an unvented cylinder will depend on the brand, model, and capacity of the cylinder (in litres), i.e. the higher the volume, the more expensive it will be.
This table shows the leading unvented cylinder brands and the average price (excluding installation) for each, but you will need to request and compare quotes to get an accurate price as installation costs can vary depending on the supplier/installer you choose.
| Brand | Capacity (litres) | Average price |
| --- | --- | --- |
| Worcester Bosch | 90 - 300 | £600 - £1,000 |
| Gledhill | 90 - 400 | £300 - £1,200 |
| Heatrae Sadia | 70 - 500 | £500 - £2,300 |
| Telford | 90 - 400 | £300 - £1,200 |
The cost of having the cylinder installed could range from £250-£450 (if you are just upgrading an old unvented cylinder), or as much as £1,500 if you are replacing an entire heating system.
Unvented cylinder installers will charge more than those installing a vented cylinder, as the installation is more complex, higher risk, and requires a higher level of training. To get the best price on your unvented cylinder installation, you should compare quotes from multiple installers.
Unvented cylinder maintenance and servicing
You will also need to pay for a professional service once a year (of both the boiler and the cylinder) which tends to cost between £50 and £100. Under the BS2870 health and safety regulations, you will need to ensure that a professional checks the system annually to keep it running efficiently and catch any small problems before they become costly or dangerous.
Get unvented cylinder installation quotes
If you are considering replacing your vented cylinder with an unvented cylinder, or you are simply looking for a new unvented cylinder to replace an old one, you need to compare more than one quote.
To get free no-obligation quotes from qualified installers who can both supply and fit an unvented cylinder, head over to UnventedCylinder.com. By completing the enquiry form you'll receive up to 3 no obligation quotes for the professional installation of a better performing and more energy efficient cylinder for your home.
---
---