Vaillant or Glow-worm: Boiler Comparison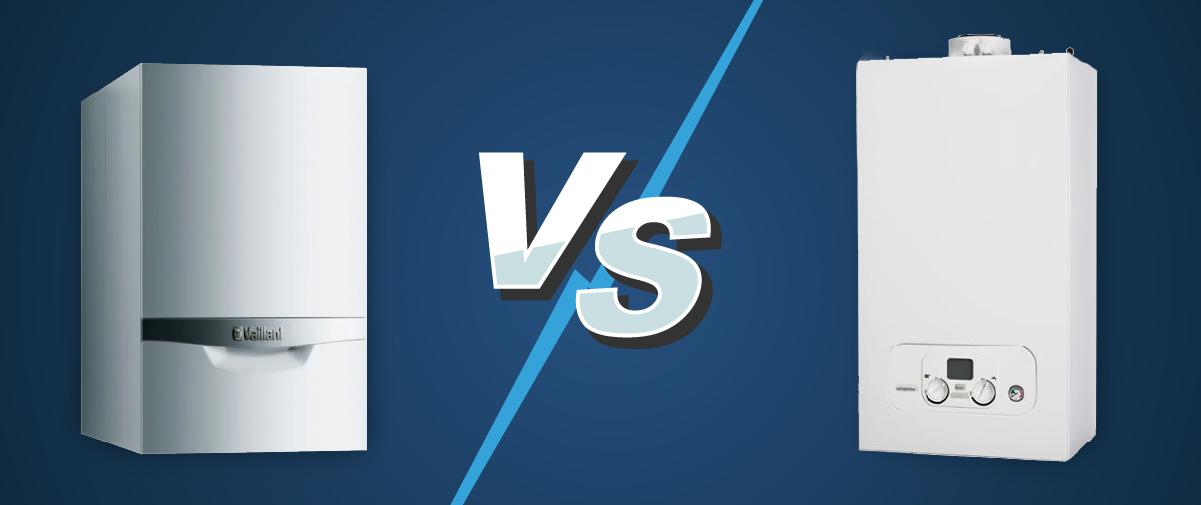 Vaillant and Glow-worm are both part of the Vaillant Group, Europe's second largest heating manufacturer, but when it comes to choosing the right manufacturer for you, their boiler ranges offer different advantages.
While Vaillant are one of the leading manufacturers thanks to delivering highly efficient units, Glow-worm boilers tend to be much more affordable with no compromise on reliability.
So, Vaillant or Glow-worm? We've put them head-to-head to give you the confidence that you're investing in the right boiler manufacturer for you.
---
---
Vaillant vs Glow-worm
Let's get into why Vaillant and Glow-worm are both worth thinking about:
Vaillant boilers
Vaillant UK are often found on lists of the best boiler manufacturers and are reviewed positively by homeowners as well as heating engineers.
What often separates Vaillant boilers from their competitors is that they're fitted with a stainless steel heat exchanger. This is compared to other manufacturers commonly using aluminium, which doesn't offer as many benefits as stainless steel:
Extended boiler lifetime
More efficient
Less prone to faults
In addition to the stainless steel heat exchanger, Vaillant units have a Quiet Mark accreditation which means that you won't be disturbed as it works to heat your home.
Glow-worm boilers
With the Energy range of boilers, Glow-worm are looking to propel themselves up into the list of best boiler manufacturers and they're certainly making a great case. In terms of reliability and efficiency, you won't find much better than Glow-worm when it comes to budget-friendly units and the Ultimate range comes with a Grundfos pump – an industry leading central heating pump.
Vaillant and Glow-worm boiler ranges
Vaillant and Glow-worm manufacture gas-fired combi, regular and system boilers. That means no matter the heating needs of your home, these brands are likely to have a perfect solution.
Combi boilers
A combi boiler is ideal for smaller homes with 1-2 bathrooms and a fairly moderate demand for heating and hot water. Vaillant and Glow-worm have a number of units to choose from but their leading ranges are the ecoTEC Pro and Energy.
Boiler range
CH output
DHW output
Efficiency

Vaillant ecoTEC Plus combi range

ecoTEC Plus 825
20.4 kW
25.4 kW
94%
ecoTEC Plus 832
25.7 kW
31.8 kW
94%
ecoTEC Plus 835
32.2 kW
35 kW
94%
ecoTEC Plus 838
30.1 kW
38.7 kW
94%

Glow-worm Energy combi range

Energy 25
18 kW
25.7 kW
94%
Energy 30
25 kW
30.6 kW
94%
Energy 35
25 kW
35.7 kW
94%
Regular boilers
Regular, or heat-only boilers, are the best heating system for larger homes and are often found in older properties. They can meet higher demand for heating and hot water as the water is stored in a cylinder but that means, unlike combi boilers, they can't provide hot water on demand.
Vaillant offer the widest choice of output ratings but there isn't much to separate all of the boilers in terms of efficiency and the Glow-worm Energy range comes with the longest warranty.
Boiler range
Output
Efficiency
Vaillant regular boiler range
ecoTEC Plus 412
12.7 kW
94%
ecoTEC Plus 415
15.1 kW
94%
ecoTEC Plus 418
18.3 kW
94%
ecoTEC Plus 424
24.6 kW
94%
ecoTEC Plus 430
30.5 kW
94%
ecoTEC Plus 435
35.1 kW
94%
Glow-worm regular boiler ranges
Energy 12r
12 kW
94%
Energy 15r
15 kW
94%
Energy 18r
18 kW
94%
Energy 25r
25 kW
94%
Energy 30r
30 kW
94%
System boilers
System boilers sit somewhere between combi and regular boilers in terms of how they operate and when it comes to Vaillant or Glow-worm, we think the Vaillant ecoTEC Plus system boiler is the best option thanks to the stainless steel heat exchanger, various outputs and high efficiency rating.
Boiler range
Output rating
Efficiency
Vaillant system boilers
ecoTEC Plus 612
12.2 kW
94%
ecoTEC Plus 615
15.4 kW
94%
ecoTEC Plus 618
18.5 kW
94%
ecoTEC Plus 624
24.6 kW
94%
ecoTEC Plus 630
30.5 kW
94%
ecoTEC Plus 630
30.5 kW
94%
ecoTEC Plus 637
37.6 kW
94%
Glow-worm system boiler ranges
Energy 12s
12 kW
94%
Energy 15s
15 kW
94%
Energy 18s
18 kW
94%
Energy 25s
25 kW
94%
Energy 30s
30 kW
94%
You can compare all Vaillant and Glow-worm boilers with our Boiler Comparison Tool. Once you've found the right boiler for your home, complete our simple online form and you'll get free installation quotes from heating engineers in your local area.
---
---
Vaillant vs Glow-worm
Efficiency
On the whole, Vaillant boilers come out on top as the most efficient.
Their ecoTEC Pro combi boilers, ecoFIT Pure regular boilers, and ecoTEC Plus system boilers are all more efficient than the ranges made available by Glow-worm – although there isn't much between the system boilers in terms of the efficiency rating.
When comparing Vaillant and Glow-worm boilers it's important to look out for units with a stainless steel heat exchanger. A heat exchanger made from stainless steel, rather than the more common aluminium, offers increased efficiency, longer lifetime and is much less prone to any faults.
Price
Price is the deciding factor in many decisions and when it comes to a new boiler it can make one more appealing than another. Between these manufacturers, Vaillant have the most premium boilers which inevitable come at a higher price but both brands do have more budget-friendly options available.
| | Vaillant costs | Glow-worm costs |
| --- | --- | --- |
| Combi | £875 – £1,600 | £550 – £1,580 |
| Regular | £790 – £1,500 | £713 – £870 |
| System | £590 – £1,500 | £725 – £860 |
Warranty
Vaillant boilers are covered by a standard warranty of 2-5 years, which can be extended to 7-10 years when installed by a Vaillant Advance Installer. Meanwhile, Glow-worm have a standard 2-7 year warranty available depending on the model being installed. The longest longest warranty of the two is from Glow-worm who have a massive 15 years available when installed by a Glow-worm Club Energy installer.
Both warranties cover parts and labour and only cover a fault that is the result of an issue during the manufacturing process. Should it be found that the issue has been caused by contaminated water, you could end up being charged for the heating engineer's visit.
Which brand takes the crown?
The Vaillant Group is well-known for delivering customers with highly-efficient and reliable home heating systems. Vaillant and Glow-worm sit under the Vaillant Group umbrella and both deliver on the promises of their parent company.
If your decision ultimately comes down to finding a boiler that meets a fairly tight budget then Glow-worm is the manufacturer for you. They have several units that won't see you having to break the bank and they often come with a lengthy warranty.
Despite that, we're going to have to award victory to Vaillant. After all, they are a leading boiler manufacturer for a reason. Their boilers are highly efficient, which will help to keep your energy bills to a minimum, they're fitted with state of the art stainless steel heat exchanger and you'll be covered by a comprehensive warranty period.
Whether you plan to have a Vaillant or Glow-worm boiler installed, using Boiler Guide you can get free quotes for the installation from Gas Safe Registered engineers based near you. After taking a few moments to let us know about the work you need doing by going through our online form, you'll be contacted by up to 3 heating engineers who will each provide their quote.
Comparing multiple quotes is the best way to increase your chances of finding the most competitive price for a gas boiler installation.