Viessmann Vitovalor: The Micro CHP System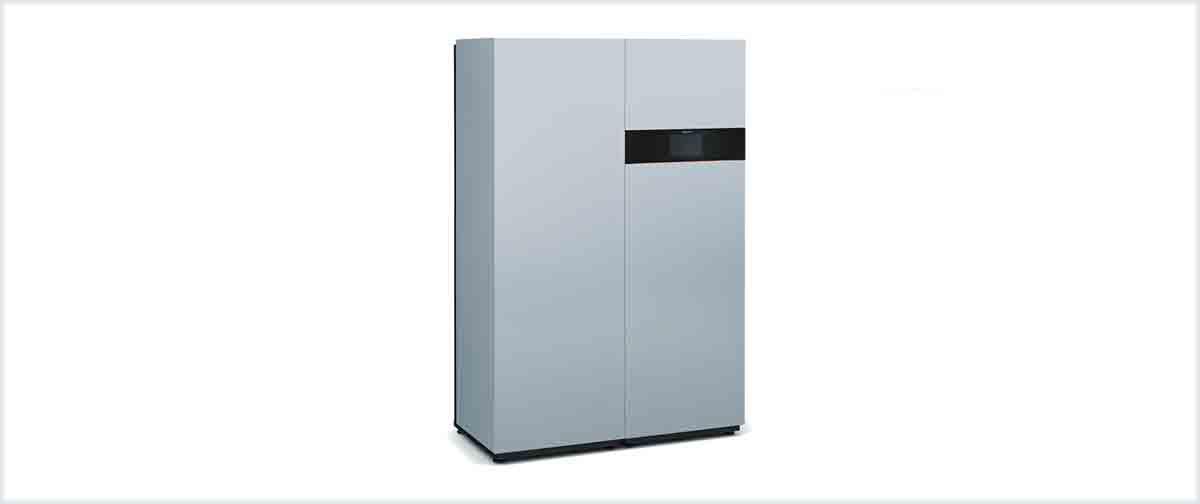 In the search for alternatives to fossil fuel heating systems in order to reduce our carbon footprint and energy bills, there are plenty of potential options. Heat pumps and solar thermal panels are already being offered by many leading manufacturers and hydrogen boilers are being recommended as the next big development, but there is a lesser known heating system from Viessmann which takes a different approach.
Here we explore the Vitovalor CHP heating system from Viessmann including the benefits, considerations and potential costs.
What is a CHP system?
CHP stands for Combined Heat and Power. It is also referred to as cogeneration and is the combination of technologies in order to produce both heat and electricity. When electricity is generated, heat is produced as a byproduct but is wasted. In CHP systems, this heat is captured and put to use to improve energy efficiency.
What is the Viessmann Vitovalor CHP
The Vitovalor heating system from Viessmann is one of the only examples of CHP heating in the UK today and only a handful of systems have been installed. This system can provide you with both heating and hot water while also generating up to 18 kWh of electricity per day for use in your home.
Much like a traditional boiler, the Vitovalor takes natural gas from the grid to heat water but also uses fuel cell technology to extract hydrogen from the gas and convert it to useable energy. The system also includes a 220 litre hot water cylinder and an integrated control unit.
The integrated gas condensing boiler will automatically switch on if the fuel cell cannot meet demand during peak times.
The Vitovalor has been designed and manufactured by Viessmann but in partnership with Panasonic in terms of the fuel cell module element. This fuel cell is already used in more than 200,000 installations in Japan. It has a guaranteed lifespace of over at least 80,000 hours.
Viessmann claim the Vitovalor is the 'ideal energy centre' for semi-detached and detached homes including both new builds and renovations. It can satisfy an annual heat demand of up to 35,000 kWh and an annual electricity demand of 6,200 kWh. The system can generate electricity for 45.5 hours without interruption until the fuel cell needs a 2.5 hour break to regenerate.
---
Get Boiler Quotes
Get Boiler Quotes
If it's time to replace your current boiler, use our free service to
get quotes now
---
Viessmann Vitovalor features
There are 4 models in the Vitovalor range to suit a variety of homes and heating demands.
| Model | Vitovalor E11T | Vitovalor E19T | Vitovalor E25T | Vitovalor E32T |
| --- | --- | --- | --- | --- |
| Maximum heating output (60/40°C) | 11.4 kW | 19 kW | 24.5 kW | 30.8 kW |
| Electrical output of fuel cell | 750 W | 750 W | 750 W | 750 W |
| Thermal output of fuel cell | 1.1 kW | 1.1 kW | 1.1 kW | 1.1 kW |
| Electrical efficiency of fuel cell | 37% | 37% | 37% | 37% |
| Efficiency of fuel cell (overall) | Up to 92% | Up to 92% | Up to 92% | Up to 92% |
| Thermal efficiency of boiler (peak load) | Up to 98% | Up to 98% | Up to 98% | Up to 98% |
| Heating efficiency rating | A++ | A++ | A++ | A++ |
| Hot water efficiency rating | A+ | A+ | A+ | A+ |
| Stainless steel hot water cylinder | 220l | 220l | 220l | 220l |
| Dimensions of complete unit (D x W x H) | 595 x 1200 x 1800mm | 595 x 1200 x 1800mm | 595 x 1200 x 1800mm | 595 x 1200 x 1800mm |
| Sound level | 48 dB | 49 dB | 50 dB | 51 dB |
Benefits of the Vitovalor
Cheaper electricity bills
The Vitovalor can reduce a home's energy costs by up to 40% thanks to the efficiency of the fuel cell module. Because you can generate your own electricity as a byproduct of the water heating process, you will be able to buy less from your supplier. This gives you greater independence from increasing electricity costs.
Reduced emissions
The Vitovalor has the highest possible heating energy rating of A++. The energy efficiency of the Vitovalor minimises energy losses which can reduce energy consumption by as much as 40% and reduce carbon emissions by as much as 30% when compared to traditional generation methods.
Durable and reliable
The Vitovalor has an estimated lifespan of 12 years with a usage life of 80,000 hours. It's also a very low maintenance system as it only needs to be serviced every 5 years.
Simple to operate
Front-mounted controls with pre-installed components for the energy manager, 7-inch colour touchscreen display.
Self-learning energy manager
The system features an integrated energy manager which can adapt to the heating demand of your home, i.e. it only uses the natural gas/hydrogen when it is efficient to do so. The Vitovalor can be monitored and controlled via a smartphone or tablet.
Proven technology
Hydrogen is an environmentally friendly energy source as it produces no carbon when it is burnt. It is already in use as a fuel in ships and vehicles and in over 200,000 homes in Japan.
Could a Vitovalor be the right choice for your home?
There are some considerations for homeowners when looking at installing a Vitovalor in their home. Firstly, although it is an efficient system when in operation and can significantly reduce electricity bills, it will increase a home's consumption of natural gas.
When compared to a traditional gas boiler, it is significantly bigger. It requires 0.72m² of floorspace which is about the size of a small double wardrobe and needs a minimum roof height of 1800mm.
Finally, and most importantly, the Vitovalor is considerably more costly to install than a traditional gas boiler at around £10,000 to £15,000 including installation. Despite its benefits, this could make the Vitovalor an unrealistic heating system for many homeowners.
---
Get Boiler Quotes
Get Boiler Quotes
If it's time to replace your current boiler, use our free service to
get quotes now
---