Worcester Wave vs Nest 3rd Gen Smart Thermostat: A Comparison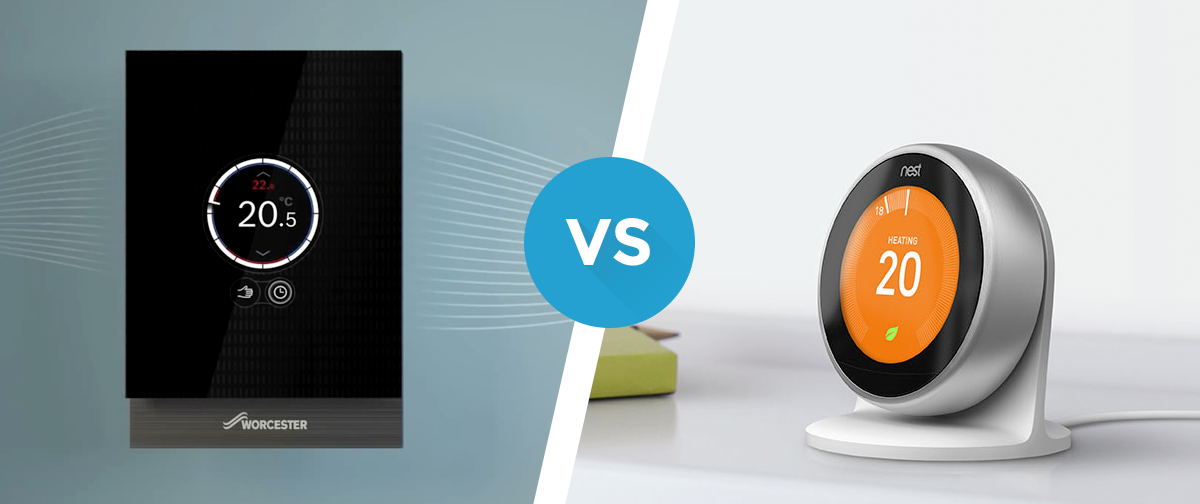 For those who own a Worcester Bosch boiler, the Wave smart thermostat offers an alternative to the market leader: Nest. But does it offer any benefits that Nest doesn't?
The Worcester Wave is the first smart thermostat to be manufactured by Worcester Bosch, designed exclusively for use with their boilers. The Wave is an internet connected thermostat that enables owners of Worcester Bosch boilers to control their heating and hot water from a smart device. The system includes an app which, once downloaded to your device, makes it possible for you to operate your home heating from anywhere.
So far, this is the same concept as any other smart thermostat on the market. So what else is there to know about Wave?
Buy Your Smart Thermostat Today!
Buy the NEST LEARNING THERMOSTAT, from Amazon
Buy the WORCESTER BOSCH WAVE SMART THERMOSTAT from Amazon
Worcester Wave vs Nest
| | The Wave Smart Thermostat by Worcester Bosch | Nest 3rd Gen Learning Thermostat by Google |
| --- | --- | --- |
| Display | Digital | Digital |
| App Compatibility | Apple / Android | Apple / Android |
| Analytics & Reporting Available | Yes | Yes |
| Multi-zone Capability | No | Yes |
| Boiler Compatibility | Worcester Bosch models only | Universal |
| Mounting / Installation | Wall only, wired connection to boiler needed | Wall or table stand, wireless |
| Intelligent Automatic Programming | No | Yes |
| Where To Buy: | Click to buy from Amazon | Click to buy from Amazon |
Compatibility
When it comes to compatibility, the 'winner' is easily Nest for obvious reasons. Wave will only work with a select range of their own gas-fired combi or system boilers while Nest has been designed to be compatible with as many manufacturers as possible. In addition, while Wave can only be used with certain system and combi boilers, Nest can be integrated into other heating systems such as heat only boilers, domestic hot water tanks and air source and ground source heat pumps.
App control
Both systems can be operated from smart device apps enabling you to control your heating from anywhere you have an internet connection. Aside from being convenient, the apps also give you great analysis of your energy usage which should enable you to reduce energy wastage and therefore save money on your heating bills. Both apps are completely free, easy to use and compatible with both Apple and Android.
A key difference between the apps is the multi-zone functionality. In addition to controlling your hot water temperature and heating schedule, with Nest you can control the temperature of more than one zone or room in your home from the same app. While Wave will also enable you to adjust your hot water and schedule, it does not have the multi-zone capacity so you can only control a single thermostat. It will, however, 'pair' with up to 8 devices so multiple people can have control over the heating.
Scheduling
Wave and Nest both offer a 7 day programme so, if you wanted to, you could set the desired temperature of your heating to adjust for each hour of the day over 7 days. Nest, however, has an advantage over Wave here as it can learn your habits. You simply start using your heating and it will create a schedule based on your historic usage without the need for manual programming.
Installation
The Wave has to be connected to your boiler by a wire. As the thermostat needs to be installed in a hallway or similar this will mean a wire travelling through your home. Nest, however, doesn't need the thermostat to be wired into the boiler. The Nest system has 2 parts: the Heatlink unit and the thermostat itself. The Heatlink element wires into the boiler but can then communicate with the thermostat wirelessly, meaning the thermostat can be positioned elsewhere without a wire running through your home. This generally means a simpler, quicker and therefore cheaper installation.
Multi-zone
If you want to have a different temperature in your lounge to that of your bedroom, multi-zone functionality is what you need. Unfortunately, Wave cannot provide this as it's only possible to have one thermostat per central heating system. Nest, however, will enable you to install multiple thermostats and control them all from your app. As you might expect, each extra thermostat comes at an extra cost.
Buy Your Smart Thermostat Today!
Buy the NEST LEARNING THERMOSTAT, from Amazon
Buy the WORCESTER BOSCH WAVE SMART THERMOSTAT from Amazon
More about the Worcester Wave
Which boilers are compatible?
The key thing to remember is that the Wave smart thermostat is only compatible with the following Worcester Bosch gas-fired boilers, providing they meet certain specifications (e.g. were manufactured after a certain date or have certain parts included). You can check the Worcester Bosch website for further clarification.
However, as a general indication, the following boilers are compatible with Wave:
Combi boilers
Greenstar i Greenstar i Junior
Greenstar Si Compact
Greenstar CDi Compact
Greenstar CDi Classic
Greenstar Highflow CDi
System boilers
Greenstar 12i System – 24i System
Greenstar 27i System – 30i System
Greenstar CDi Classic System
If you have or are planning to purchase one of these boilers, to install the Wave system you will also need a Wi-Fi enabled broadband router (802.11 b/g) and a compatible Apple or Android Device that can host the App.
Other smart thermostats on the market are not specific to brand; both a Nest and a Hive thermostat will work with most (if not all) major brands.
Benefits of a Worcester Wave
Simple installation
The Wave needs to be connected to your boiler by a 2-core wire but other than that everything else is wireless. This makes it really simple and quick to install which should also reduce the cost of installation in terms of labour. The weather compensation feature functions with no need for an external wired sensor. When it has been installed it will automatically set its own location, time and date and GMT updates take place automatically. For best performance the Wave needs to be installed on a landing or in a hallway where there is a good flow of air and no secondary heating.
Easy to use
Wave has been designed with the user in mind with a contemporary and intuitive design. It is operated either by the Wave app (with an internet connection) or manually using the thermostat's touchscreen. The thermostat will be pre-programmed but this can be easily adapted to suit your needs. If, for some reason, internet connectivity is lost the thermostat will revert to the last saved settings and continue to work intelligently.
The Wave can be 'paired' with up to 8 devices so that it can sense when multiple people are at home and more than one person can be responsible for operating the system. In addition, the Wave can also manage hot water settings and has a 'holiday' programme.
Improved energy efficiency
As with all smart thermostats the Wave has been designed to give you greater control of your energy usage and, as a result, you can identify areas for potential savings. The Wave does this not only be tracking and monitoring your energy usage but also through more advanced features like weather and load compensation. A leaf symbol shows when you turn the temperature down to let you know energy savings are being made.
Guarantee
The Wave thermostat includes a 2 year guarantee if retrofitted to a boiler you already have in your home. However, if you're installing a new boiler at the same time as the thermostat it will be covered by the same guarantee period as the boiler. In the case of Worcester Bosch this can be up to 10 years.
Which is the best thermostat?
It should go without saying at this point but if you do not have a Worcester Bosch boiler, Nest is the winner by default!
However, assuming you either are or are planning to become the owner of a Worcester Bosch boiler, there are several areas where the Wave still loses out to Nest in the smart thermostat competition. Both offer excellent scheduling controls and app functionality that will enable to take back control of your heating and save money. The Worcester Wave is the first generation of thermostat from Worcester Bosch while the Nest we've compared it to is a 3rd generation model. Perhaps Worcester can be forgiven for lacking some of the more advanced technology.
Specifically, Nest has a few features that Wave doesn't such as multi-zone functionality, completely wireless installation and the ability to learn your heating habits without programming.
It's also worth noting that as of October 2018 Nest have released the Nest Thermostat E.  This new thermostat has been manufactured to be sold as an 'entry level' alternative to the 3rd Gen model with a significantly lower price tag.  A key difference is the visual design of the Nest E which is far more subtle so it will blend in with your home's decor more seamlessly.  However, there are also a couple of areas of functionality which will also differ from its predecessor.  Read more about the Nest Thermostat E.
Buy Your Smart Thermostat Today!
Buy the NEST LEARNING THERMOSTAT, from Amazon
Buy the WORCESTER BOSCH WAVE SMART THERMOSTAT from Amazon