What is a combi boiler?

A Combi (or Combination) boiler combines the functions of a water heater and central heating boiler in one compact unit. It is a highly efficient condensing boiler; this means it condenses surplus energy that would otherwise have been wasted in the atmosphere and recycles it back into your central heating system.
They are used in the majority of new boiler installations in the UK both because of their high efficiency and their compact size.
How does a combi boiler work?
As any boiler works it produces waste flue gases. What a condensing boiler has that non-condensing boiler do not is a Flue Gas Heat Recovery System. This system recycles the heat from these waste flue gases uses it to preheat the new, cold water as it enters the boiler from the mains. Essentially, this means the boiler doesn't need to work as hard to heat the the water and therefore uses less energy. It also has a condensing pipe which enables the condensed vapour to drain away while the boiler is working. Get quotes today.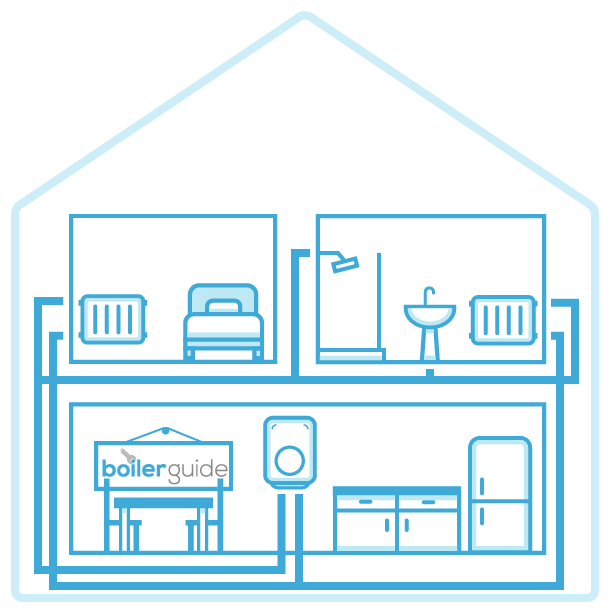 Combi boilers work by heating water directly from the mains, so you don't need a hot water storage cylinder or cold water tank.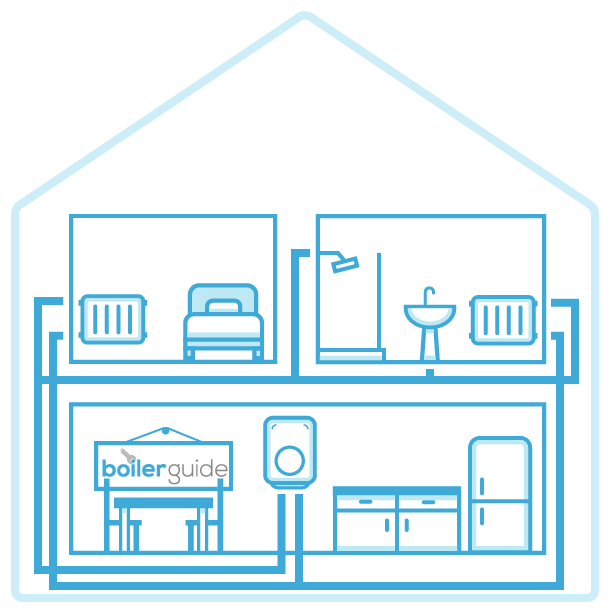 Combi boilers work by heating water directly from the mains, so you don't need a hot water storage cylinder or cold water tank.
Why choose a combi boiler?
High energy efficiency
A Combi boiler is typically over 90% efficient which is the highest level of efficiency on the market, helping you to reduce your carbon footprint.
Lower energy bills
With efficiency of 90%, for every £1 you spend on energy, only 10p is wasted. When you consider that some of the older non-condensing boilers only reached 55% efficiency, it represents a significant saving. For example, when replacing a boiler with less than 70% efficiency with one of the most efficient condensing units you could save up to £305 on your heating bills in one year.*
Compact size
Imagine finally being able to get rid of that bulky water tank and / or storage cylinder that sits in your attic or airing cupboard. A Combi boiler is just one simple unit and some are small enough to be concealed in a kitchen cupboard. This is particularly great news for those living in small homes or flats.
Easy to install
As there's no need for multiple elements a Combi boiler is usually simple to install and, unlike system or conventional boilers, it can be fitted anywhere in the home.
Hot water on demand
There is no need to store hot water which means less energy used and none of that inconvenient waiting around for a hot water tank to refill.
Mains pressure
A Combi boiler takes its water supply directly from the mains which can often mean you get a much stronger pressure of hot water through your taps and showers.
Need a replacement Combi boiler? Get quotes today.
Things to consider
Make sure you have an adequate supply of water coming from the mains. If the mains pressure is weak or inconsistent, your showers and taps will be too. This single flow of water is also a problem if you have several showers, baths and sinks that need to be used simultaneously as the flow will try to split between them all and weaken as a result.
If you have a higher demand for hot water then a high efficiency, condensing system or conventional boiler may be the answer.
All condensing boilers require a condensing pipe to drain the condensed vapour and dispose of it down a drain. If the installer can't add a pipe where the existing boiler is positioned then it may need to be relocated; this may add to the cost of installation.
What size combi boiler do I need?
Generally, the more radiators and bathrooms you have the higher the output needs to be.
Here is a rough sizing guide:
24-27kW = small house (1-2 bedroom) or flat, up to 10 radiators, 1 bathroom
28-34kW = medium house (3-4 bedroom), up to 15 radiators, 1-2 bathrooms
35-42kW = large house (4 or more bedrooms), up to 20 radiators, 2 or more bathrooms*
*Combi boilers are not generally recommended for larger homes with 2 or more bathrooms as they only provide a single flow of water that weakens when split between outlets. Get quotes today.
Which are the top combi boiler brands?
Combi boilers are available in gas, oil, LPG or electric and most manufacturers produce at least one model in various outputs. Compare up to 4 combi boilers with our Comparison Tool.
However, not all manufacturers are on an equal footing. In terms of both customer satisfactions and engineer recommendation, the following brands consistently come out on top:
How much does a combi boiler cost?
The cost of a Combi boiler tends to fall anywhere between £500 – £1800 for the boiler itself plus extra for the installation. The installation will vary in price from provider to provider and is impacted by lots of factors like any new piping or radiators needed. This is why it is important to source at least two or three different quotes. Only then can you compare and make sure you're getting the best deal out there.
Looking for a new one? Boiler Guide can help…
We have a network of over 5000 Gas Safe registered and highly recommended installers. If you send us an enquiry we can provide you with up to 3 quotes from installers in your area. There is absolutely no pressure and no obligation to take any of the quotes forward and we don't charge you a penny for this service. Get quotes today.


*Source: http://www.energysavingtrust.org.uk/home-energy-efficiency/boiler-replacement. Figures based on installing a new A-rated condensing boiler with a programmer, room thermostat and thermostatic radiator controls (TRVs) in a gas-heated home from an older boiler with a programmer and room thermostat. Based on fuel prices as of April 2018 for a detached house.