What is a Combi Boiler?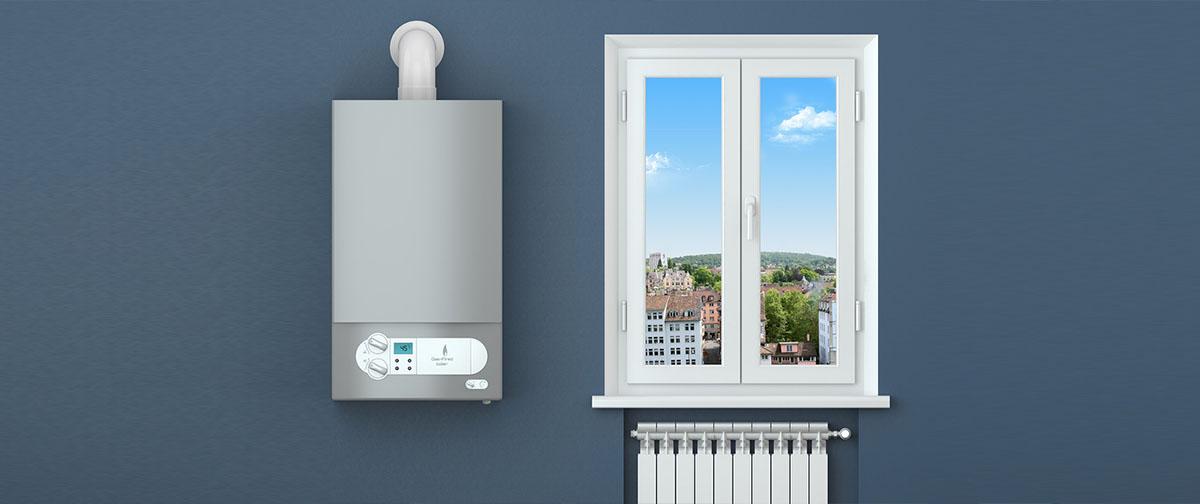 A combi boiler is a central heating boiler and water heater in one.
Everything a combi needs is within the boiler itself, meaning there's no need for additional tanks or cylinders (great news if you're tight on space!)
This guide will help you decide if a combi boiler is the right choice for your home.
Does your home have more than one bathroom? Check out the system boiler, which is better for higher usage.
What is a combi boiler?
There are 3 types of boiler: combi, regular and system.
The combi boiler is the only one that doesn't store hot water in a cylinder. Instead, the combi fires up to heat water on demand. This is great if you're looking to save space (cylinders can be quite bulky) but not such good news if you have high demand for hot water. And by 'high demand', we mean two or more bathrooms and a large family.
Thanks to its size, combi boilers have quickly become the most popular boiler type in the UK, but that's not the only benefit.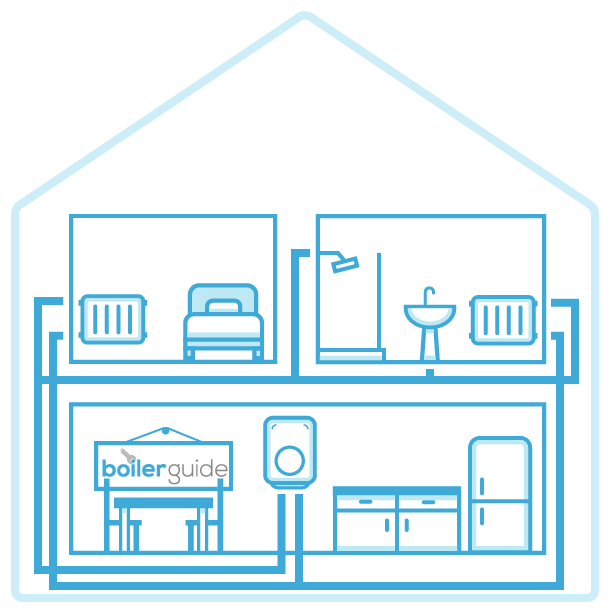 Combi boilers work by heating water directly from the mains, so you don't need a hot water storage cylinder or cold water tank.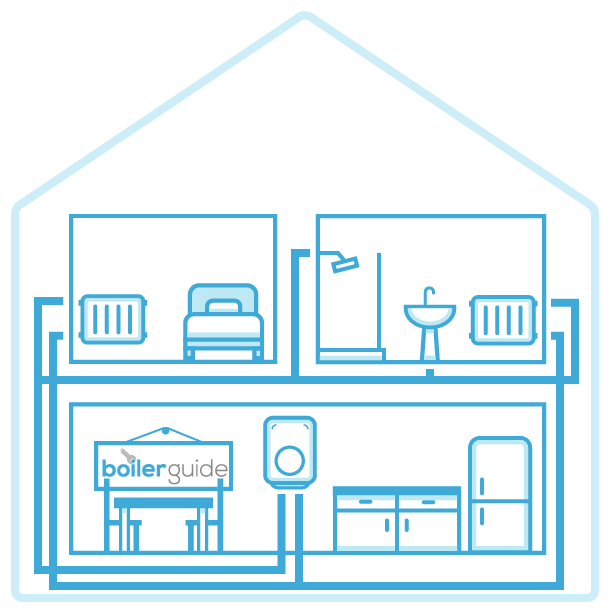 Combi boilers work by heating water directly from the mains, so you don't need a hot water storage cylinder or cold water tank.
Advantages of a combi boiler
Aside from the space saving nature of this boiler, there are plenty of other reasons to consider a combi.
Higher efficiency = Lower energy bills

As of 2018 all new combi boilers installed in the UK are legally required to be at least 92% efficient. This means that for every £1 spent heating your home, only 6p is lost to the heat that leaves through the flue pipe. This could significantly reduce your home's carbon footprint and potentially lower your heating bills.

Condensing

By law, all new combi boiler installs must be 'condensing', which means that any heat which would usually escape through the flue pipe, is captured and reused to preheat cold water as it enters the boiler. This process, used by all condensing boilers, is known as a 'Flue Gas Heat Recovery System' and it means the boiler doesn't have to work as hard to heat the water, therefore using less energy.
Replacing a boiler with less than 70% efficiency with one of the most efficient condensing units could save you up to £300* on your heating bills in one year.

Easy to install

Because they're an all-in-one unit (and can be fitted almost anywhere!) combi boilers are relatively easy to install, meaning a quicker installation and a potentially lower cost.
When comparing quotes, be sure to ask the engineer if they will perform a powerflush of the heating system. A powerflush should be part of any new boiler installation as it clears any rust, debris and limescale from the pipes.
Hot water on demand

They produce hot water on demand so there's no need to use extra energy keeping a storage cylinder hot (and there's no waiting around for the tank to refill after the water is gone).

Mains water pressure

A combi boiler takes its water supply directly from the mains. Unlike traditional systems, which rely on gravity from a tank in the loft, this should mean you get a much stronger flow of hot water.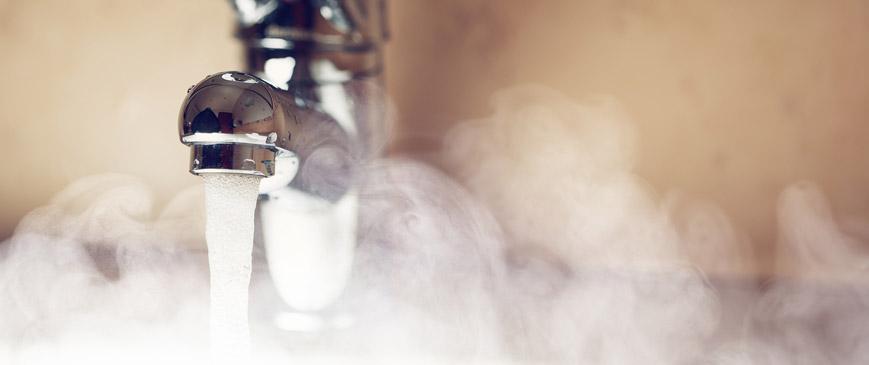 Disadvantages
There are many plus points to these boilers, but there are a few things you should also consider:
Not suitable for large homes

Combi boilers aren't the right fit for every home. You'll want to consider a system boiler if your home is large and/or has several bathrooms. This is because a combi boiler takes its water supply directly from the mains and heats on demand. It doesn't store hot water so if it needs to supply two or more outlets at once it will have to split the flow making it weaker.

Not ideal for homes with weak mains pressure

Make sure you have an adequate supply of water coming from the mains. If the mains pressure is weak or inconsistent, your showers and taps will be too. It may be possible to install a pump to strengthen the flow but this will add to the cost.

Not always compatible with old pipework

You also need to consider that if you're replacing an old heating system which was designed to handle the weaker flow from a feed tank in the attic, your existing pipework and radiators may not cope with mains pressure. If you need to have these elements replaced this will add the cost of your new combi boiler.
If you're not sure a combi boiler is right for your home, compare combi with system boilers.
Best combi boilers
Once you have determined the combi boiler is the right fit, it's time to choose your boiler. There is a huge selection of new combi boilers on the market with many manufacturers offering multiple ranges. However, in terms of overall reliability and performance, these gas boilers come out on top year after year:
| Manufacturer | Boiler model | Central heating outputs (kW) | Efficiency |
| --- | --- | --- | --- |
| Worcester Bosch | Greenstar i | 25, 30 | 94% |
| Vaillant | ecoTEC Plus | 25, 32, 35, 38 | 92% |
| Ideal | Vogue Max | 26, 32, 40 | 94% |
| Baxi | 800 Platinum | 24, 28, 33, 40 | 92% |
| Viessmann | Vitodens 200-W | 1.9 – 35 | 94% |
All of these boilers are described as being able to fit in a standard kitchen cupboard and they're also A-rated for efficiency. Year after year, they're recommended by our network of 5,000+ installers and dominate the top spots in numerous consumer review polls.
Find out more about the best gas combi boilers on the market.
---
---
What size combi boiler do I need?
We know combi boilers are small but when we talk about 'boiler size', we mean the output rating, measured in kilowatts (kW). Not the physical dimensions.
A boiler's output rating is a measurement of its power. So, a boiler with a big output rating, will be able to meet higher demand for heating. With that in mind, it's important not to go for the most powerful boiler you can afford. Do that and your heating bills will rocket. Go too low and it will struggle to meet demand.
So it's important to get boiler sizing spot on.
Combi boilers have two output ratings – one for central heating (CH) and another for domestic hot water (DHW). It's important that both of these match the demands of your home.
To give you an idea of what you're looking for based on the central heating output, take a look at the table below:
| Radiators | Recommended CH output |
| --- | --- |
| Up to 10 | 24 - 27 kW |
| Up to 15 | 28 - 34 kW |
| Up to 20 | 35 - 42 kW |
Be careful: On the whole, combi boilers aren't recommended for large homes with 2+ bathrooms. In these cases, a heating engineer will often advise that you go for a system boiler with a hot water cylinder.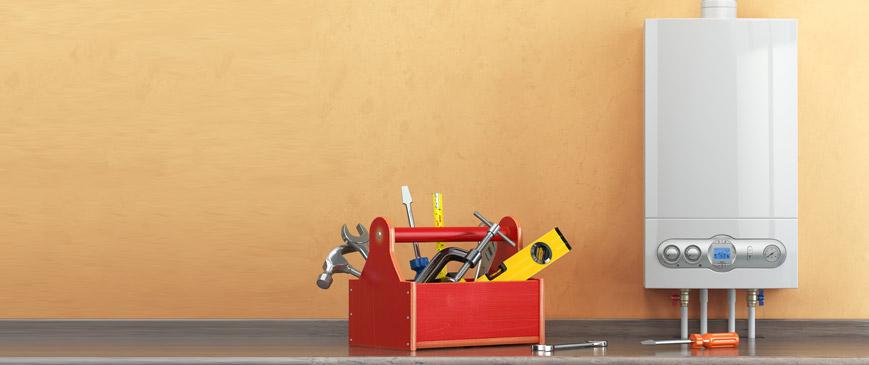 Fuels used by combi boilers
Whilst gas combi boilers are the most commonly used, other types of fuelled boiler are available for those homes without a gas connection. These include:
Electricity: An electric combi boiler is slightly different to the others in that it doesn't burn fuel to heat water; instead the water passes over an electric element as it would in a hot water cylinder with an immersion heater. They are a popular alternative for homes which aren't connected to the gas grid and oil is either impractical or too expensive. They are often limited as to the amount of hot water they can produce and electricity is relatively expensive so they aren't generally recommended for large homes. Which are the Best Electric Boilers?
Oil: For homes not on the gas network an oil combi boiler is a popular choice. These systems need a tanker of oil to be kept outside your home which needs to be topped up by a supplier as and when it runs out. Read our oil review of the Best Oil Boilers to find out which manufacturers come out on top.
Liquefied Petroleum Gas (LPG): LPG is a combination of gaseous hydrocarbons, produced from natural gas and oil extraction (66%) and from oil refining (34%). These setups are the same as oil boilers, i.e. the boiler needs to be supplied with fuel from a tank in your garden and refilled when running low.
Which fuel is best for my house?
Most off-grid homeowners turn to oil, mainly because it's the most affordable option. Electricity is by far the most expensive, while LPG sits in the middle.
| Fuel | Cost |
| --- | --- |
| Electricity (standard rate) | 16.36 p/kWh |
| Oil | 4.81 |
| LPG | 7.19 |
But for an oil boiler to be right for your home, you'll need some outdoor space for an oil tank (the same goes for LPG too). This means that if you live in a flat or small home with little to no garden, an electric boiler is your best bet as the fuel doesn't need to be stored.
Your other option is to move away from the boiler altogether and consider a renewable heating system.
---
---
Combi boiler prices
Combi boiler prices tend to range between £500 - £1,500 for the boiler itself plus extra for the installation.
| Combi boiler | Max. warranty | Average price (without installation) |
| --- | --- | --- |
| Worcester Bosch Greenstar i | 7 years | £800 – £950 |
| Vaillant ecoTEC Plus | 10 years | £1,000 – £1,400 |
| Ideal Logic+ | 7 years | £700 – £900 |
| Baxi EcoBlue Advance | 10 years | £1,000 – £1,300 |
| Glow-worm Energy | 7 years | £800 – £900 |
| Viessmann Vitodens 100-W | 10 years | £900 – £1,000 |
Cheap combi boilers
Buying a boiler is an important investment as you'll be relying on it for your heating and hot water for many years to come. So you should try to spend as much as you can afford to and choose a high quality model with a solid warranty.
Even if you're working with a restricted budget, there are many manufacturers offering reliable and efficient boilers with a low price tag. Find out the best cheap boilers.
Cost of combi boiler installation
On average, you're looking at combi boiler installation costs of between £500 – £700 for a straightforward boiler replacement (replacing an old combi boiler in the same location). If the installation is more complex – let's say you're moving the boiler to a new spot or switching boiler type – costs could increase to £1,500 – £2,800.
As boiler installation costs can vary so much, you should get quotes from at least three different engineers. That way, you can be confident that you're getting the most competitive price – get your quotes today.
*If you're replacing a G-rated boiler with an A-rated heating system with a room thermostat, controls and thermostatic radiator valves in a detached home. According to the Energy Saving Trust: www.energysavingtrust.org.uk/home-energy-efficiency/boiler-replacement.