Which Are the Worst Boilers? Reviews, Prices & Warranty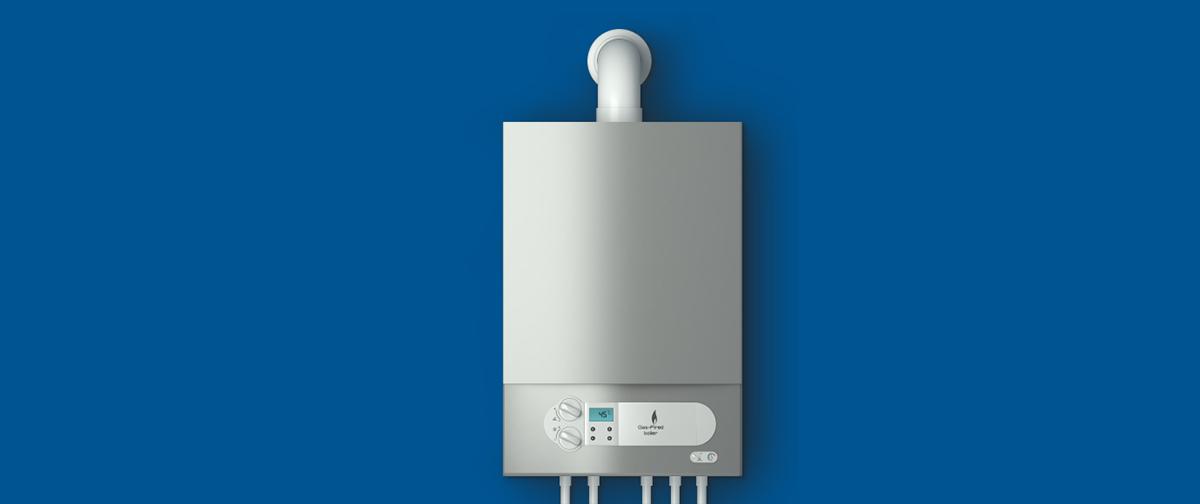 There's a lot of information out there about the best boilers on the market, but what about the worst boilers? When we're trying to decide between 1, 2 or 3 boiler brands it can be difficult to know which to choose as there is very little daylight between the top quality boiler brands. Often, all we really want to know is that we aren't sinking our money into a boiler which will bring us nothing but hassle and costly repair bills.
To help you avoid a potentially big financial mistake we investigated the worst boilers on the market. We compared reviews and ratings from both homeowners and heating engineers to discover the best brands and boiler models for performance, reliability and ease of use. Other important elements to compare are the warranties and energy efficiency levels alongside that always important detail – the price.
Here's what we found out about the worst boilers on the market.
Get your best deal
Quickly compare 3 FREE quotes
Quotes from locals engineers
Get quotes today, installed tomorrow
Finance options available
Save up to £500 on installation
0330 808 0405

1,8 million quotes provided in 10 years
Which are the worst boilers?
Since 2013 over 330 boiler reviews and ratings have been posted on Boiler Guide. They have either been left by professional heating engineers or people who have lived with the boilers in their home. We looked at the data to see if there were any particular brands which attracted poor reviews time and time again. Disclaimer: As our reviews have been gathered organically and were not obtained during a survey, not all boiler brands have been reviewed.
The answer was a resounding yes as of all the 1-star reviews we received, 52% were given to just one manufacturer: Ferroli.
Ferroli is an Italian brand which has been making boilers for over 50 years and while they offer some of the cheapest boilers on the market, they repeatedly come under fire from criticism from heating engineers and consumers.
Examples of Ferroli boiler reviews
"Dreadful boiler. It was installed seven years ago and has broken down every winter, each time the PCB. Ferroli don't appear to keep any spares stock and I had to wait between 4 and 6 weeks in freezing conditions each time to get the part replaced […] I'd give it a score of zero if I could."
"I would not install a Ferroli boiler because they are not reliable. I have a boiler that is less than 2 years old and the engineer has been out regularly. I am currently without hot water and have been all weekend as their engineers do not work weekends and, unfortunately, I took out a warranty with them which means I cannot call in another engineer or it negates my warranty."
"For a family household the product is simply not up to scratch. You will also have problems when using the boiler for heating following the summer period, this will need another engineer visit as there will be a problem i can guarantee. BUYER BEWARE with a Ferroli boiler!"
"My Ferroli boiler is less than 18 months old and has had 2 breakdowns requiring new parts each time. The first issue when less than a year old a new circuit board required – 2 week wait with no hot water or heating. The second time 4th February this year and 14 WEEKS LATER STILL NOT FIXED […] I wrote to Ferroli 6 weeks ago and I haven't even received a standard letter. Now it looks like my only option will be to buy a new boiler at my cost. Please do not make the same mistake as I did."
This graph shows the brands which received the highest percentages of 1-star reviews on Boiler Guide.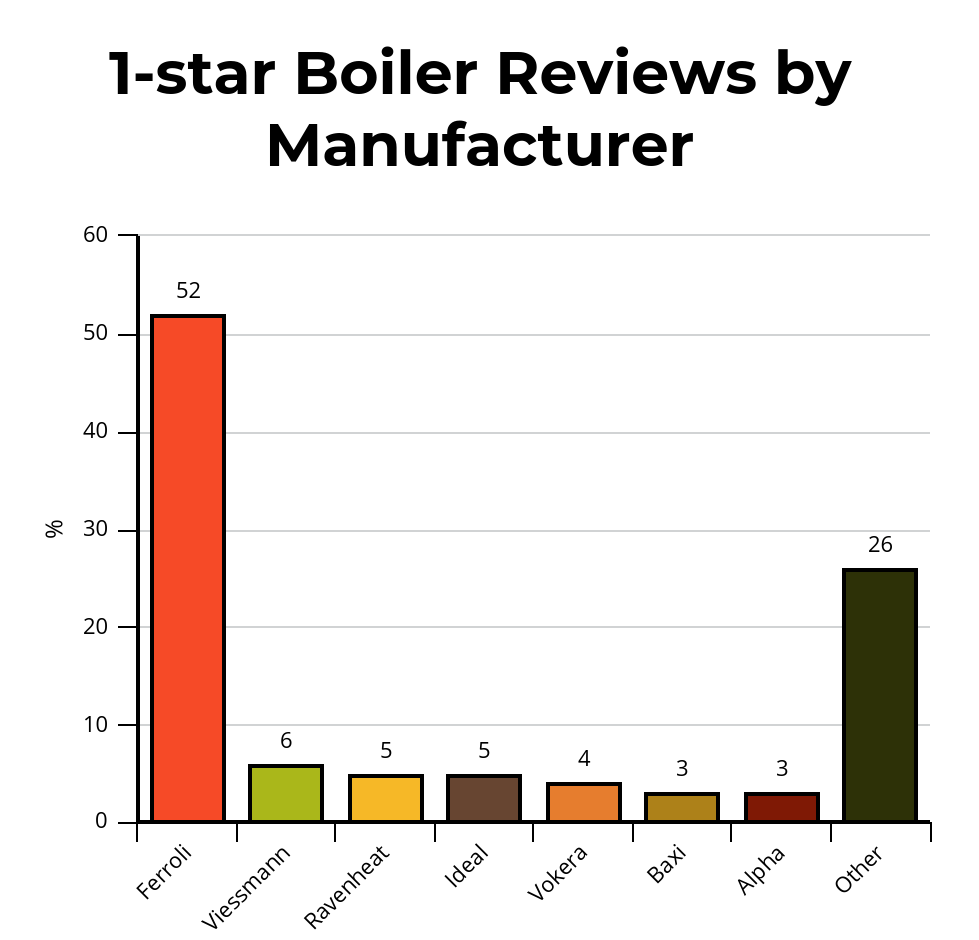 Note: The 'Other' category includes several manufacturers who only received a single 1-star review.
Worst boiler prices
The cost of your new boiler will be a big factor in your decision but it's not necessarily a good idea to buy the cheapest possible. Based on industry research we've listed the typical prices and warranties for each boiler brand (excluding installation) so you can compare.
| Brand | Typical Price Range |
| --- | --- |
| Ferroli | £400-£900 |
| Vokera | £500-£1,200 |
| Glow-worm | £500-£1,500 |
| Baxi | £600-£1,200 |
| Alpha | £600-£2,000 |
| Vaillant | £750-£2,500 |
| Worcester Bosch | £750-£2,000 |
| Ideal | £800-£2,000 |
| Viessmann | £900-£3,000 |
In terms of savings, Ferroli and Vokera are the lowest cost options with Viessmann and Vaillant charging higher prices. However, when you compare the brands on their customer reviews and ratings in both our results and those by Which? Vokera and Ferroli came out bottom. It seems that when it comes to boiler reliability and performance, you definitely get what you pay for.
You can compare up to 4 boiler models using the Boiler Guide Comparison Tool. Simply filter your search by fuel, type of boiler and manufacturer. When you see a boiler you like, just hit the "+ Compare" button. You can then can view and compare each model side by side, including typical prices you can expect to pay for each boiler. Note: The price you pay for your boiler installation will vary depending on the complexity of the installation, which installer you choose and where you live in the UK.
Get your best deal
Quickly compare 3 FREE quotes
Quotes from locals engineers
Get quotes today, installed tomorrow
Finance options available
Save up to £500 on installation
0330 808 0405

1,8 million quotes provided in 10 years
Worst boiler efficiency
To keep energy bills and carbon emissions as low as possible you should use the comparison tool to check which boilers are the most energy efficient. Boiler efficiency is represented by the Energy related Products (ErP) ratings from A (most efficient) to G. In past years, boiler efficiency was a key consideration when deciding between the best and worst boilers.
However, in light of the climate change crisis we are now facing and after the Boiler Plus legislation of 2018, all new boilers have to be at least 92% efficient. This means that whatever gas boiler brand you choose, it will be at least 92% efficient. You can increase the efficiency of your heating system by improving your home's insulation, having the boiler serviced every year and installing smart controls which give you greater insight and easier management of your energy use.
Worst boiler warranty
The manufacturer's warranty is an important quality indicator. Boiler repairs and breakdowns can be costly so it's worth ensuring you're covered for as long as possible. When protected by a manufacturer's warranty if your boiler develops a fault or breaks down, the manufacturer will send an engineer to fix or replace your boiler at no extra cost. As a general rule, the longer the warranty the higher the quality of the boiler and, in times of emergency, a comprehensive warranty can be invaluable.
Manufacturers rarely offer a blanket warranty across all their products as they will usually vary range by range and a typical standard boiler warranty can vary, but the minimum is 1 year. If you only have a 1-2 year standard warranty on your boiler, you may want to consider opting for another model or brand as some will offer 5, 7, 10 or even 15 years. It's also worth noting that you can often extend the length of a boiler warranty for an additional cost. Take a look at our best boiler warranties article for more information.
So, which are the best boilers?
In our reviews and ratings, the highest number of 4 or 5-star reviews was achieved by Glow-worm, followed by Viessmann with Baxi, Worcester Bosch and Vaillant also appearing regularly. In addition, it's worth mentioning that when we ran our Boiler World Cup Twitter vote in 2018, heating engineers voted Baxi as the best boiler brand.
This graph shows the brands which received the highest percentages of 4 or 5-star reviews on Boiler Guide.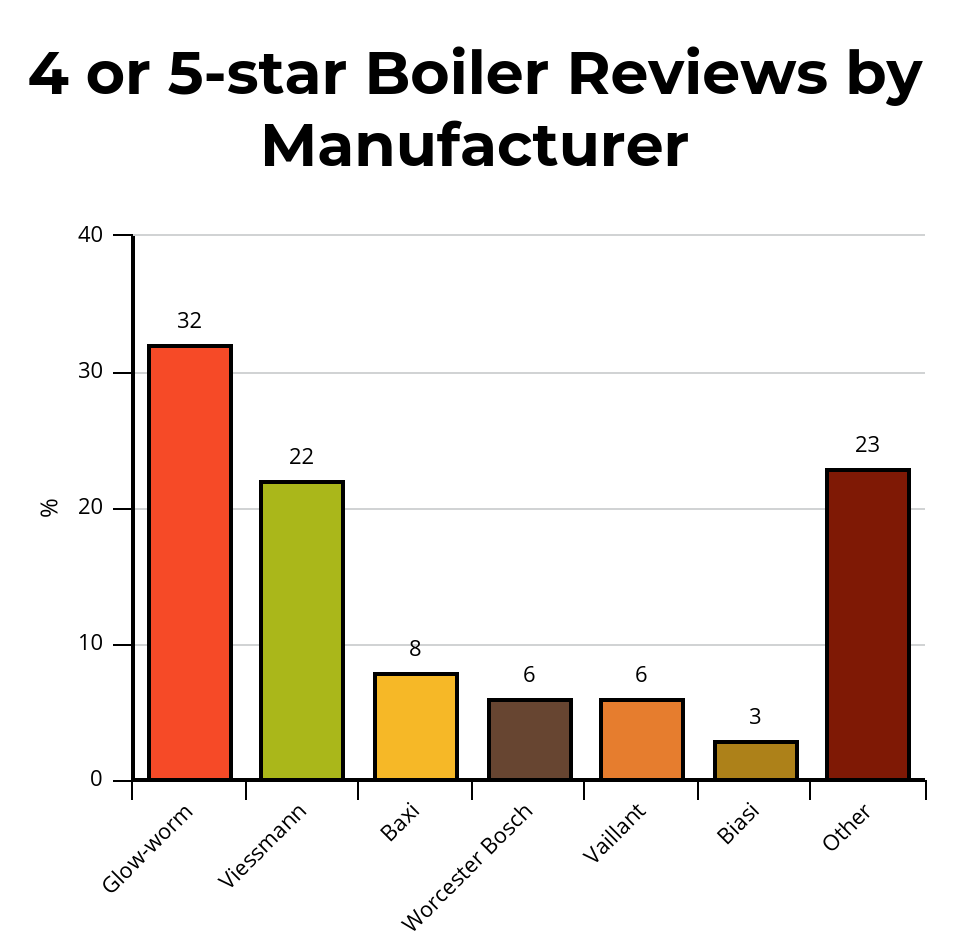 How do our findings compare?
We also looked at the boiler brand survey conducted by Which? to find out if there was any correlation.
In terms of the worst boilers it seems there is a definite pattern as Ferroli's brand score is significantly lower than all the other brands included in the survey at just 35%. The Which? Brand Score is based on brand reliability brand customer satisfaction and ratings from consumers and heating engineers surveyed in May 2017.
However, when it comes to the best boilers, our findings and those by Which? differ slightly. Glow-worm were the clear leaders in our 4 and 5-star reviews but the Which? Brand score ranks them as below average with just 54%. Having said that, the top scoring brands for Which? – Worcester Bosch, Viessmann and Vaillant – featured highly in our 4 and 5-star reviews and ratings.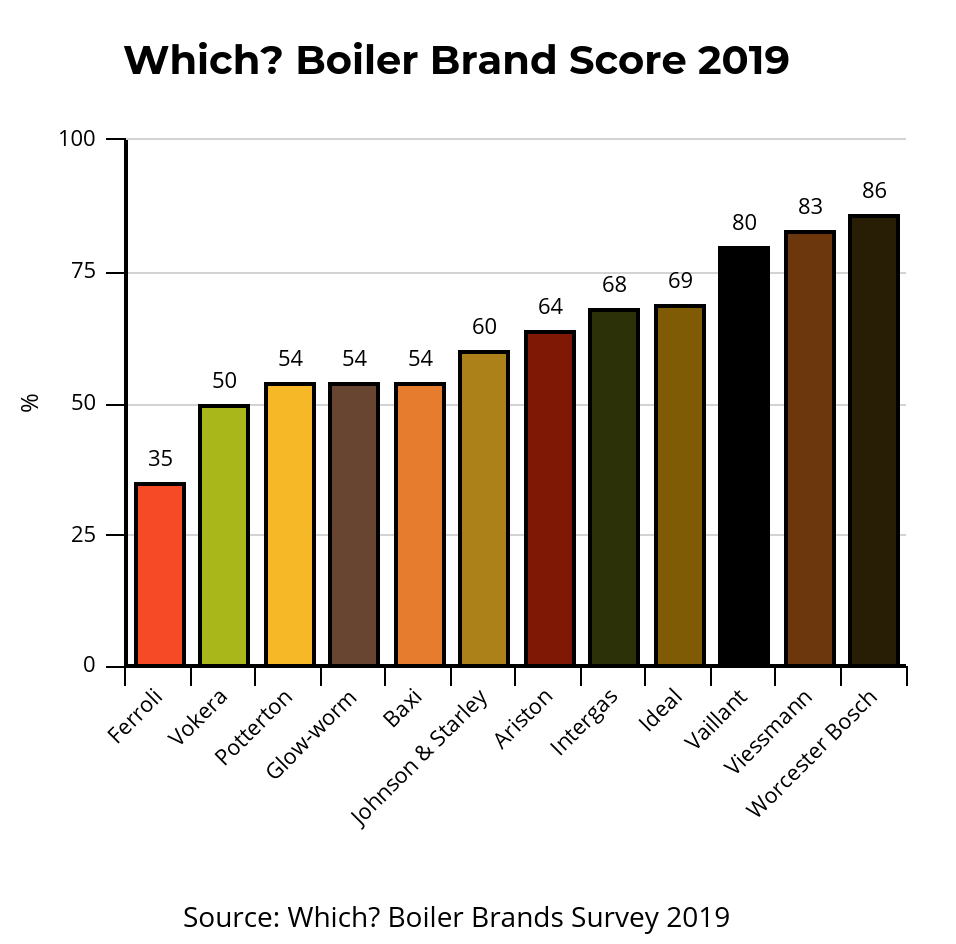 How to avoid the worst boiler deals
The cost of boiler installation can vary between £500 - £1,000 on average (in addition to the cost of the boiler itself) so when it comes to finding the most competitive price, we highly recommend comparing multiple quotes. A straightforward boiler replacement, e.g. replacing the same boiler type in the same location could cost between £1,800 – £2,300 including installation. Installation costs will rise if more complex work is required such as relocating pipes, adding radiators or removing a hot water cylinder.
While a boiler replacement can be a big investment, it's important to remember that a more energy efficient boiler could bring you significant savings in terms of reduced heating bills. For a more in-depth look at how much a boiler replacement might cost you, take a look at our full guide: How Much Is A New Boiler.
To make finding multiple boiler installation quotes easier, use Boiler Guide to get free quotes from up to 3 heating engineers based in your local area. Simply take a few minutes to complete our online form and we'll match the work you need doing with boiler installers.
<
Get your best deal
Quickly compare 3 FREE quotes
Quotes from locals engineers
Get quotes today, installed tomorrow
Finance options available
Save up to £500 on installation
0330 808 0405

1,8 million quotes provided in 10 years